7 Craft Room Inspirations: DIY Heat Transfer Vinyl Storage Ideas You Absolutely Need
Crafters working on heat transfer vinyl products could literally spend hours on Pinterest for the best craft vinyl storage strategies. Designing a craft room has probably been on your wish list but the thought of organizing a craft room can be overwhelming and daunting. We know that storing and organizing your HTV scraps, rolls, and accessories can be tricky especially if want to stay on budget. Whether you're working in a small space in your home, a closet, or you have a dedicated craft room here are the best ideas for avoiding clutter...and enjoy a stress-free environment. Ready to be inspired?  
1. DIY Vinyl Storage Solution
Silhouette owners, get your vinyl rolls ready for a DIY Vinyl Storage Solution! This DIY wooden vinyl storage rack is really easy to make.  
Source: Create and Babble 

2. Crafty Storage Cart
My gut told me that a special cart that the Silhouette could sit on, with storage below for all of the accessories, would be the most ideal solution. I don't enjoy sitting at the counter height workspace because it is not comfortable or ergonomic for longer periods of time, it really functions better to stand and craft. That is why we added a second desk height workspace for computing. Therefore, I was on the hunt for something to tuck between the two base cabinets, with storage for the Silhouette and all the accessories. And I found the perfect solution, in the oddest of places... the children's department. The STUVA storage dresser (from Ikea) was calling my name!
Source: Iheart Organizing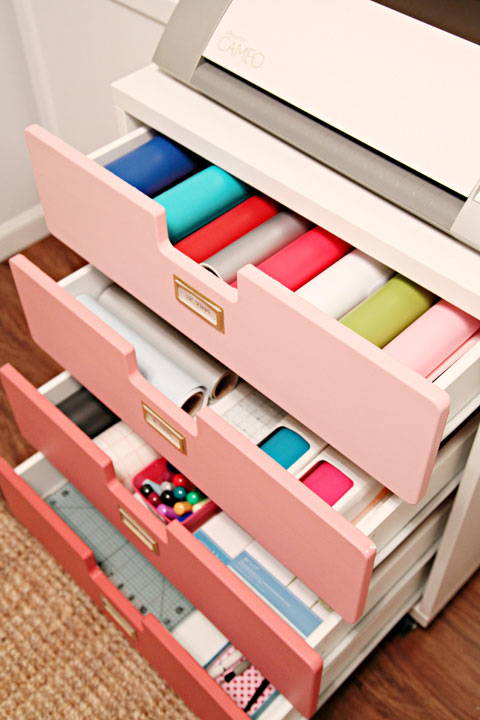 3. The Best Way to Organize Vinyl Scraps Plus FREE Cut Files
I was able to easily fit everything into my new miniature portfolio that is solely for scraps! It's 9″ x 12″ and is the perfect size for scraps of all kinds, even the tiny little bits that I just can't bring myself to throw away. Since it's so compact, I can easily slide it onto a shelf.
Source: Where The Smiles Have Been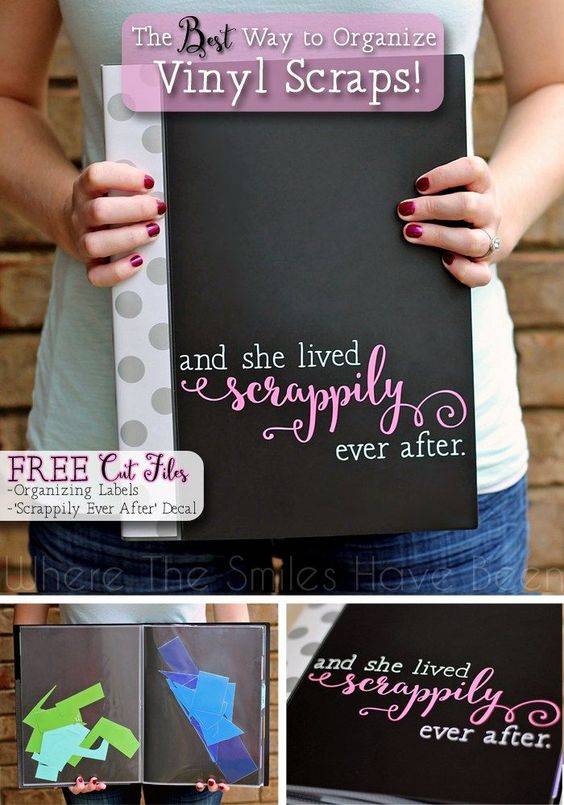 4. DIY Viny Storage Crate
I was so happy to finally clean up this little corner of my craft room and have all of my vinyl easily accessible and know what I have and what I don't. It saves me from buying stuff that I didn't actually need and everything stays neat and tidy.  
Source: Addicted 2 DIY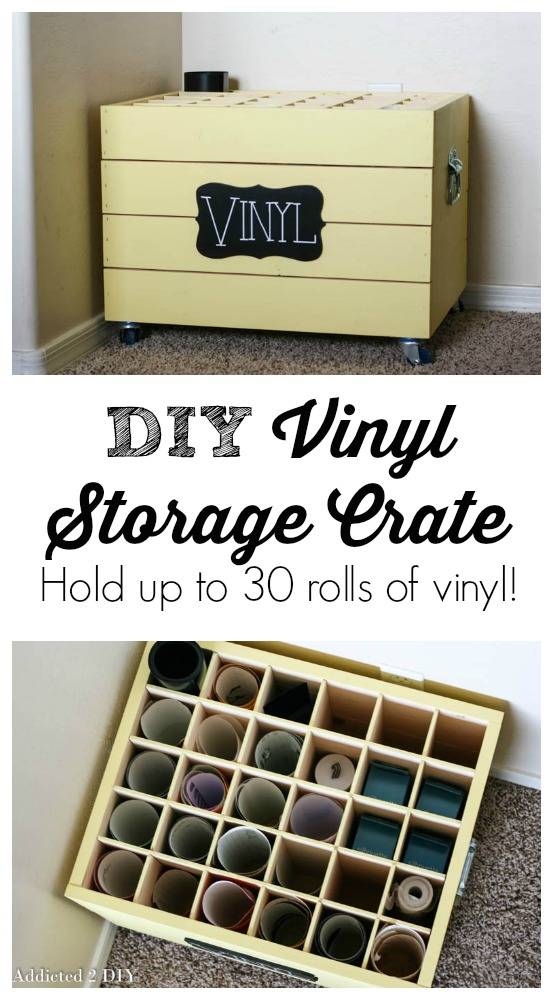 5. DIY Vertical Organizer  
I looked into some pre-built paper storage solutions, but … they are very pricey! DIY to the rescue! I came up what I'm calling my Paper Tower of Power, and you're going to love this for your scrapbook paper. It's a 12×12 Vertical Scrapbook Paper Storage Organizer that I put together myself from things that are easily obtained. It holds a LOT of paper, and fits both 12×12 scrapbook paper and regular letter size. This is one my IKEA hacks. So it's not very expensive, and you can customize it to your needs. If a vertical tower isn't right for you, or you need more storage, the IKEA unit I use comes in many different sizes and configurations.
Source: Jennifer Maker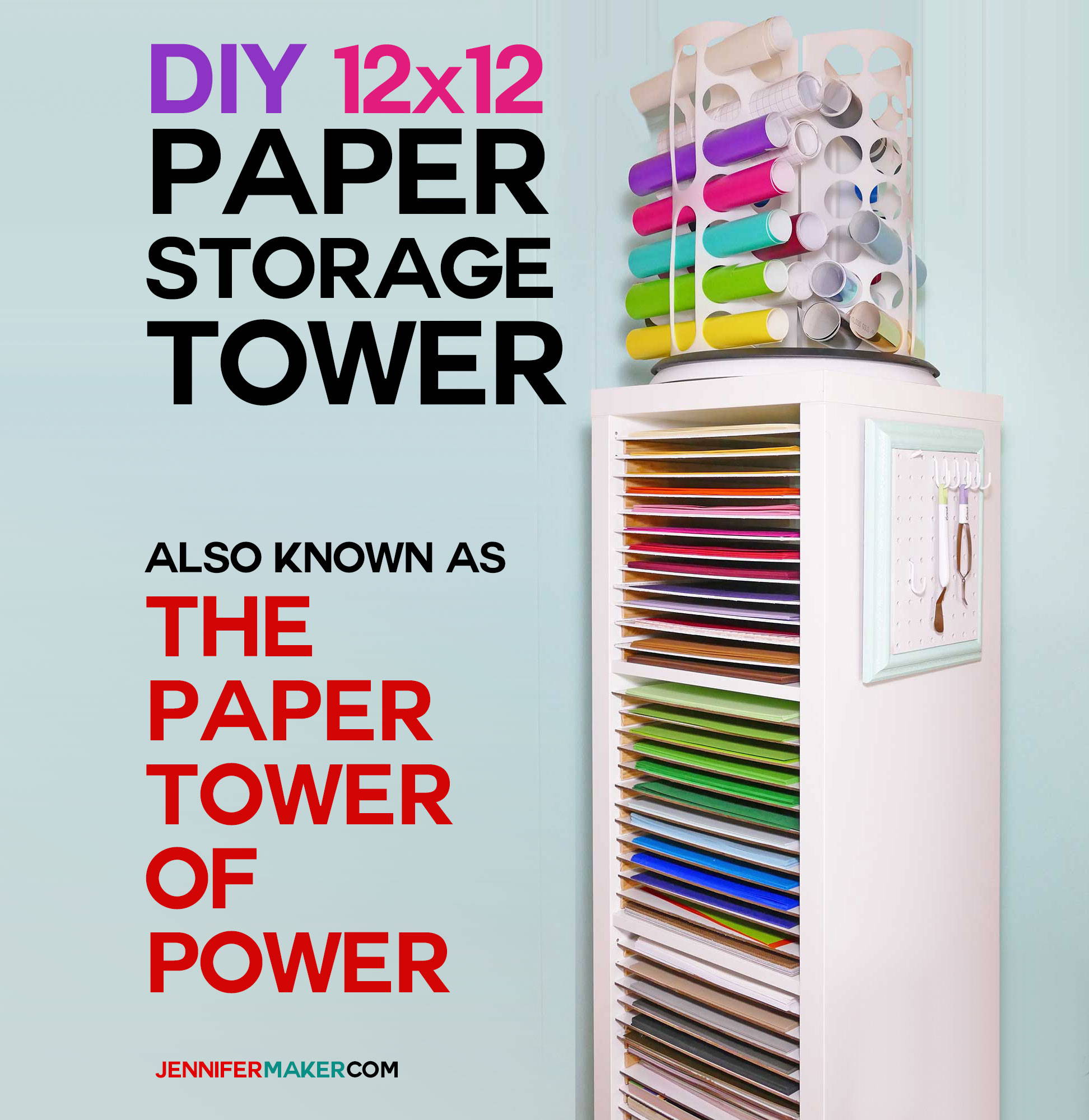 6. Vinyl and Heat Press Rolling Storage
I have seen lots of storage ideas for vinyl but with a heat press and vinyl business I find this is the best solution for me. There are rolling cabinets in many styles and price points and I found four similar to mine for you to check out.
Source: Poofy Cheeks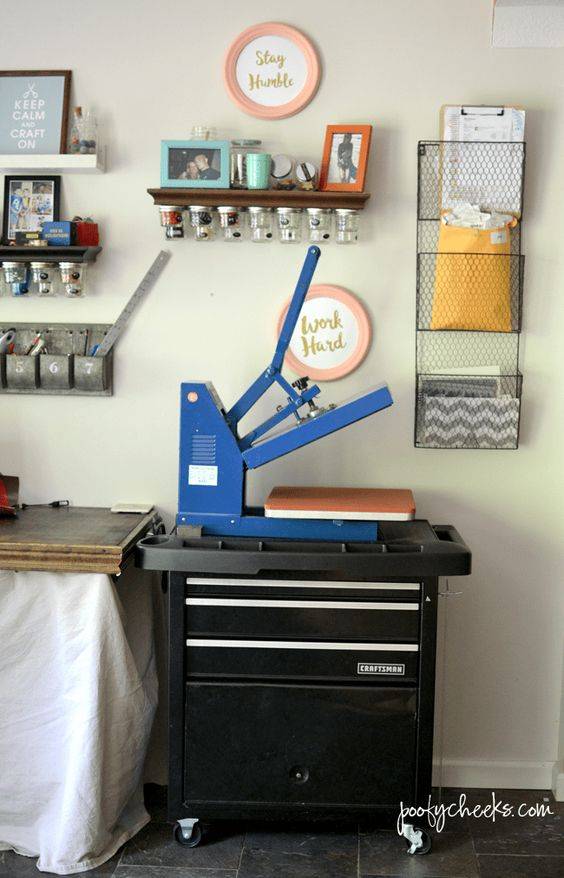 7. Easy Gridwall Vinyl Organizer
Like a lot of my crafting hobbies, my vinyl collection had gotten out of hand. I was resorting to a Rubbermaid tub with the vinyl rolled up in giant rolls inside, but it looked like a Rubbermaid tub wrestling an octopus with all of the vinyl sticking up and fighting it's way out. It was time to get it under control. Pegboard seemed to be my best option. I could always paint it to pretty it up, but I like super-simple, non-busy things. Right next to the pegboard was a gridwall. BINGO!
Source: Spicy Pinecone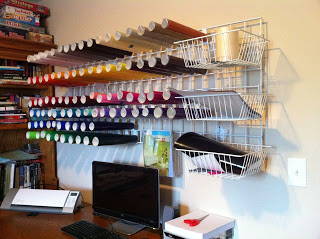 Making crafts is great therapy for all of us. But working in a cluttered, messy, disorganized environment will certainly suck the joy out of you. Looking for your HTV supplies shouldn't be like Easter egg hunting...that will drive you crazy! And remember you don't have to tackle these DIY heat transfer vinyl storage in one day. Create a plan and set a deadline when you want to complete it. Start your personal, creative space today. You'll be so happy you did!  
If you loved this post share the love and save it on Pinterest.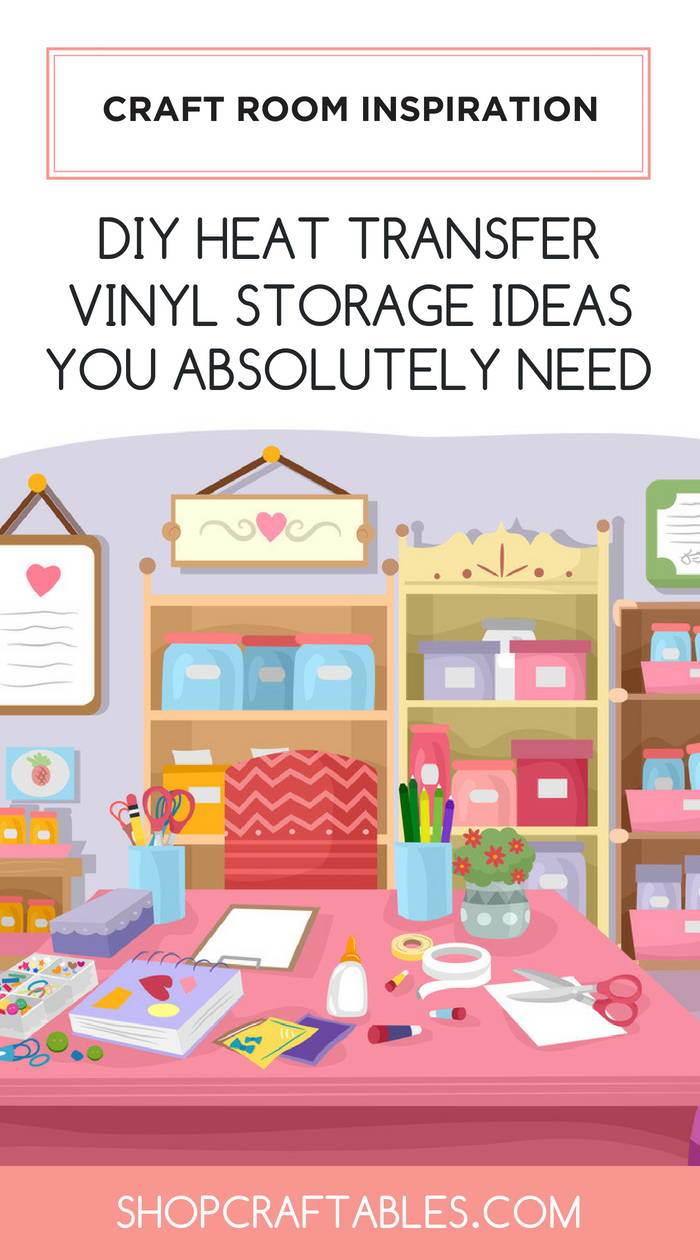 ---