7 tips for making a kid-friendly craft room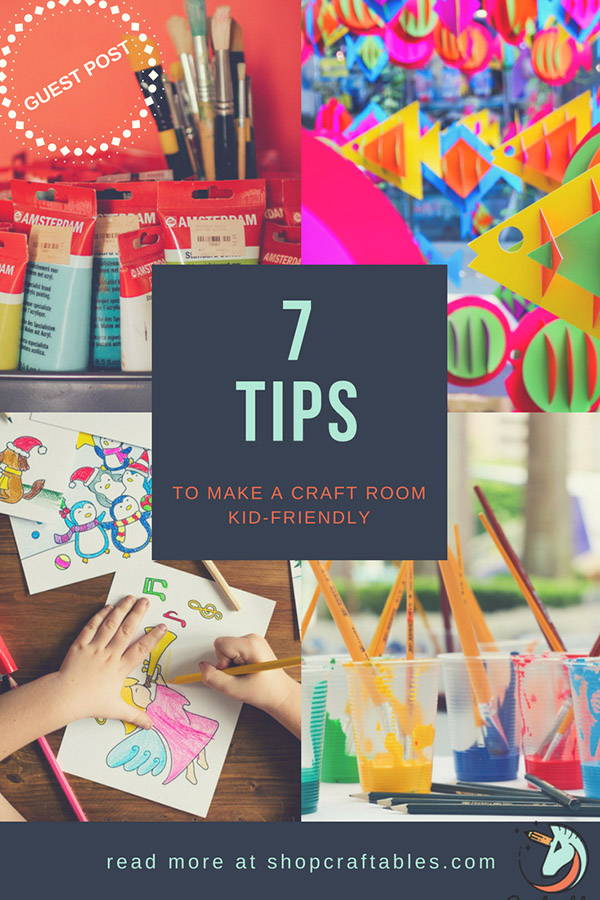 Hey guys! This is Ali from Cut, Cut, Craft! Thanks to the Craftables team for featuring me today.
I'll be talking about the 7 best ways of keeping your crafting area a kid-friendly room (these work for the inner-kid, too!)
Tip 1. Keep it organized
This first tip might be obvious, but it has implications that are far-reaching. Just having a designated room for crafts will do wonders for keeping the rest of your home clean, but it's more than that.
Showing that creativity can be given an outlet, that glue and paint work better with some materials rather than others will do wonders for their development, not just as artists but as little people.
There are a few practical considerations, too! When you have an organized craft room you're making art more accessible.
A few suggestions:
Use clear mason and jam jars to store drawing materials, that way they're always visible and accessible.
Hanging storage keeps you flexible and as their hobbies change, you can modify your bins.
Keep everything labeled (and let them design the labels)
Donate any supplies that you aren't using to keep your space open and uncluttered
Tip 2. Involve your kids in the planning
Whether you're repurposing an existing room or starting from scratch involving your kids in the process will make it feel like it's their room. With responsibility comes care.
Since you're trying to make this a room they'll use you should start with the experts: the kids.
Just showing them an open room is a bit daunting, so what we like to do is write down possibilities on cards and deal out a few options. If they don't like the hand they're dealt, we'll allow for a few new hands.
Having constraints and visible, clear choices can go a long way.
Tip 3. Plan for messes
Even without kids, a craft room can get messy and fast. The best way to accommodate this is by planning for them from the start. We took up the carpet in our room knowing that it would just soak up spills and replaced it with a vinyl flooring that's spill-friendly (which means kid-friendly).
This also means if you'll have expensive equipment, make sure it has a protective case it can sit in while it's not being used, or a cabinet it can store away in
I also make sure to always have some old rags, paper towels, and a trash bin. We were lucky enough to be able to run a water line into our room, so we also have a sink. This means clean up a lot easier and means you aren't having to bring paint-covered hands (and faces, and arms...) all throughout the house.
If you don't have access to a sink, consider grabbing a large jug of water with a spigot at the bottom. At our last house, we'd keep a bucket underneath and just empty that out once a day if needed.
Tip 4. Design children-height surfaces
Depending on the age of your kids, you'll need to have a few surfaces that they can use or stools to make your existing tables accessible.
We wound up finding a few tables with adjustable legs from Ikea, but in a pinch, you can design the floor to be used as a surface itself.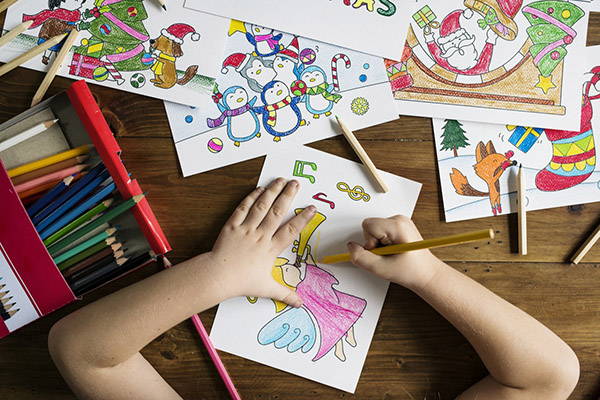 Tip 5. Host a crafting party
Just like having a basketball hoop or a pool, having a crafting room can make your house a destination. Having a home that your kid has a say in the design of will make them a lot more likely to invite their friends over to show off.
This can be a huge motivator (it was with ours) for keeping the room organized and stocked with supplies- anything glittery is usually a hit!
If they'll just be practicing, I suggest trying to find a good deal for a vinyl grab bag because having 8 little ones running around will quickly make a dent in your supplies (and food).
Tip 6. Showcase their work
After they finish a piece, showcase it! After hanging their work we print out little cards just like you'd see in an art gallery and let them write up their own titles.
Each month we try a new theme and have them write "artist statements" which we stencil directly on to the walls. Having a theme is wonderful for keeping them focused and like I mentioned above, having a constraint can do wonders for artistic creativity.
A blank canvas can be super intimidating until you have a larger framework to work within.
Tip 7. Stay flexible
These tips are what worked for us, but every parent and child is different. Like with anything else, stay sensitive to the direction your kids are looking to go in.
It's absolutely fine to have a perfectly stocked craft room that doesn't get used for a month because they suddenly have a new fascination. They're trying things out and it's usually only a few weeks before they're restless and looking to get messy again.
Final thoughts
Just having a set-aside space for crafting is half the battle. You're setting an early example that art isn't just something we consume, it's something that people have to make and that improves with effort.
As their paintings and sketches line the walls they'll see their own growth and improvement over time.
Years later, these early works will be some of the most inspired and valuable to you both.
Ali Fields is a crafting geek who writes DIY tutorials and reviews over at Cut, Cut, Craft!
Follow her on social media: