What's the difference between HTV and adhesive vinyl?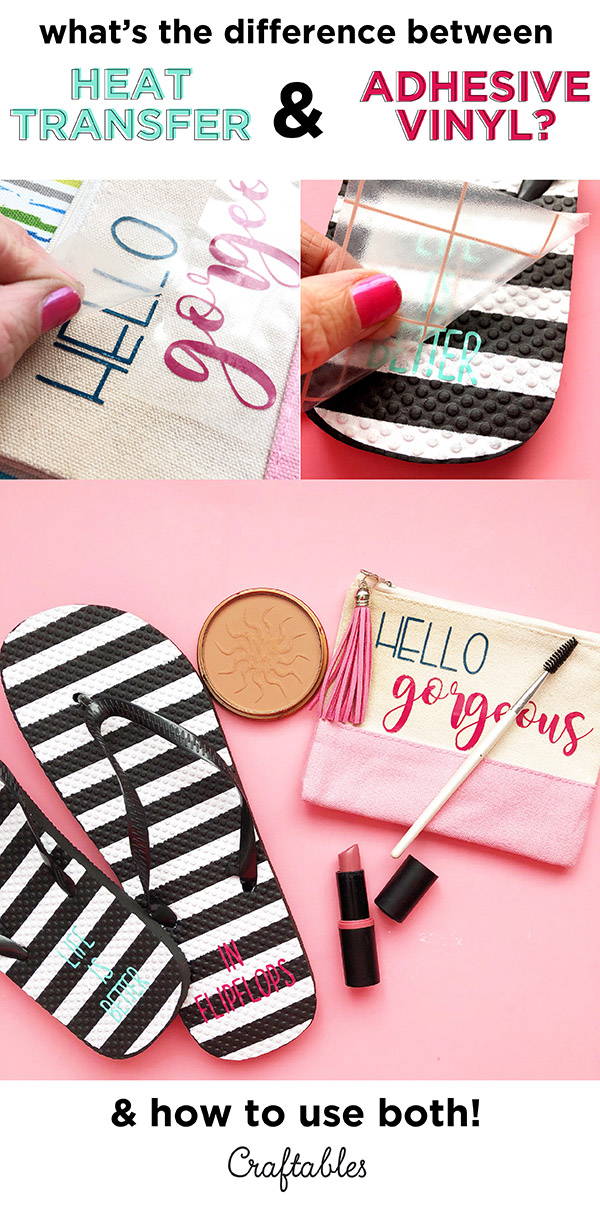 Hey everyone! If you're new to crafting, or even if you're a seasoned crafter and new to vinyl, I'm sure you've become confused with all the names, materials, and processes of vinyl. I'm here to answer all those questions and teach you the difference between Heat Transfer Vinyl and Adhesive Vinyl. And yes, they are completely different from each other! :) I'm going to make two summer projects to show you the difference between the materials. So let's get to it!
Create designs
Open up your software (I used Silhouette Studio) and create your designs. You can either import a design or cut file from your computer, or create one from scratch. I like customizing my own things, so I just used the text tool and typed up my own design. The words "Hello Gorgeous" are for the makeup bag and the words "Life is better in flipflops" are for my sandals.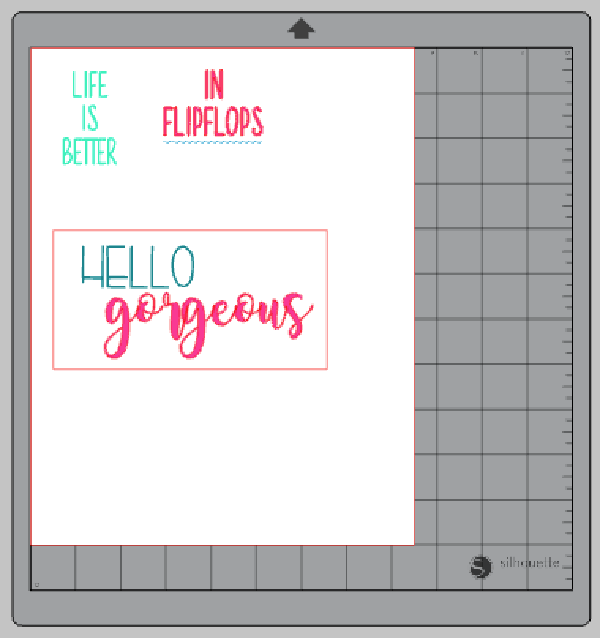 Size your designs so they will fit your bag and sandals. I like to draw a rectangle the size of my bag so I can get a better idea of sizing. Another tip is to fill your text with the color of vinyl you'll be using. That way you won't get confused!
Now let's focus on Adhesive Vinyl first:
Move your other design off your cutting mat so that our flipflop design is the only one there. Go to your cut settings and select glossy vinyl. When putting a design onto a material that will get used a lot (like sandals) it's better to stick with permanent glossy vinyl. It has a stronger adhesive.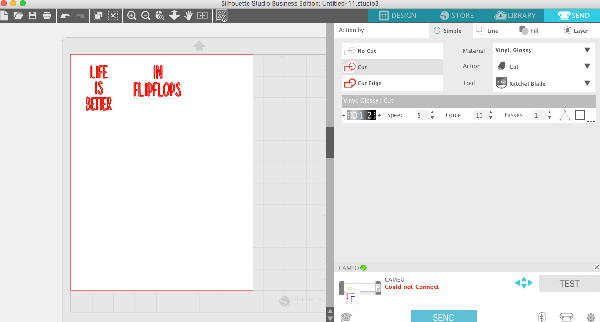 Now load your adhesive vinyl onto your cutting mat. I like to cut both parts at the same time so I just placed my colored vinyl in the spot where the design was!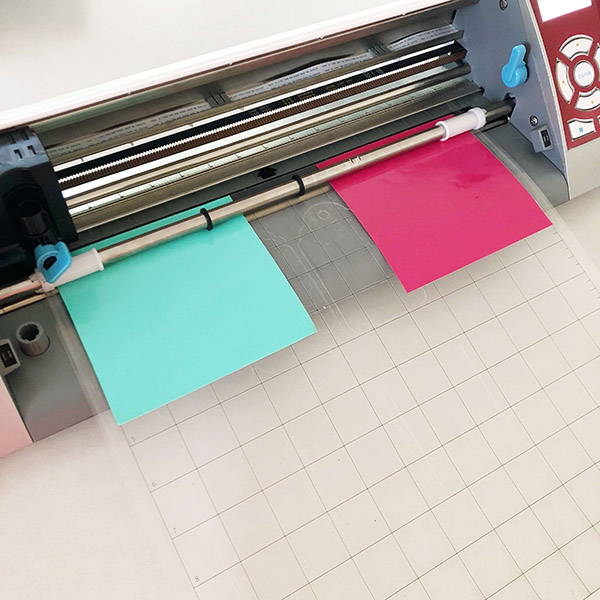 Now take your weeding tool and peel off the vinyl you do not want. Adhesive vinyl comes with two layers: the colorful vinyl itself, and a backing sheet. The backing sheet is what holds all your pieces together until it's time to transfer.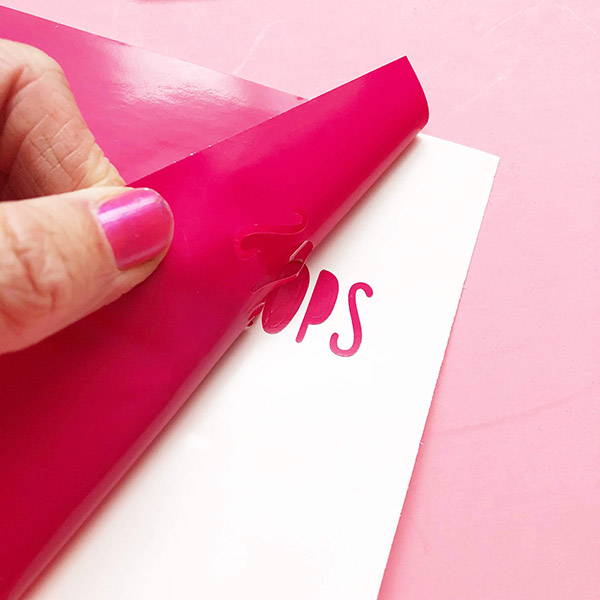 Use your hook or a pair of craft tweezers and peel out the insides of the letters you don't want.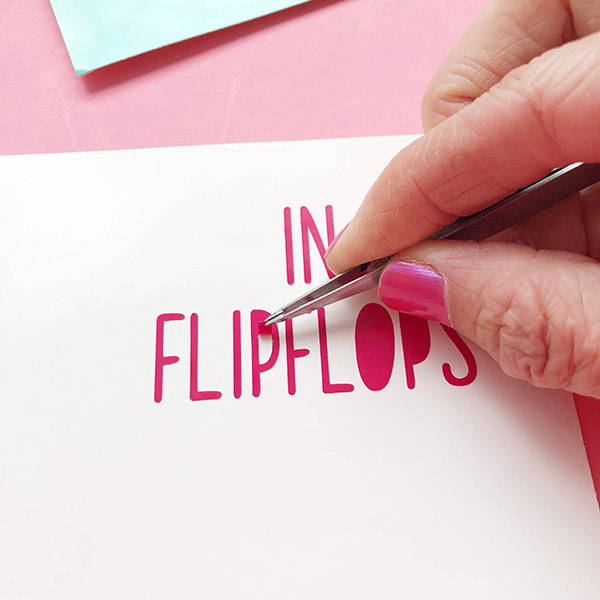 Next, take a piece of transfer tape and peel it off it's backing sheet. Not all transfer tape comes with a backing sheet, which is fine. They all serve the same purpose...to transfer the design!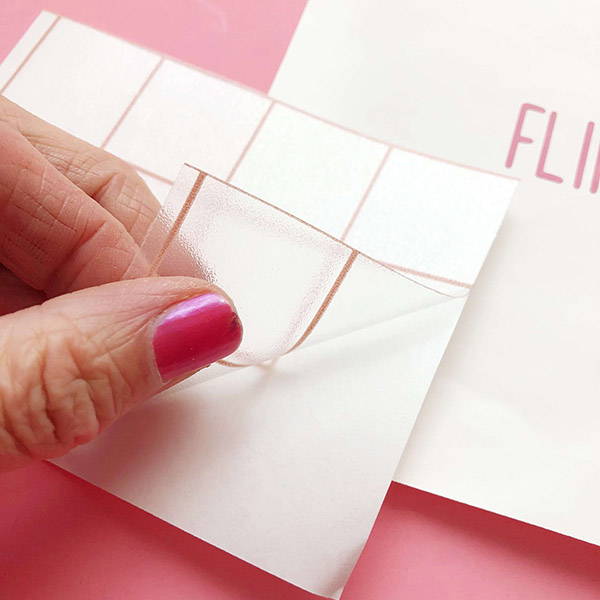 Place it over your vinyl design and smooth it out. You want the vinyl to stick well to the transfer tape.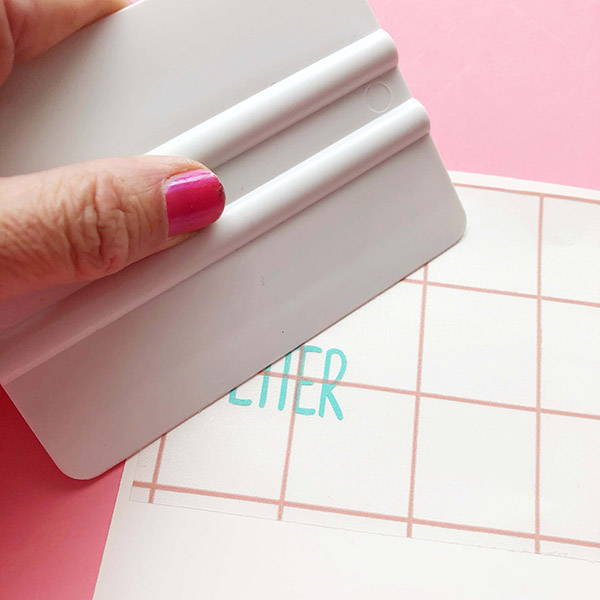 Now turn the vinyl design over and peel off the plastic backing sheet. This will reveal the sticky side of the vinyl.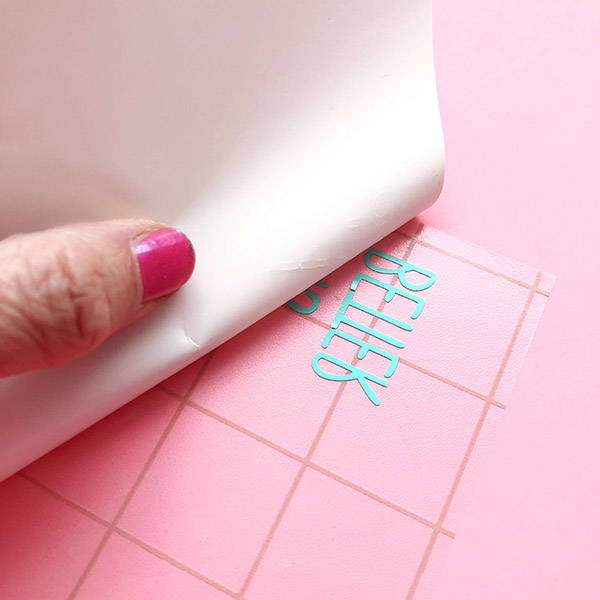 Next, place your design onto your sandals and rub it onto the material. Make sure it has a good adhesion!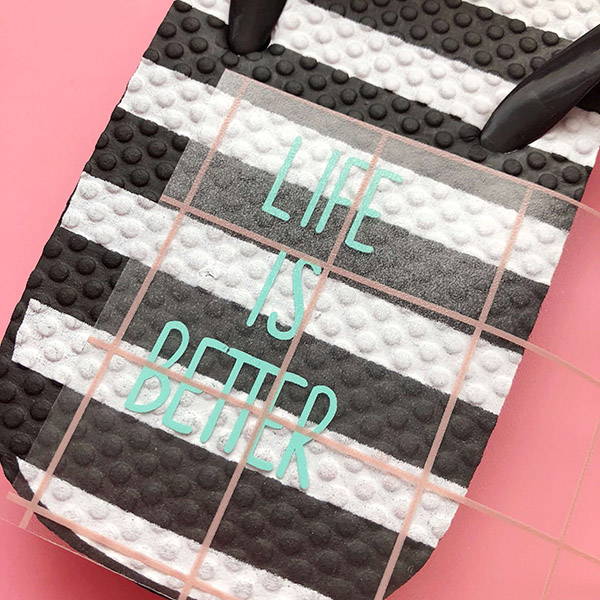 Now, gently peel off the transfer tape and your sandals are all done!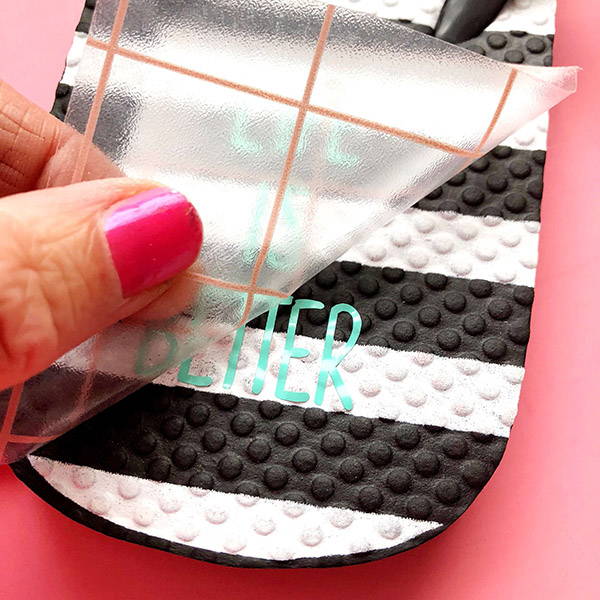 Pro tip: The word "adhesive" means "sticky" or "glue." So Adhesive Vinyl has a sticky backside, just like a sticker. That's how I view it: it's a colorful sticker!
Now let's focus on Heat Transfer Vinyl:
Now that our sandals are customized with adhesive vinyl ( remember, colorful sticker!) it's time to make our fun makeup bag using Heat Transfer Vinyl-- or HTV for short.
Heat Transfer Vinyl is ideal for fabrics, as we are heating up the adhesive that glues the vinyl onto the fabric. Normal adhesive vinyl won't stick on to fabrics for long.
Let's go back to our software and prepare our design. Anytime you use a cursive or scripty font, you want to right click and "Weld." This creates the text into one single image instead of several individual letters. This is important to do for HTV so that we don't have visible cut lines through our words. No one wants that!
Now that our words are sized, and welded if needed, we need to MIRROR our design. This is an absolute must for HTV. The cutting machine will cut on the back side of HTV, so we need to mirror our image. To do this, right click and select flip horizontally.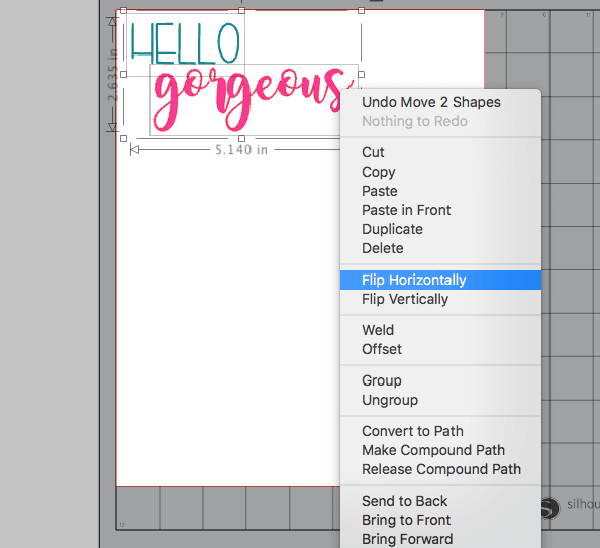 We are ready to cut! Go to your cut settings window and select smooth heat transfer vinyl. Change your blade accordingly.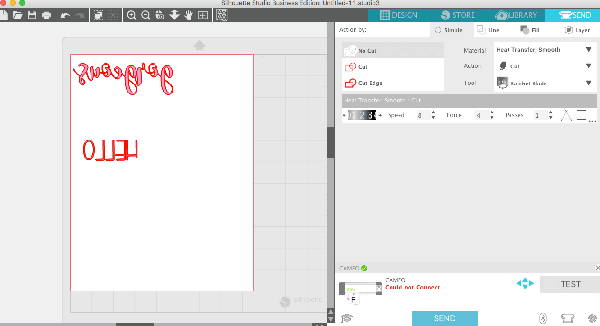 Heat transfer vinyl has two layers: a thin layer of the vinyl that is heat activated, and a clear carrier sheet. This is what allows us to create an intricate design without having to place each piece individually.
When you load your material in the machine, we will be cutting on the backside of the vinyl, so shiny side down.  The shiny side is the carrier sheet, and we don't want to cut into that!
Now cut away!
Next, just like adhesive vinyl, we will peel off the vinyl that we don't want. Use your weeding tool or tweezers again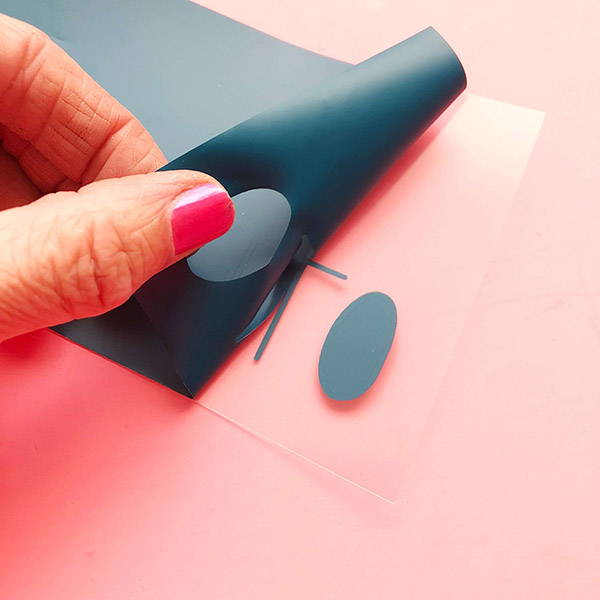 You're almost there! We now have our two words weeded and ready to press.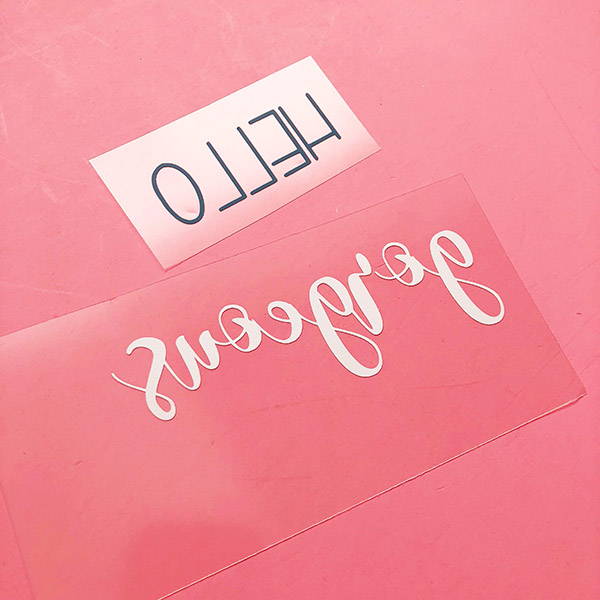 Heat up your home iron or follow the instructions for your heat press with the included sheet from Craftables. Make sure your fabric material is smooth with no wrinkles.
The key with HTV is the word heat.  It needs heat in order to transfer. So let's turn up the heat! Place your design onto the fabric, this time shiny side up/right side up.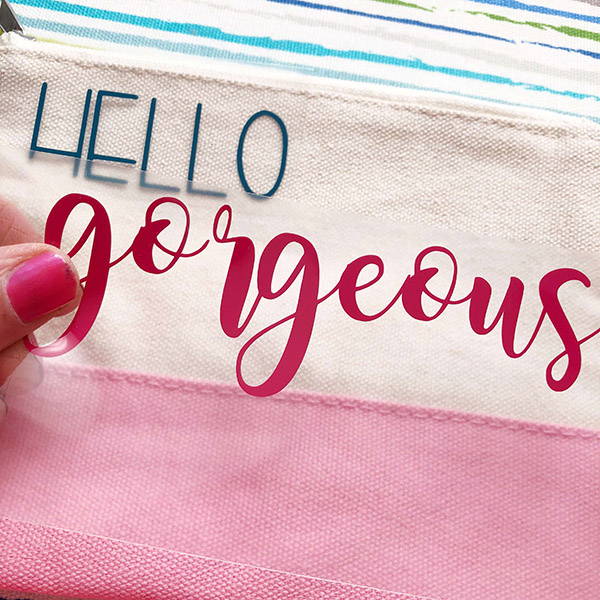 a teflon sheet, or a thin cloth (parchment paper works great too) to protect your material. Now press with firm pressure for the designated time that was suggested on the Craftables insert.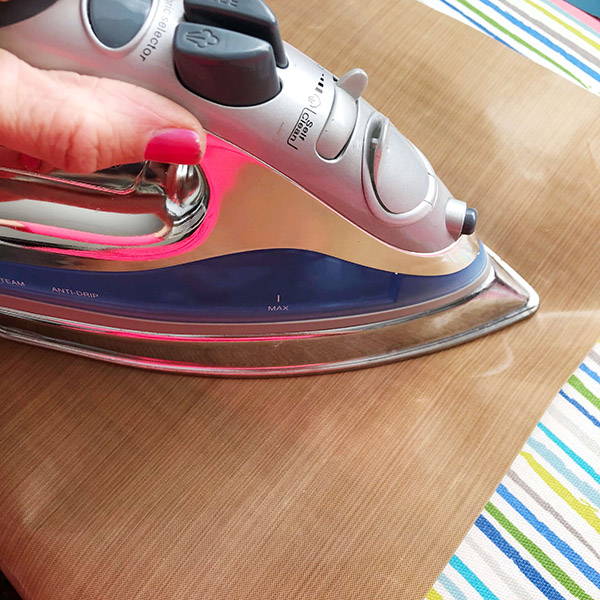 Let your material cool a bit before peeling. Carefully peel up the clear carrier sheet. If any part of your vinyl starts to come up, then put the sheet back down and add some more heat and pressure.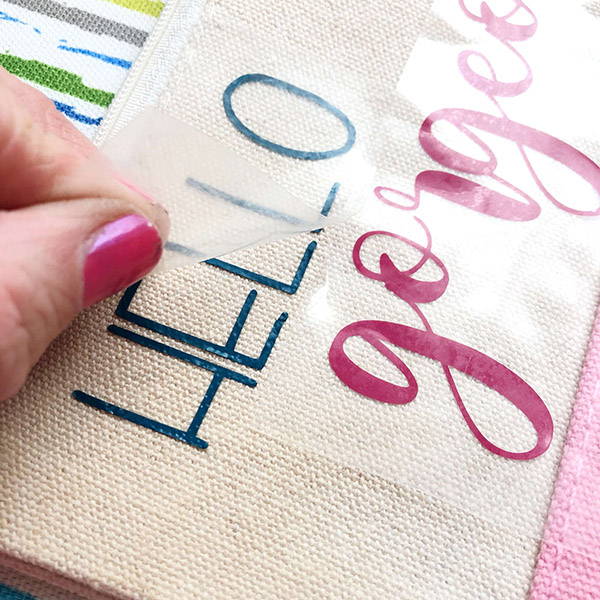 Once you've got a good adhesion, you're all set!
To know if you've got a good press, look closely at the HTV. If you can see the bumps and grooves of the fibers through the vinyl, that is a good sign!
Look at you! You've made two fun summertime projects with two very different materials!
Now just to recap, here are the main differences of HTV and Adhesive Vinyl:
Adhesive Vinyl


-ideal for materials other than fabric
-needs transfer tape
-think of it as a "colorful sticker"
-cut right side up
-has two layers: the adhesive vinyl itself and a backing sheet
Heat Transfer Vinyl-- "HTV"


-ideal for fabric materials
-has two layers: the heat activated vinyl and a clear carrier sheet
-designs needs to be mirrored before cutting
-requires heat and pressure to apply to fabric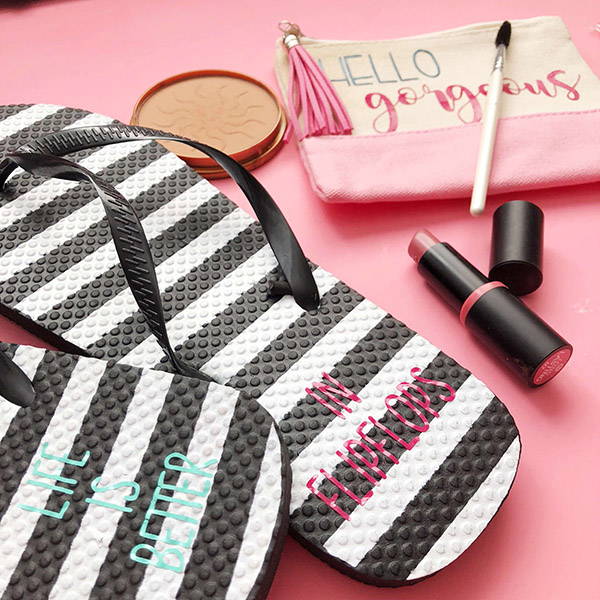 And there you have it! You'll be a vinyl expert in no time!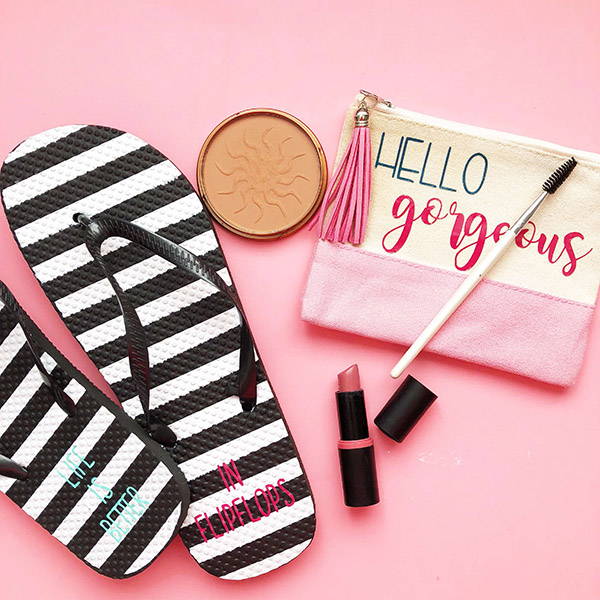 Thanks for checking out this post on the difference between HTV and Adhesive! We hope it helped you if you're a beginner and if you have any more questions please reach out to us!
About the Author
Aubrey Claybrook
My name is Aubrey and I currently live in Kaysville, Utah. I'm married to a wonderful husband and we have three silly, energetic kids. I love anything creative, including refinishing furniture, interior design, making fun party favors, holiday decor, and of course all things made with my Silhouette machine. I enjoy using my creativity as part of my every-day life, and I love inspiring others to do the same! Follow me on Instagram: @projectsilhouette
---