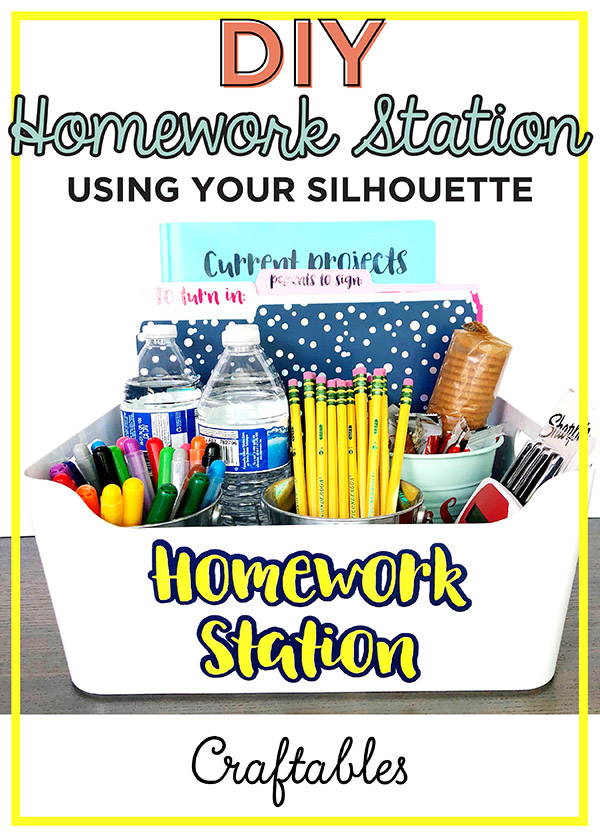 Hey everyone! I can't believe the summer is slowly closing and stores are stocking up on their back-to-school supplies. Before you know it, you'll be packing lunches signing permission slips, and helping with homework.
With the beginning of school, chaos sometimes tends to happen. I love organizing and keeping things tidy, so I want to show you a fun DIY homework caddy station you can do with adhesive vinyl that will help keep the homework and all those papers organized. So let's get started!
Supplies needed:
Plastic bin (I found mine at IKEA)
Small metal tins or cups (Target dollar spot always has great options)
School supplies 
Craftables adhesive vinyl(I used navy, yellow, and a darker magenta)
Cutting machine (I use a Silhouette CAMEO)
Weeding hook or craft tweezers
STEP ONE: Create text and designs
Open your software (I use Silhouette Studio) and the first thing I do is draw rectangles that are the size of my containers. That way I know how big or small to make my text. It's made my designing so much easier!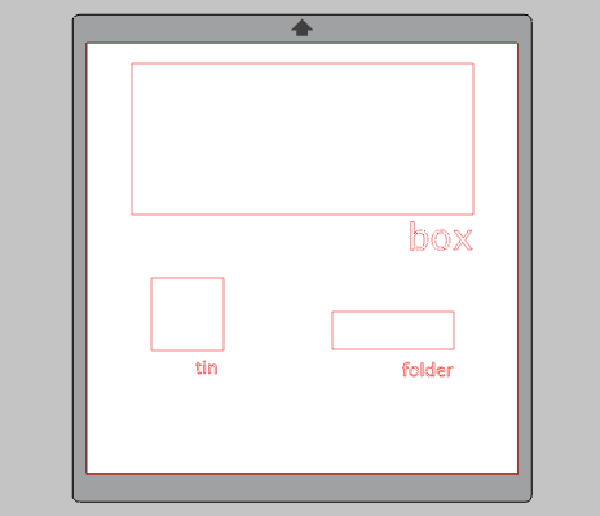 Now type up your words in a fun font. I used this handwriting font and I love it! *Hint: Add fill color to your text to get a better idea of what it will actually look like (instead of just seeing the outline)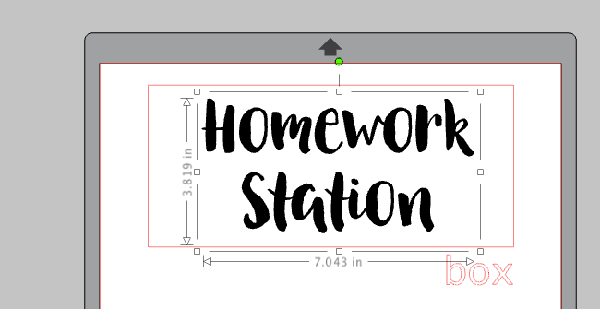 If you're ever using a script font where the letters overlap each other, you'll want to right click and select weld. This makes the word one piece instead of separate letters that will cut into each other.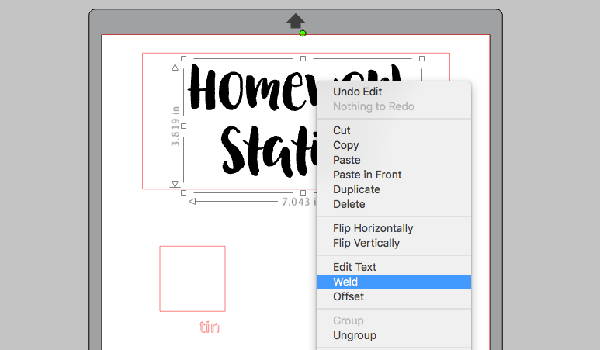 Now we have a few letters that weren't overlapping, so we want to make sure we group each word together. Do this by right clicking and select group.
For the "Homework Station" text, I wanted to layer two colors together, so I need to create an offset (or border) around the text. Do this by selecting your text and click the Offset option in your toolbar. You can choose how wide or thin you want the border.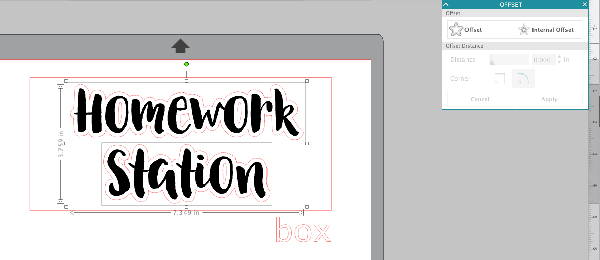 Once you have your words all typed up, another trick is to add fill color to them to color code each word. That way, there's no guessing at which color of vinyl you'll need for the words.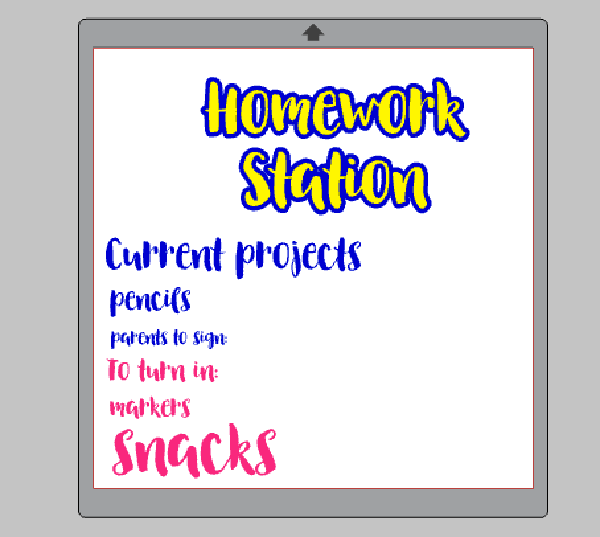 Group the same colors together so we can cut them out at once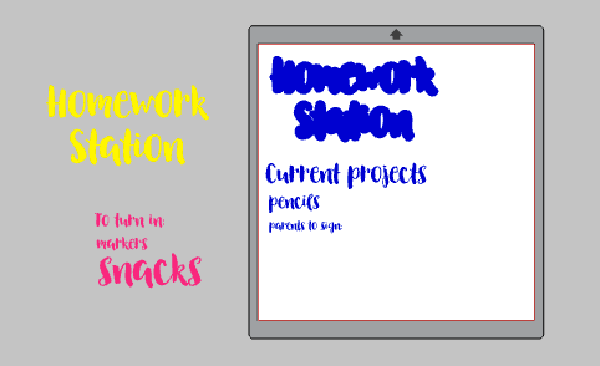 STEP TWO: Cut out text and designs
Go to your cut settings window and select vinyl, glossy. Make sure all the words have visible cut lines around them.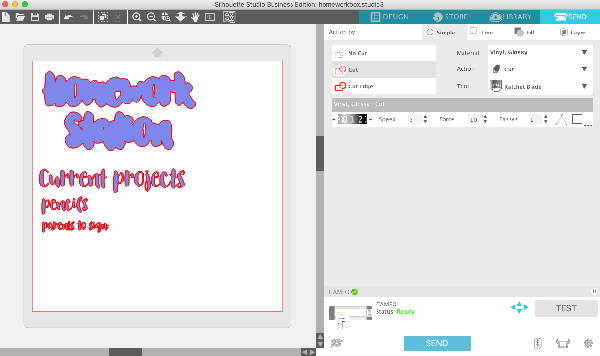 Place your vinyl onto your cutting mat, load it into your machine and click Send. Watch your machine do it's magic!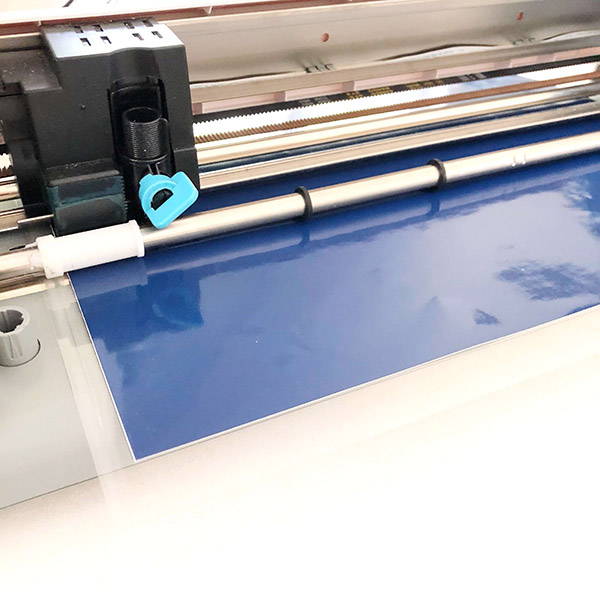 STEP THREE: Weed designs
Now we can peel off the vinyl we won't be using. If you have a good cut, the extra vinyl should come right off without any pulling!
Use a weeding hook or a pair of craft tweezers and pick out the insides of the letters.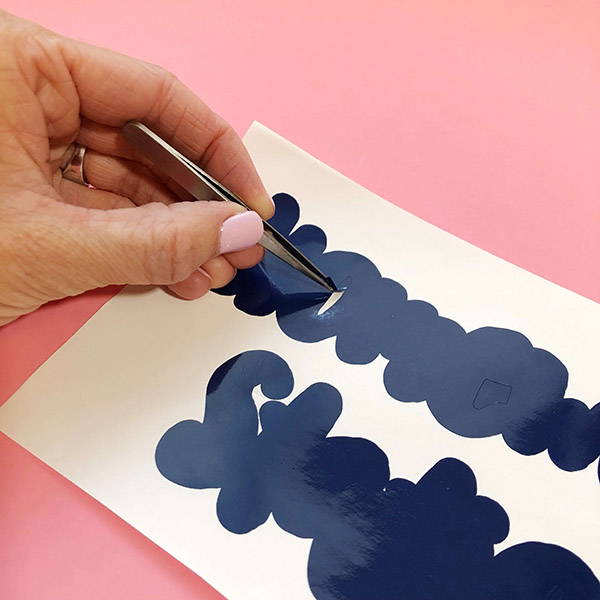 Continue with all the words until they are all weeded. Look how cute and colorful they are!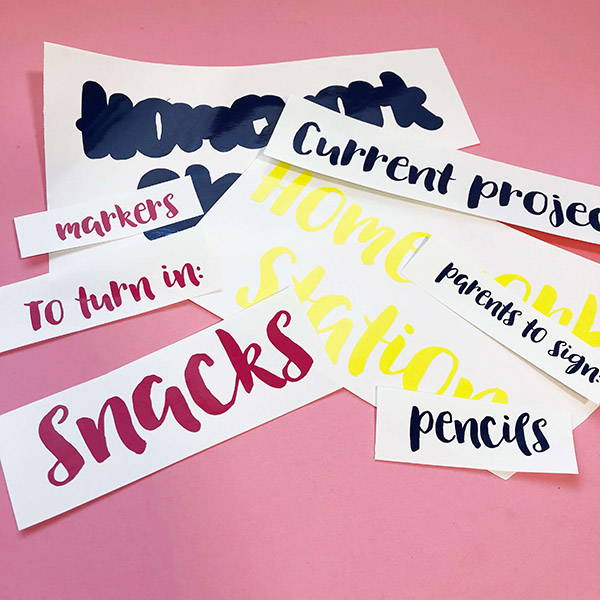 STEP FOUR: Transfer designs
Now grab a sheet of Craftables transfer tape and cut it to the size of the large yellow text.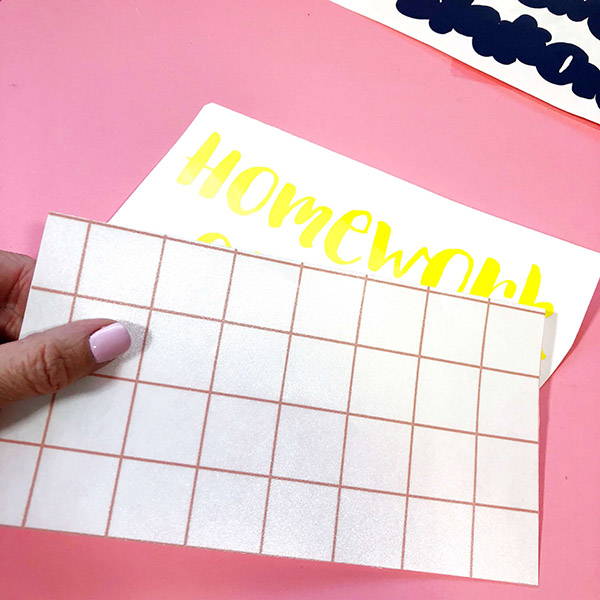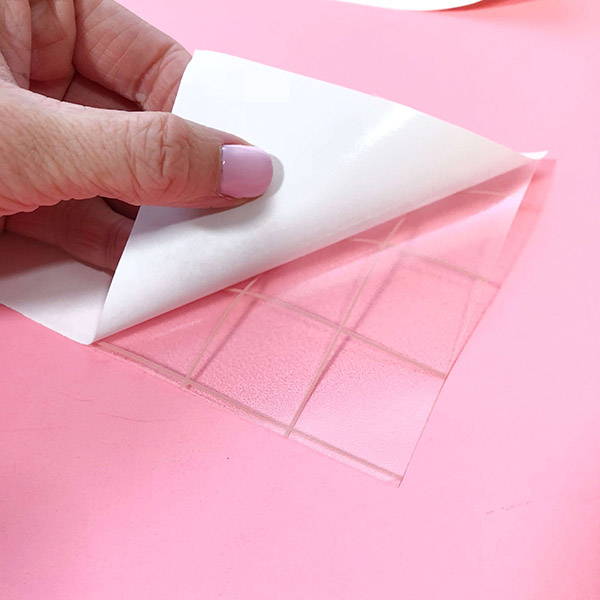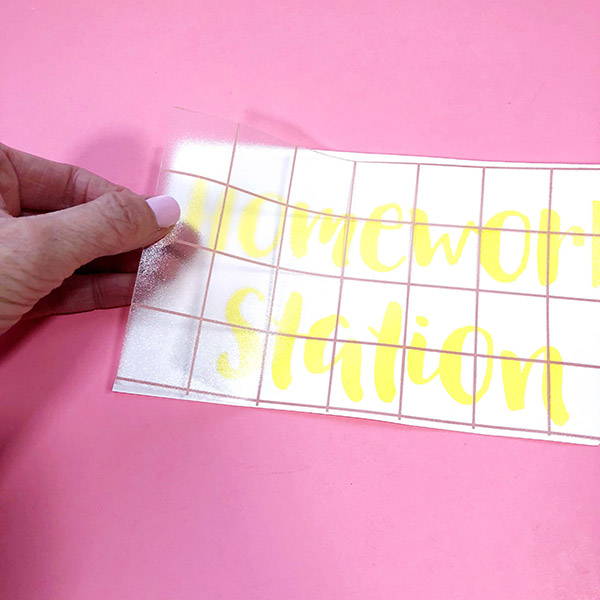 Use a scraper tool to adhere the transfer tape onto the vinyl. Nice and smooth!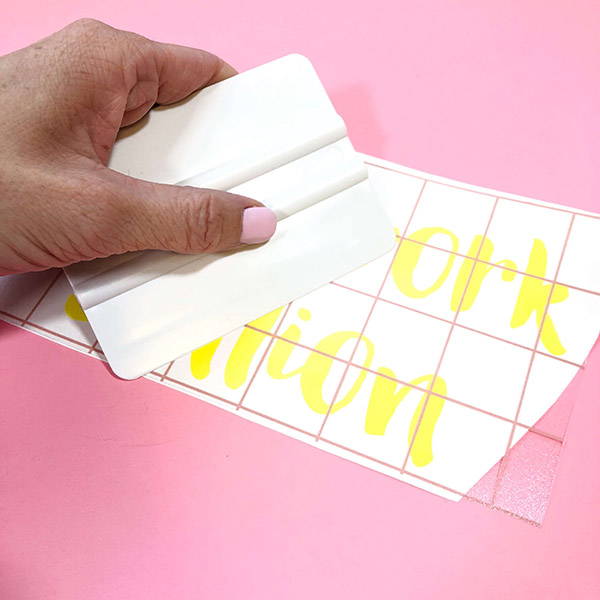 Turn your vinyl design over and gently peel off the vinyl backing. This will expose the adhesive side of the text.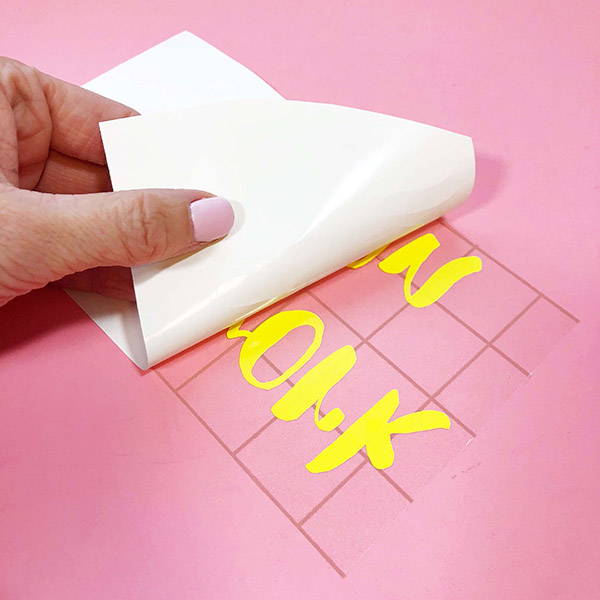 Now center the yellow text onto the blue offset and place it down. Since this is glossy vinyl, you have one shot...so make it count!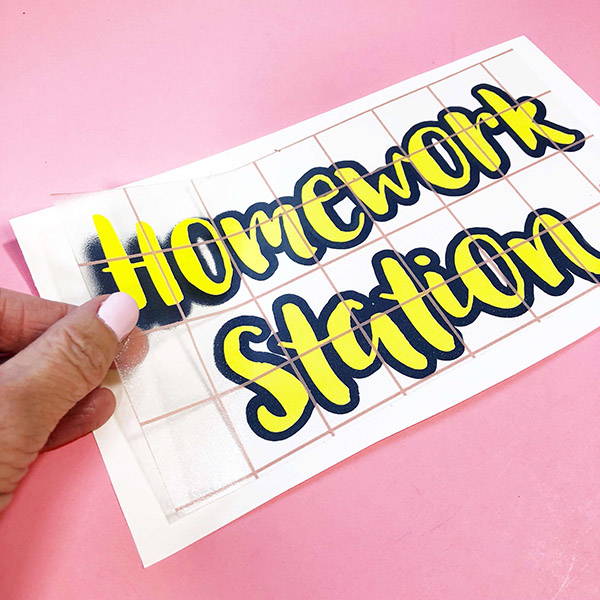 Once again, use your scraper tool to smooth out any bubbles or wrinkles.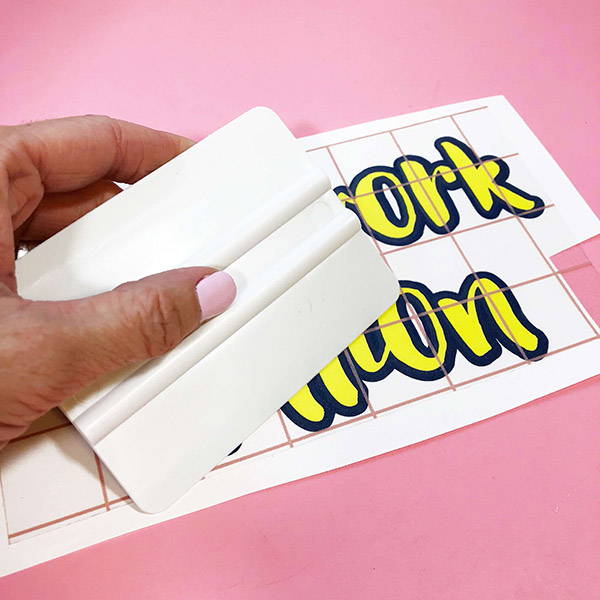 Now peel off the backing paper of the layered blue vinyl.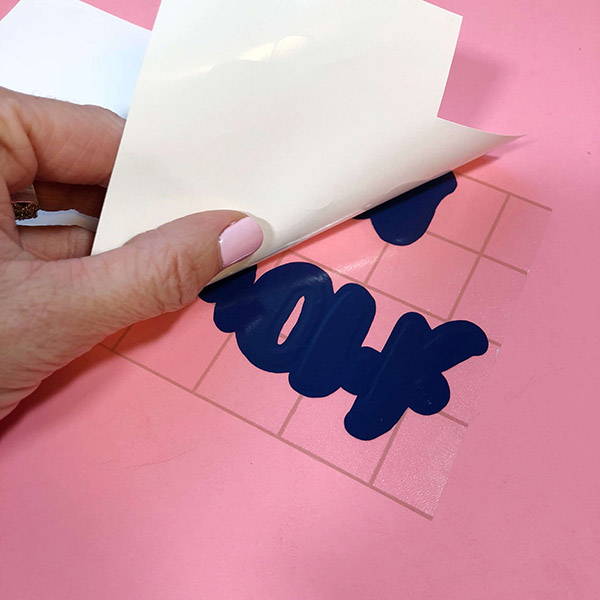 Center your layered design onto the white bin and carefully place it down.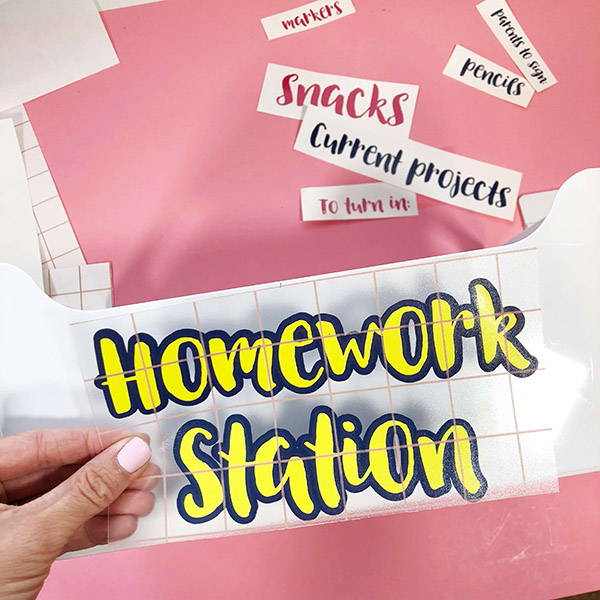 Use your fingers or a scraper tool to adhere the vinyl onto the bin.
Now peel off the transfer tape and voila! You have a cute customized bin!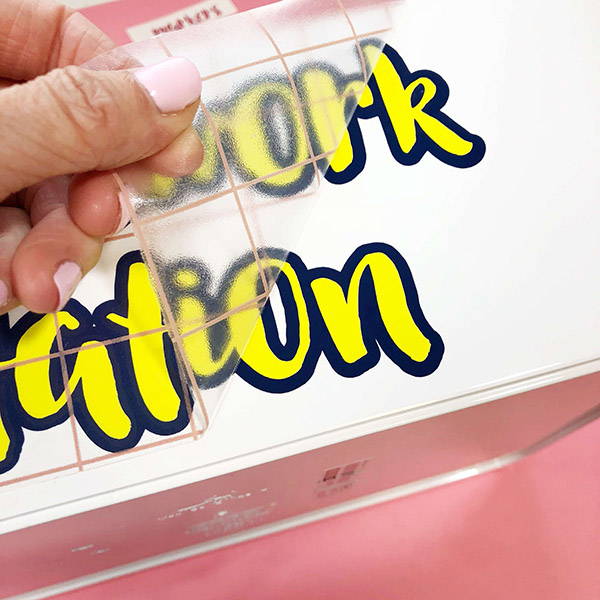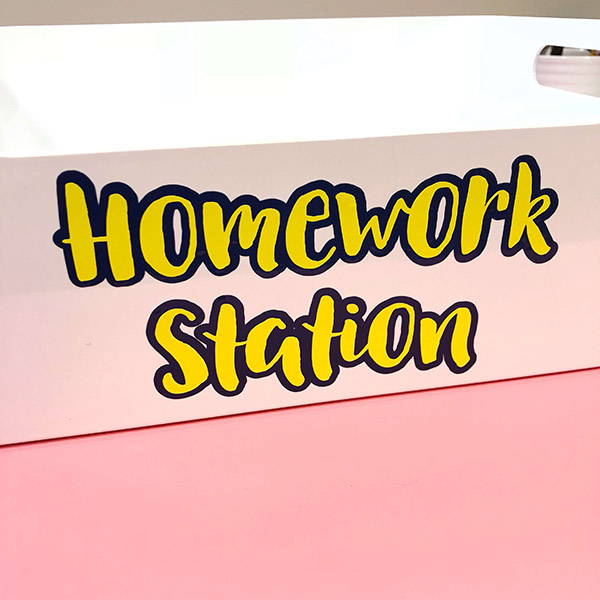 Note: Layering vinyl can either be done BEFORE transfering onto surface (as shown above) or placed first onto the surface and then adding layers on top. Either way works great.
STEP FIVE: Repeat for other materials
Now you can follow those same steps and add your vinyl words onto the file folders, metal tins, and snack tin.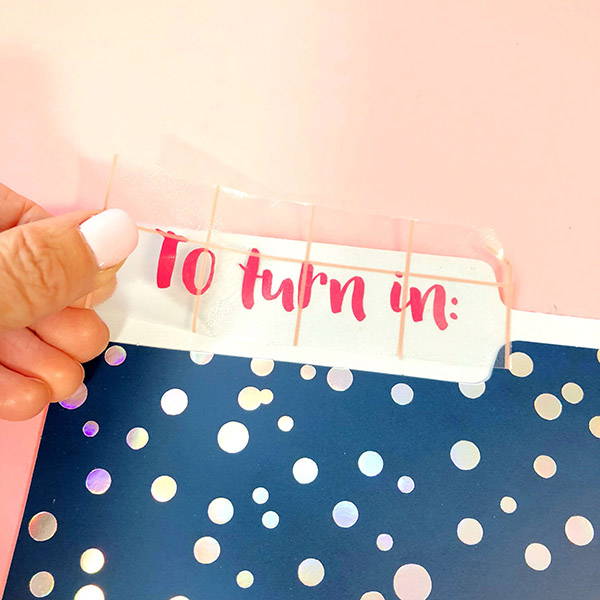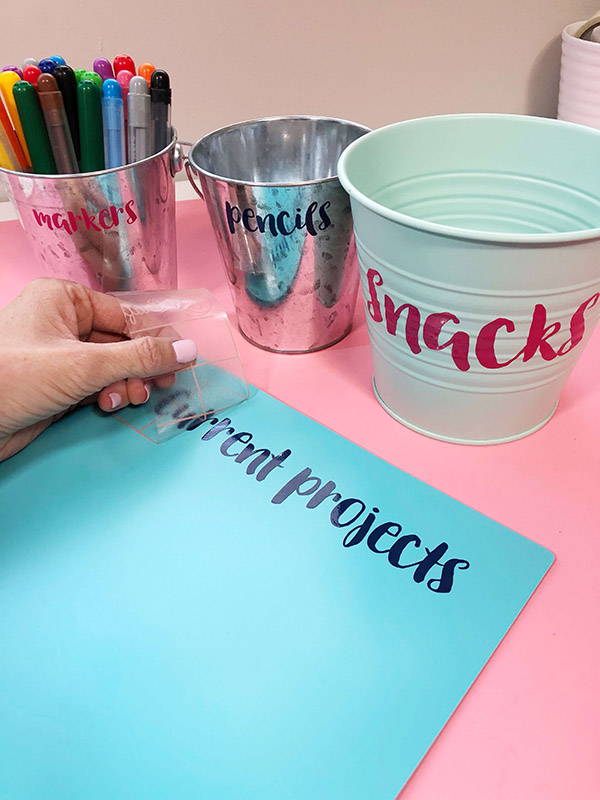 Add snacks and all your school supplies and you have a great, organized homework station!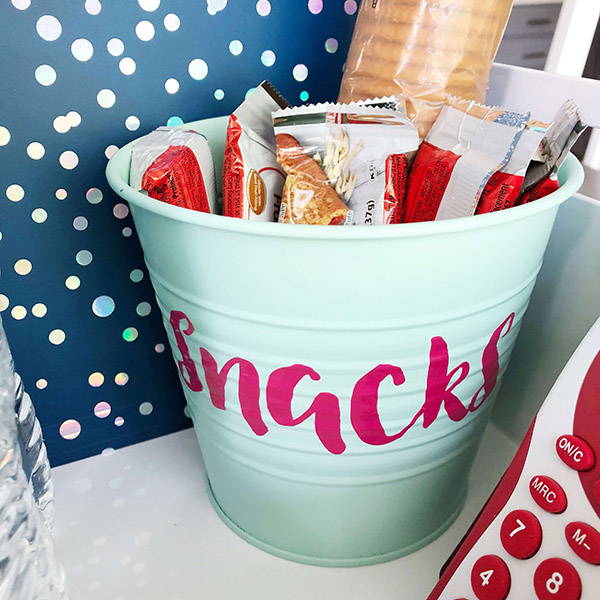 These file folders are a great way to keep all those permission slips and finished homework from getting lost (or eaten by the dog!)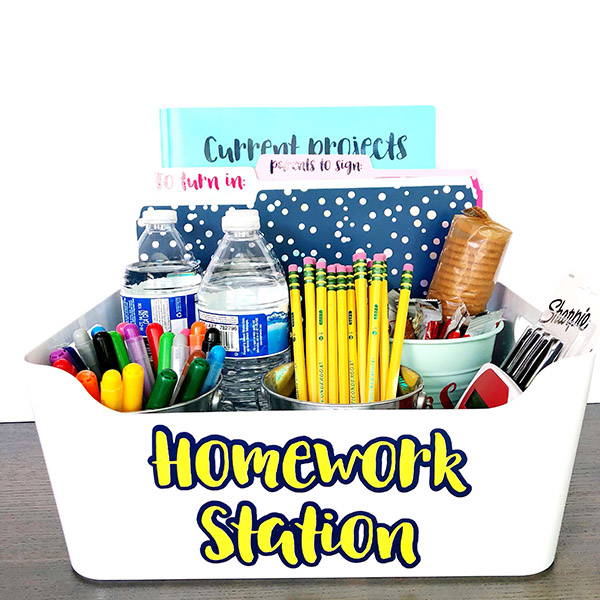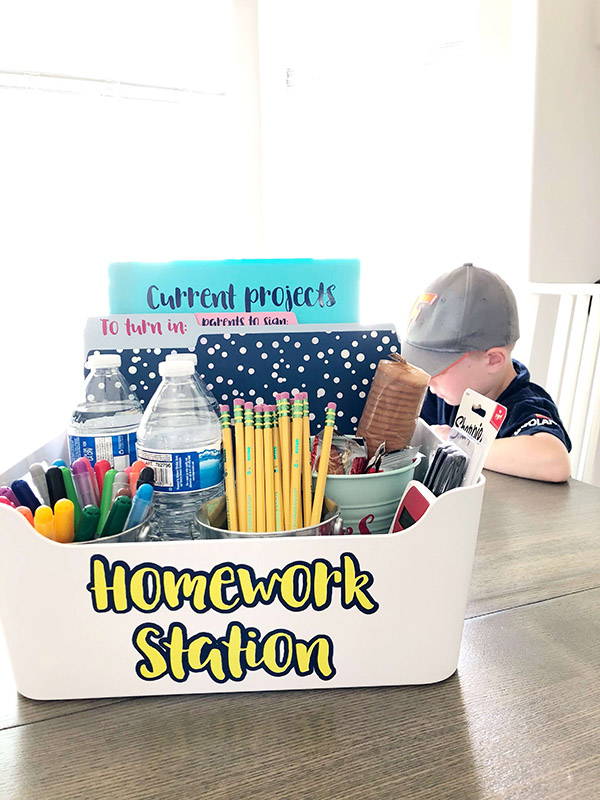 What's great about this homework station is that we made it in a bin, so it can be moved wherever is most convenient.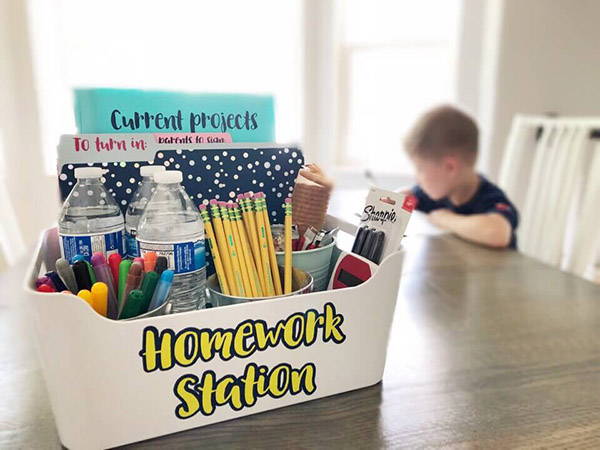 I hope this fun project will help you stay organized as the school year begins! Be sure the check out the  Craftables Blog for more inspiration and great products!
About the Author
Aubrey Claybrook
My name is Aubrey and I currently live in Kaysville, Utah. I'm married to a wonderful husband and we have three silly, energetic kids. I love anything creative, including refinishing furniture, interior design, making fun party favors, holiday decor, and of course all things made with my Silhouette machine. I enjoy using my creativity as part of my every-day life, and I love inspiring others to do the same! Follow me on Instagram: @projectsilhouette