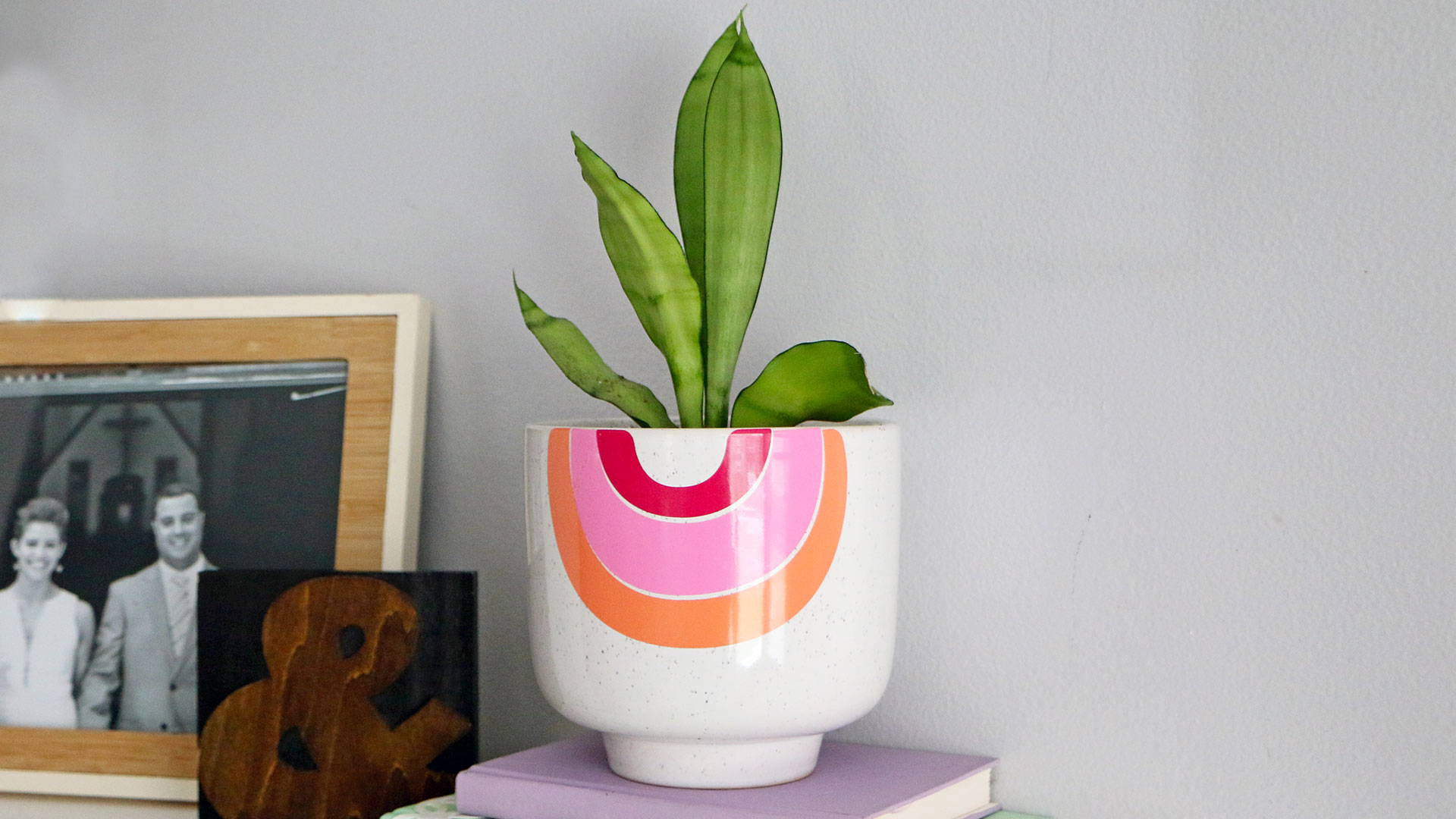 It's time to bring some green into your home with this cheery DIY Custom Adhesive Vinyl Rainbow Planter!
Having greenery in your home always makes it better. This rainbow planter is a super quick DIY project perfect for beginners! You can transform a plain planter in minutes using adhesive vinyl and a Silhouette Cameo or Cricut. I used shades of pink adhesive vinyl for my planter, but you can customize it with whatever colors you want to match your décor!
Check out the full tutorial below to see how you can create your own This DIY Custom Adhesive Vinyl Rainbow Planter!
HERE ARE THE SUPPLIES YOU'LL NEED:
Ceramic Planter

Scrapper or Credit Card

Electric Cutting Machine

Light Grip Cutting Mat

Scissors

Plant and Dirt

Rubbing Alcohol and Cloth or Cotton Ball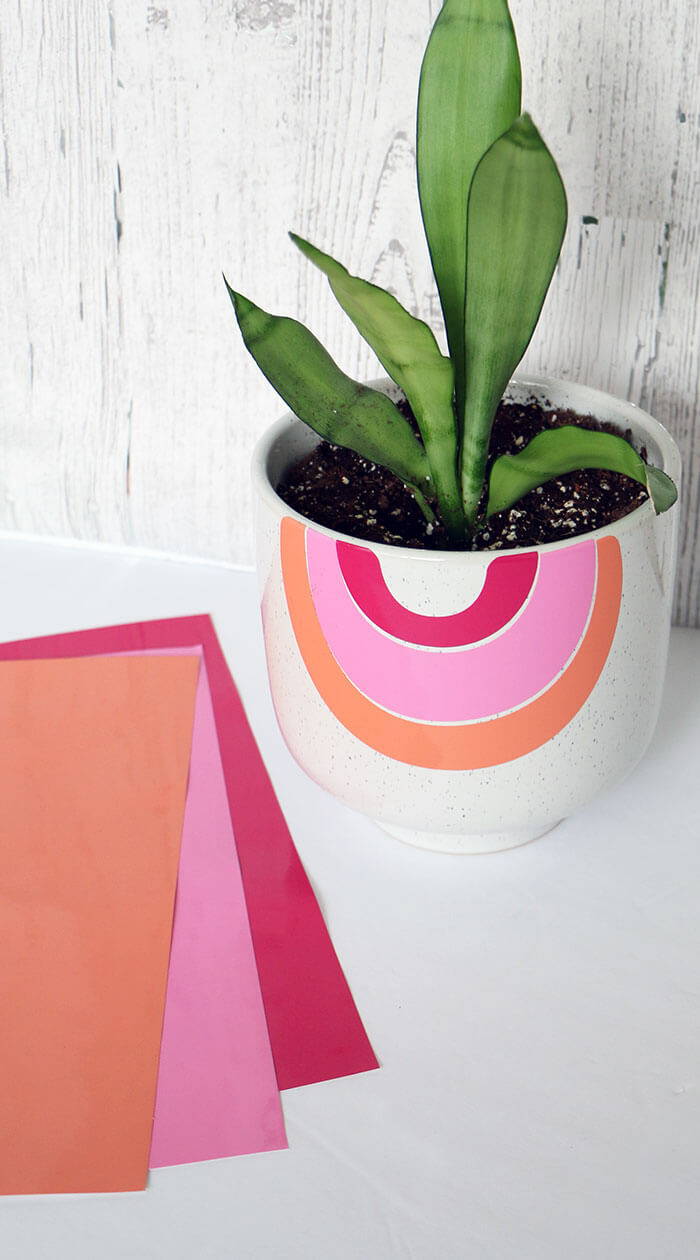 Step 1: Open Cricut Design Space and open the Rainbow #MCDD5F9F (Cutie Shapes). Select the image and hit "ungroup". Then, hide the top and bottom layers. Add 3 circle shapes and resize them so they fit over the eyes and mouth. Once you have completely covered these areas, select the entire image and hit "Weld". Then, unhide the other two layers. Highlight the entire image and resize it so it'll fit on your pot. You can use a tape measure to get the desired size for your pot.
Step 2: On your Cricut, select "vinyl" as the material you are cutting in the cut settings window and click continue.
Step 3: Add your first vinyl sheet to light grip mat with the colored side facing up. Continue with the other colors of vinyl until all three have been cut.
Step 4: Once all of your layers are finished cutting, cut around each, and then weed the remaining vinyl.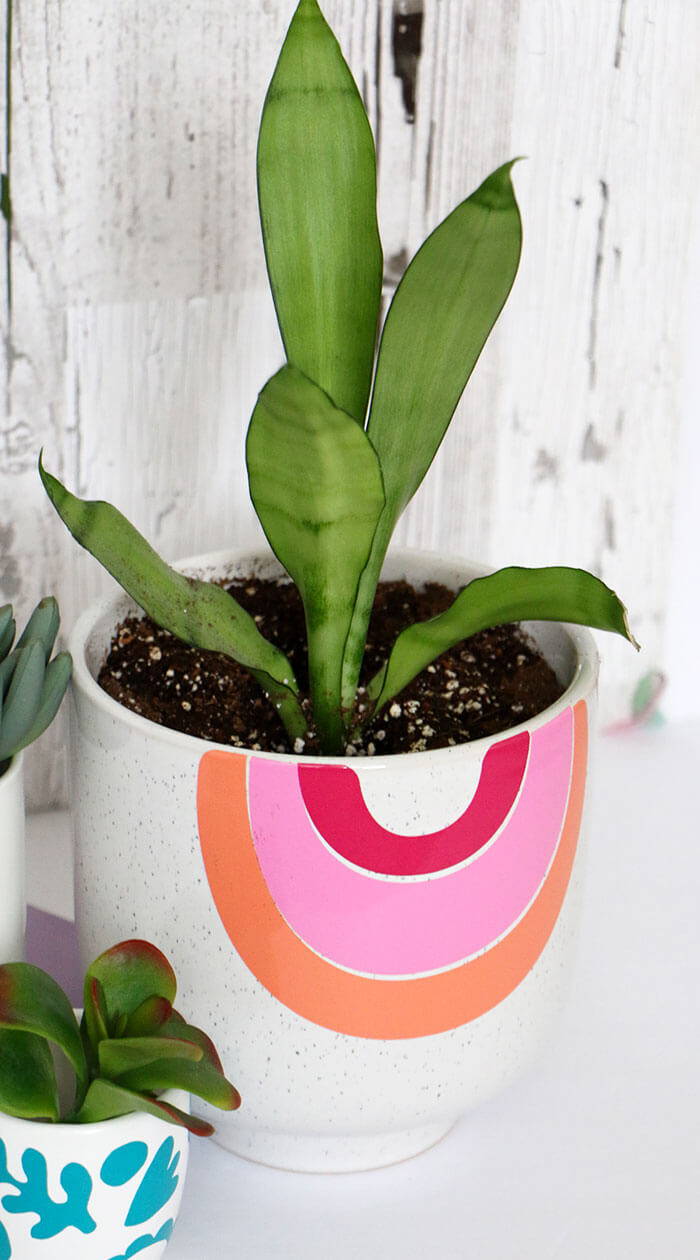 Step 5: Clean the surface of your pot where you plan on adhering your vinyl design. You can use rubbing alcohol and a cloth or rag.
Step 6: Here's how to transfer the adhesive vinyl to the ceramic pot. First, cut a piece of transfer tape large enough to cover the design. Lay it over the design and use a scraper tool (or credit card) over the entire design with firm pressure. Slowly peel back the transfer tape. The vinyl should come up with the tape. If it doesn't lay the transfer tape back down and rub over it again with your scrapper.
Step 7: Place the design on your pot and use your scraper to go over it, rubbing firmly. Slowly peel back the transfers tape. You'll repeat this for the other two colors of the design.
Step 8: Add a plant and some dirt to your pot.
You now have a fun DIY custom rainbow planter to display in any room of your home to add a pop of color and greenery!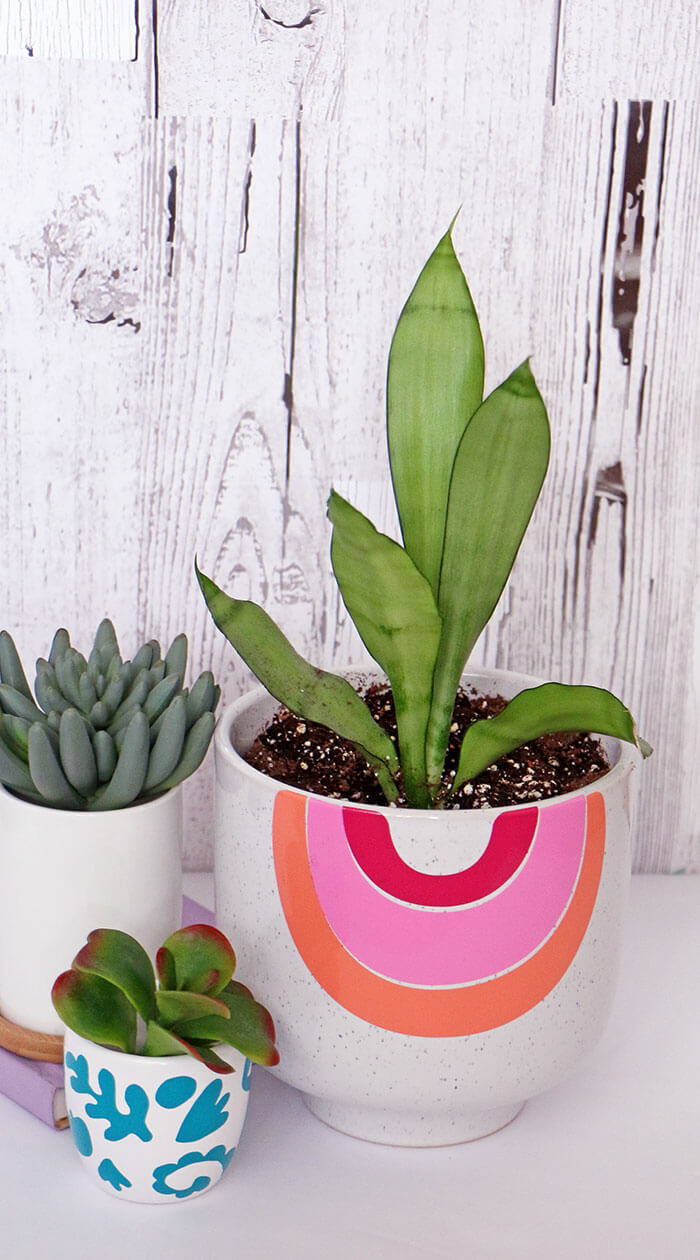 About the Author
Meghan Quinones
Meghan lives in Chicago with husband and 4 year old twins. She is obsessed with making and creating for the look for less. Pretty much every decor piece in her home is something she either made or upcycled. She started her blog to inspire everyone who visits her online creative space to create in their own lives.