DIY Easter Egg Hunt Project: Adhesive Vinyl on Hard Boiled Eggs

Punny Easter eggs are such a fun addition to Easter celebrations and today we're showing you how to DIY your own cute Easter egg decorations. Get your Cricut machine ready and follow this easy step-by-step tutorial showing you how to apply adhesive vinyl on hard boiled Easter eggs.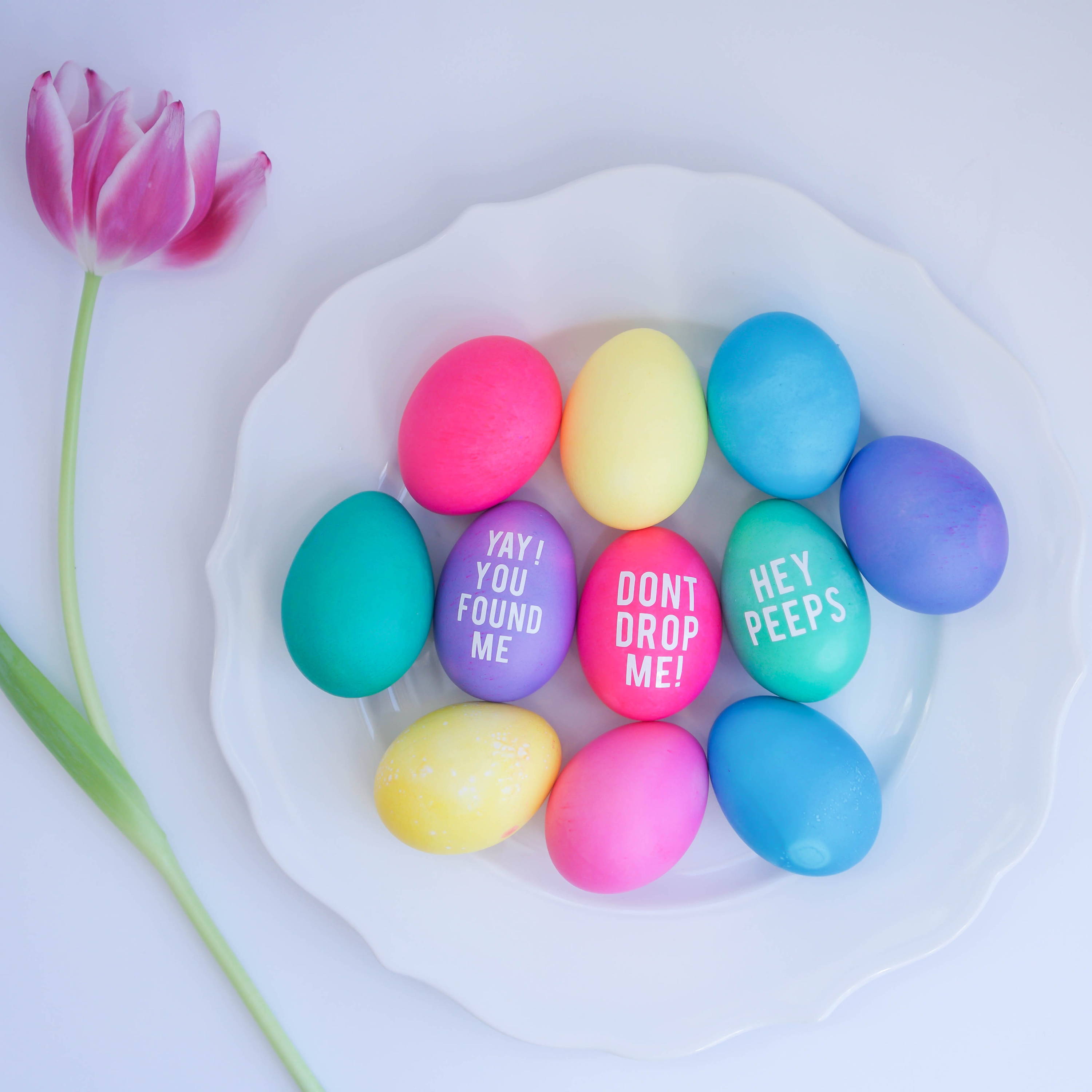 Difficulty Level: Moderate
Estimated Time To Complete: 30 Mins
Here's What You'll Need:
Hard Boiled/Dyed Eggs

Cricut Maker or similar machine
Step One: Scale Designs
In Cricut Design Space, type out the puns you want to use and scale them so that they fit on the eggs. The font I used here is called Bebas and each design is 1.5 inches in height. Eggs are small so you don't have much more than 1.5" to work with but you can easily fit up to 2 inches from top to bottom. Follow this tutorial to learn how to download and install free fonts.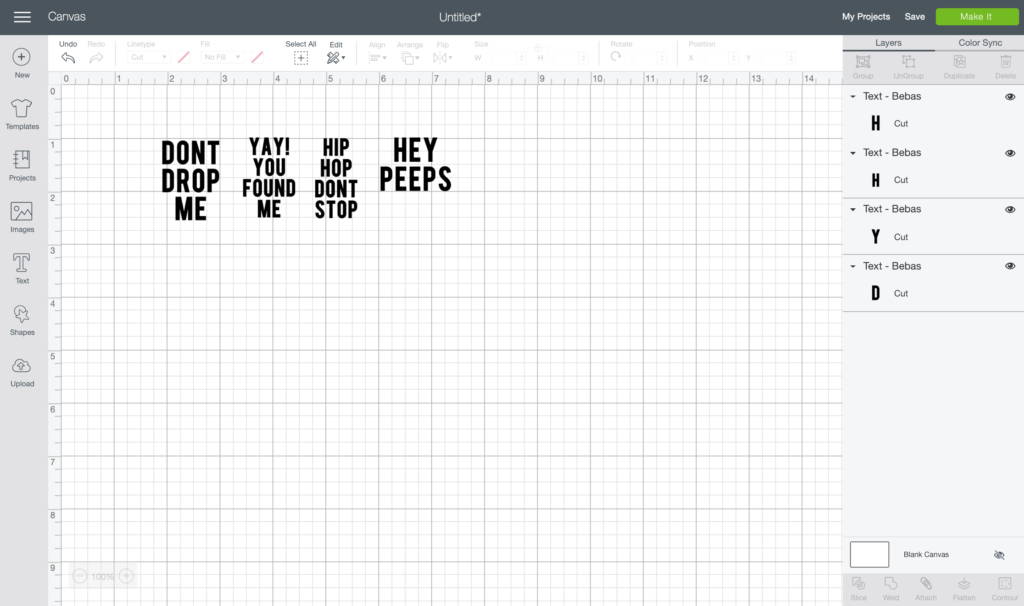 Step Two: Load and Cut
Place a sheet of adhesive vinyl on the cutting mat with the paper side sticking to the mat. The glossy/vinyl side should be face up.
Align the cutting mat between the two guides on the machine and press the load button.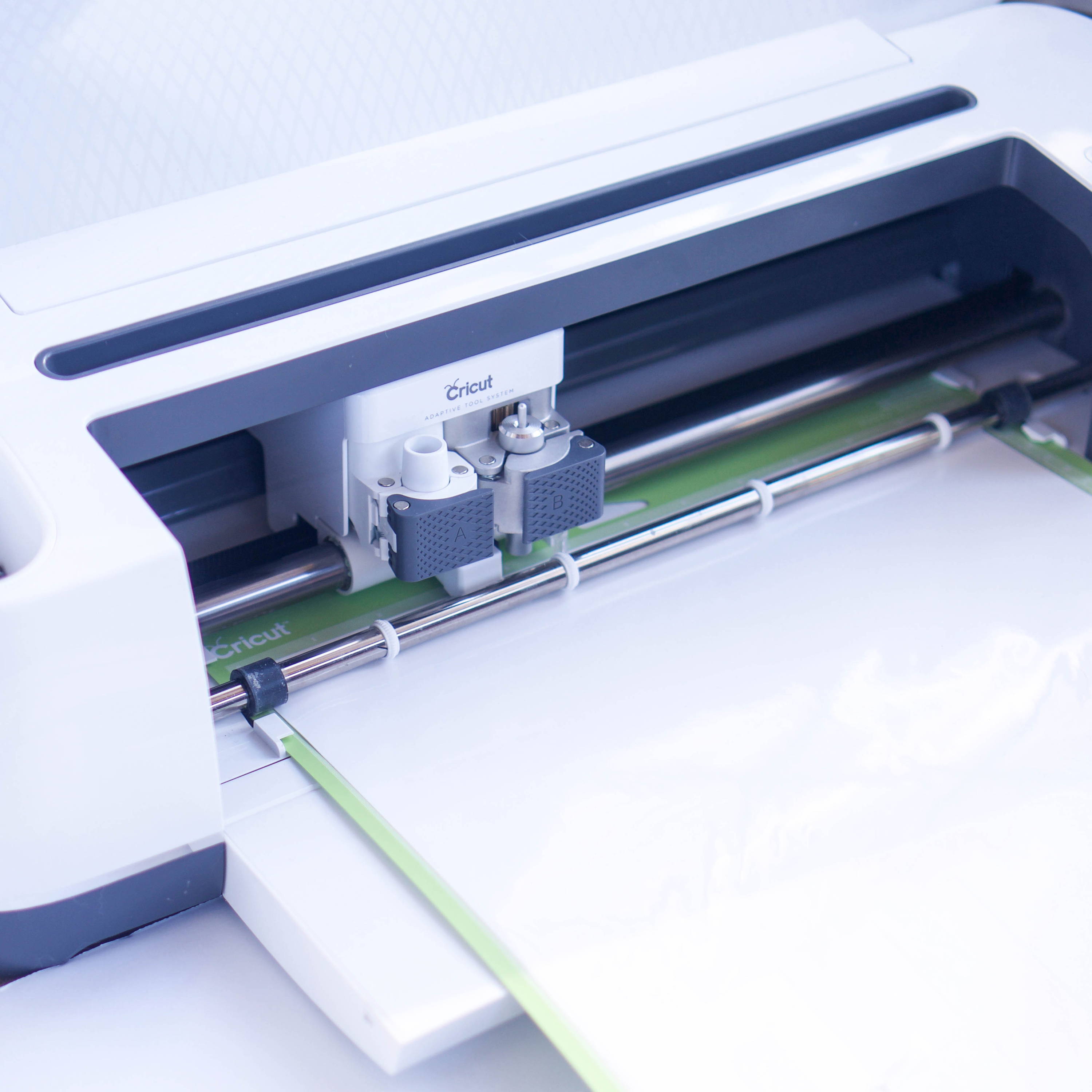 Step Three: Weed Designs
After cutting is complete and you unload the mat, it's time to weed your cute DIY Easter egg decorations! Weeding is the process of removing the unwanted pieces of vinyl from the design using a weeding or hook tool.
Normally you would remove the negative space from around the letters but since we are working with tiny letters today, we're going to do reverse weeding instead.
First, use the hook tool to remove the centers of letters such as O, A and P.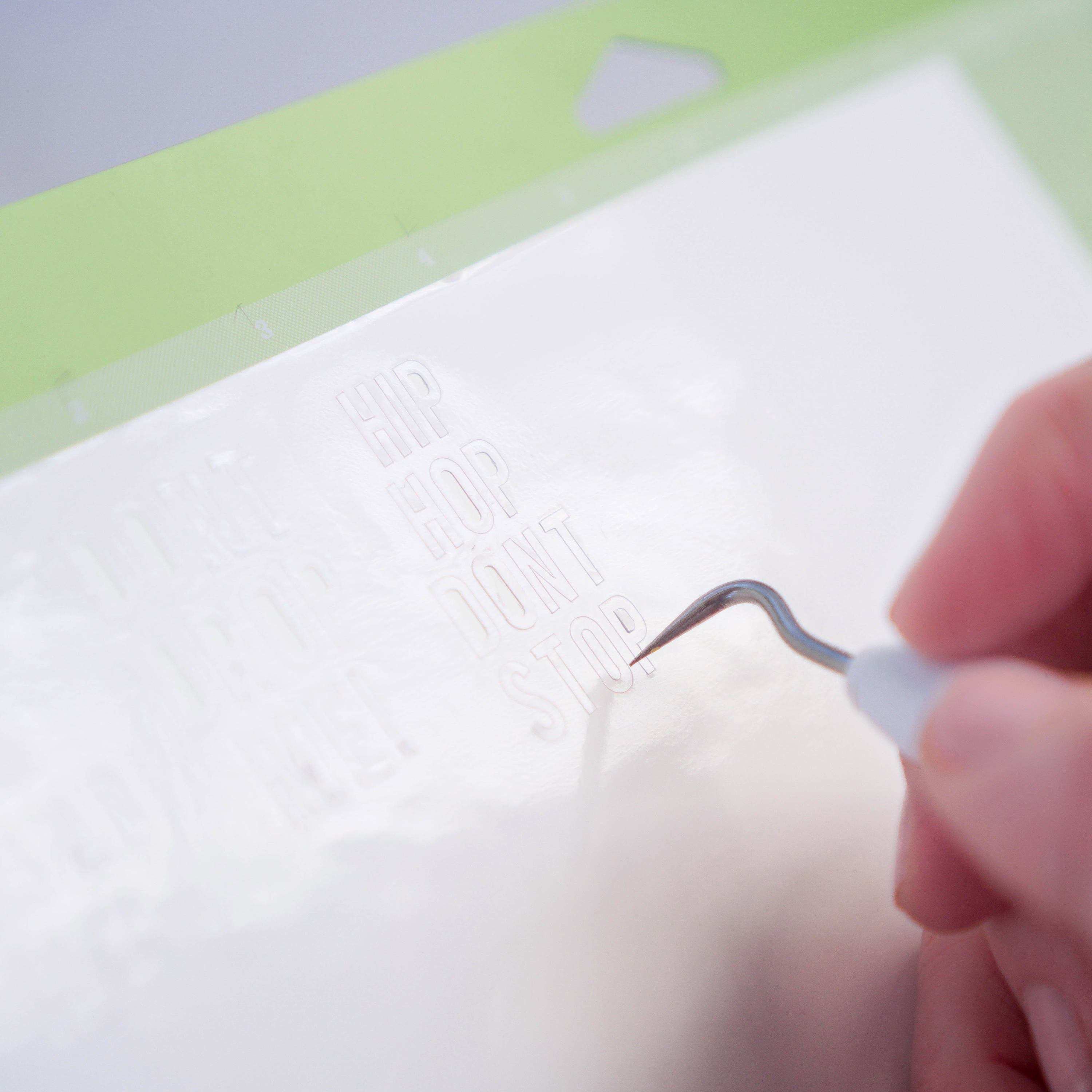 Then, use firm pressure to apply a piece of transfer tape over the words, burnish over each design really well with a scraper tool or something similar.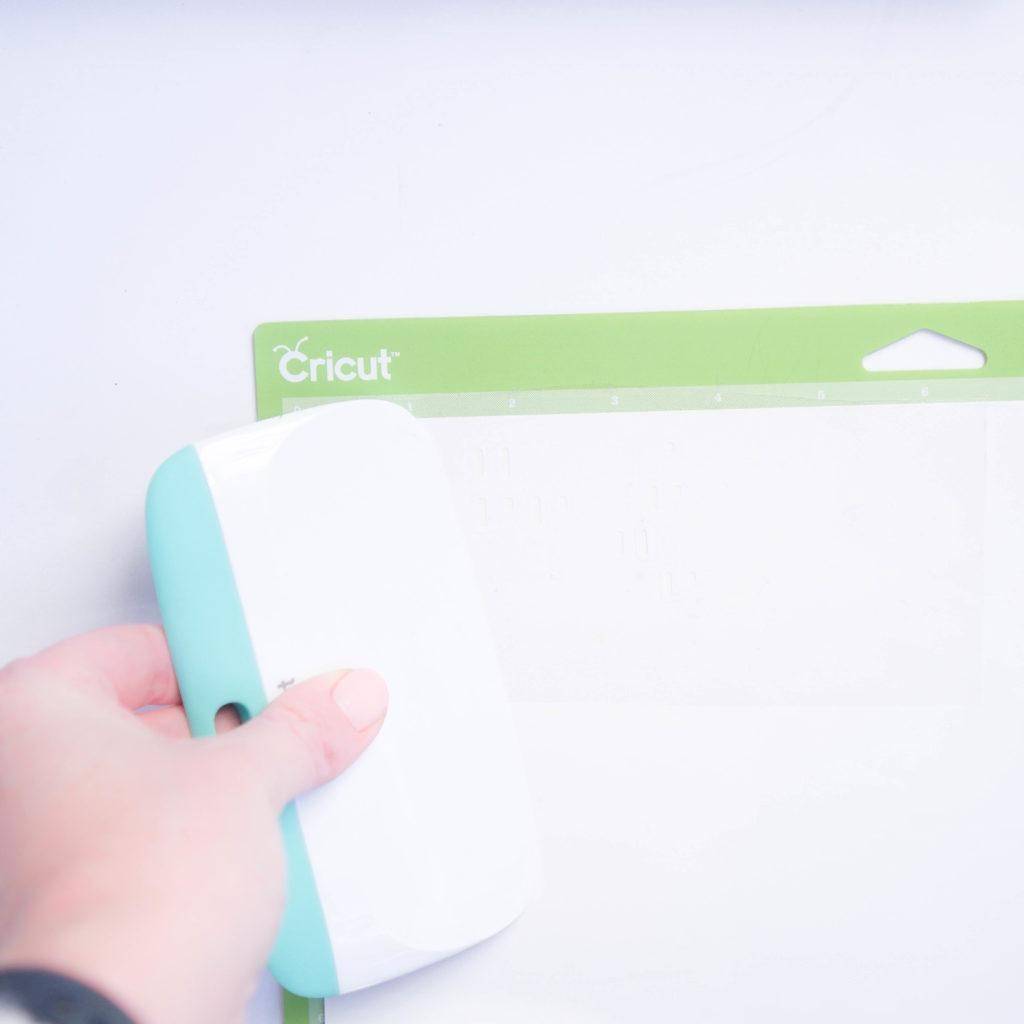 Now when you peel the transfer tape away from the vinyl, the letters will be attached to it and you don't have to worry about losing any of them during the weeding process.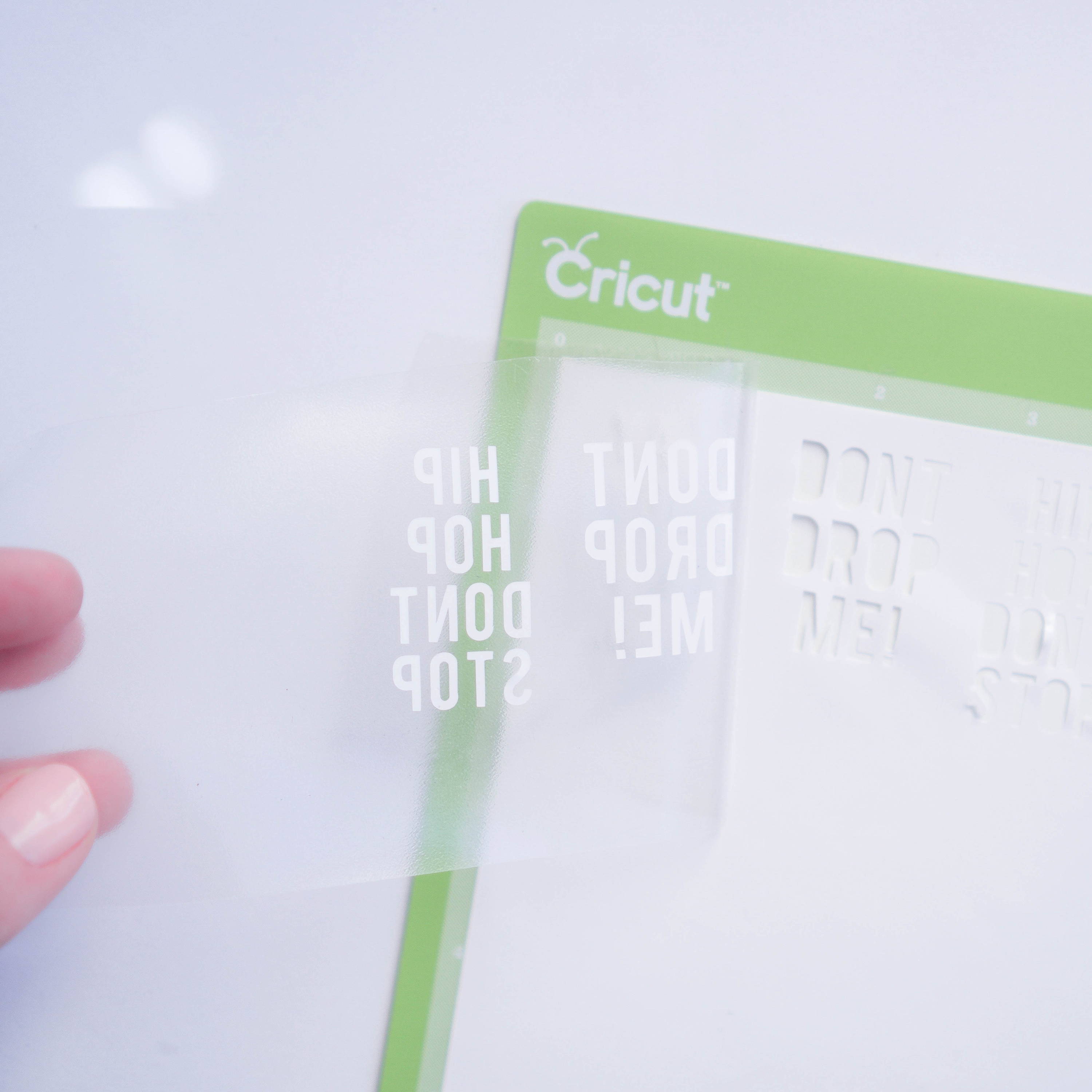 Reverse weeding works great for any designs that are really small.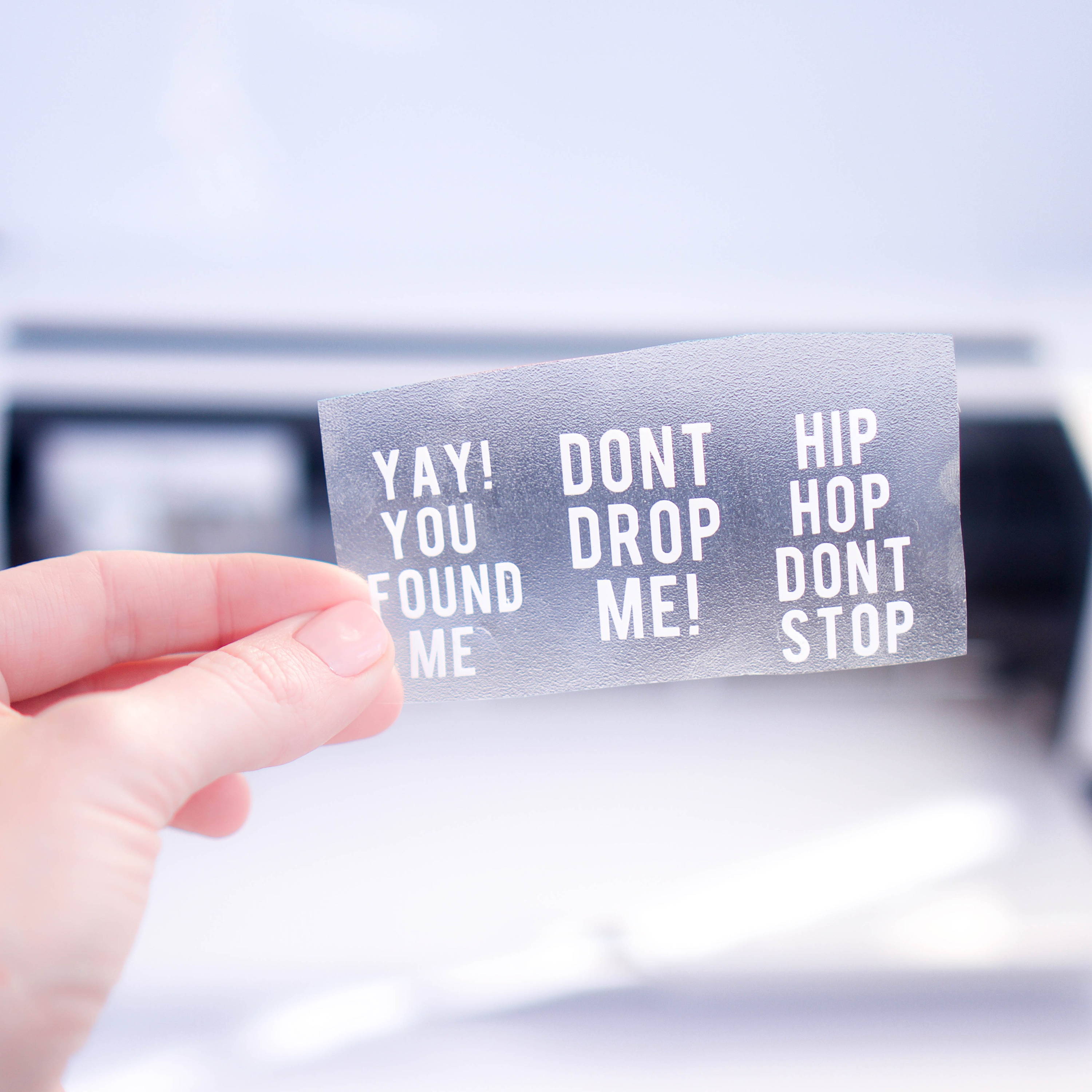 Step Four: Transfer Designs
To apply the adhesive vinyl decals to the eggs you'll first want to cut as close to the words as possible. Just leave a thin border of transfer tape all the way around the edge.
To help the design form around the shape of the egg, I cut small slits all around the edge of the transfer tape. Cut as close to the letters as you can without actually cutting into the adhesive vinyl decals.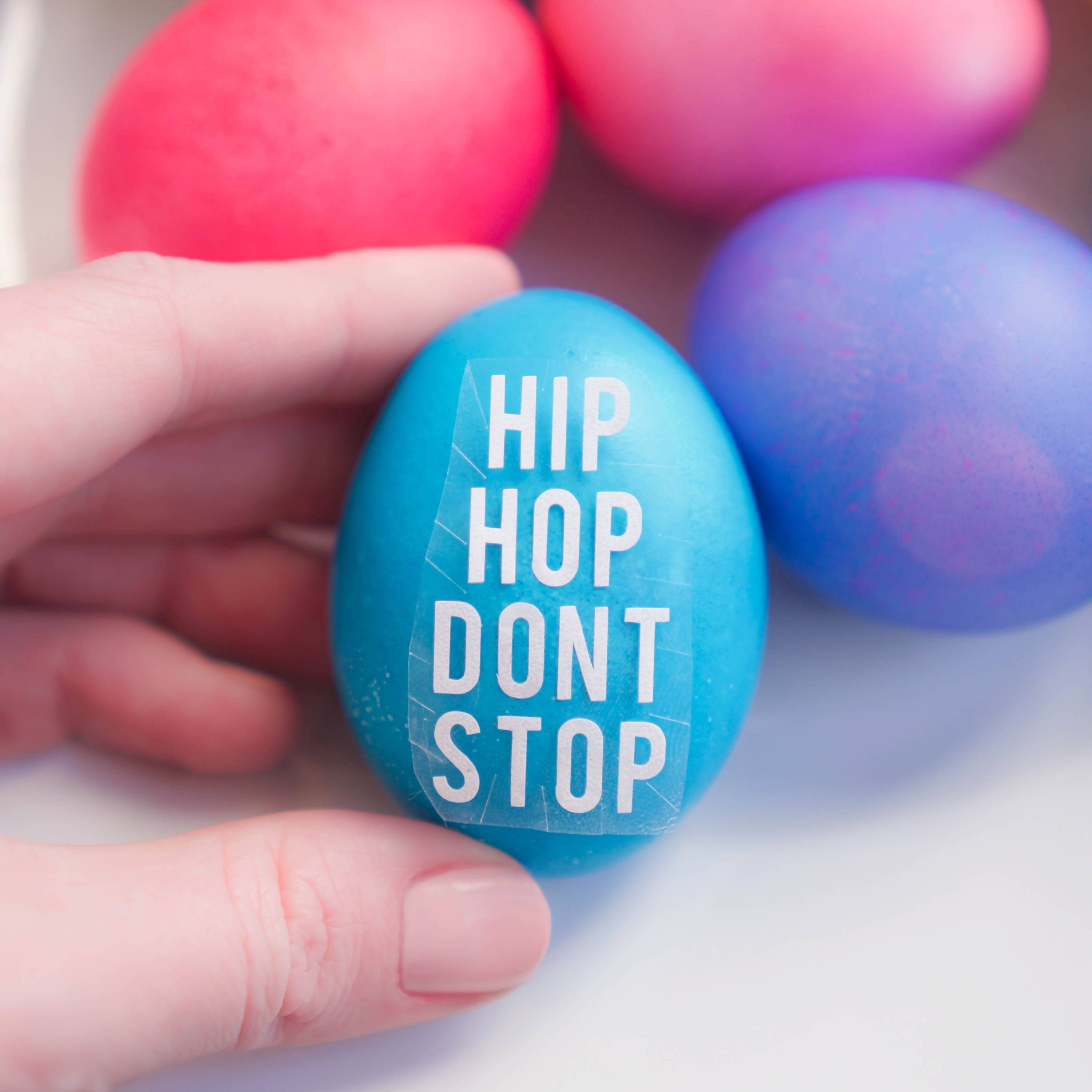 Use your fingers to rub over the vinyl letters causing them to stick to the surface of the egg then peel away the transfer tape.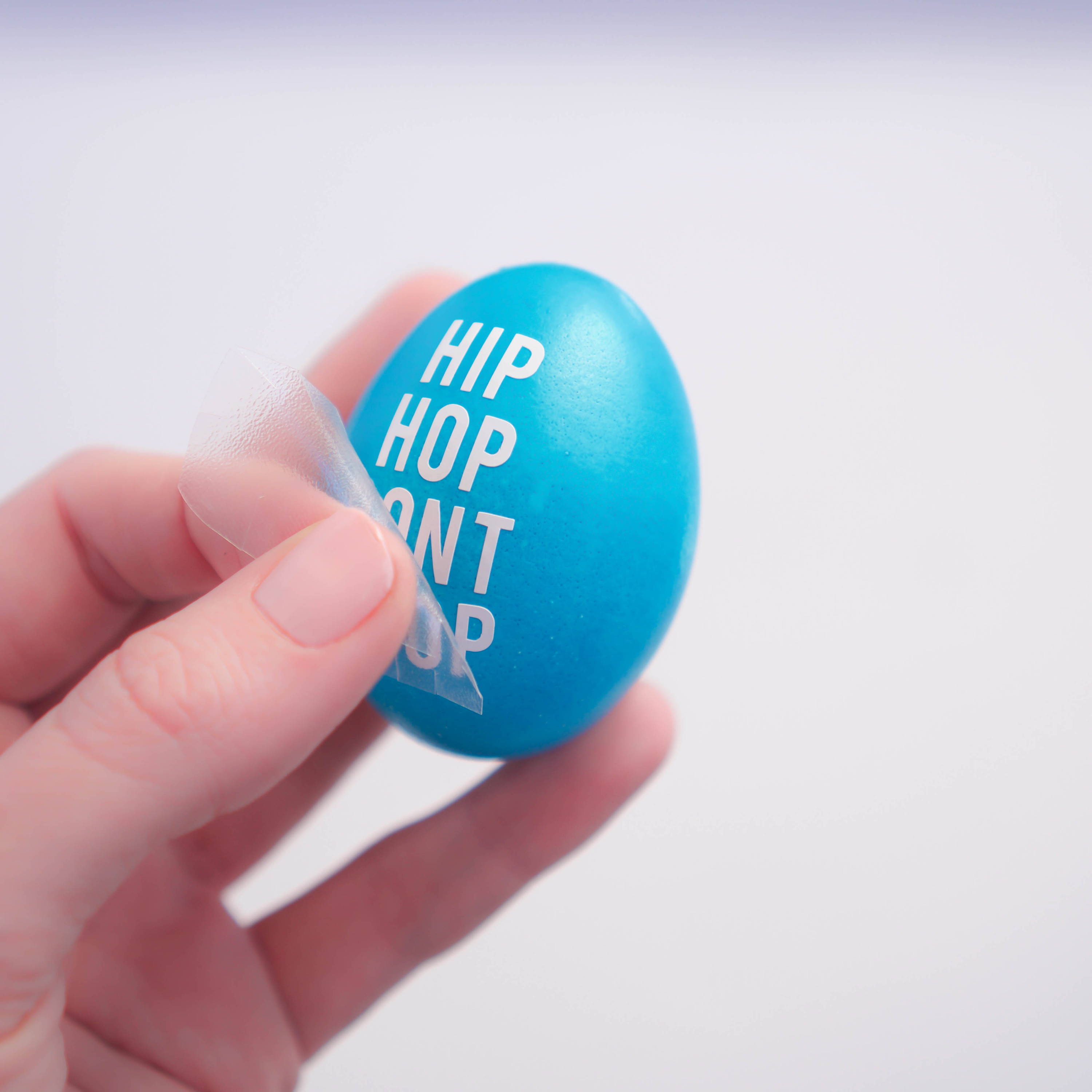 A couple of tips if you're having trouble with these adhesive vinyl decals sticking:
Make sure the eggs are completely dry before starting. I allowed mine to dry on a towel overnight.

Try not to touch the sticky side of the vinyl with your hands, the oils on your skin will cause it to lose its stickiness.

If you're still having trouble, use a hair dryer on low to warm the vinyl and help it adhere to the egg.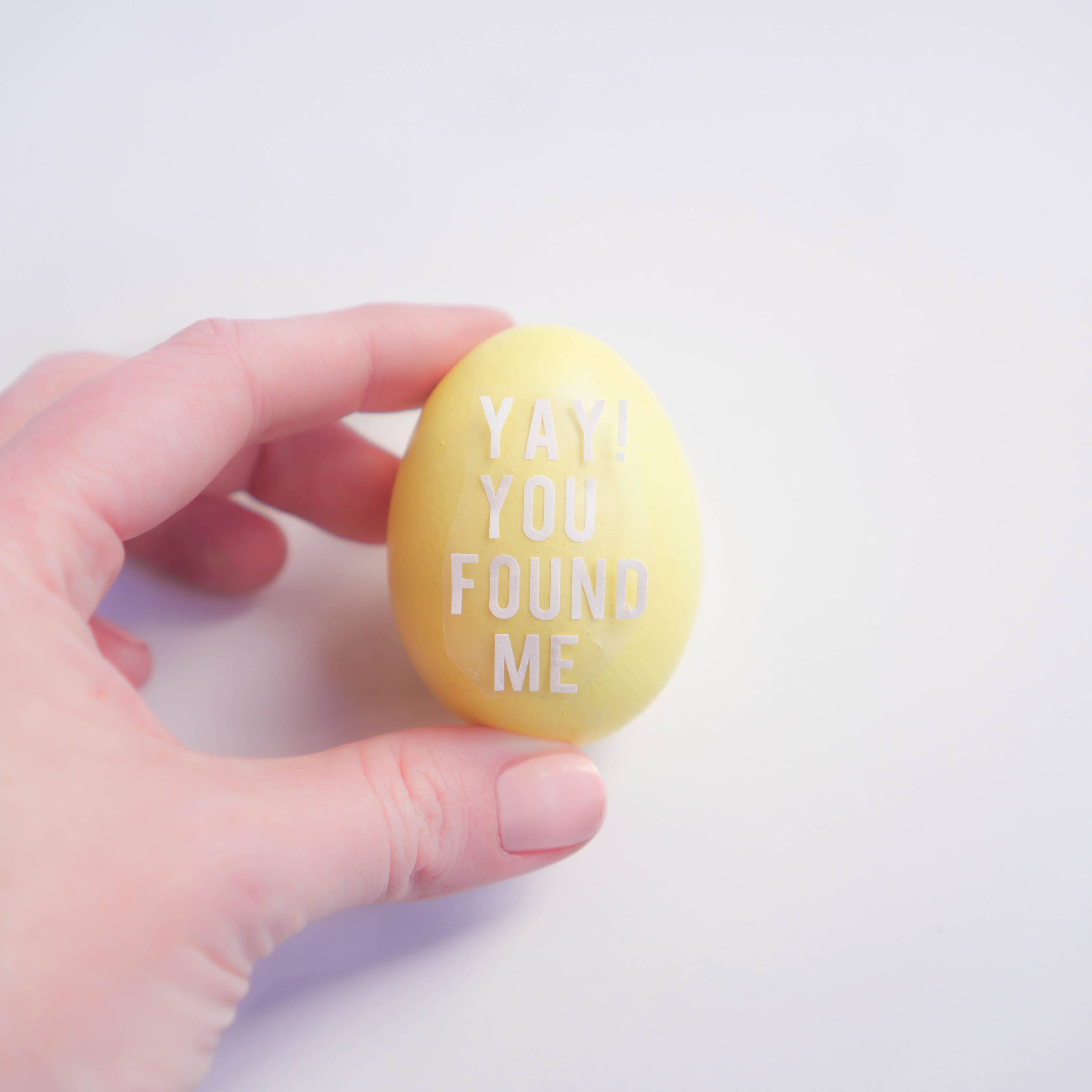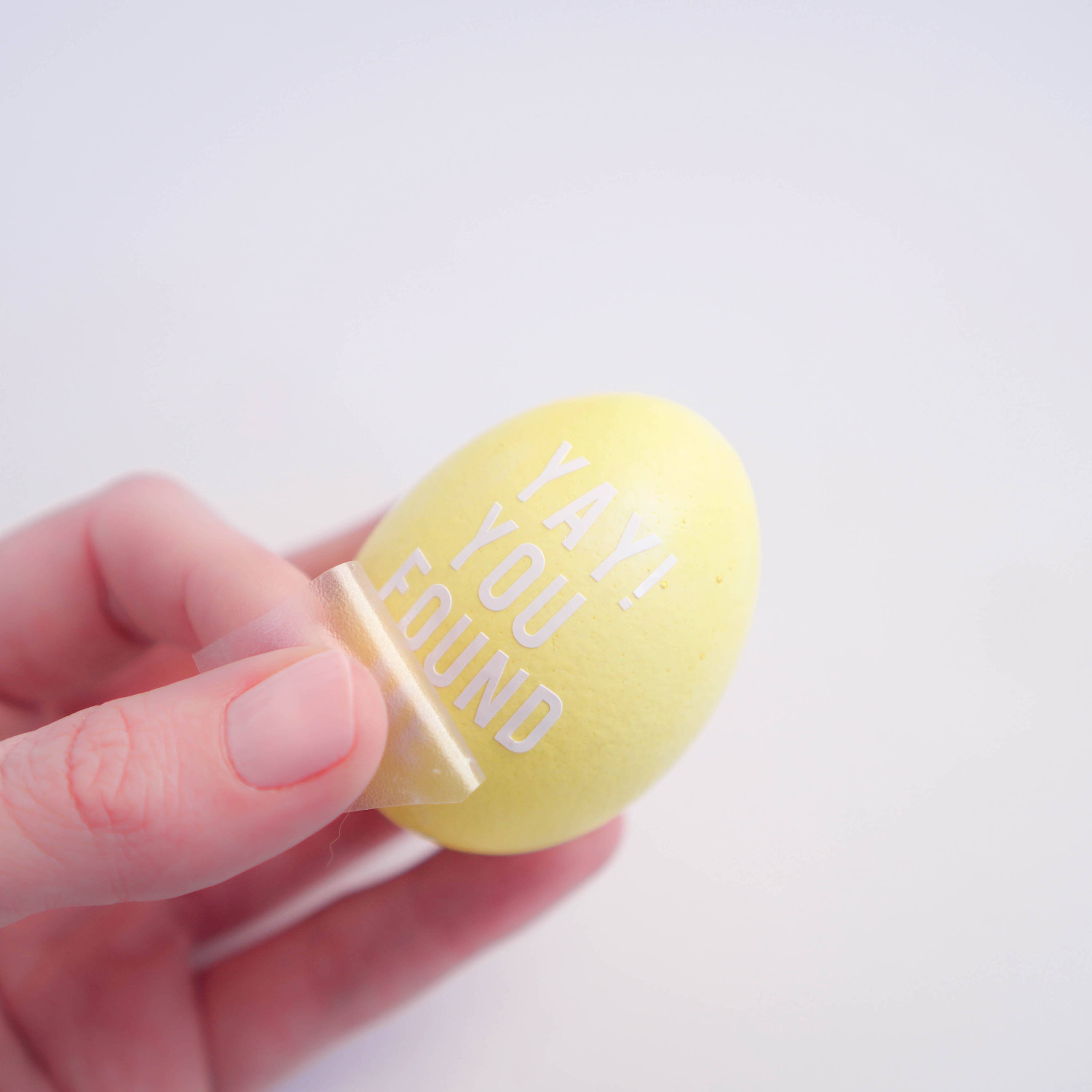 That's all there is to it! These cute DIY Easter egg decorations are a really simple way to add something extra to traditional dyed eggs. You could even change it up and do personalized eggs for a class party.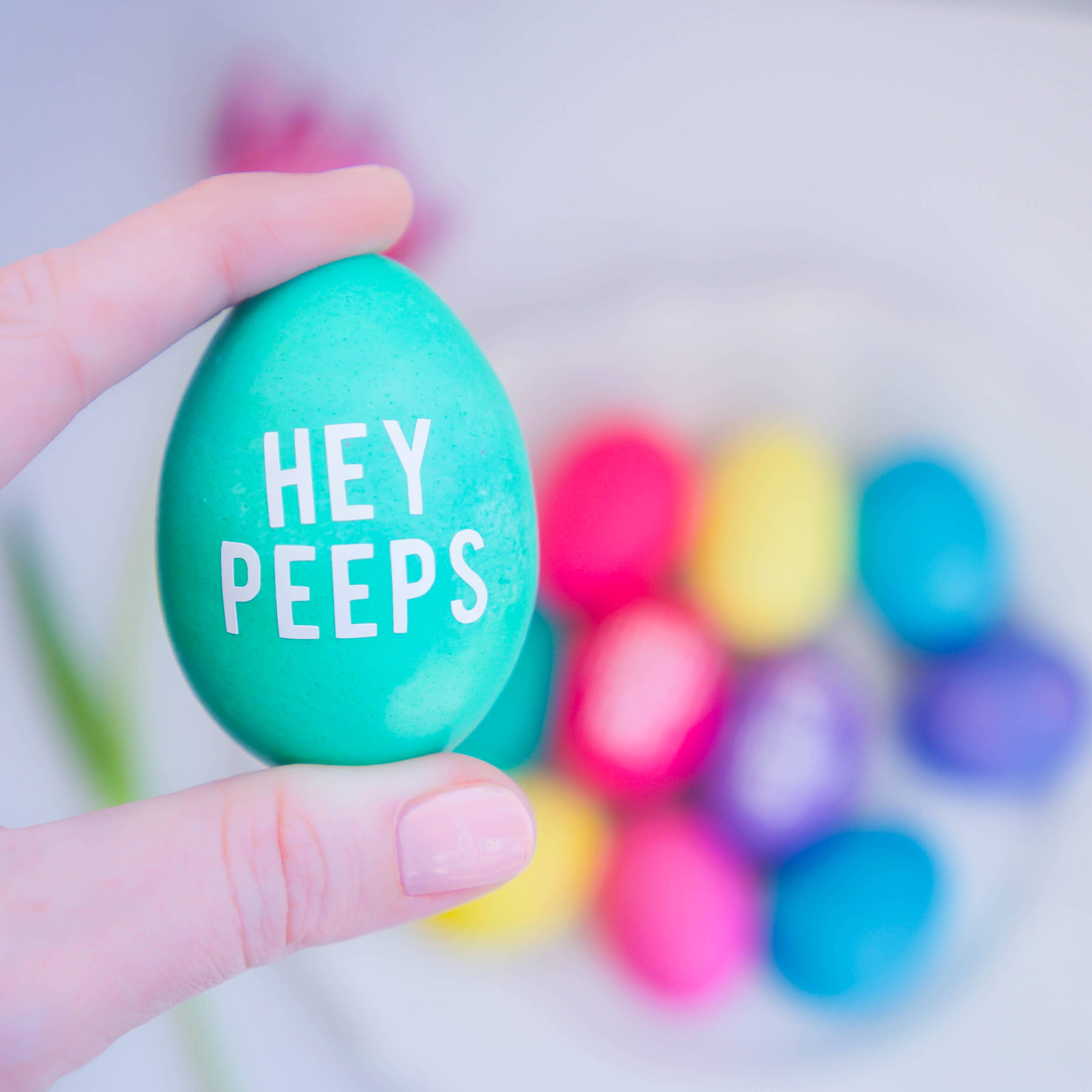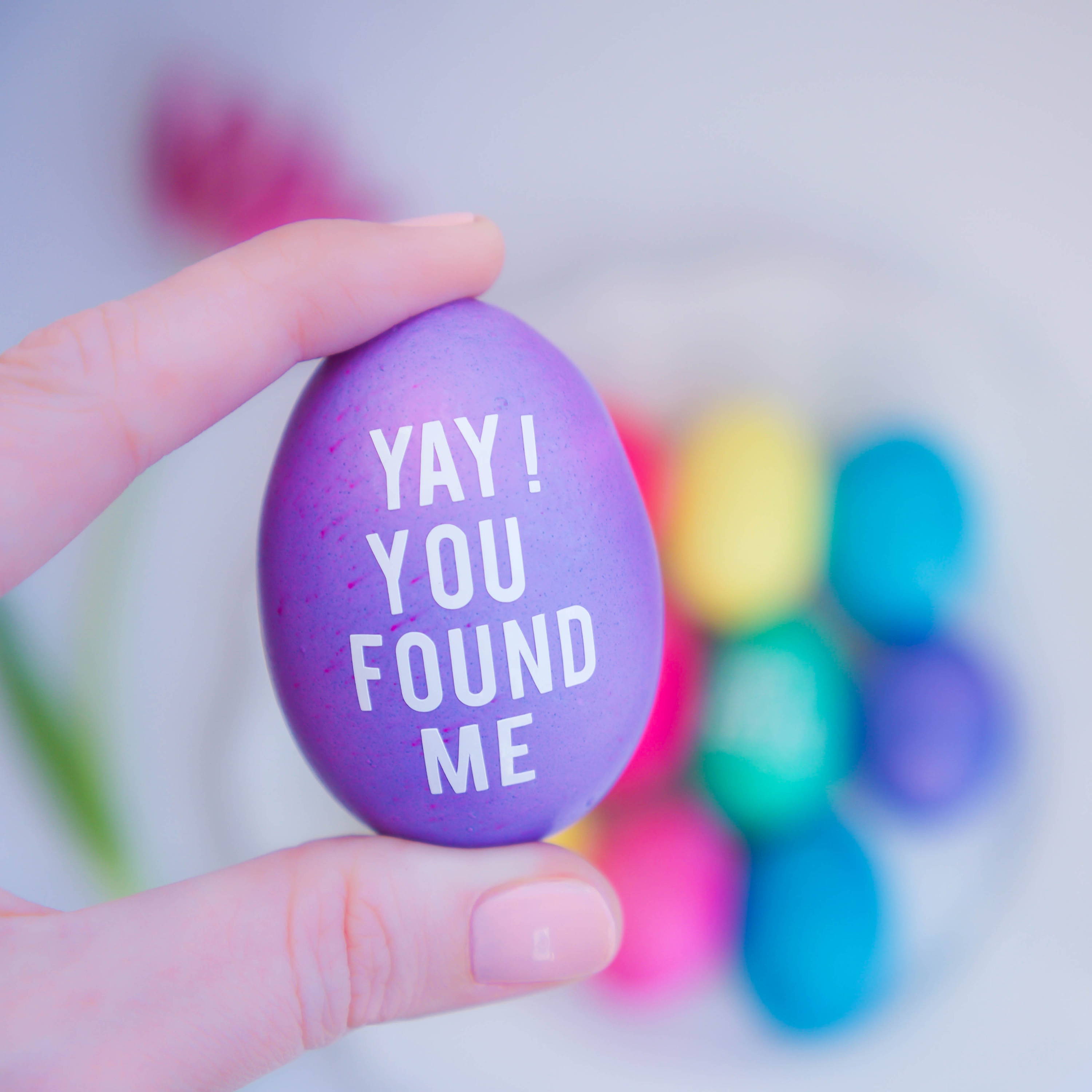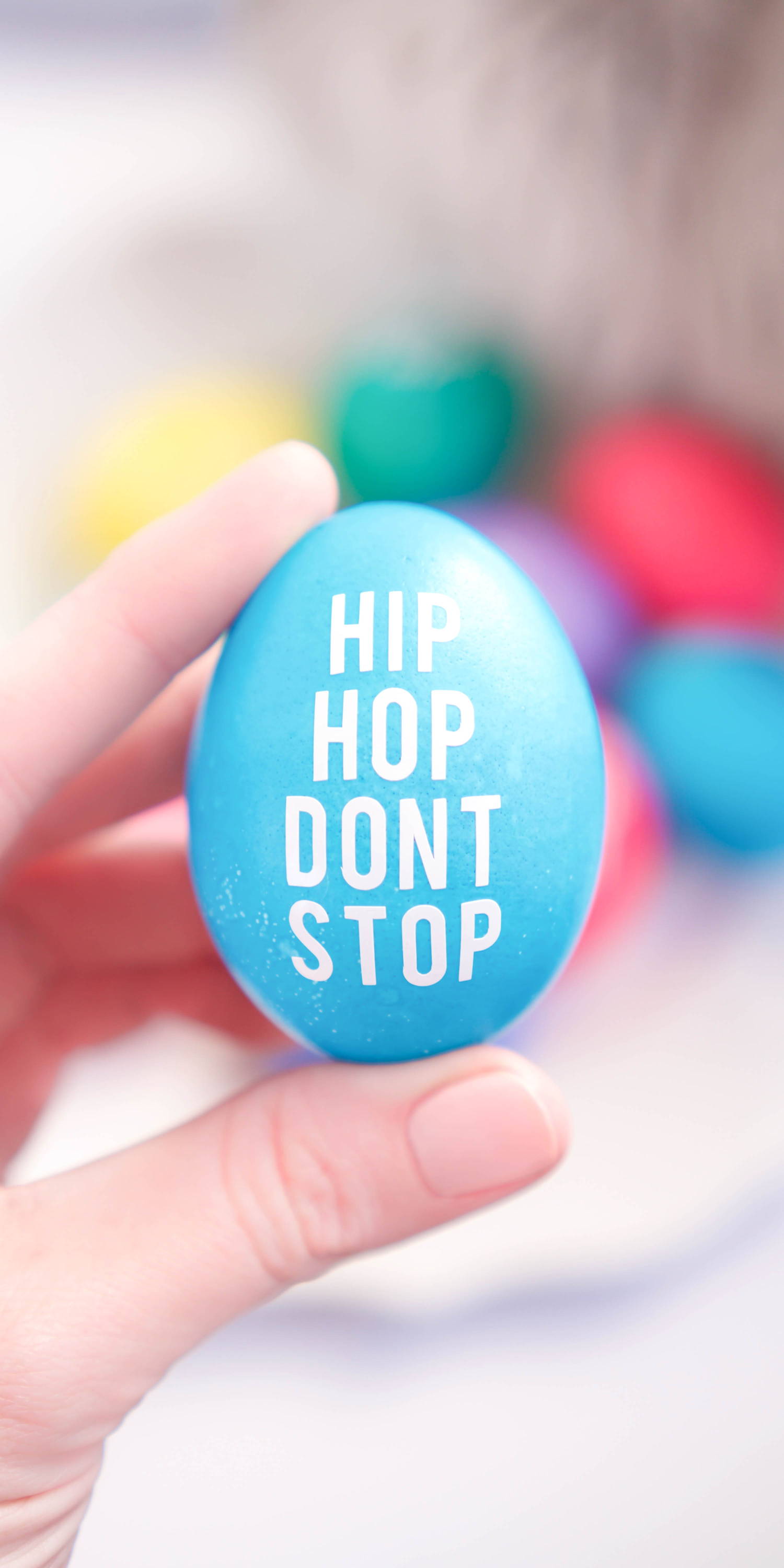 About the Author
Kayla
My name is Kayla and I'm a DIY loving mom of 3, living in North Carolina. I absolutely love creating! It doesn't matter if it's refinishing furniture or paper crafting, I love it all. I'm a former blogger for Silhouette America and current blogger for Cricut so I know the ins and outs of both machines and love teaching beginners all of the handy tips and tricks. Come visit my blog at kaylamakes.com or follow me on Instagram @kayla_made.