When it comes to adhesive vinyl, many of us probably automatically think of home décor pieces. Well, today I'm going to show you how to pair adhesive vinyl with transparency sheets to create unique dangly flower earrings! These beginner earrings are perfect for Summer. The etched glass vinyl on the transparency creates an effect that makes the earrings look like frosted glass. Not to mention, they're also super lightweight so you can wear them all day long!
See how you can make your own DIY etched glass vinyl flower earrings with the full tutorial below!
Here are the supplies you will need:
Transparency Sheet

Cricut Cutting Machine

Cutting Mat

Weeding Tool

2 Ear Wires

4 Jump Rings (4mm)

Jewelry Pliers

1/8" Hole Punch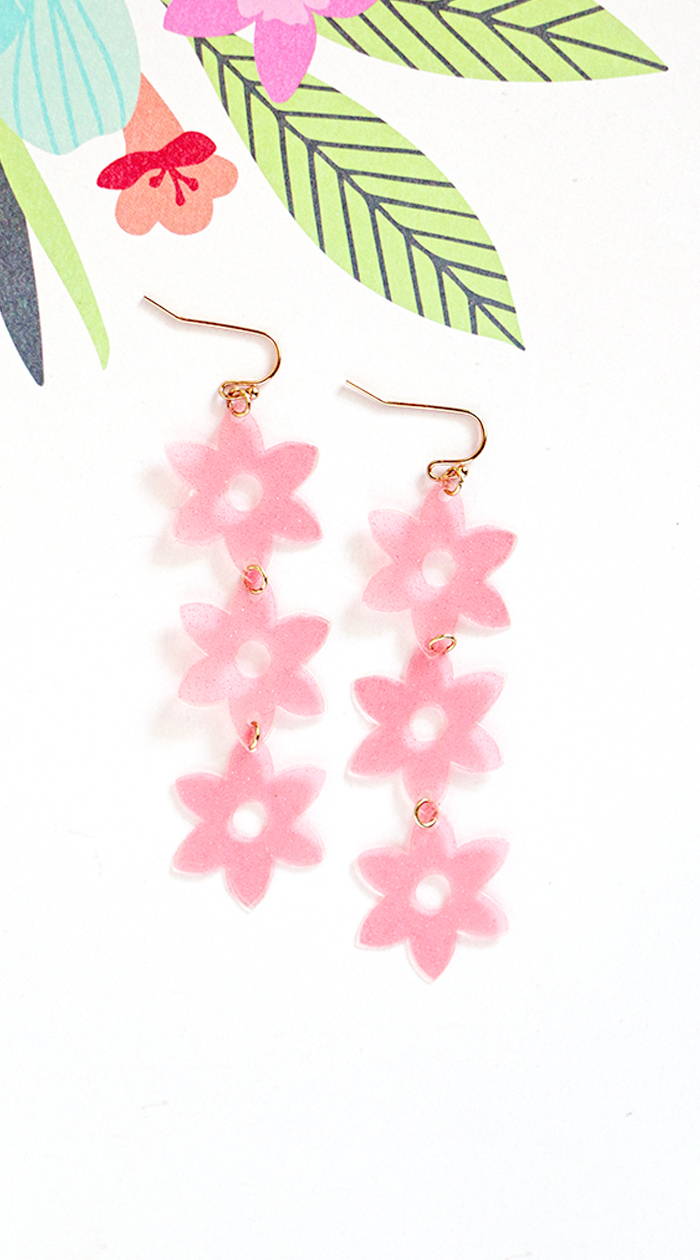 Step 1: Open Cricut Design Space and insert the DIY etched glass vinyl flower earrings file and click "Make It".
Step 2. For the white flowers, select transparency film from the material options, under pressure select "More". Then, place the sheet on the cutting mat and insert it to begin cutting.
Step 3: In Design Space, change the material from transparency to vinyl. Then, add the etched glass vinyl sheet to the machine and begin cutting.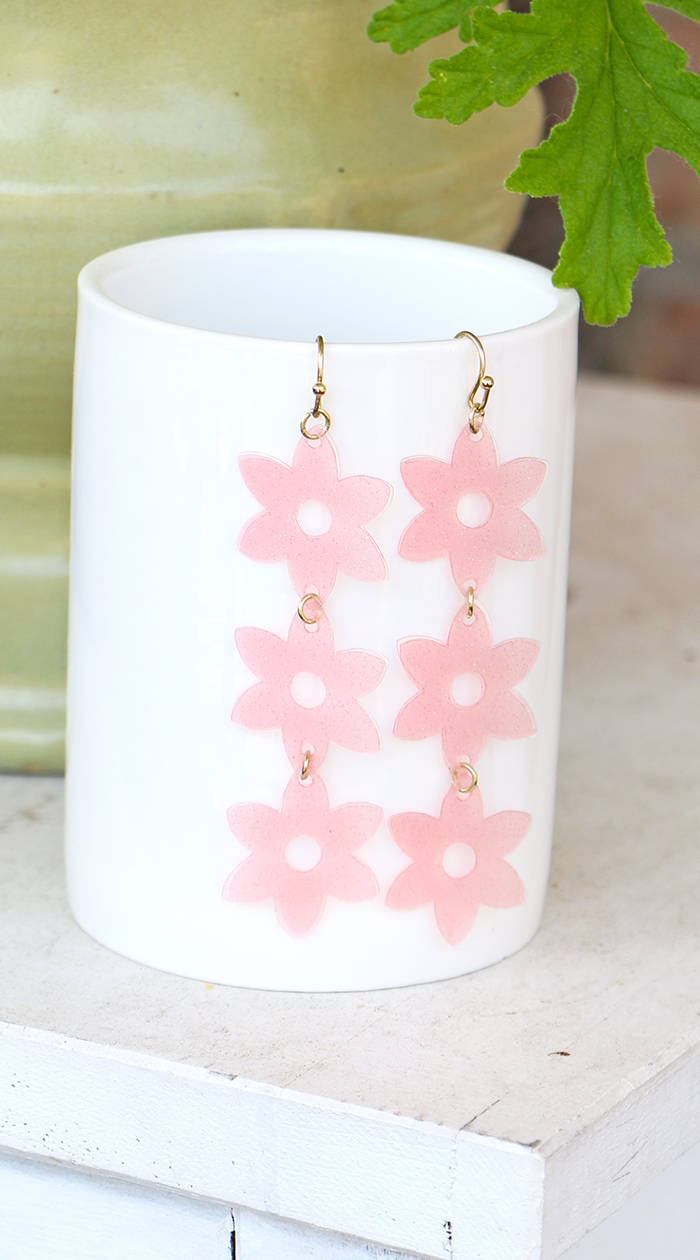 Step 4: Gently peel the transparency flowers from the sheet, making sure to also pop out the center.
Step 5: Weed the negative from the etched glass vinyl.
Step 6: Place one piece of the etched glass vinyl on the front and on the back of the transparency flower and press down to smooth it out.
Step 7: Punch a hole towards the top of one petal and another hole on the top of the petal right below. Repeat this on 4 of the flowers.
Step 8: On the two remaining flowers, only punch a hole at the top of one petal.
Step 9: Use two jewelry pliers to open up a jump ring. Slide it through the tops of two flowers (you'll use the flowers that have two holes punched in them), and close.
Step 10: Open another jump ring and slide it through the open hole at the top.
Step 11: Open another jump ring and slide it through the hole on the remaining flower and close.
Step 12: Open the top jump ring, slide it through the ear wire, and close. You'll be left with a completed earring. Repeat the above steps to create the other earring.
How about that? So fun, right? You can also take this same technique to create other earrings using different shapes along with either the yellow, pink, green, or blue etched glass vinyl. Enjoy!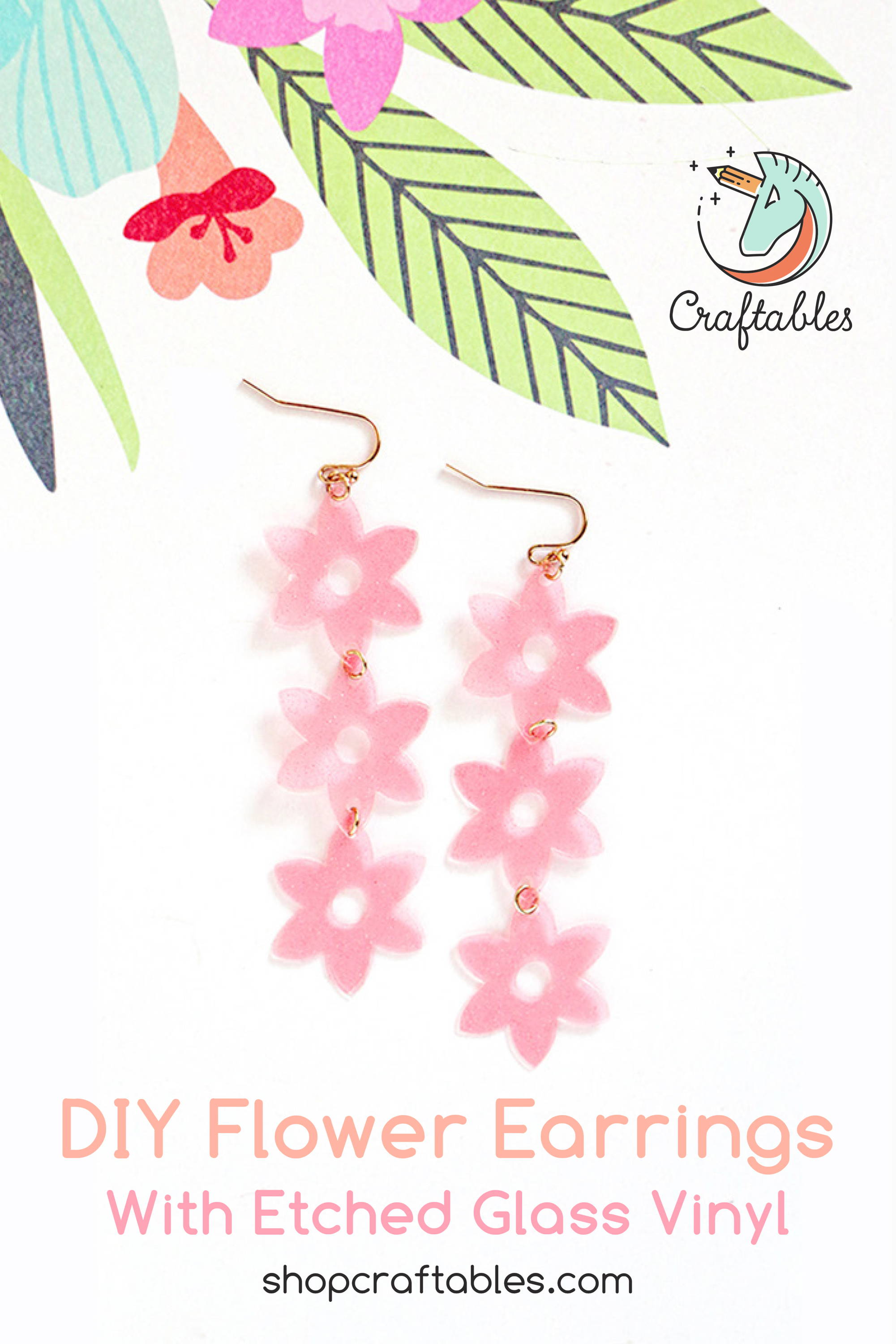 About the Author
Meghan Quinones
Meghan lives in Chicago with husband and 4 year old twins. She is obsessed with making and creating for the look for less. Pretty much every decor piece in her home is something she either made or upcycled. She started her blog to inspire everyone who visits her online creative space to create in their own lives.