It is hard to believe that Halloween is right around the corner. I thought it would be fun to get the little ones in our lives in the spirit of the season by making some DIY Halloween onesies using my Silhouette Cameo! I decided to branch out and really make these onesies fun by using flocked and glitter heat transfer vinyl in addition to smooth. Heat transfer vinyl can transform a plain onesie from drab to fab in no time!
Here's what you will need:
This project is great for beginners and can be complete in less than 30 minutes.
For the first onesie, I used this free cut file and just removed the pumpkin. Then I added the "fab-BOO-lous."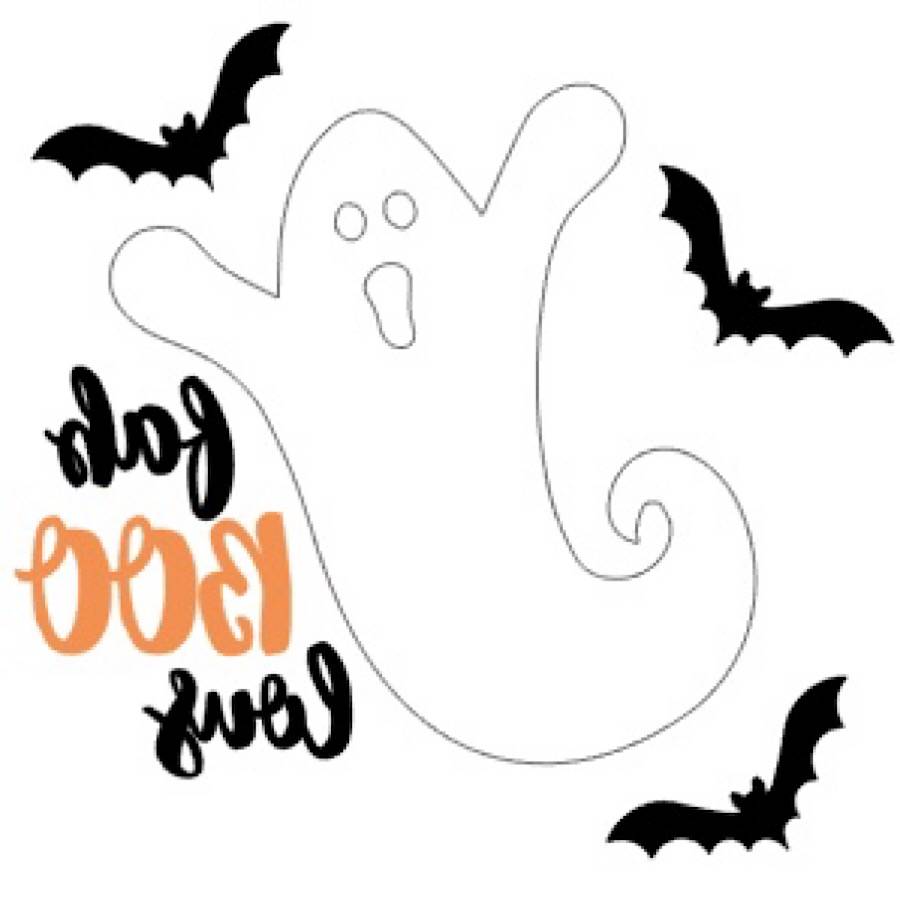 This design is going on a purple onesie, so I used white, black, and orange flocked heat transfer vinyl. Be sure to mirror your design and then select the parts that will be cut from each color one at a time.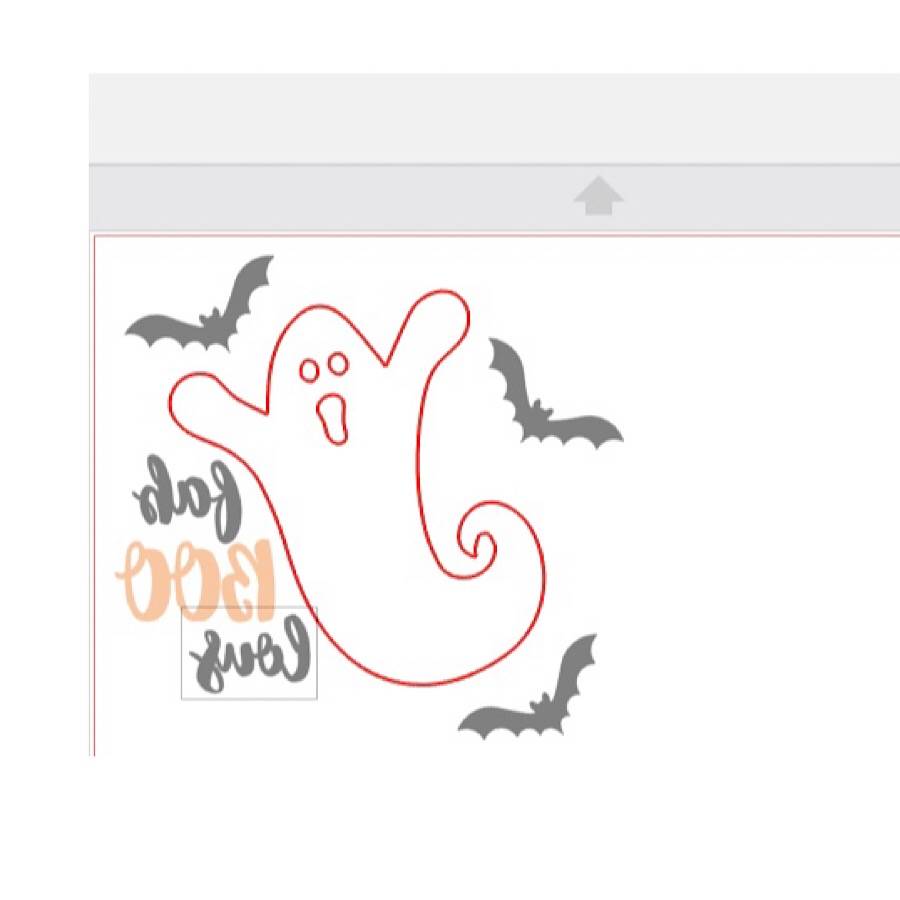 Since I am cutting the ghost first, I loaded the white flocked HTV on my cutting mat with the flocked side down.
Repeat the above step until you have cut each part of the design. Then, weed away the larger pieces of vinyl first.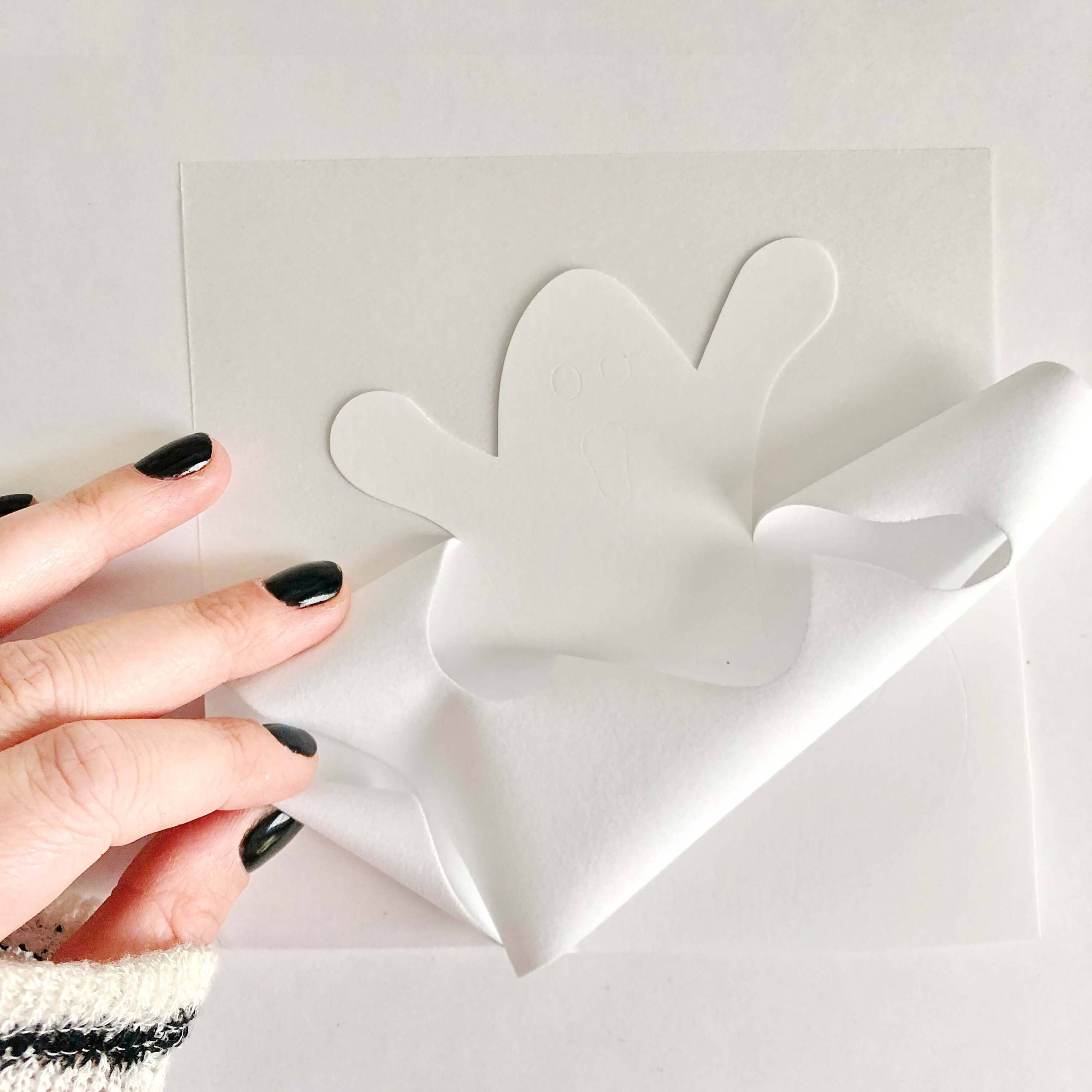 You can go back with your spatula tool to weed away any small pieces that remain.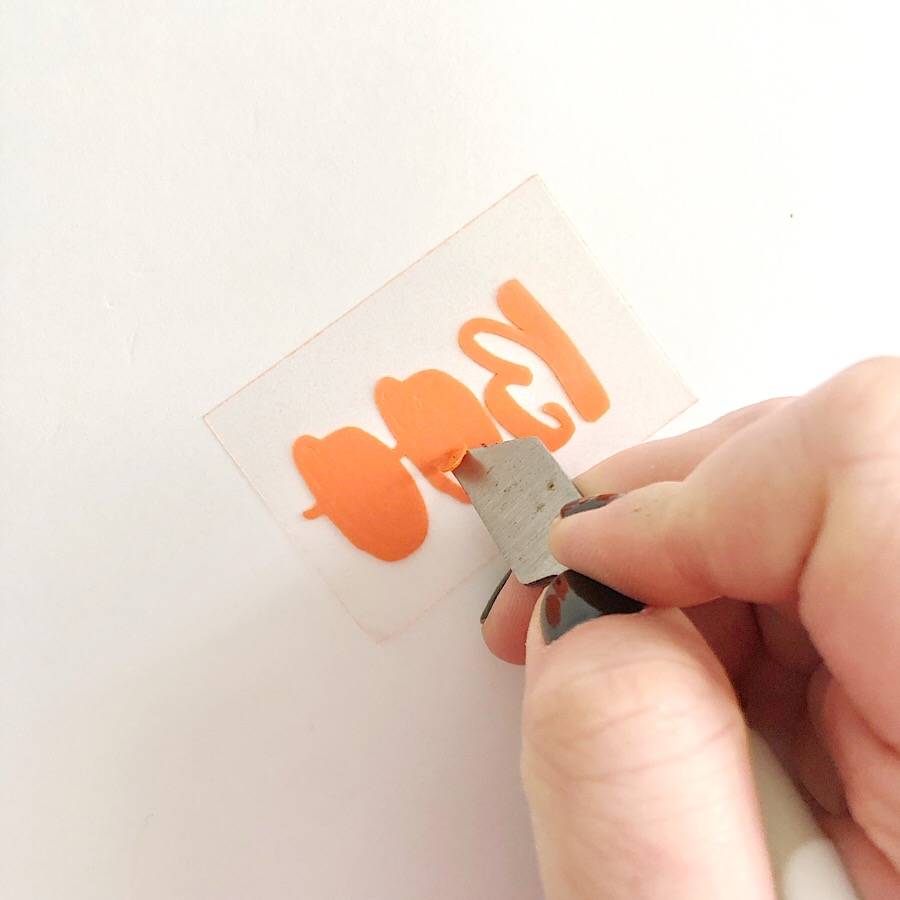 When everything has been weeded, arrange the pieces of the design on your onesie.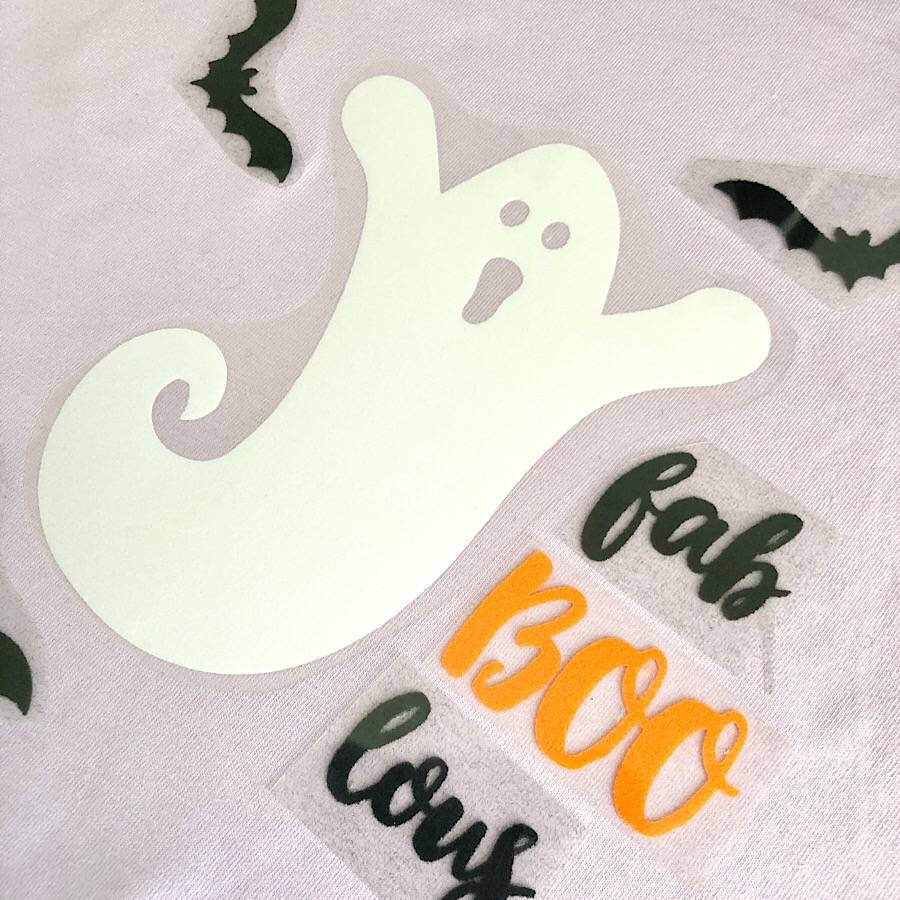 Press the design at 300 degrees for 10 seconds, then 15 seconds more with a teflon sheet on top.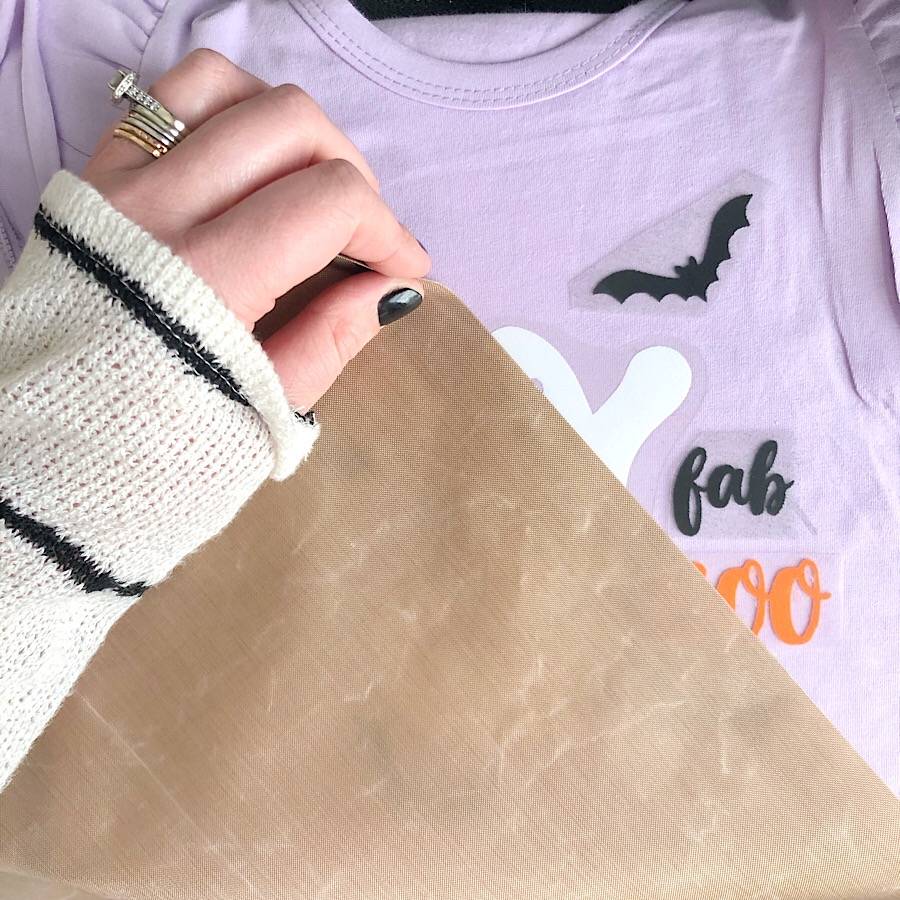 Allow a little time for the design to cool and then slowly peel away the carrier sheet.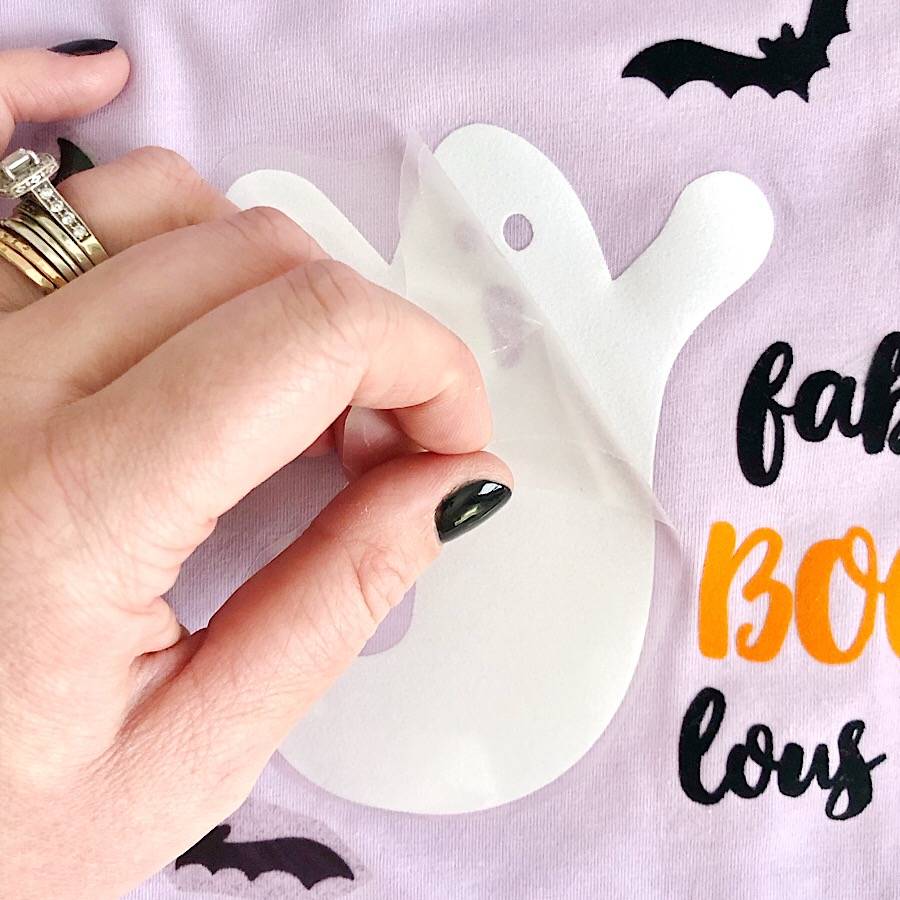 Your fab-BOO-lous onesie is done!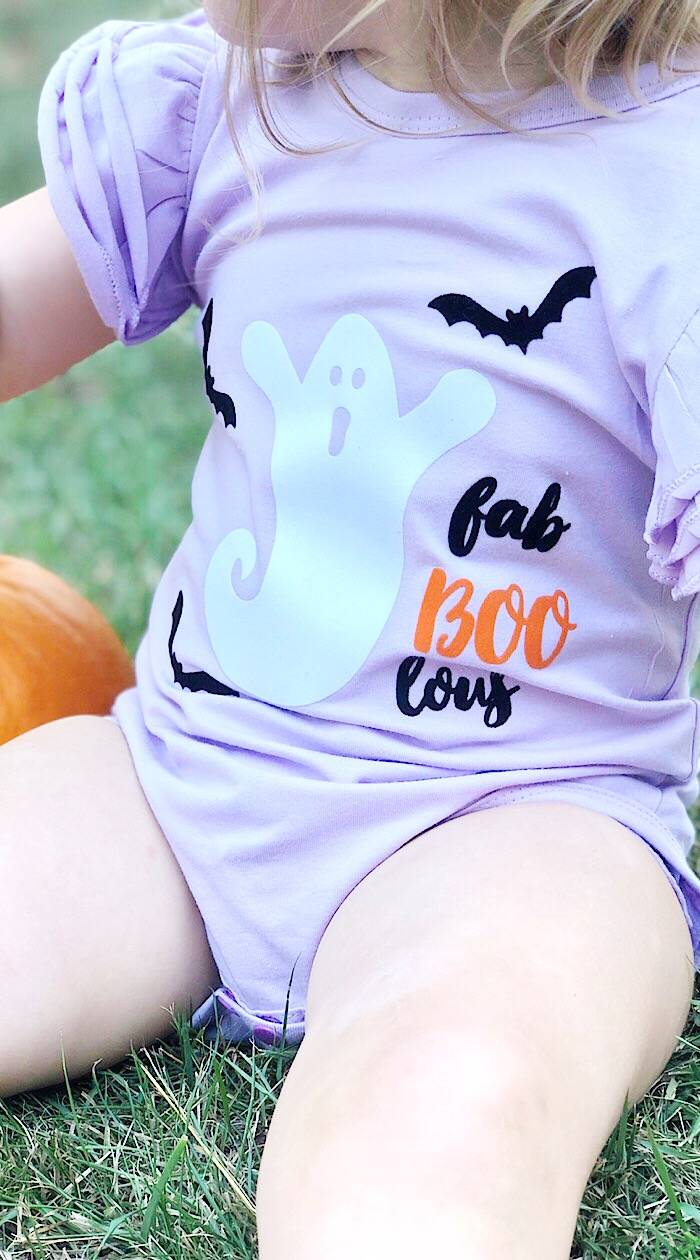 Now, if you're a Lizzo fan, you will appreciate this next onesie! Grab this cut file and let's get going. Open the design in Silhouette Studio and mirror.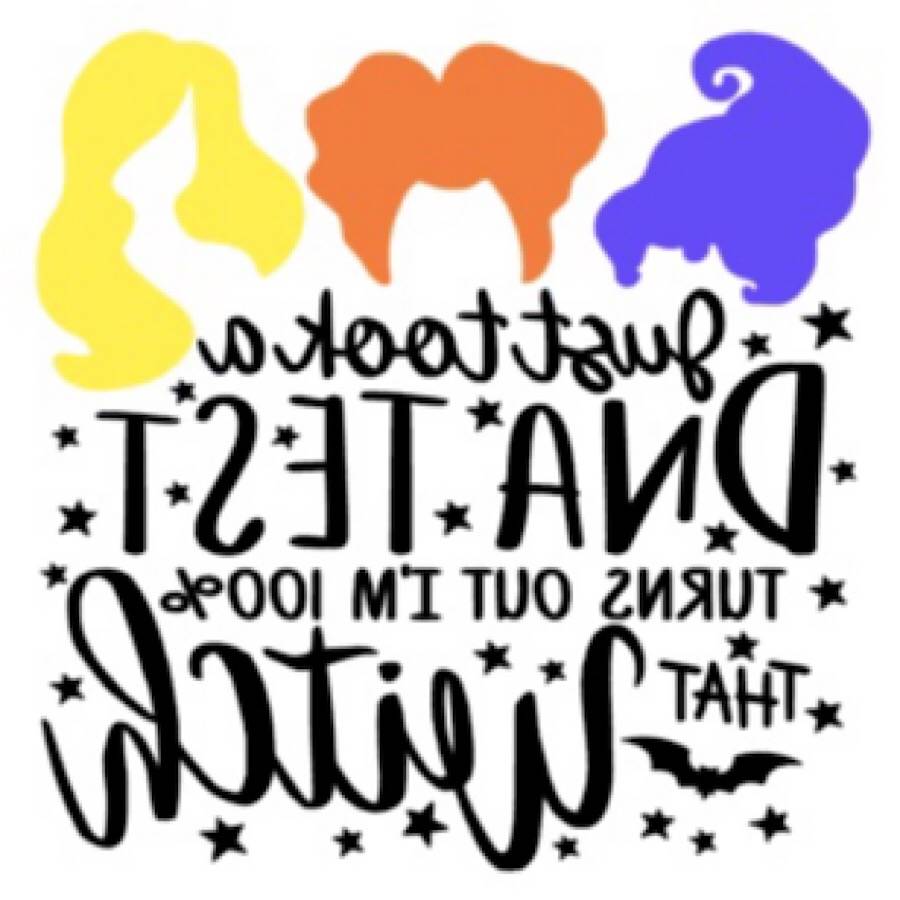 For this design, there will be four cuts. You will be using lavender, pastel orange and pastel yellow glitter heat transfer vinyl for the Sanderson sister silhouettes. You will then use black smooth heat transfer vinyl for the wording. Load your first color of glitter HTV on the cutting mat, glitter side down.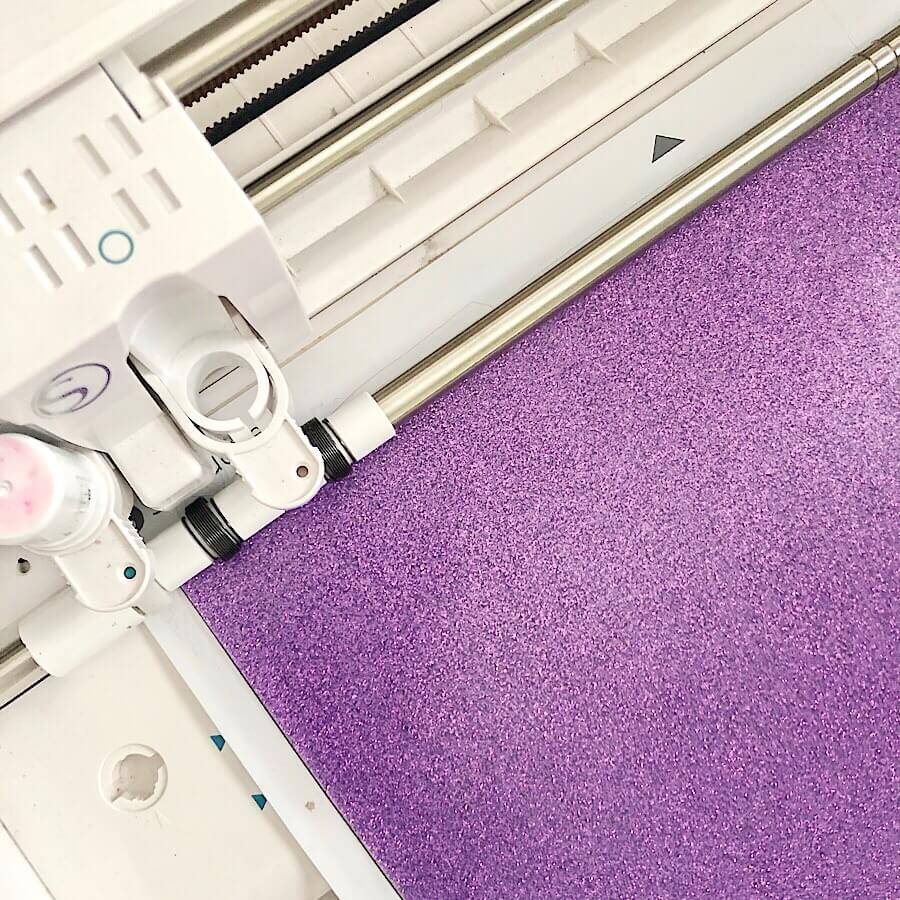 Repeat until all of your cuts have been made; three cuts with glitter and one with smooth heat transfer. You will then weed the overlying pieces of vinyl from your design.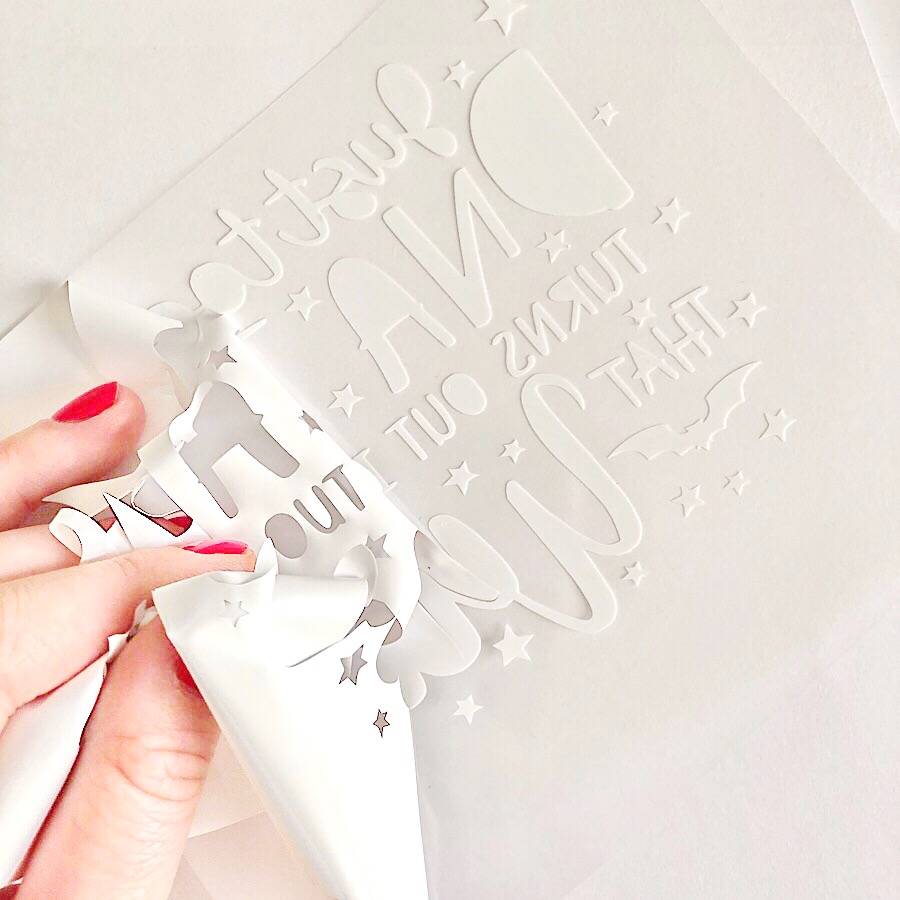 Your spatula tool can be used to weed away the small parts.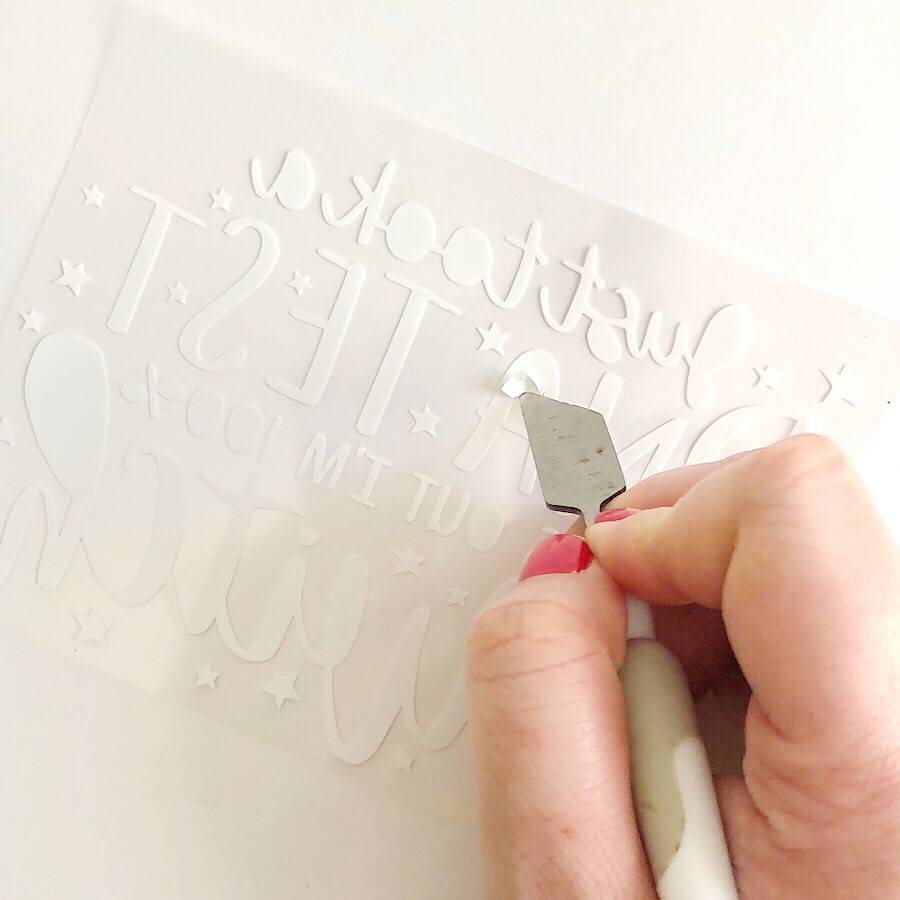 After everything has been weeded, arrange the design on a black onesie.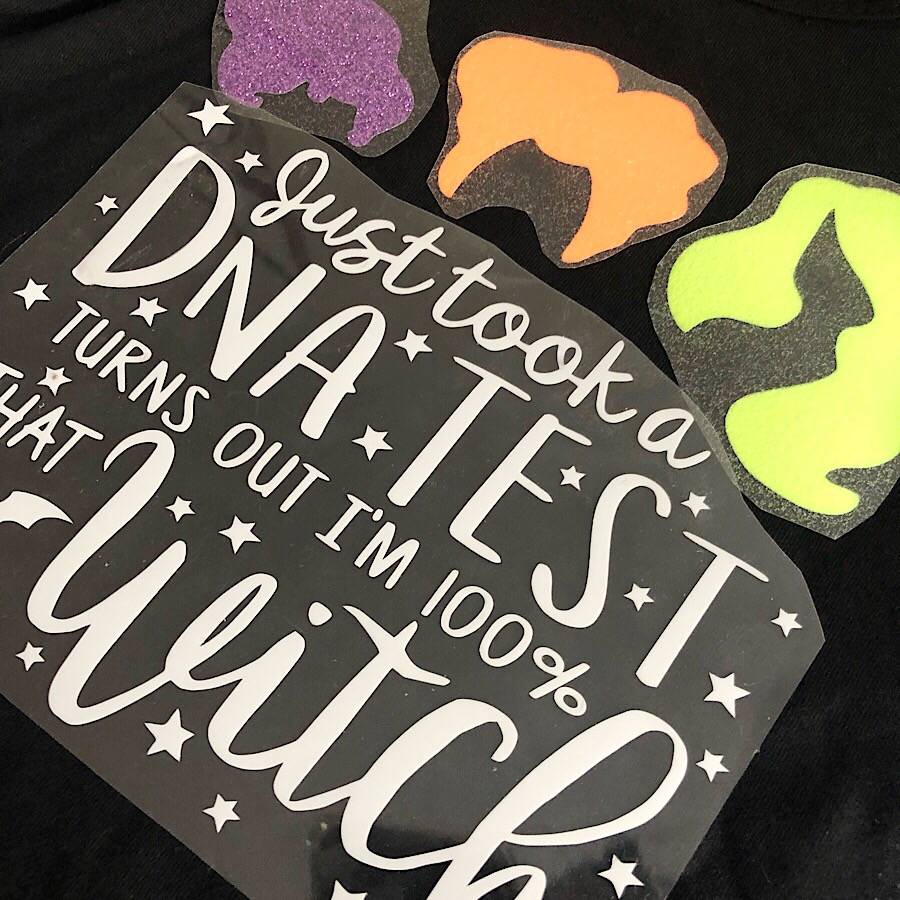 Then, press your design at 300 degrees for 10 seconds and then 15 seconds more with the teflon sheet. Peel away the carrier sheet after the design has had a chance to cool.
Now, you have two super cute Halloween onesies! These would make great gifts or are cute to keep for your own babies. With so many colors of heat transfer at Craftables, there are endless ways that you could customize onesies. Christmas, Easter, birthdays, you name it. Plus, be sure to check out the selection of free cut files on the Craftables website. There is something for every occasion!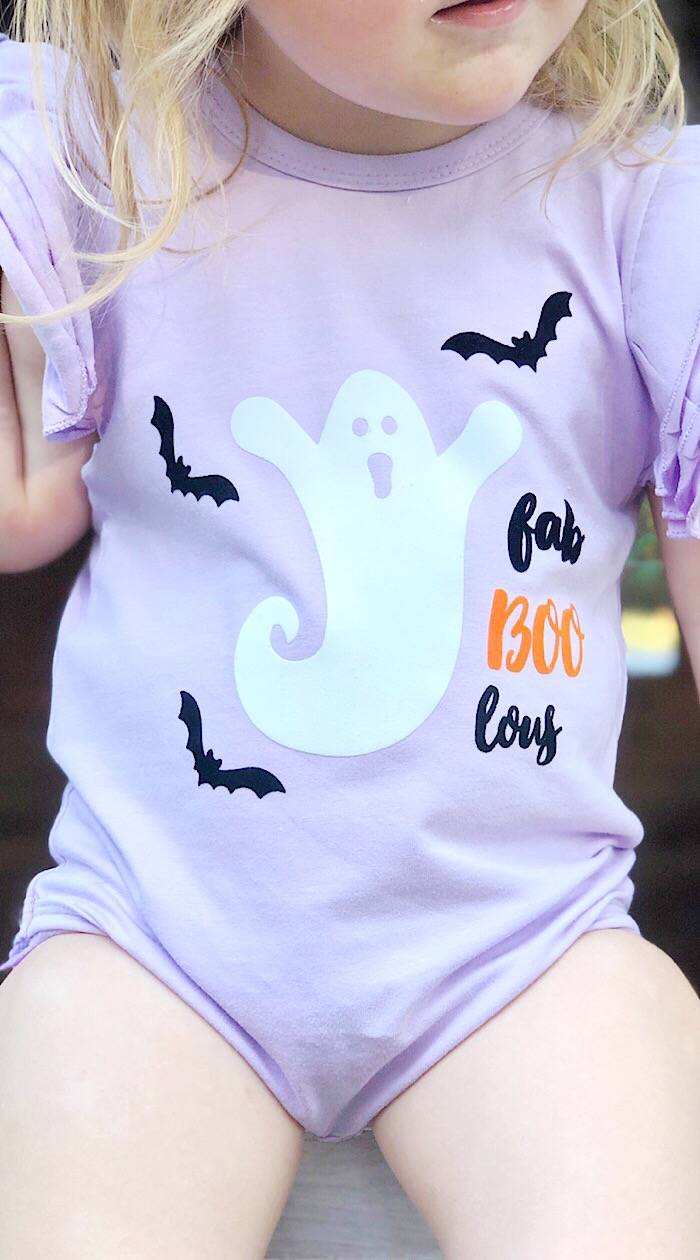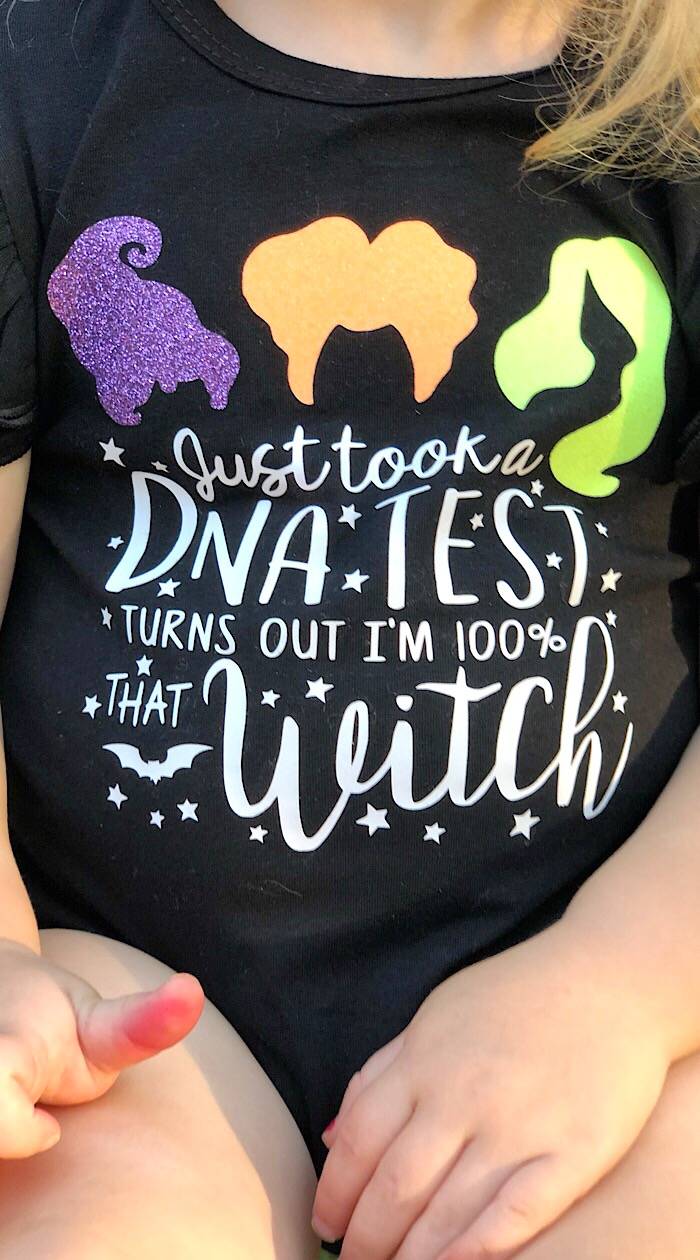 About the Author
Caitlin Hallman
Hey y'all! I'm Caitlin, a busy mama of two living in sweet home Alabama. I work full time and my kids are 22 months apart, so it isn't always easy to take "me time," but I find that crafting is a great way to de-stress after a long day of work! I also love having the ability to create things for my kids from t-shirts to teacher gifts. I always get coined as the "extra mom," but in reality, I am a hot mess that waits until the last minute and I always turn to vinyl to save the day! I am excited to share ways that I have found to simplify my life through crafting with you. You can follow me on Instagram @themrseverything_ ❤