Easily add a personal touch to your front door décor in less than an hour with this DIY monogrammed welcome sign using adhesive vinyl.
It's always fun to update décor around the house to match the changing seasons. One place to swap out décor is the front door. Since this is the first thing people see when entering a home, why not add a personalized touch with this DIY monogrammed welcome sign with adhesive vinyl! This quick and beginner friendly project consists of painting and apply adhesive vinyl designs (cut with a Cricut) to a wooden circle. The finishing touches are hot glued on for a project you can complete is less than an hour!
Take a look at the tutorial below to see how easily this DIY project comes together!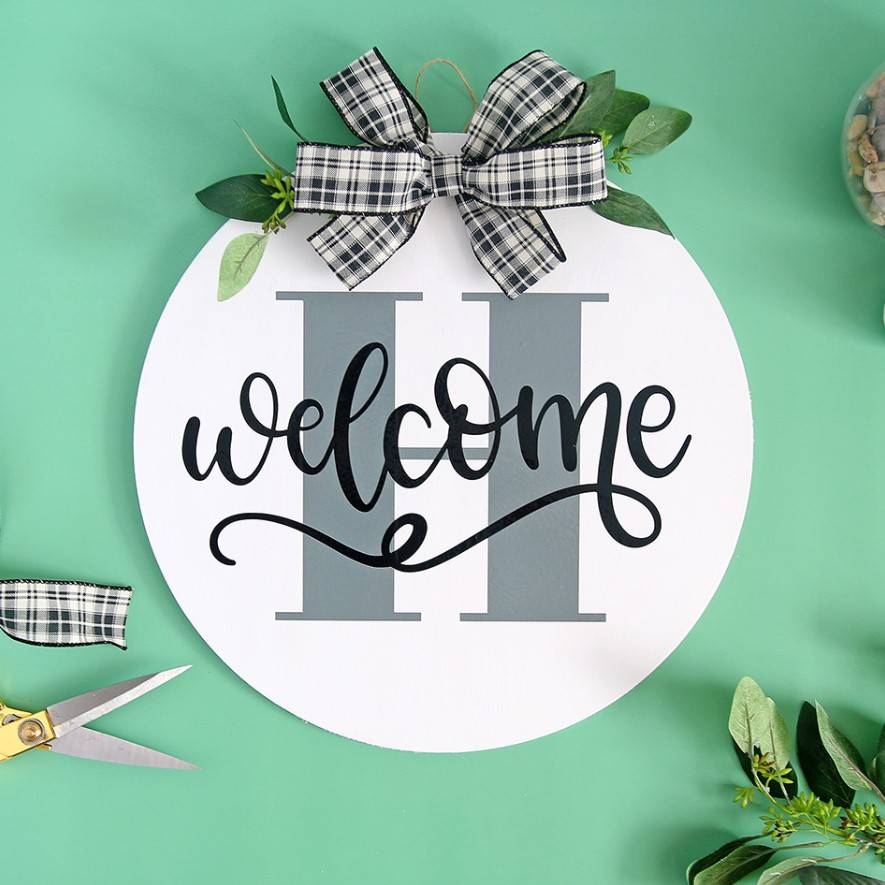 Here are the supplies you will need for this project:
Cricut Cut File Welcome-#M71D9115

14" Wooden Circle Sign

Cricut Machine (or Silhouette)

Cutting Mat

Squeegee

White Acrylic Paint

Paint Brush

Black and White Wire Ribbon

Twine

Hot Glue Gun and Glue

Faux Greenery
---
Step 1: Click on the link to the Lips SVG file and download it to your computer.
Step 2: Open Cricut Design Space and click on "Upload". Go to where the Lips SVG file is saved on your computer and click on it to upload it. Then, click "Save". Finally, click on the uploaded image to add it to your workspace.
Step 3: Click on the image and resize it to 2 inches. Then, copy and paste it 20 times.
Step 4: Click "Make it" and select "Vinyl" from the cutting material. Add the vinyl to a cutting mat with the vinyl facing up. Push the start button to begin cutting.
---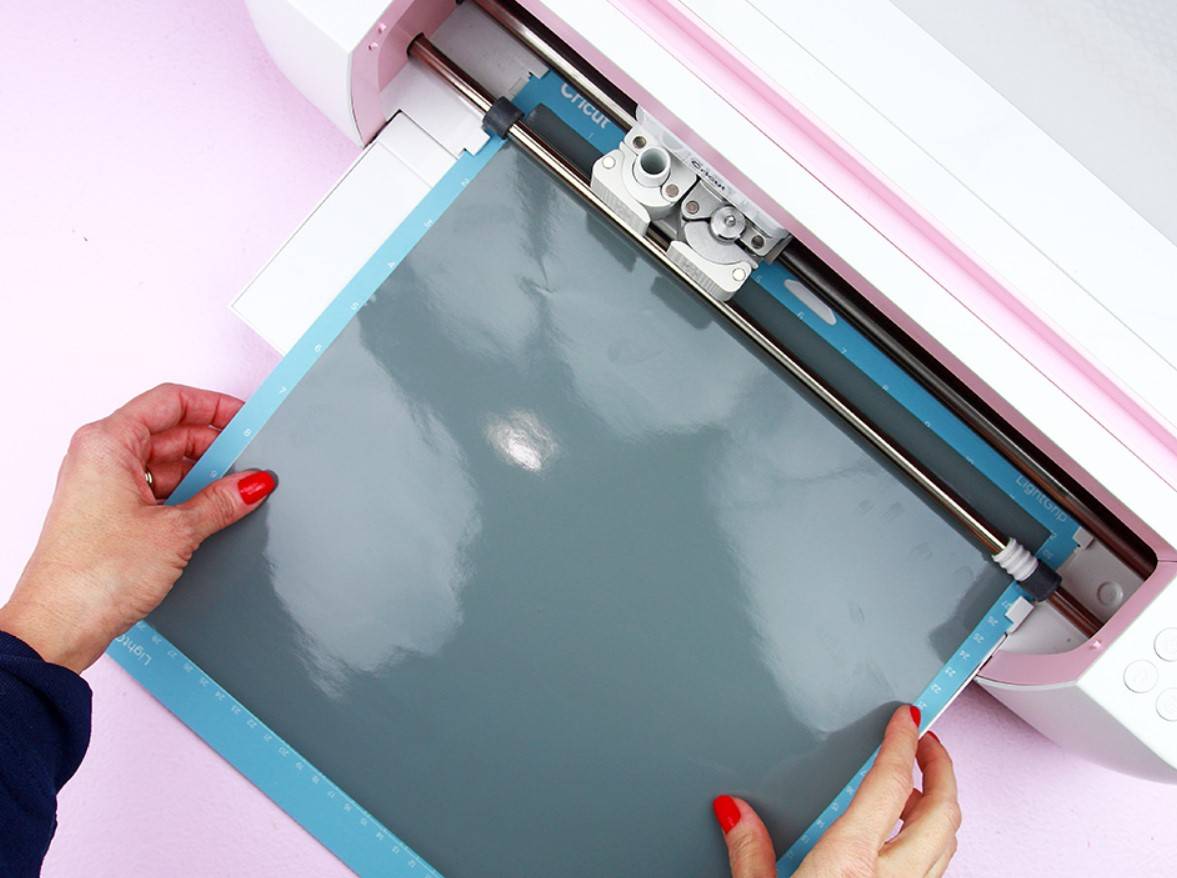 Step 1: Open Cricut Design Space, create a new canvas, add a circle shape, and resize it to 14". Then, change the color to white. This will help visualize what the sign will look like. You can change the dimensions of the circle based on the size of your sign.
Step 2: Open a text box and type the first letter of your last name. Change the font to Abril FatFace, resize to 6" wide, and change the color to gray.
Step 3: Search images for the word "Welcome". You'll want the Cricut cut file #M71D9115. Resize the file to 11.5" wide.
Step 4: Hide the white circle and click "Make it". Select "Vinyl" from the cutting material list. Add the vinyl to a cutting mat with the vinyl facing up. Push the start button to begin cutting.
Step 5: Weed the negative vinyl on both designs.
Step 6: Add two coats of white paint to the wooden circle and let it dry.
Step 7: Cut a piece of transfer tape slightly larger than the "H". Then, peel off the carrier sheet, place it on top of "H", and go over it with a squeegee. Peel up the transfer tape to remove the design.
Step 8: Place the "H" on the center of the circle. Use a squeegee to go over the design. Then, slowly remove the transfer tape.
Step 9: Continue the above process to add "Welcome" over the "H".
Step 10: Cut two small pieces of faux green leaves and hot glue them to the top of the circle.
Step 11: Add hot glue to the back of a wire bow and place it on top of the greenery.
---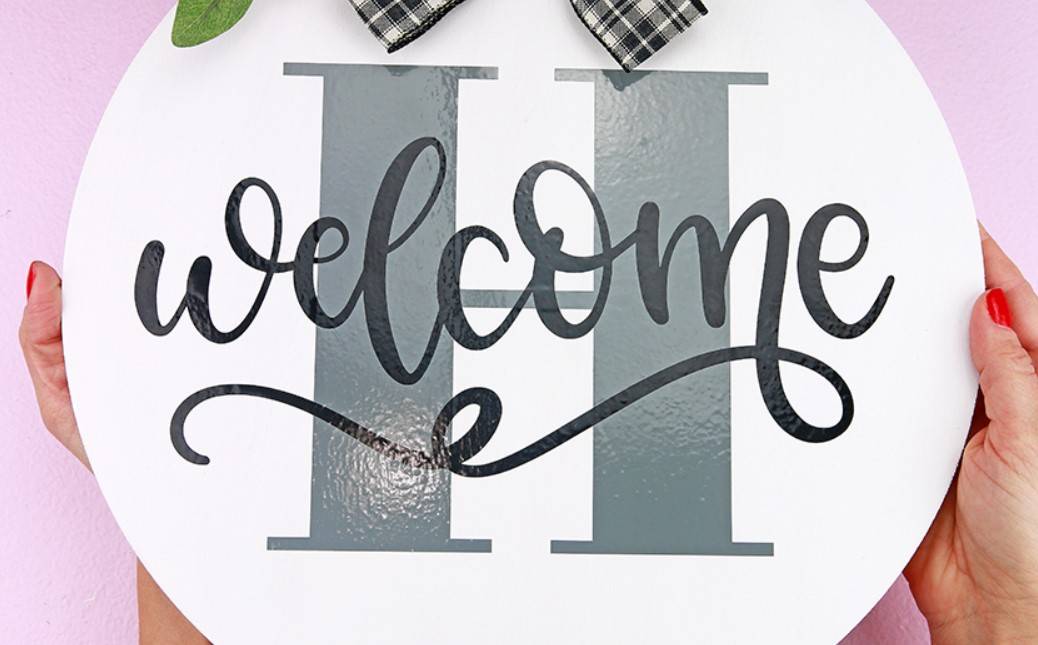 ---
Step 12: Flip the sign over, add a large drop of hot glue towards to the top center, and place a knotted piece of twine op top. Then, add more hot glue on top of the knot.
This is such a fun project to make since everything about it is customizable. You could choose a different paint color for your sign, vinyl, and even bow color to really create a piece that is truly unique to you and your home. Don't be surprised if you have neighbors knocking on your door to make one for them one as well!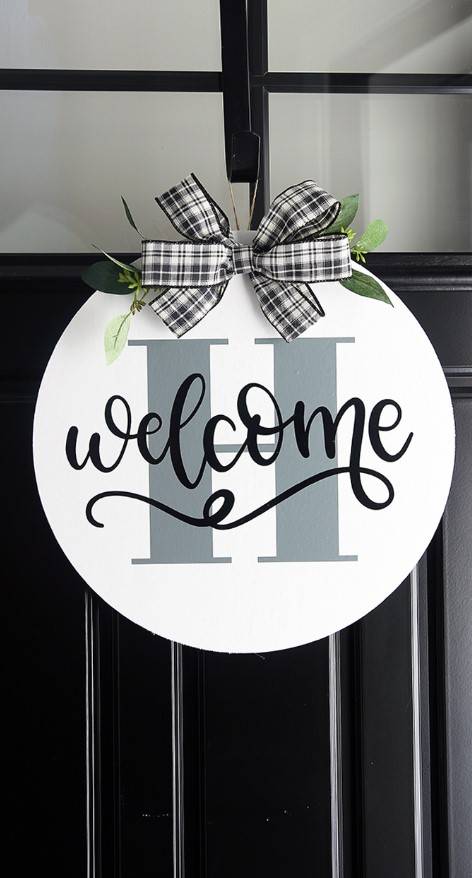 ---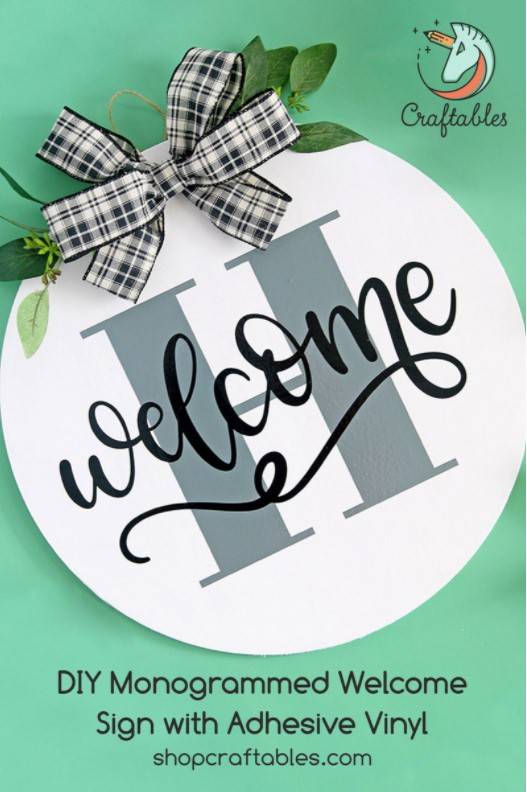 About the Author
Meghan Quinones
Meghan lives in Chicago with her husband and 4 year old twins. She is obsessed with making and creating the look for less. Pretty much every decor piece in her home is something she either made or upcycled. She started her blog to inspire everyone who visits her online creative space to create in their own lives.