When it comes to my back porch, I like to treat it like an extension of my house. It's so much fun to decorate it like I would any other room in my house. Since we've been utilizing this outdoor space far more than any other room inside of my house, I've been on a mission to make it feel cozy.
First, I added this Easy DIY Geometric Outdoor Pillow with Heat Transfer Vinyl to my mix of pillows. It really added a fun pop of pattern to the space. I also added a rug and a side table. The only missing was a lamp! Even though my porch is covered, I didn't want to risk a cord getting wet, so I deiced to transform an IKEA lamp into this DIY Monstera outdoor lamp with vinyl. I knew I wanted color and pattern, which is why added the Monstera leaves to the white lamp shade. I used dark blue metallic adhesive vinyl for my leaves for a super cool (and unique!) finish. This is a great project for a beginner since all you need to do is cut, peel, and stick for a completely new look!
Check out the full video tutorial below to see how you can make your own DIY Monstera outdoor lamp with vinyl!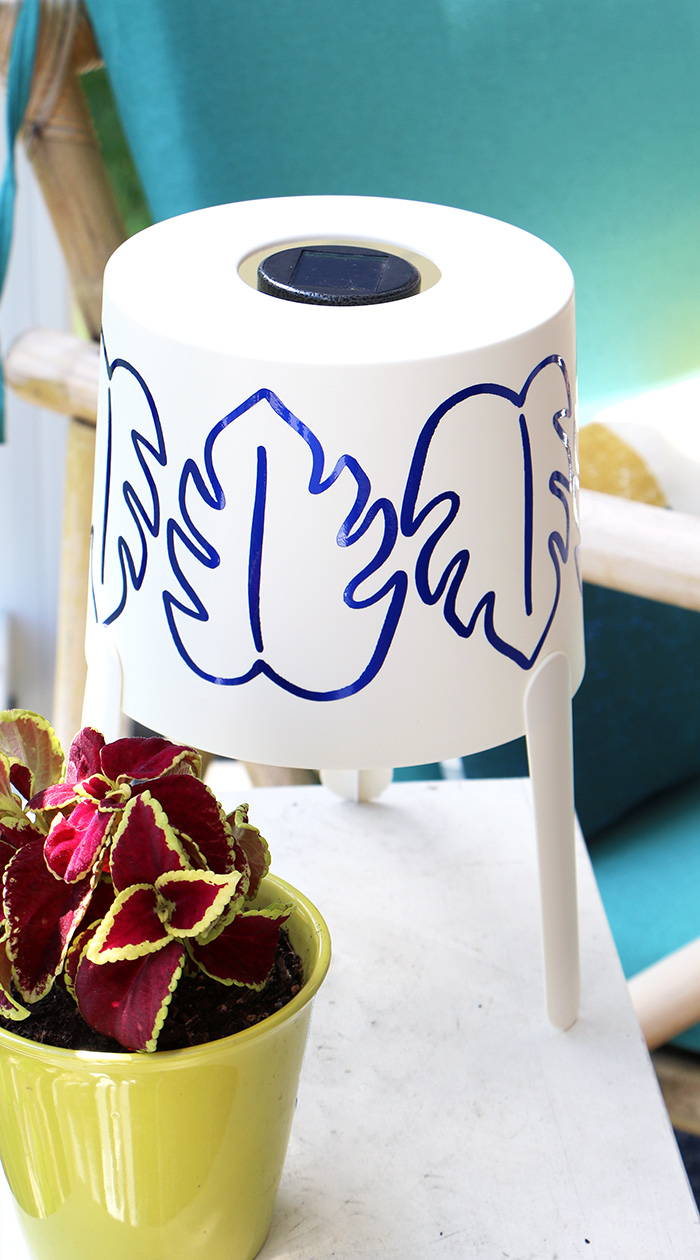 Here are the supplies you'll need:
Ikea Lamp (Or any other lamp you have or thrifted)

Cricut Cutting Machine

Cutting Mat

Weeding tool

Squeegee (or credit card)

Outdoor Solar Garden Light

Tape

Scissors

Rubber Bands
Step 1: Open up the DIY Monstera outdoor lamp with vinyl cut file on Design Space. If you're using the Ikea lamp, just hit "make". If you using another lamp, you will need to select "customize it" to resize the leaves and add or subtract leaves based on the size of your lamp shade.
Step 2: Select vinyl from the materials and hit "Make it".
Step 3: Place your metallic vinyl on a cutting mat with the liner side down. Then, add it to your machine to begin cutting.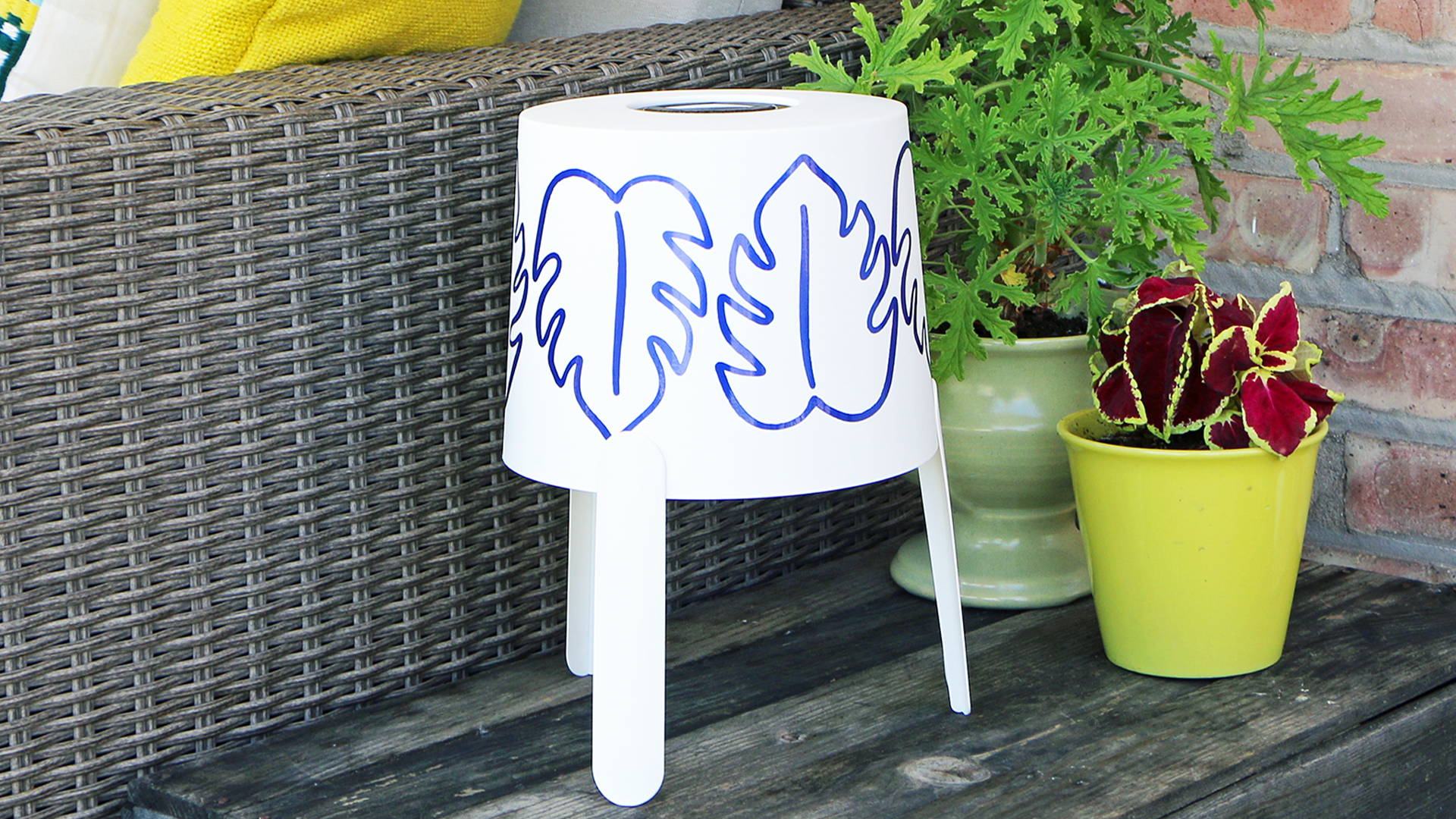 Step 4: Remove the vinyl sheet and use your weeding tool to remove the negative vinyl, leaving your leaves still attached. Use scissors to cut the leaves apart.
Step 5: Cut a piece of transfer tape slightly larger than the leaf. Remove it from the liner and place it on top of the leaf design. Go over it with a squeegee and then slowly peel it off.
Step 6: Place the leaf on the lamp shade. I placed my first leaf on my lampshade pointing up. Take your squeegee and go over the transfer tape. Then, slowly remove the tape. If the design comes up with it, just place it back down on the shade and go over it again.
Step 7: Repeat the above steps to add the remaining 5 leaves to your lamp. For my second leaf, I added it close to my first leaf, but placed it pointing down. I continued this up and down pattern all the way around my shade.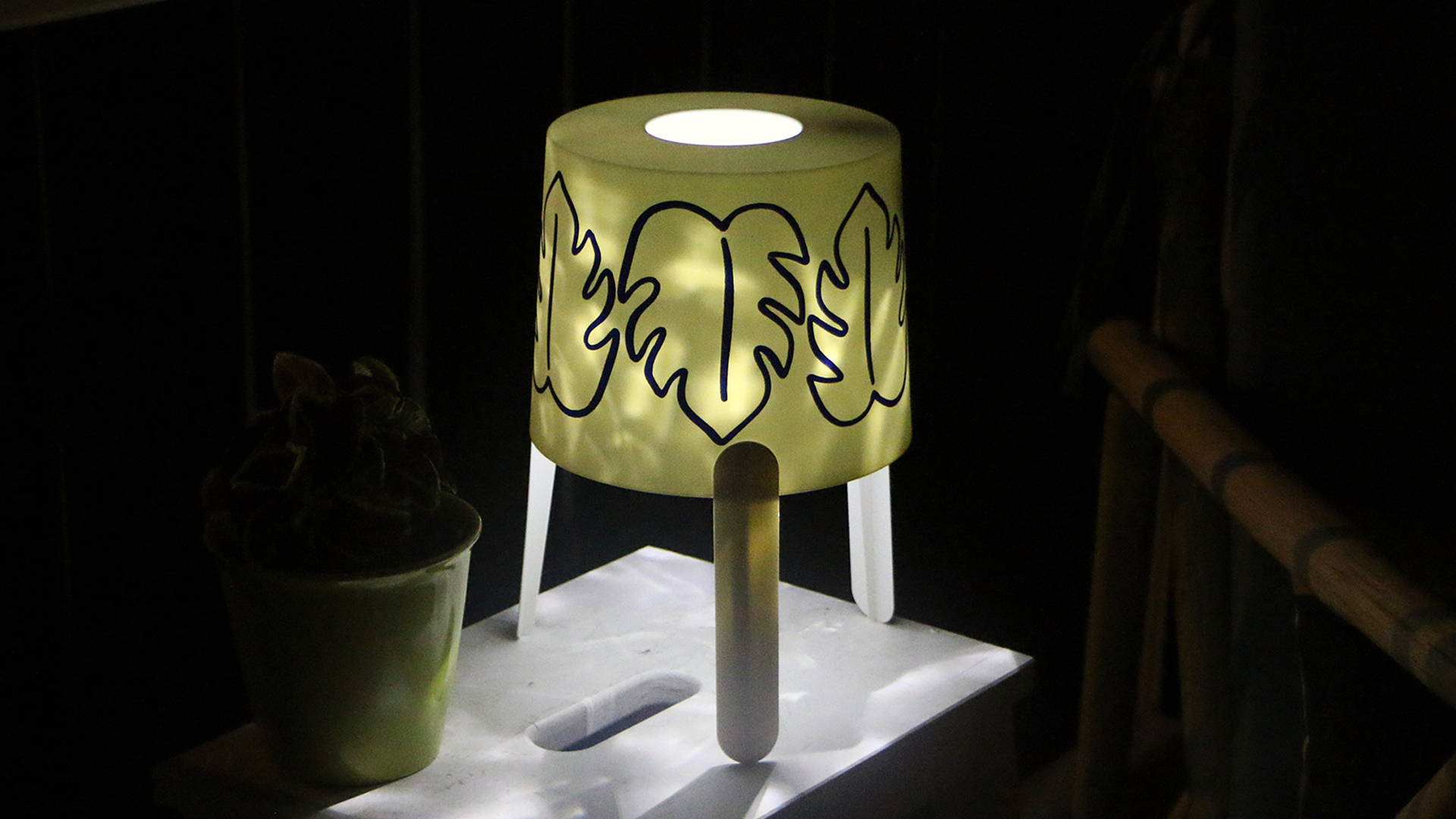 Step 8: If you want your lamp to solely be for outside use, you can cut your cord off. If you want to keep it a regular lamp that can transition inside for colder months, wrap the cord up and use rubber bands to attach it the lamp legs. This will keep the cord hidden under the shade.
Step 9: Remove the stake from your solar light. If you are keeping the cord attached, wrap painter's tape around the bottom portion of the light with the sticky side on the outside. If your cutting the cord, you can use an adhesive like super glue or Beacon Multi-grip to attach it. If you're not cutting the cord, place the light inside the light socket. Then, wrap painter's tape around the base to secure.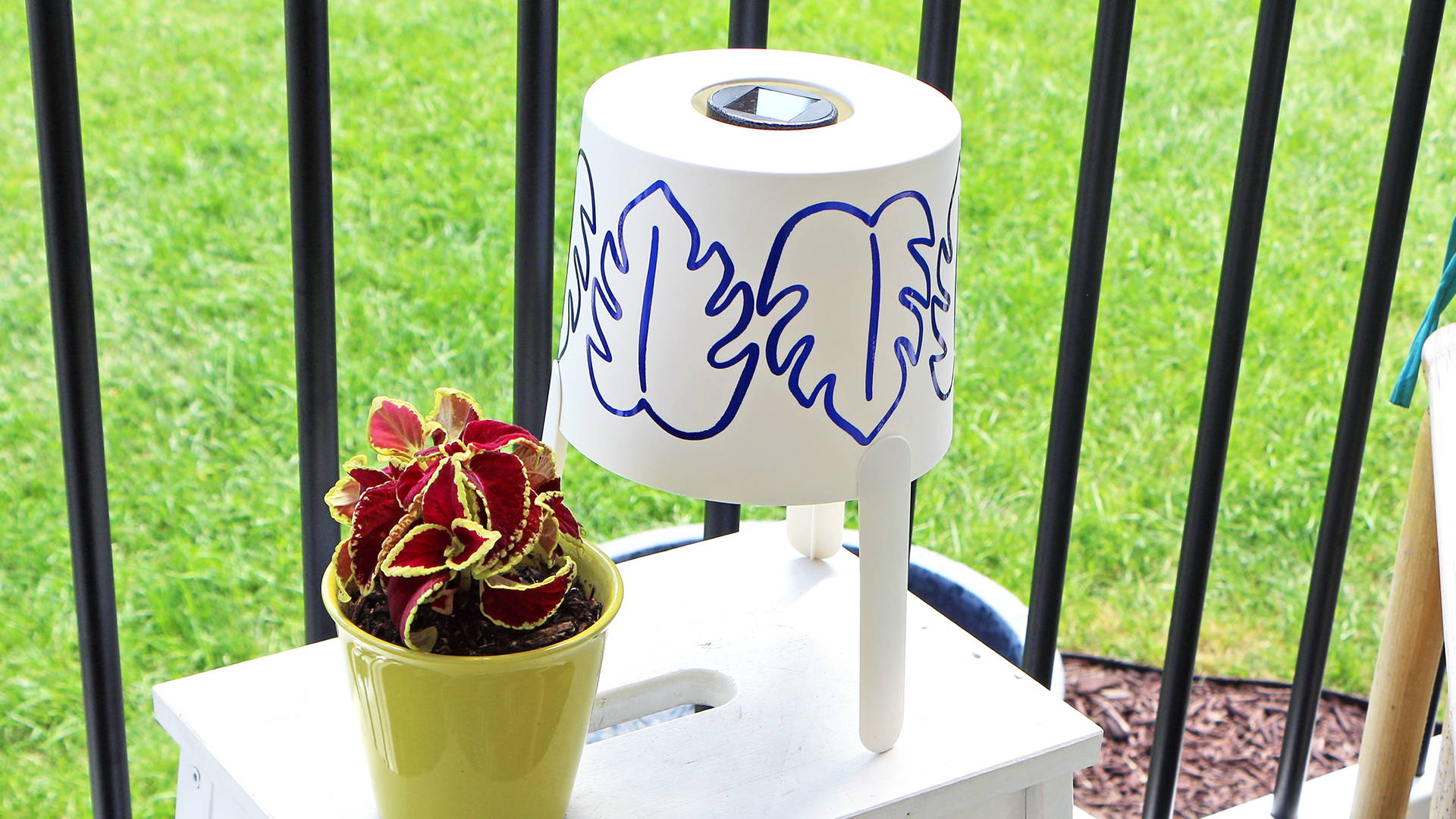 When you finish adding your solar light to your lamp, make sure you place it in an area where it gets plenty of sun to charge to solar panel. As darkness falls, your lamp will light up giving the perfect touch of ambiance to your space every single night (that is, as long as it's not cloudy!). Enjoy!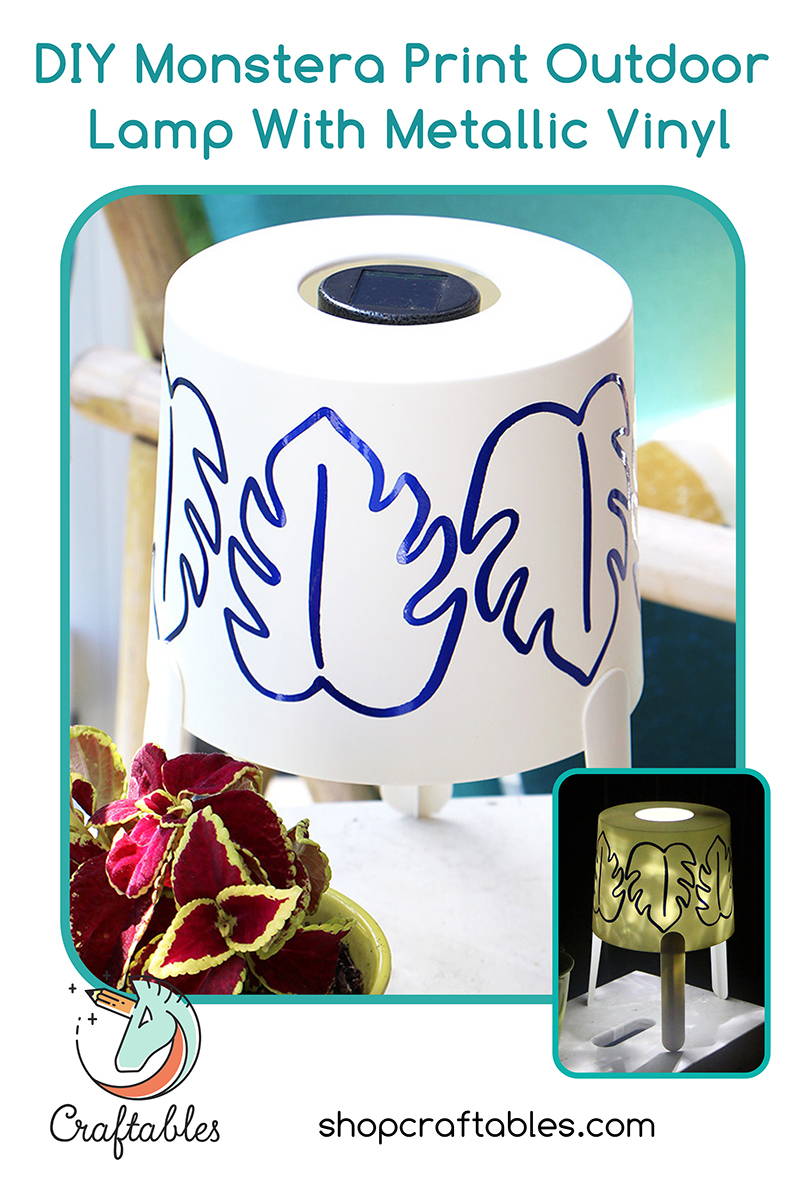 About the Author
Meghan Quinones
Meghan lives in Chicago with husband and 4 year old twins. She is obsessed with making and creating for the look for less. Pretty much every decor piece in her home is something she either made or upcycled. She started her blog to inspire everyone who visits her online creative space to create in their own lives.