Send beautifully designed cards to friends and loved ones with this DIY Screen Printed Card Using Iron-on Vinyl!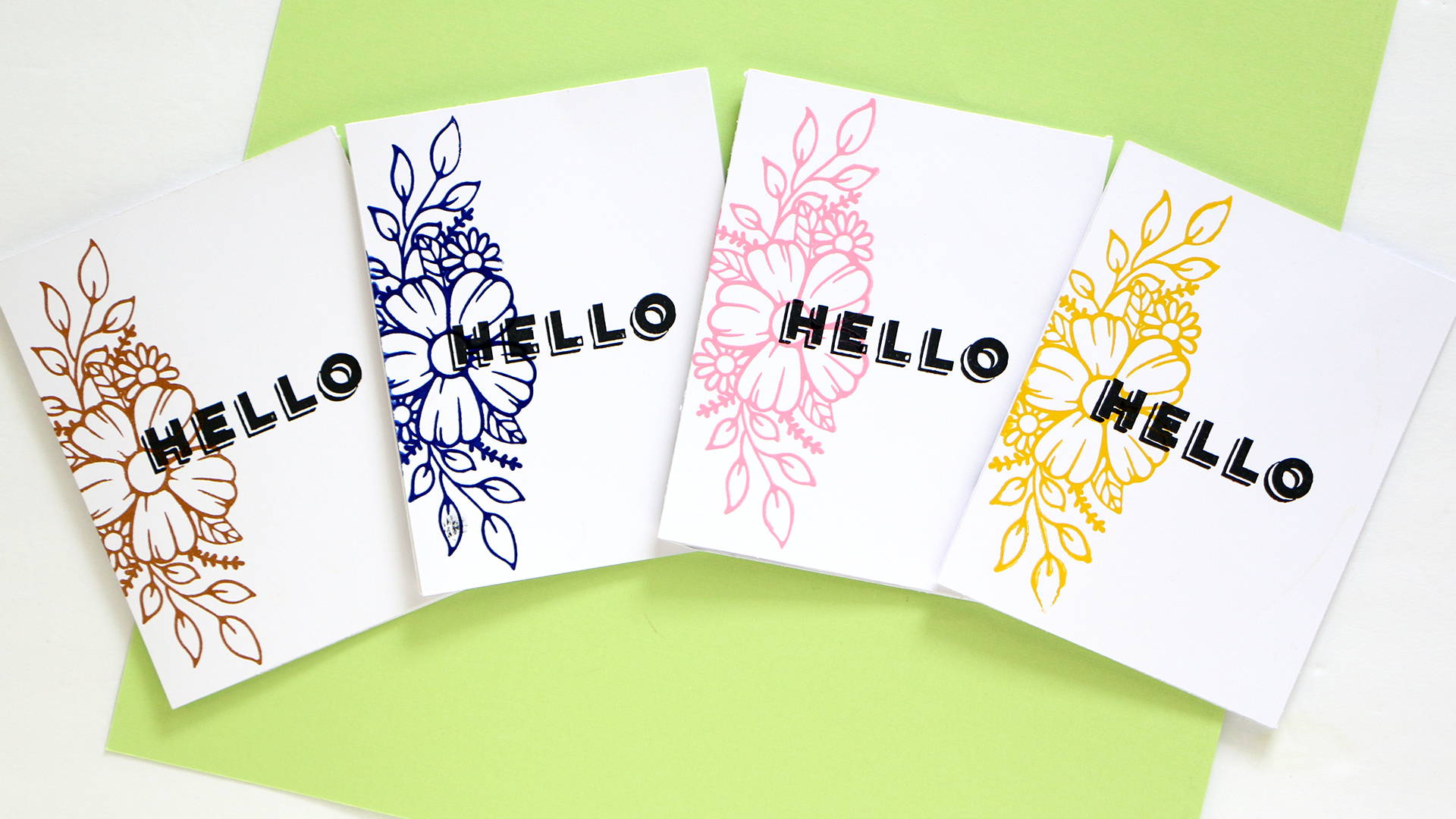 In our current world connecting with friends and family is even more important. From phone calls to Zoom meetups everyone is trying to find ways to connect while in isolation. One way to reach those we love is through a good old fashion card!
In this tutorial you are going to see how you can make your very own DIY Screen Printed Card Using Iron-on Vinyl! What's great about this technique is you can use the screen over and over to create different colored cards to send out to your friends and family. You can also change up the sentiment based on the occasion.
Check out the full video tutorial below to see how you can make your own DIY Screen Printed Card Using Iron-on Vinyl!
Here are the supplies you will need:
Cricut Maker

5"X11" White Cardstock

Screen Printing Mesh

8" Wooden Embroidery Hoop

EasyPress (Iron)

EasyPress Mat (or Ironing Board)

Paper Towel

Squeegee (or Credit Card)

Pallet Knife

Screen Printing Ink (or Acrylic Paint)

Sentiment Stamp

Ink Pad

Scissors

Weeding Tool

Paper Trimmer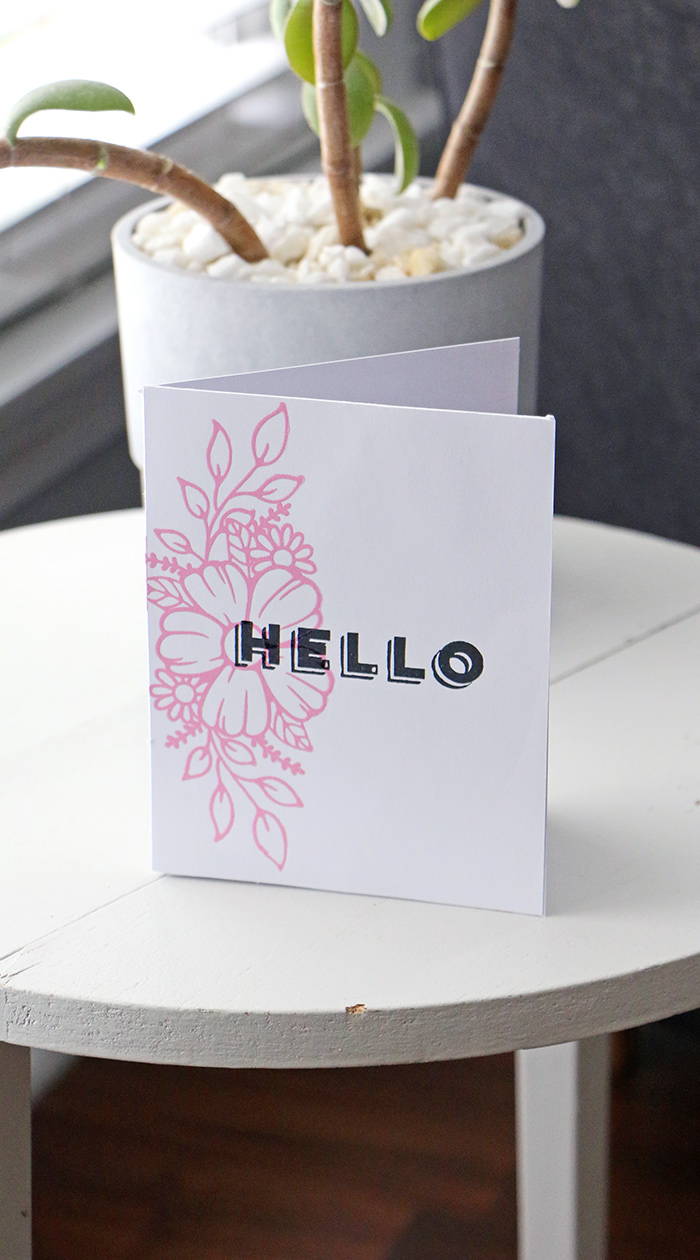 Step 1: Grab the free Craftables Free Flowers SVG from the Craftables website and click "Download".
Step 2: Open up Cricut Design Space, click on "new project". Then, click on "upload" on the left-hand side, and select the "flowers" SVG file from the location where you saved it. Click "save" once it's been uploaded to Design Space. Then, click on the file and click "Insert image" to add it to your project.
Step 3: Click the image and hide all of the flowers except for the top design. Be sure to also hide all of the small circles in the middle of the flower. Resize the file to 3.25".   Then, click "Make it".
Step 4: Select your material size and Heat Transfer Vinyl and then continue.
Step 5: Move the image down about 3.25" and over about 1".
Step 6: Add your vinyl to the cutting mat with the shiny liner side facing down. Then, add the mat to your machine and press start.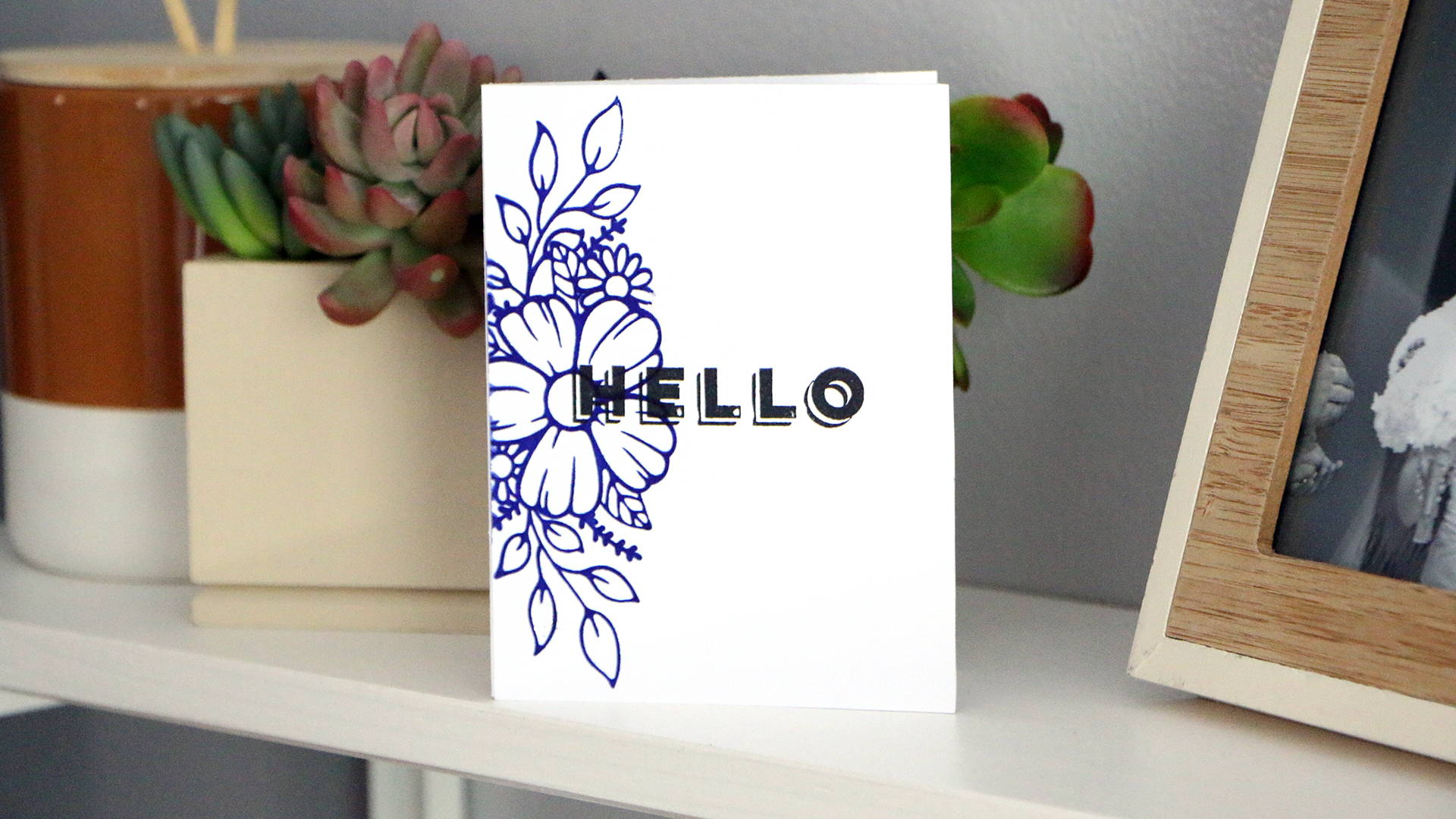 Step 7: Remove the mat from the machine. Use a weeding tool to weed the design, leaving the negative behind.
Step 8: Cut a piece of screen mesh larger than your embroidery hoop.
Step 9: Set your Cricut EasyPress to 280 degrees for 25 seconds. Then, place a paper towel on top of the ironing pad (this will prevent any adhesive from getting on to it). Add your heat transfer vinyl on top with the shiny side facing up.
Step 10: Go over the design with the EasyPress for 25 seconds.
Step 11: Once the vinyl is cool to the touch, remove the clear liner from the top.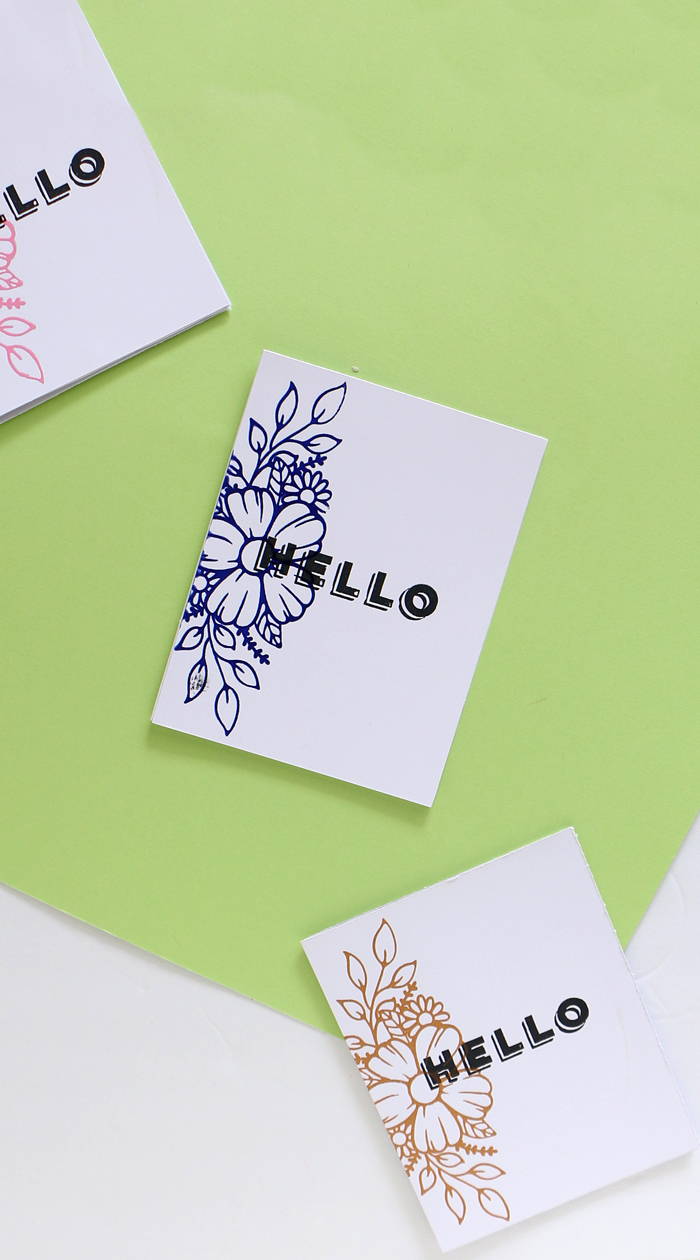 Step 12: Open your embroidery hoop, place you design on top so it's in the center (make sure the side with the vinyl is on the bottom). Add the outside ring and tighten. TIP: If you see any areas that are loose, just give the outside screen a tug and it'll tighten it. Also, you can add painter's tape to any exposed areas on your screen where you don't want ink/paint getting on your card.
Step 13: Cut a piece of 8.5" x 11" cardstock in half and then fold it in half. This will create your cardbase.
Step 14: Lay your cardbase on a protected surface and place the screen on top so it's flush with the paper. I placed my design a little bit off of the card at the crease.
Step 15: Add a light amount of paint (I used screen printing ink, but regular old acrylic paint also works well!) on top of the design.
Step 16: Then, use a squeegee or credit card to pull the ink/paint over the design. Make sure the entire design is covered with paint. TIP: If you see any white areas, just add ink/paint over the area and pull it down with your squeegee.
Step 17: Pull up on your embroidery hoop to reveal your design. Then, let the design dry.
Step 18: Once the ink/paint is dry, stamp your favorite sentiment!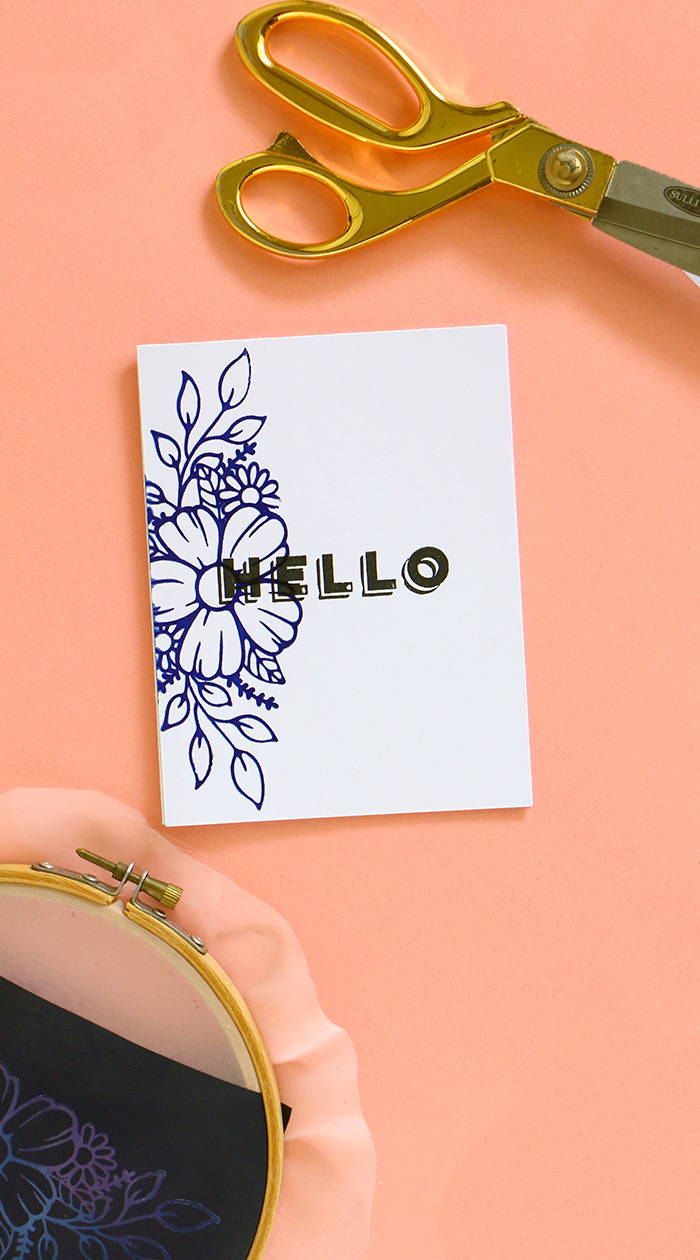 Changing up the colors on your DIY Screen Printed Card Using Iron-on Vinyl is super easy. All you need to do is rinse the mesh screen, let it dry and you can move on to the next color to make even more cards. This technique can also be used to create custom t-shirts, tote bags, and more!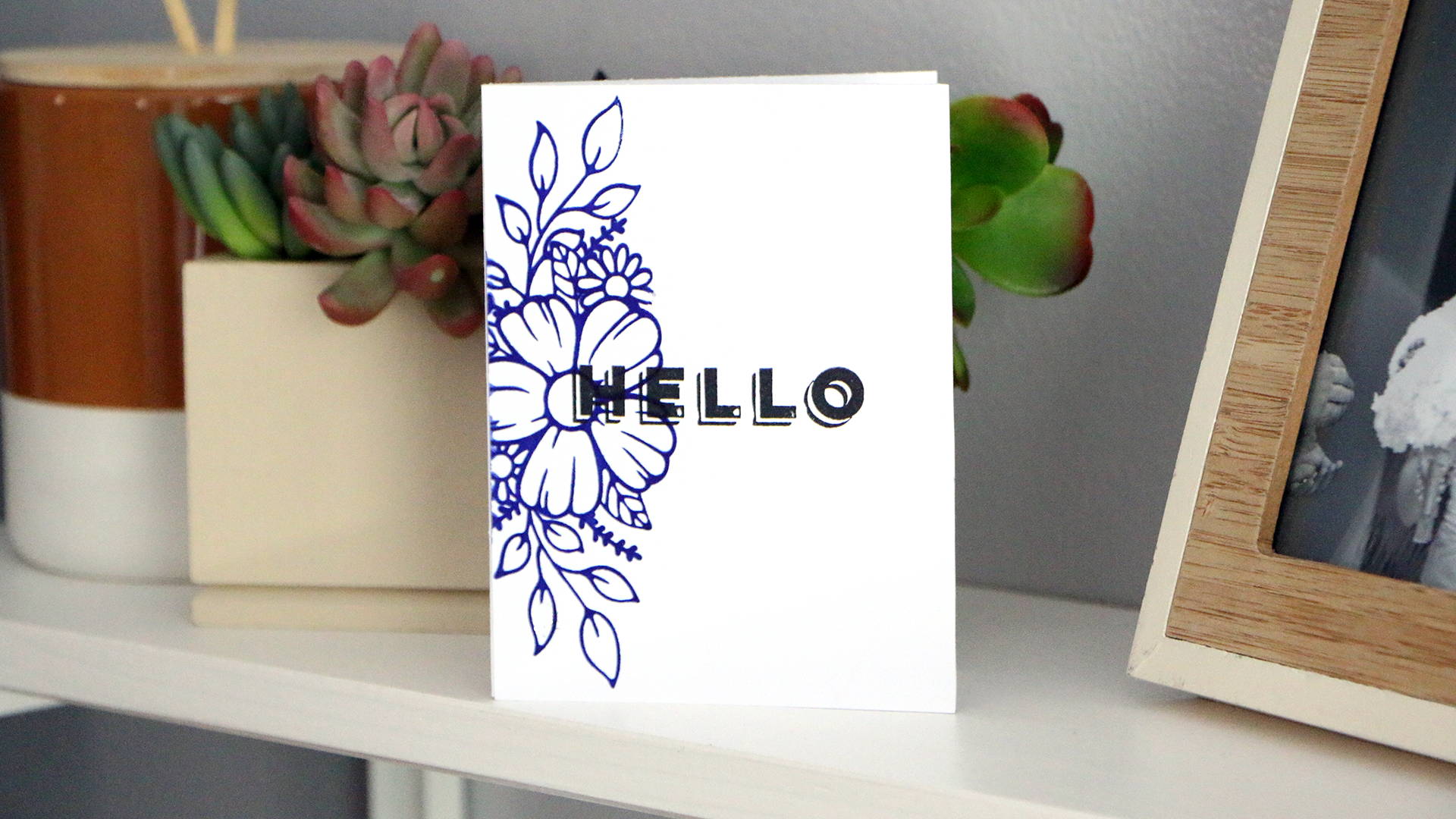 About the Author
Meghan Quinones
Meghan lives in Chicago with husband and 4 year old twins. She is obsessed with making and creating for the look for less. Pretty much every decor piece in her home is something she either made or upcycled. She started her blog to inspire everyone who visits her online creative space to create in their own lives.