Give your family members a friendly reminder every time they are in the bathroom or kitchen with this Cricut made DIY Adhesive Vinyl Wash Your Hands Sign!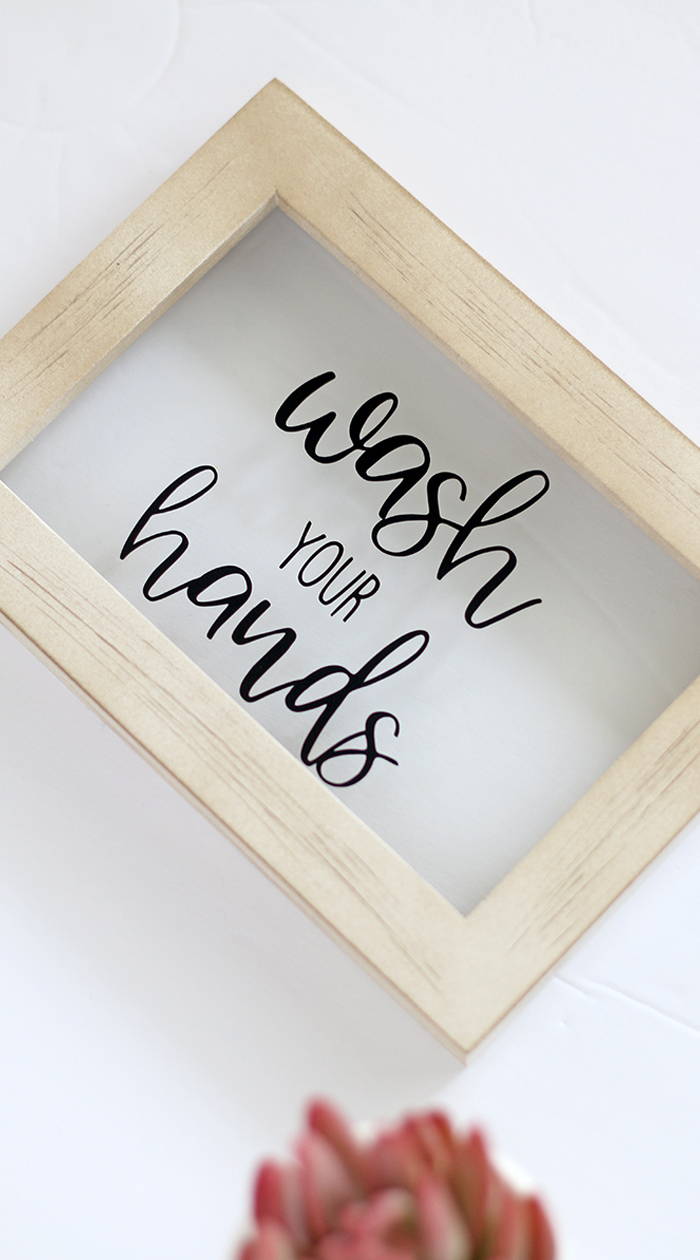 So many things have changed in the world in the last few months. The current pandemic has forced many of us to hunker down at home full-time now and practice social distancing to keep ourselves safe and healthy. Hand washing has always been an important part of life to ward off germs, but it's importance has grown exponentially in the last couple of months as a way to stop the spread of the virus and to help us stay safe.
If you have little ones at home (or just have a houseful of people that need a friendly reminder!) this DIY Adhesive Vinyl Wash Your Hands Sign is the perfect farmhouse inspired décor piece to display for everyone to see. This sign gives a friendly PSA while also doubling as a cute piece of décor. Since this is a quick project and great for beginners, you can make this sign in minutes to display around your home. You could also make some for friends and family members. We could all use a friendly (and cute!) reminder right now to practice proper handwashing to get rid of pesky germs.
Check out the full video tutorial below to see how you can make your own DIY Adhesive Vinyl Wash Your Hands Sign!
Here are the supplies you will need:
Thicker, shadowbox frame (you will need a frame that can stand up on its own with the back on it)

Zots Singles (Small)

Cricut Cutting Machine

Cricut Cutting Mat

Weeding Tool

Squeegee (or credit card)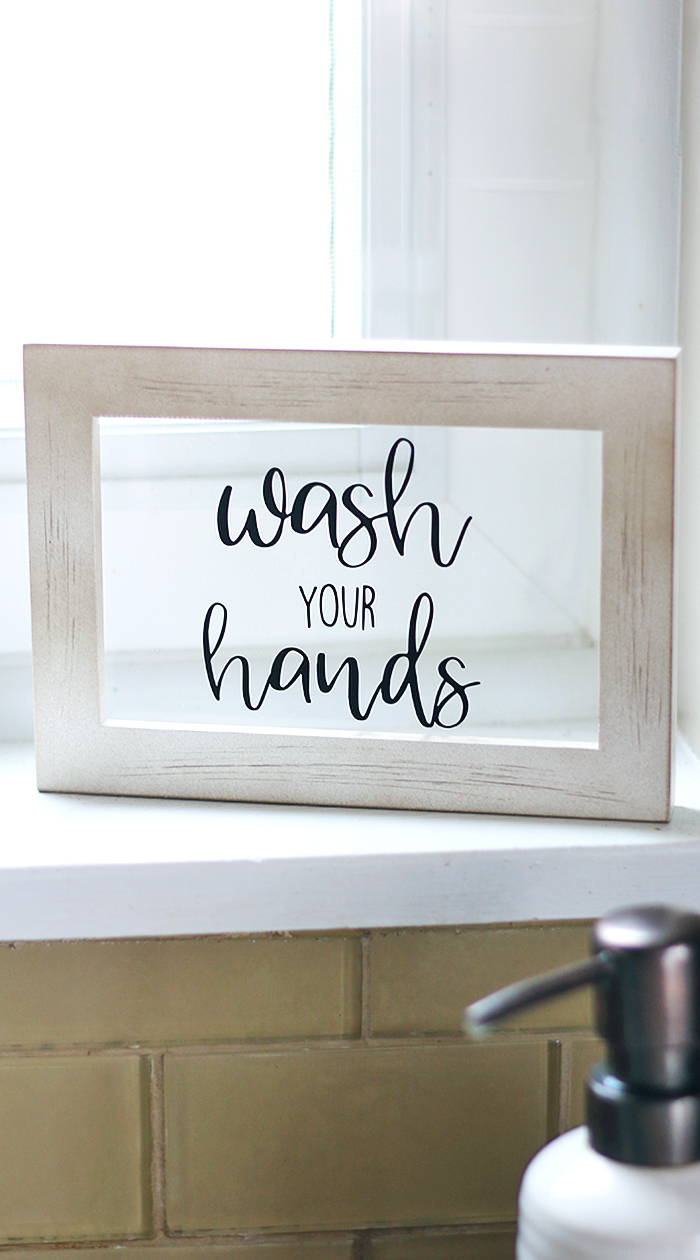 Step 1: Grab the free Craftables "Wash Your Hands" SVG from the Craftables website and click "Download".
Step 2: Open up Cricut Design Space, click on "new project". Then, click on "upload" on the left-hand side, and select the "Wash Your Hands" svg file from the location where you saved it. Click "save" once it's been uploaded to Design Space. Then, click on the file and click "Insert image" to add it to your project.
Step 3:  Resize the file to fit the front of the glass on the frame you've selected. Then, click "Make it".
Step 4: Select your material size and adhesive vinyl and then continue.
Step 5: Add your black vinyl to the cutting mat with the vinyl side facing up (If you want your vinyl to be on the inside of the glass, flip the vinyl over so the liner is facing up). Then, add the mat to your machine and press start.
Step 6: Remove the mat from the machine, trim as close as you can to the design, and use a weeding tool to weed the excess vinyl around the design.
Step 7: Cut a piece of transfer tape a little bit larger than your design, place it on top, use a squeegee or credit card over the tape, and then slowly peel it back. The design will be adhered to the tape.
Step 8: Place the design on the front of the frame glass, use the squeegee again on top, and then peel back the liner.
Step 9: Add small glue dots to all 4 corners on the front of the glass.
Step 10: Place the glass face down inside of the frame and press down on all of the corners to adhere the glass to the frame.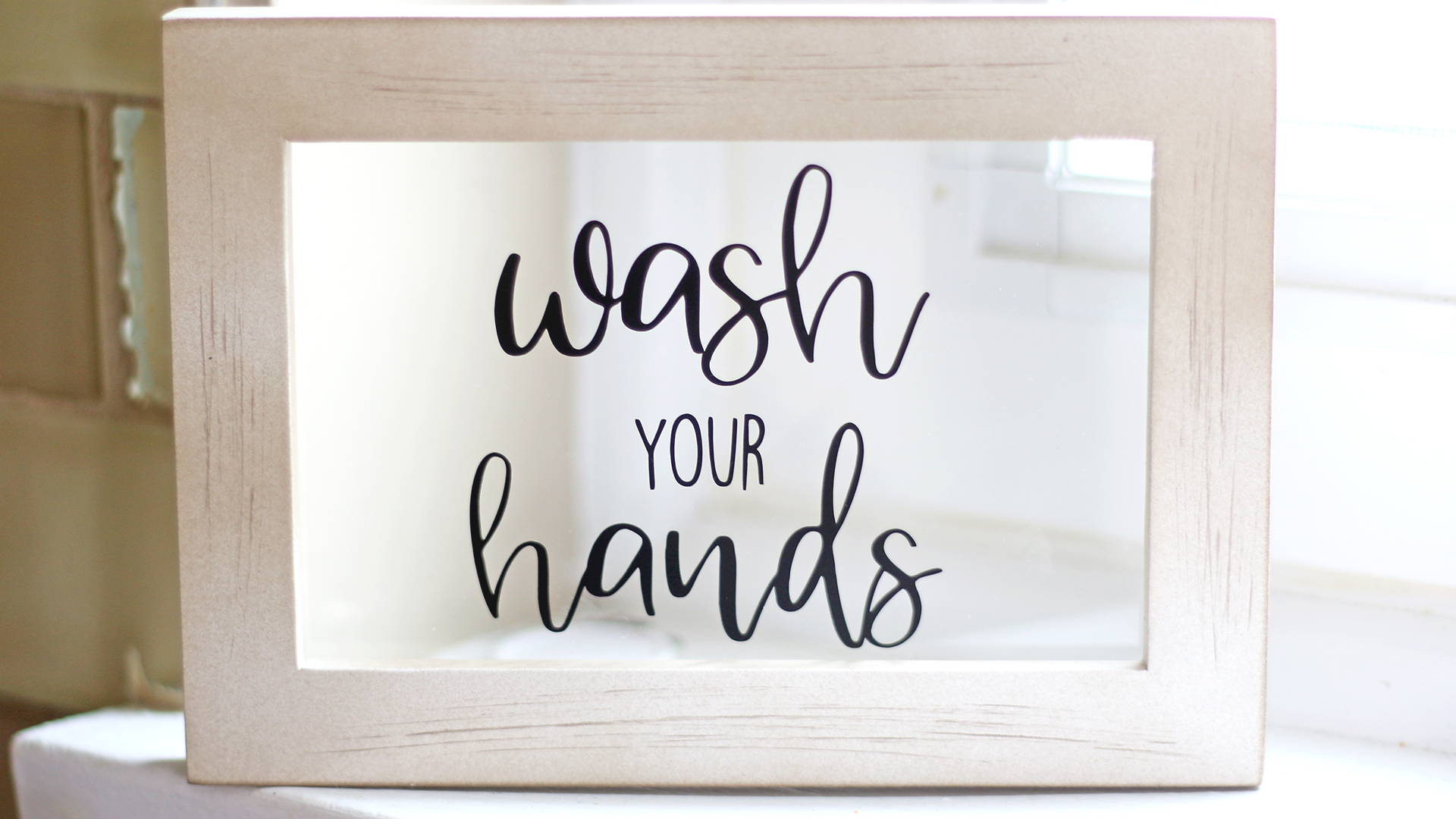 You now have a friendly reminder to "Wash Your Hands". Since this DIY Adhesive Vinyl Wash Your Hands Sign is so easy, you could also add it to a canvas or wood panel for a different look, but same important message. Stay well!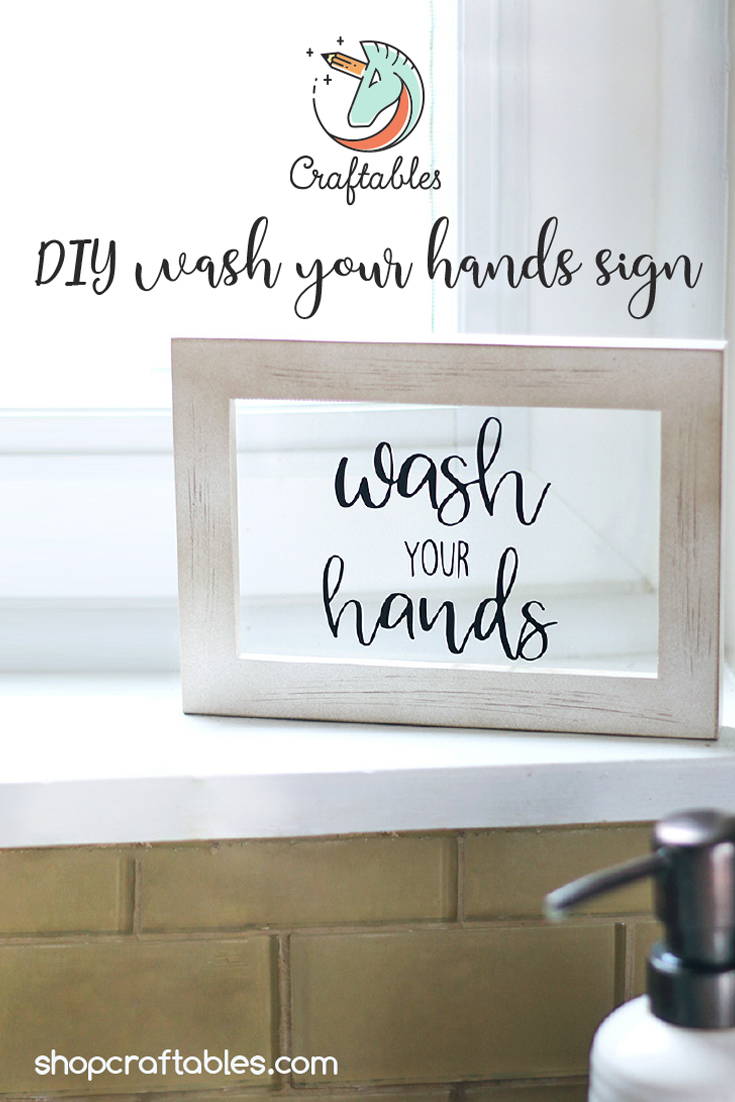 About the Author
Meghan Quinones
Meghan lives in Chicago with husband and 4 year old twins. She is obsessed with making and creating for the look for less. Pretty much every decor piece in her home is something she either made or upcycled. She started her blog to inspire everyone who visits her online creative space to create in their own lives.