Summer has come to an end and all the fun fall crafts are poking their heads out, just waiting to be made! In this tutorial I'm going to make a fun Halloween sign and show you how easy it is to apply heat transfer vinyl to wood. Heat transfer vinyl is one of my favorite materials to work with because of its versatility. Heat transfer vinyl is not only for fabrics! It can be applied to glass, wood, tile...you name it!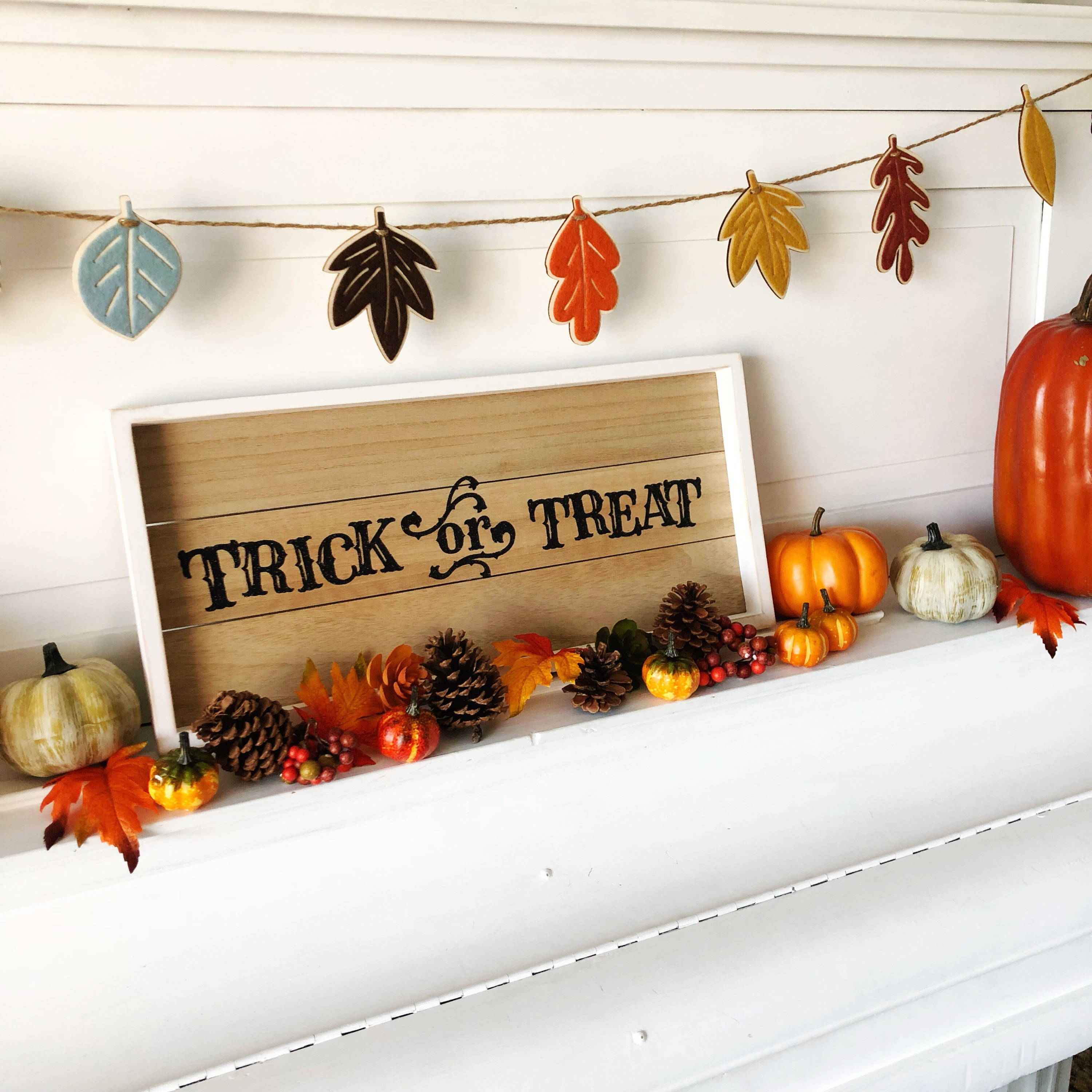 ESTIMATED TIME: 30 minutes
Here's what you'll need:
STEP ONE: Create design
Open your software (I used Silhouette Studio) and draw a rectangle the size of your sign. This makes it easy to size your design perfectly.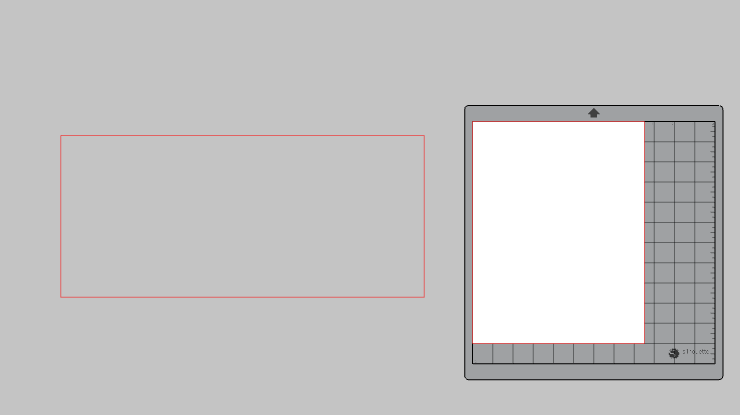 Import your Halloween design and size it to fit in the rectangle you drew. I found this cute one from the Silhouette Design Store.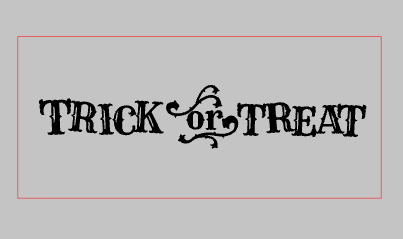 Next, rotate your design so it will fit on the sheet. To do this click Object > Rotate > Rotate by 90 degrees.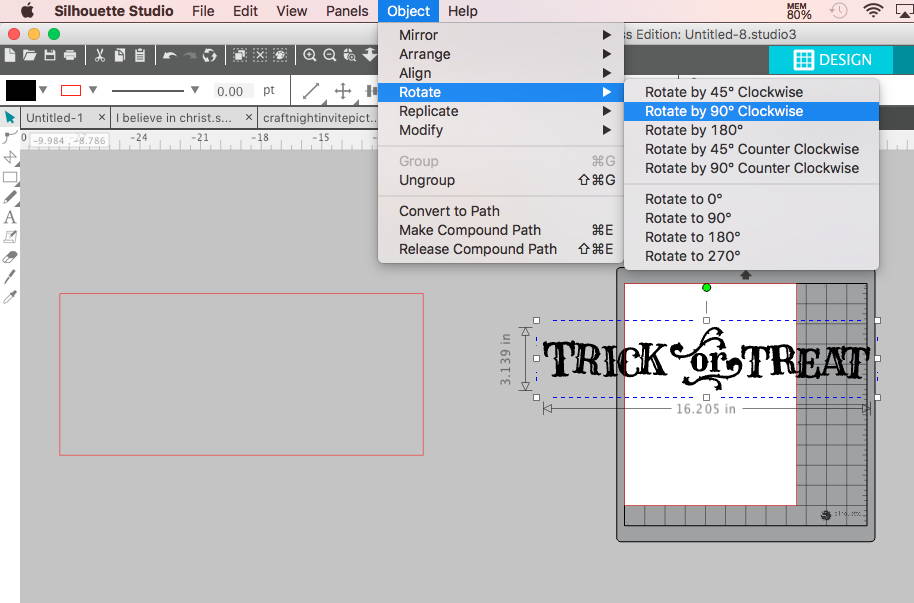 Now that the design has been rotated, we need to split up the design so it will all fit onto the sheet. Right click and select ungroup.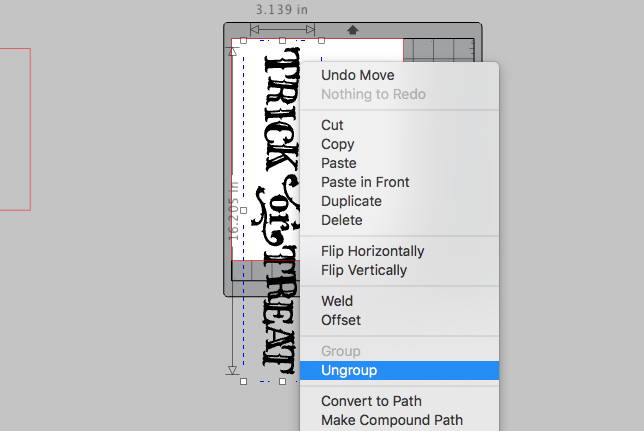 Now we can move the pieces of the design onto our cutting area so that no heat transfer vinyl is wasted! There is one more very important thing before we cut; we need to mirror our image. Right click and select flip vertically. Normally we would flip horizontally to mirror, but since we rotated our design, we will flip vertically to mirror.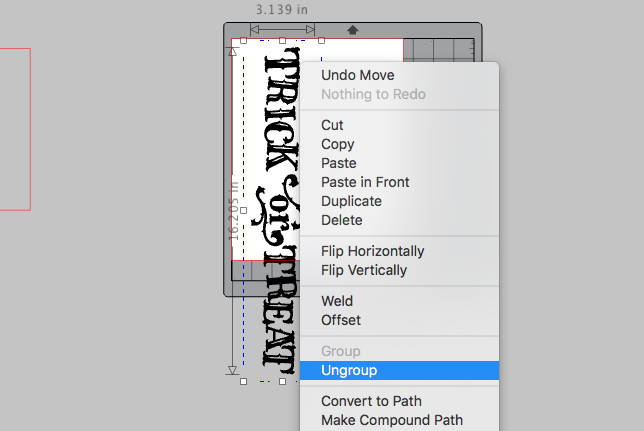 Perfect! Our design is ready to go.
STEP TWO: Cut design out of glitter HTV
Go to your cut settings and select Heat transfer, glitter. Adjust your blade
Put your heat transfer vinyl onto your cutting mat, shiny side down (since we are cutting on the backside.)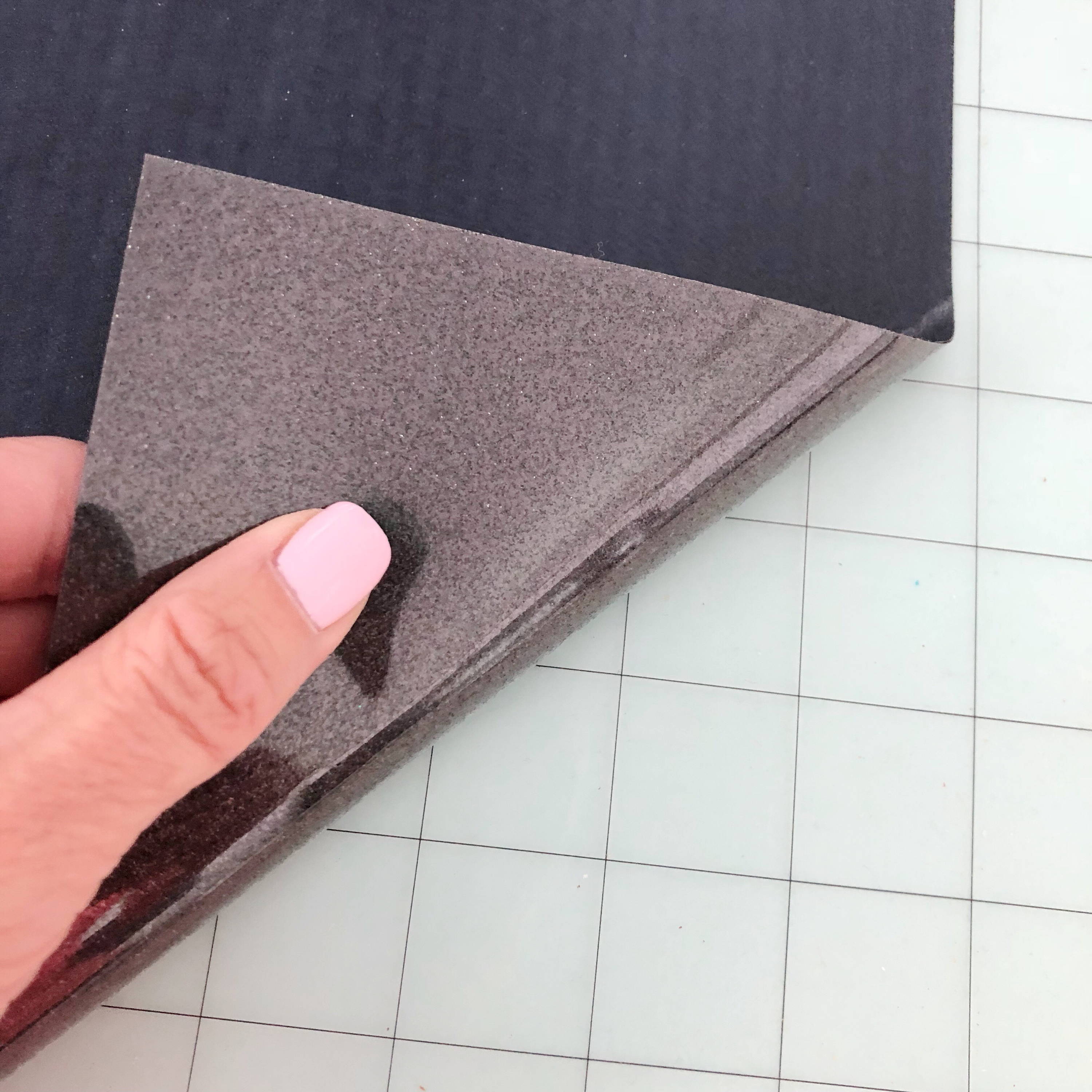 Load your material into the machine and hit Send to cut!
STEP THREE: Weed HTV design
After your machine does its magic, it's time to weed. Peel off the vinyl that is not part of the design. If it was a good clean cut, your weeding should go smoothly.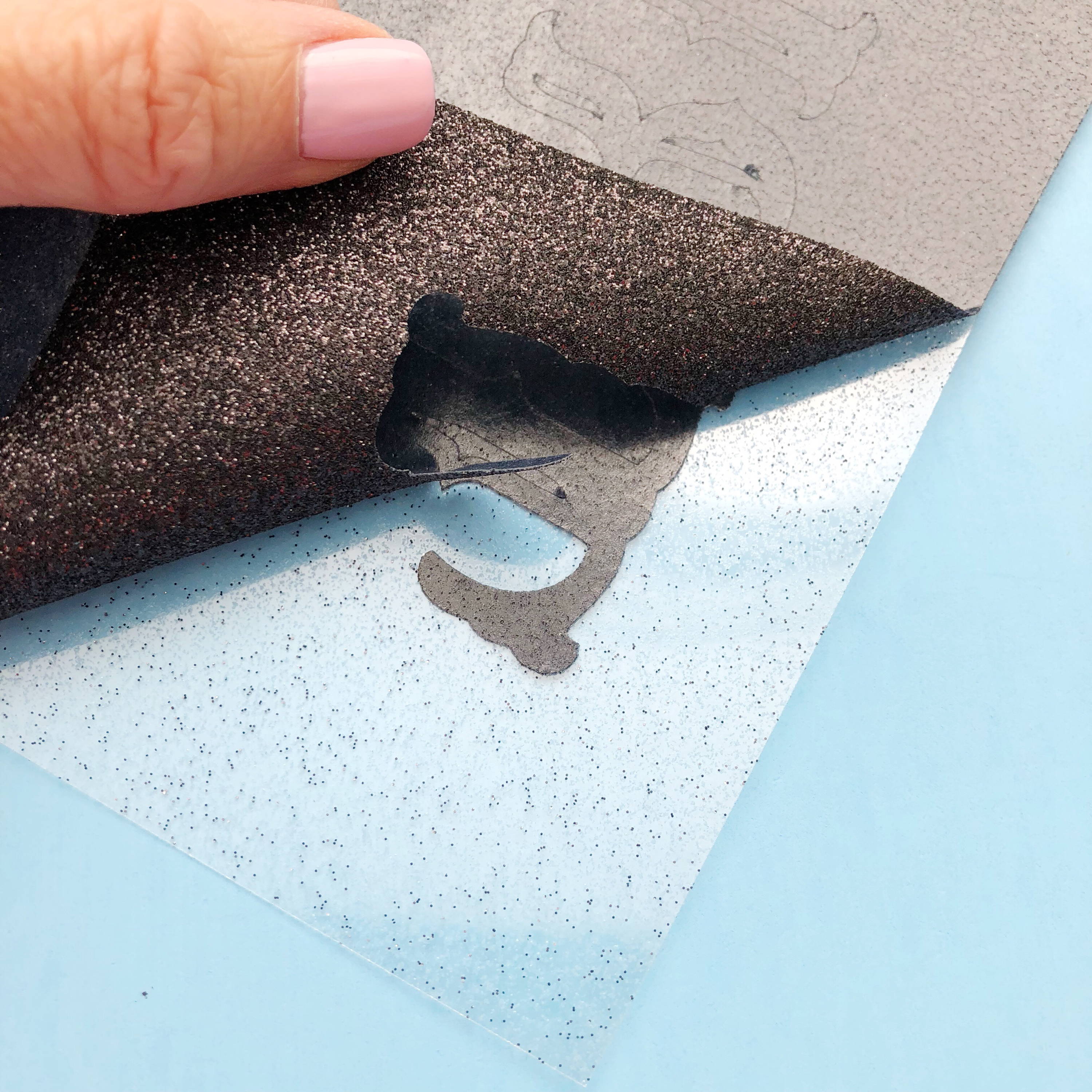 Now take a weeding hook or a pair of crafting tweezers and peel out the little insides of the letters.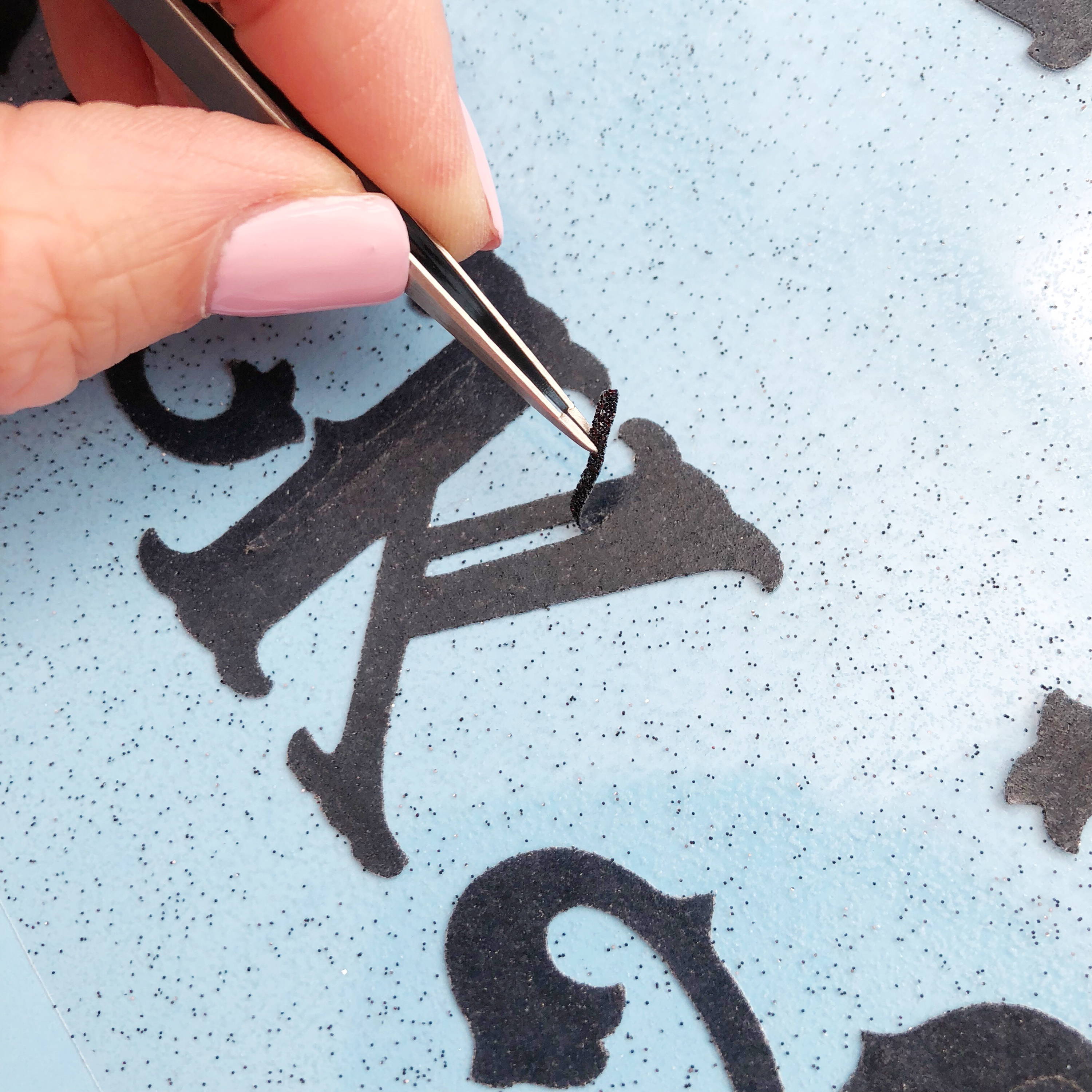 With glitter heat transfer vinyl, you'll see lots of glitter sticking to the carrier sheet. No need to worry about that because those loose glitter pieces won't adhere to your sign. They will just stay on the carrier sheet.
Once the whole design is weeded, cut between the words so that they are easier to place onto the wood surface.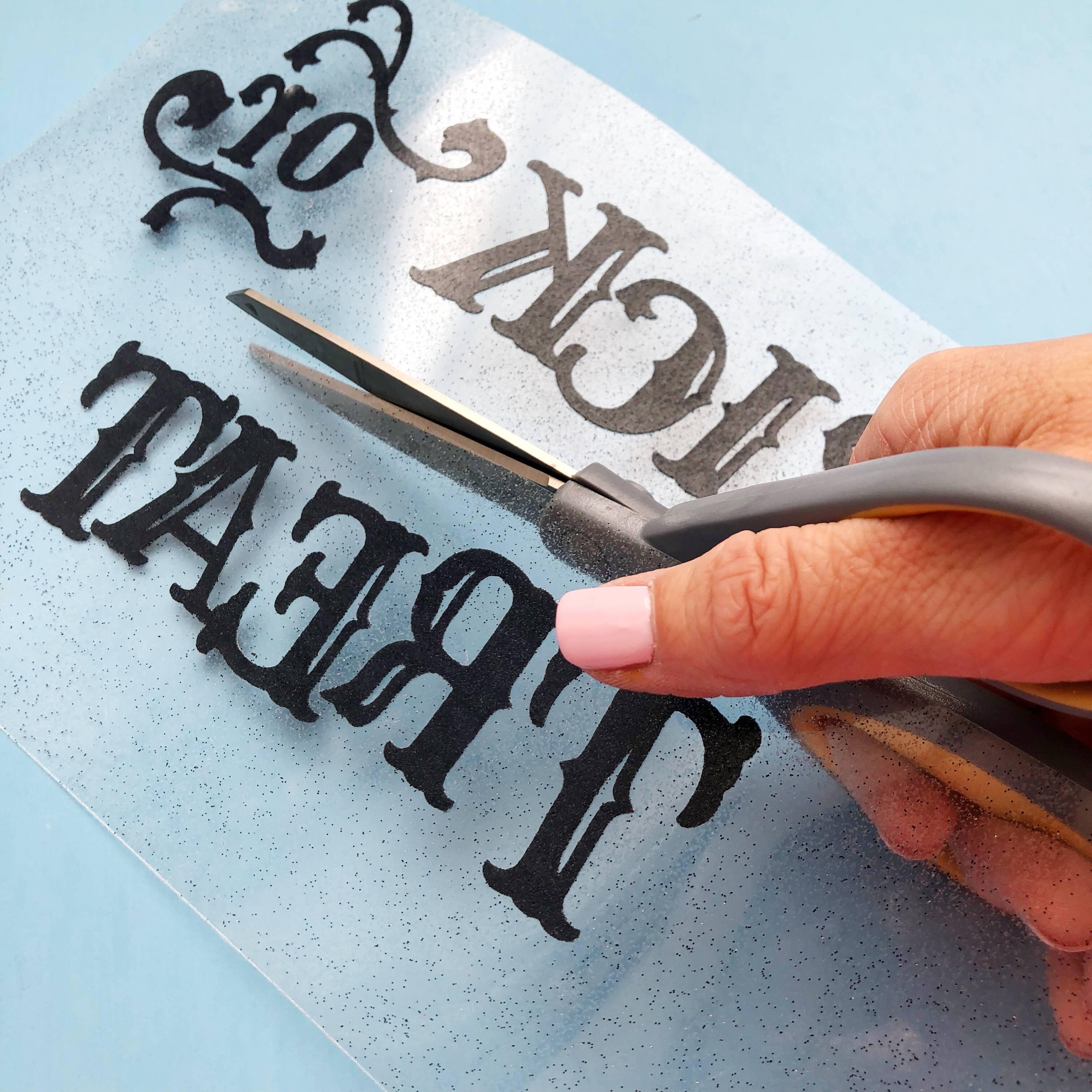 STEP FOUR: Iron HTV onto sign
Now line up your words onto the wood sign, right side up. If you don't have a wood sign, check out this post for a complete guide to all the different surfaces that are compatible with heat transfer vinyl.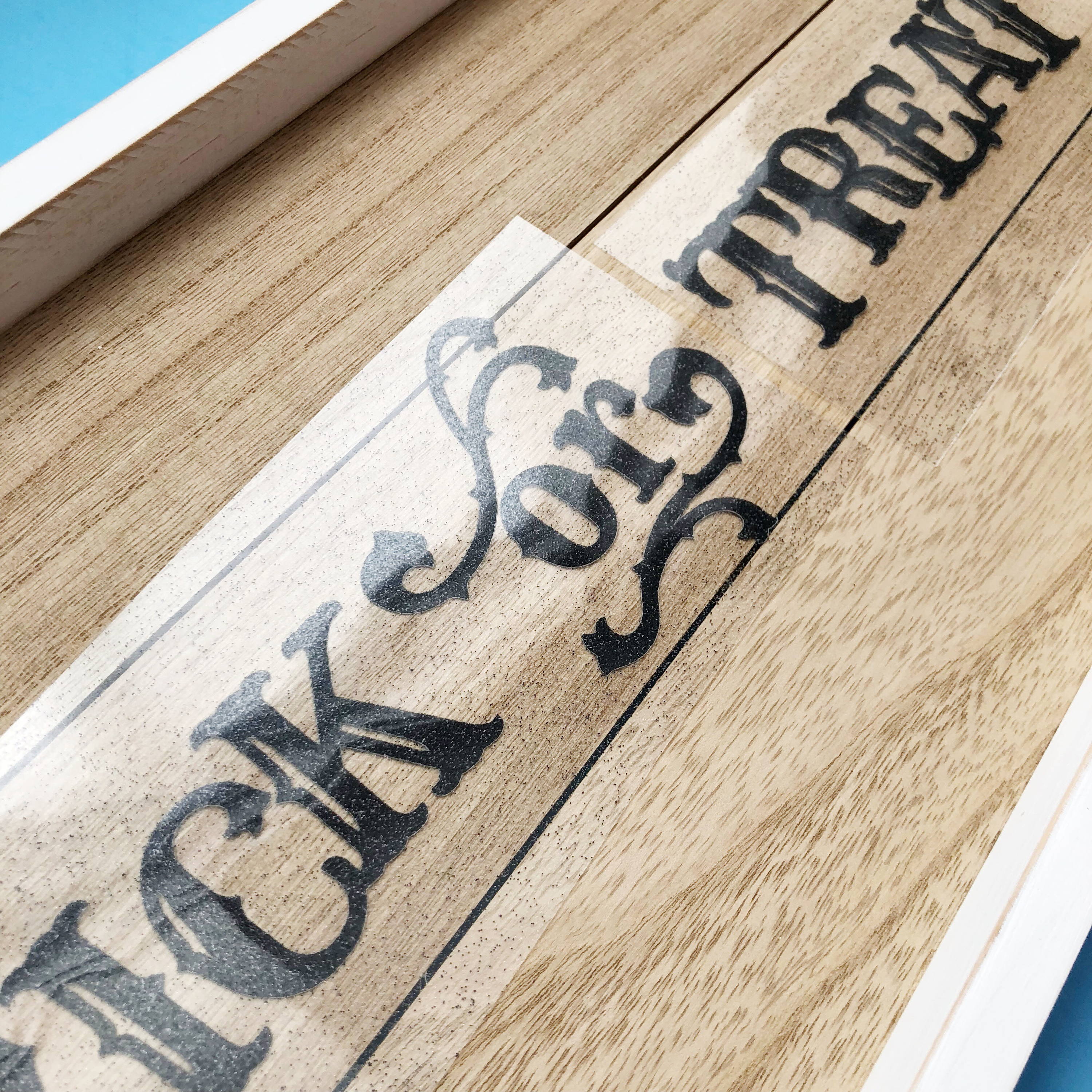 Place a teflon sheet over your design and heat up your iron to cotton settings with no steam.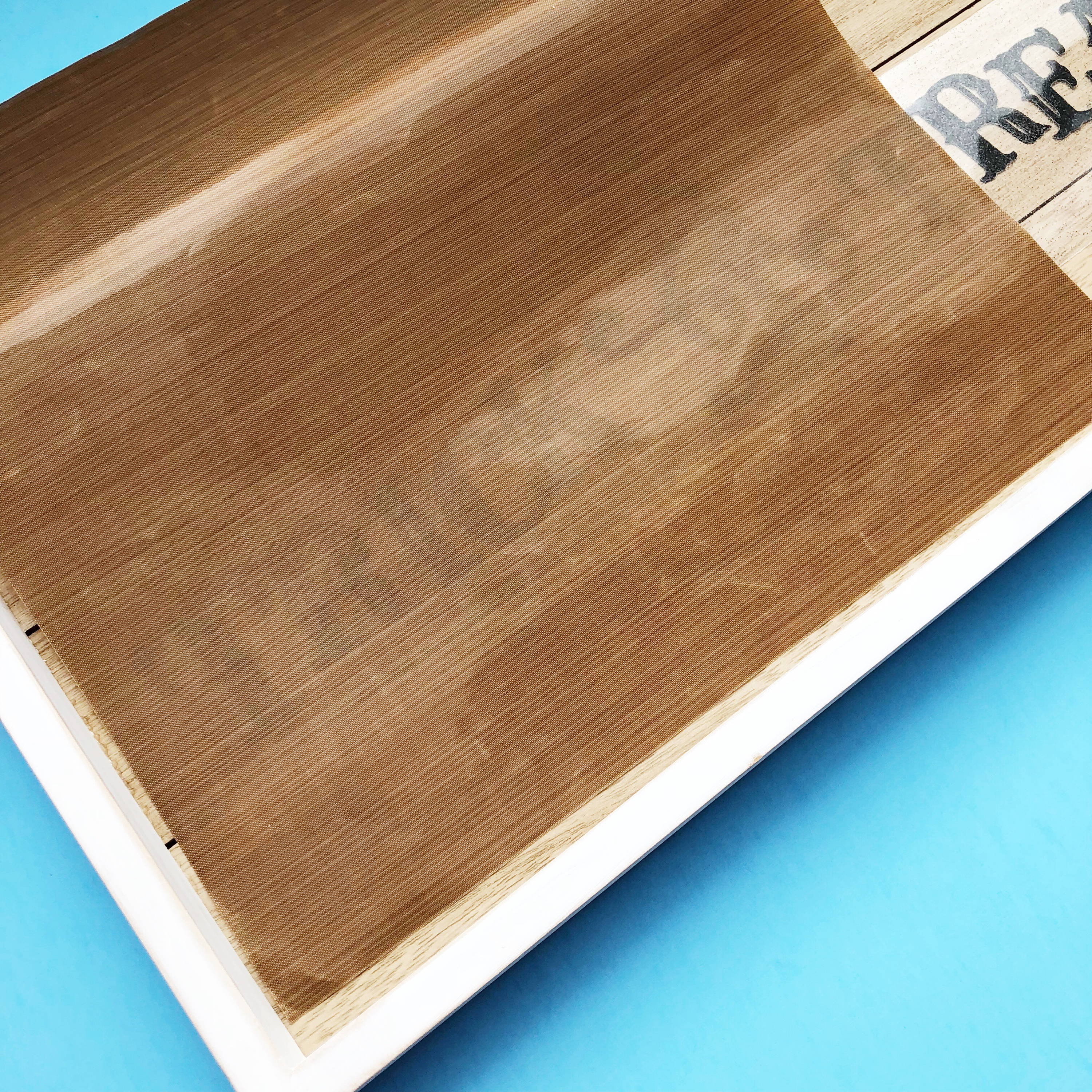 Using a good amount of heat and pressure, iron your design for at least 20 seconds, then lift and repeat for the next part of the design.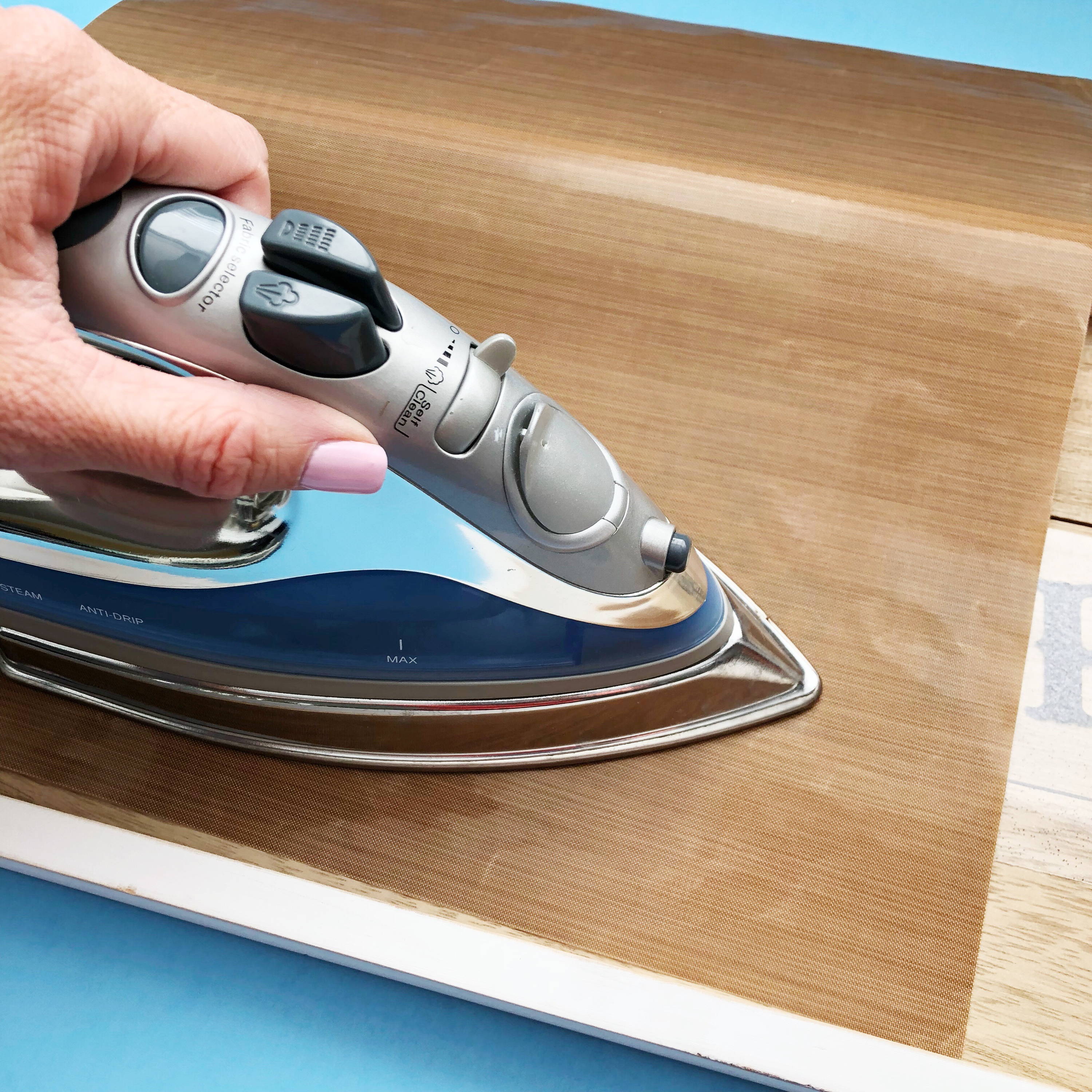 Move the teflon sheet and let the design cool for 30-45 seconds. Once it's cooled, gently peel off the clear carrier sheet. If any part of the HTV starts to pull up, replace the carrier sheet and teflon sheet back down and add some more heat.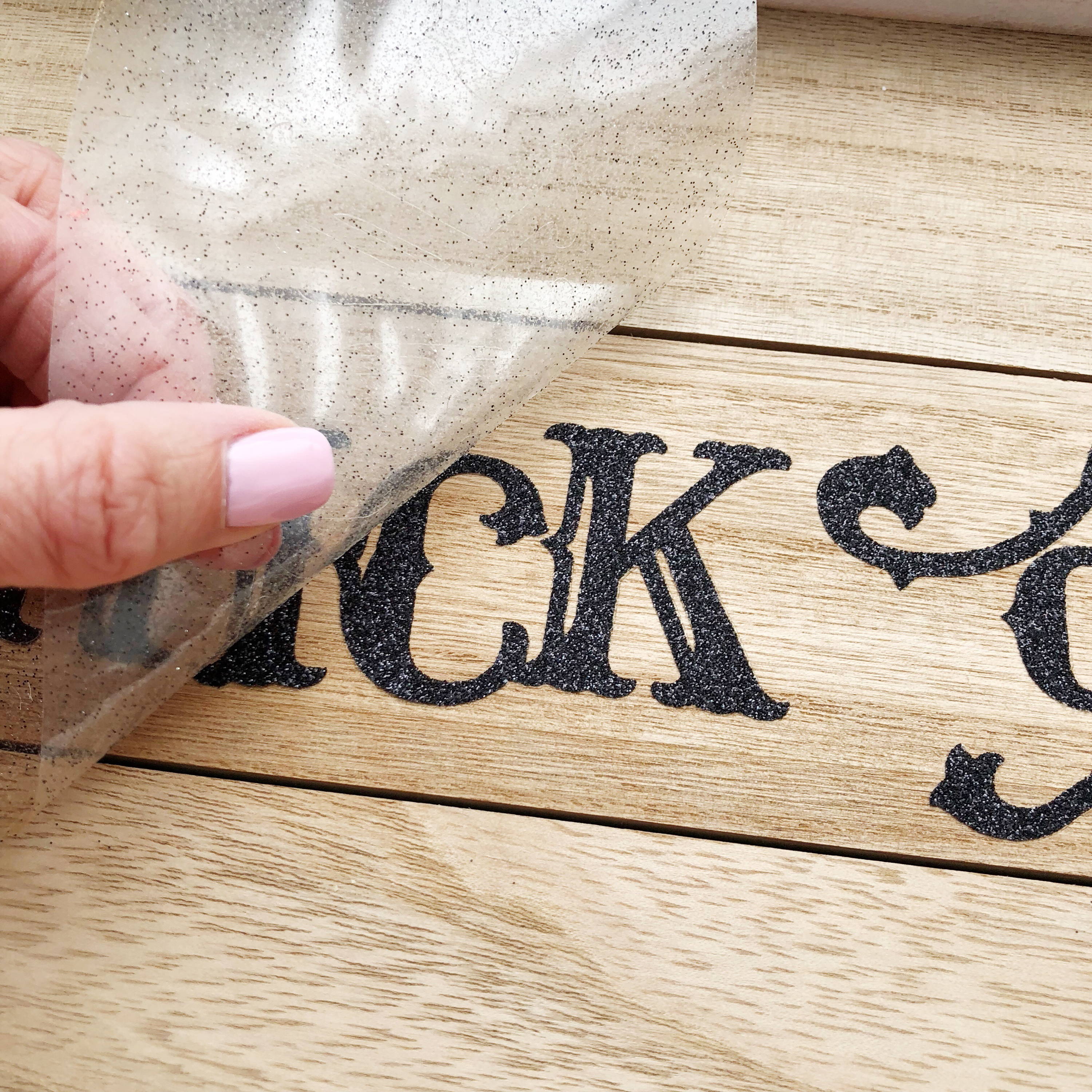 Look how cute that sparkly glitter is!!
And ta-da! You have such a fun Halloween sign that can be styled anywhere! A piano, mantel, doorstep, wall, table...the sky's the limit! I styled mine with these pumkins that I decorated with adhesive vinyl. This sign could also double as a tray for you to serving hot apple cider or or other fall treats!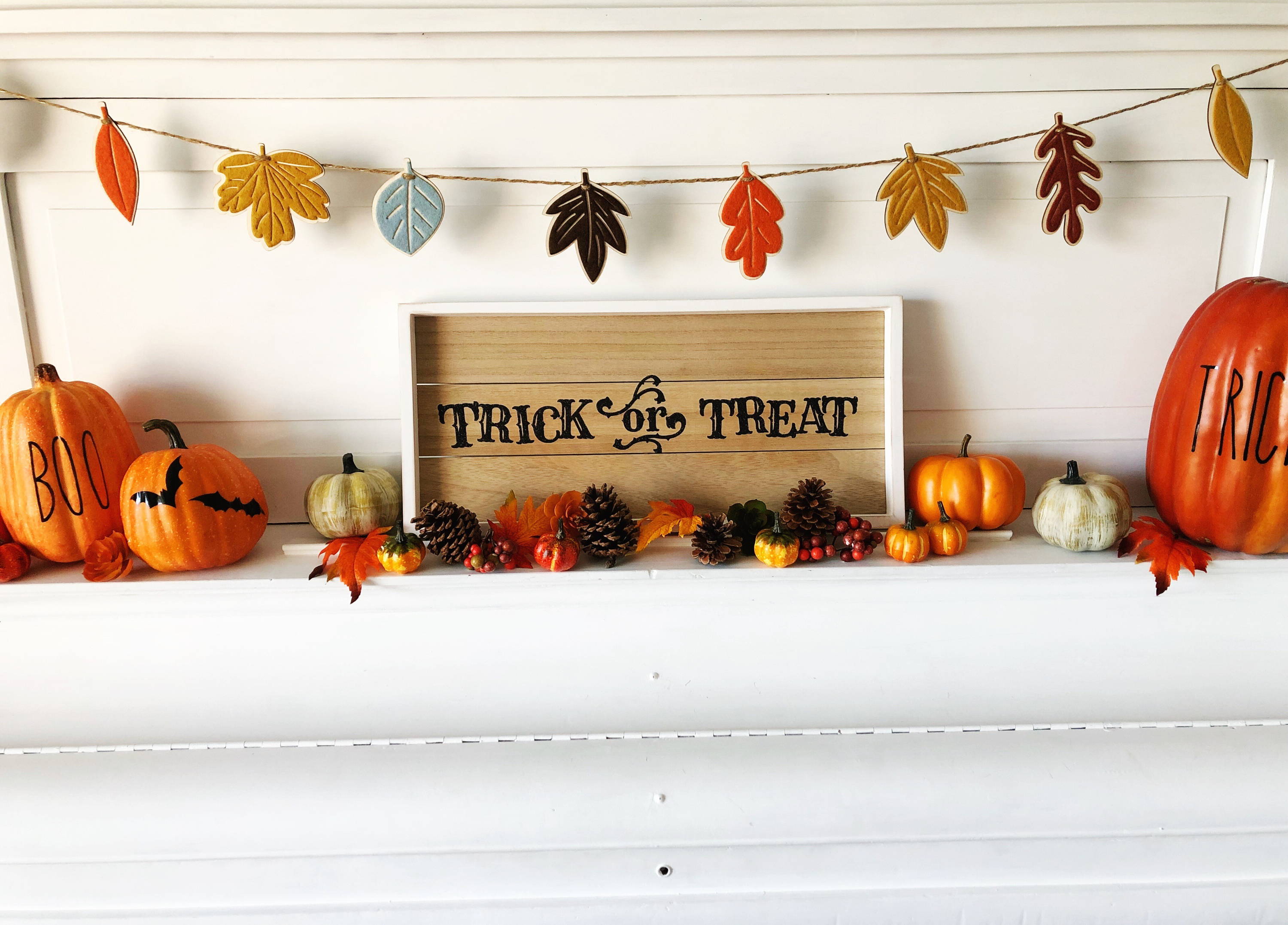 I love the energy and colors that fall brings! Decorating for each holiday is simple with quality crafting supplies! Not only does Craftables supply me with quality vinyl, they also carry all the tools I need, and even have a free SVG library. There are over 75 different colors and types of heat transfer vinyl on their site, so go pick out some great fall colors and get crafty!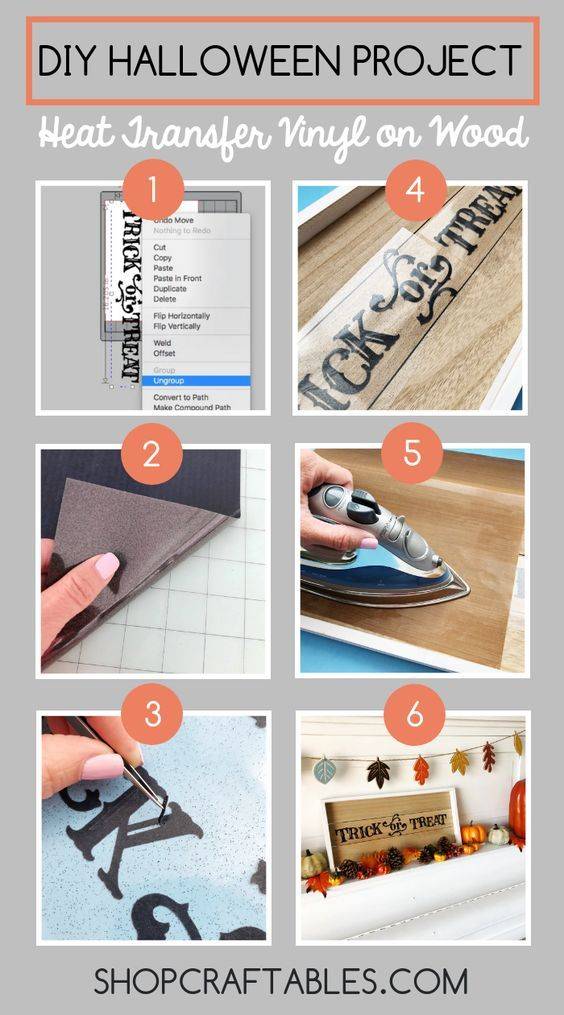 About the Author
Aubrey Claybrook
My name is Aubrey and I currently live in Kaysville, Utah. I'm married to a wonderful husband and we have three silly, energetic kids. I love anything creative, including refinishing furniture, interior design, making fun party favors, holiday decor, and of course all things made with my Silhouette machine. I enjoy using my creativity as part of my every-day life, and I love inspiring others to do the same! Follow me on Instagram: @projectsilhouette