Tutorial for Beginners: How to Download and Import SVGs in Silhouette Studio

Being able to find cut files on the internet is such a great way to find just exactly you need for your craft projects. Today I am sharing a step-by-step tutorial on how to download a FREE Craftables Cut File and use it in the Silhouette Studio Software.
Estimated Time: 15 Minutes
Skill Level: Beginner
Downloading Your Design:
Step 1: Open ShopCraftables.com
Step 2: Click "Free Cut Files" from the toolbar.
Step 3:  Scroll until you find the design you would like to use.
Step 4: Click your selected design and it will open in a new widow.
Step 5: Click the download button. Save the zip file – be sure to note where you have saved it (Desktop, Photos, etc.) so you can easily find it for the next steps.
Step 6: Locate the zip folder, right click, and select "extract all". Click "extract all" again in the new window.
Step 7: You will have a new folder with several types of files for the Free Cut File design.
Creating Your Design:
Step 1: Open up your Silhouette Studio®.
Step 2: Import your design to Silhouette Studio®. Click File>Open>Select your downloaded JPG file.

Step 3:  Because your file is a JPG you will need to trace the design to create the cut lines. Click the butterfly from the right toolbar, click "select trace area", and select your design. It will turn yellow. Click "trace" from the popup toolbar and this will create the red cut lines. Move the JPG to the side to see your new cut lines.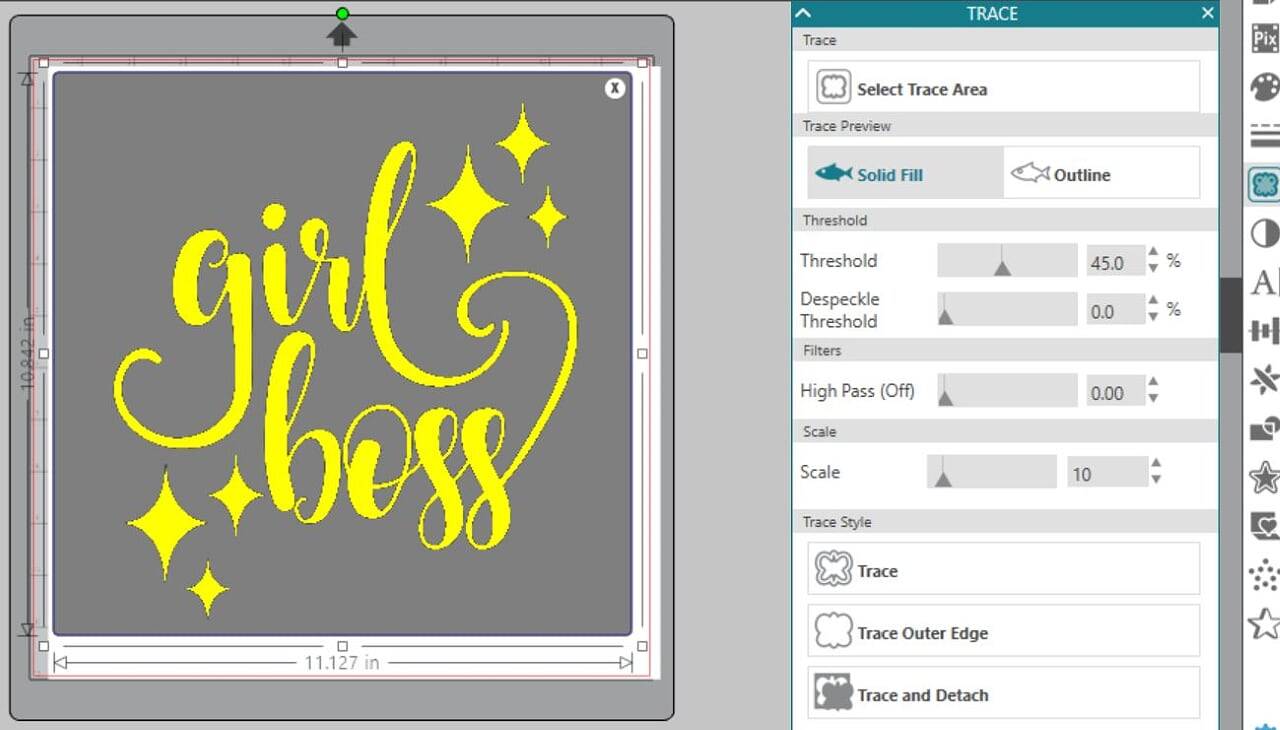 Follow one of the great tutorials here on the Craftables blog to cut out your Free Cut File with Heat Transfer Vinyl or Adhesive Vinyl.
About the Author
Elise Laney
I am Elise from Polka Dotted Blue Jay – a blog full of crafts, party inspiration, and desserts covered in sprinkles. I live in sunny southern California with my husband, our baby boy, and our two fluffy cats. My Grandmother ignited my creative spark as a little girl and I loved getting to visit her and work on whatever craft project she had dreamt up. I am a legal accounting clerk by day (hilarious because I am terrible at math) and a crafting tornado by night. Sometimes all a woman needs is some craft glue and glitter to find balance in daily life. I'm thrilled and honored to be a part of the Craftables team and can't wait to get crafty with you!