If you're looking for a super fun way to add some playful decor to your home this Halloween season, this DIY pumpkin pillow with glitter heat transfer vinyl is just for you! Not only is this pillow soft, but it also shimmers! It's a great addition to a couch or any chair in your home. This intermediate project is perfect for those who know how to sew. In less than hour, you'll have a cute pumpkin that will last for years to come!
See how you can make your own DIY pumpkin pillow with glitter heat transfer vinyl in the below video!
Here are the supplies you'll need:
Cricut Cutting Machine

Cutting Mat

Weeding Tool

1/2 Yard Orange Snuggle Flannel Material

Ploy Fil Fiber Fill

Sewing Machine and Orange Thread

EasyPress and Mat (or Iron and Ironing Board)

Scissors

Marker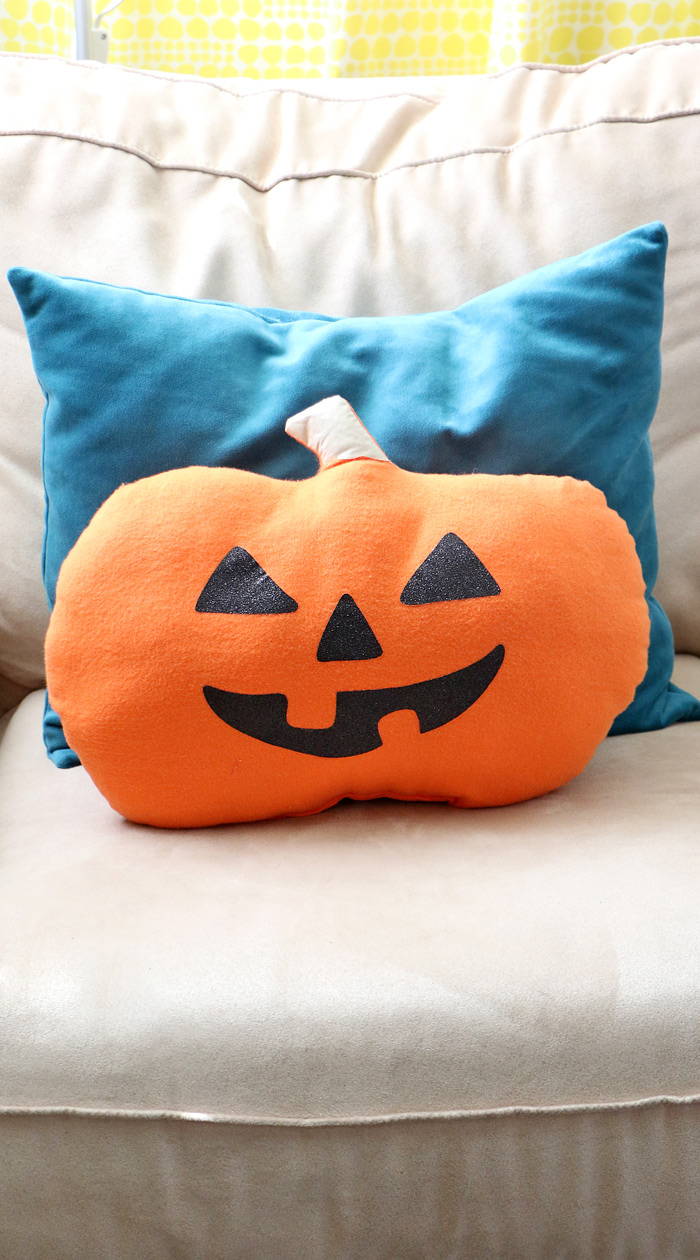 Step 1: Fold your fabric in half (so you have two layers) and use a marker to draw a pumpkin with a stem.
Step 2: Cut around the pumpkin you drew, making sure to cut both layers of fabric.
Step 3: Lay one side of the fabric so the right side is facing up. Then, place a piece of beige heat transfer vinyl (liner side facing up) under the stem. Trace around it and cut.
Step 4: Heat up the stem for 5 seconds. Then, place the heat transfer vinyl on top with the liner facing up. Place the EasyPress (or iron) on top for 15 seconds. Flip the pumpkin over and heat for another 10 seconds. Let it cool for one minute and then peel off the liner.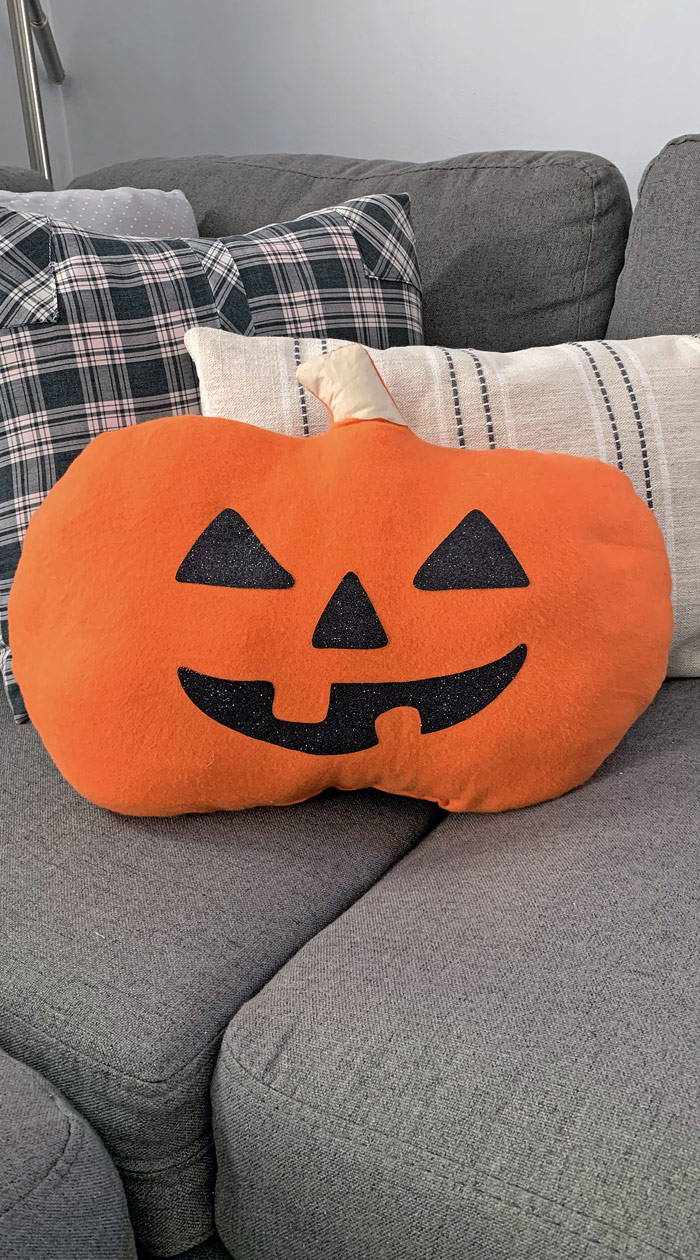 Step 5: Place both right sides of the fabric together. Use a sewing machine to sew them together (this can also be done by hand). Start at the bottom and move your way around the pillow. Stop when you are about 3 inches away from where you started. Snip the seams around the entire pillow and turn it right side out.
Step 6: Click on the link to the project cut file and click "Customize". Resize the pumpkin face to fit your pumpkin shape. Then, click on "Make it". Be sure to mirror the image and then select Glitter Heat Transfer Vinyl from materials.
Step 7: Place the vinyl liner side down on the cutting mat and push start to cut.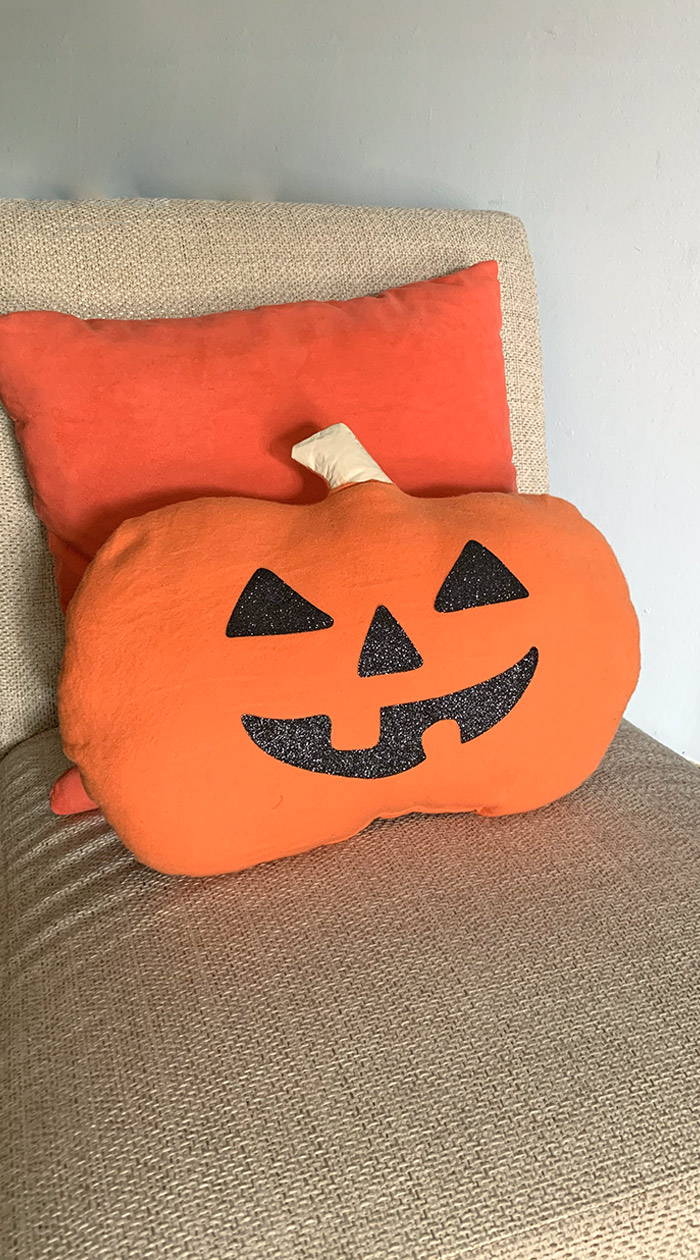 Step 8: Use your weeding tool to weed the negative.
Step 9: Heat up the front of the pillow with your EasyPress (or iron) set at 330 degrees for 5 seconds. Next, place the vinyl in the center, add your EasyPress for 30 seconds. Then, flip the pillow over and heat for another 15 seconds. After allowing it to cool for one minute, remove the liner.
Step 10: Take small pieces of fiber fill and start stuffing your pillow. Make sure to add some to the stem until it's firm. Continue adding until your pillow is fully stuffed.
Step 11: Tuck the excess fabric in at the bottom of the pillow and sew.
Now all you need to do is decided where to put your new DIY pumpkin pillow with glitter heat transfer vinyl! You could also make additional pumpkins in various shapes and sizes to place all over your home!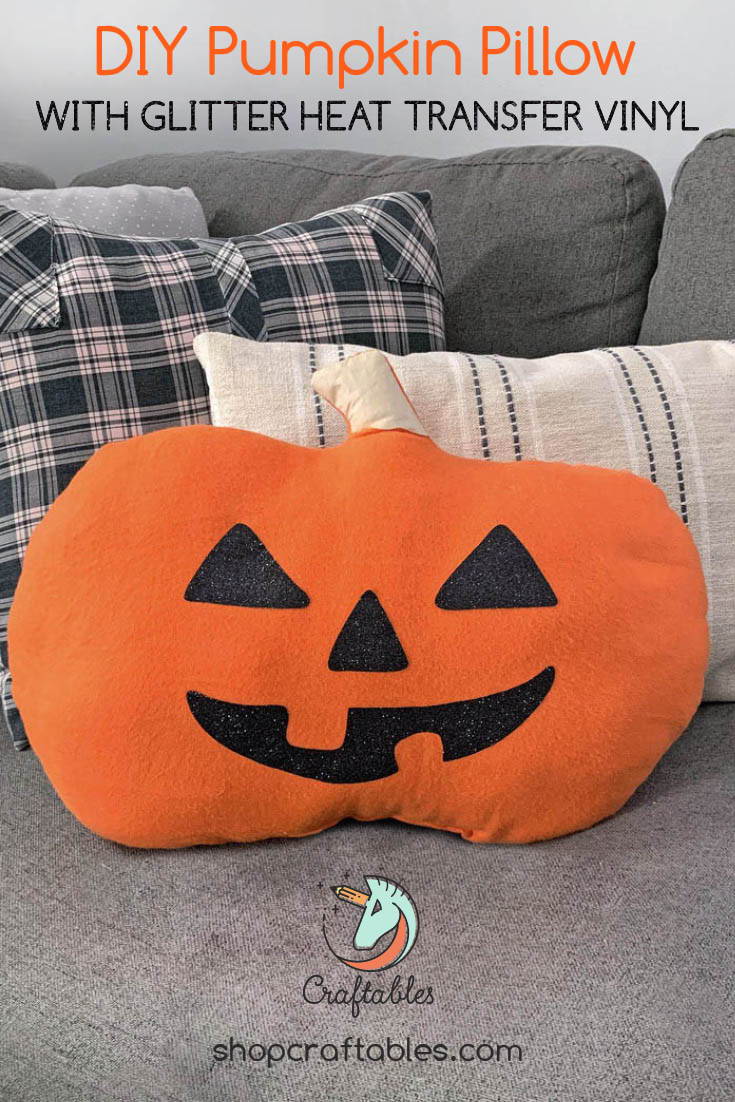 About the Author
Meghan Quinones
Meghan lives in Chicago with husband and 4 year old twins. She is obsessed with making and creating for the look for less. Pretty much every decor piece in her home is something she either made or upcycled. She started her blog to inspire everyone who visits her online creative space to create in their own lives.