DIY St. Patrick's Day Tutorial: How to Apply Heat Transfer Vinyl on Canvas Shoes

Stay pinch free this St. Patrick's Day with this super cute St. Patrick's Day craft idea DIY shamrock shoes! Grab your Silhouette CAMEO and follow this step by step tutorial for how to apply HTV on canvas shoes.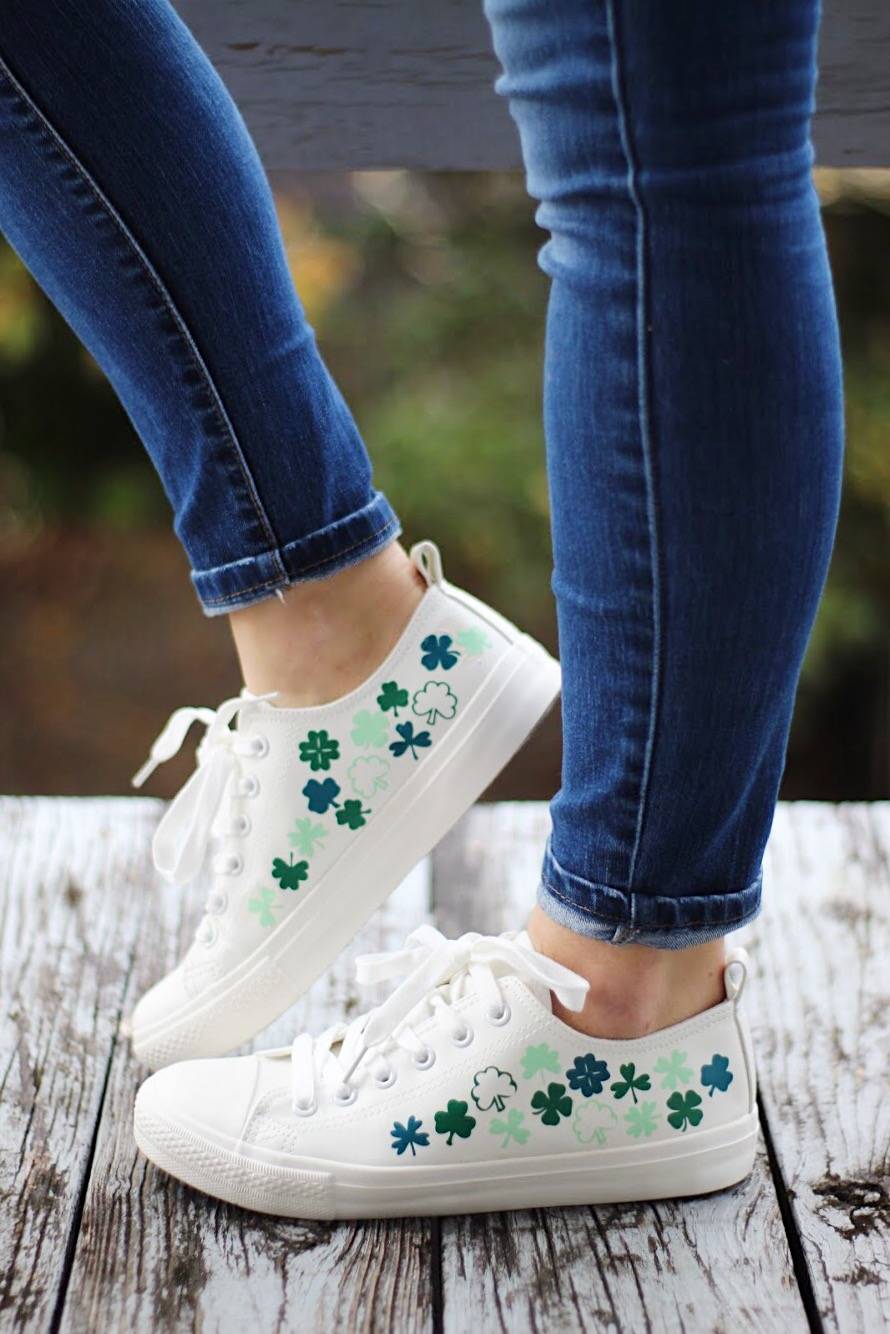 Estimated Time: 45 minutes (Project is ideal for beginners!)
Supplies You'll Need: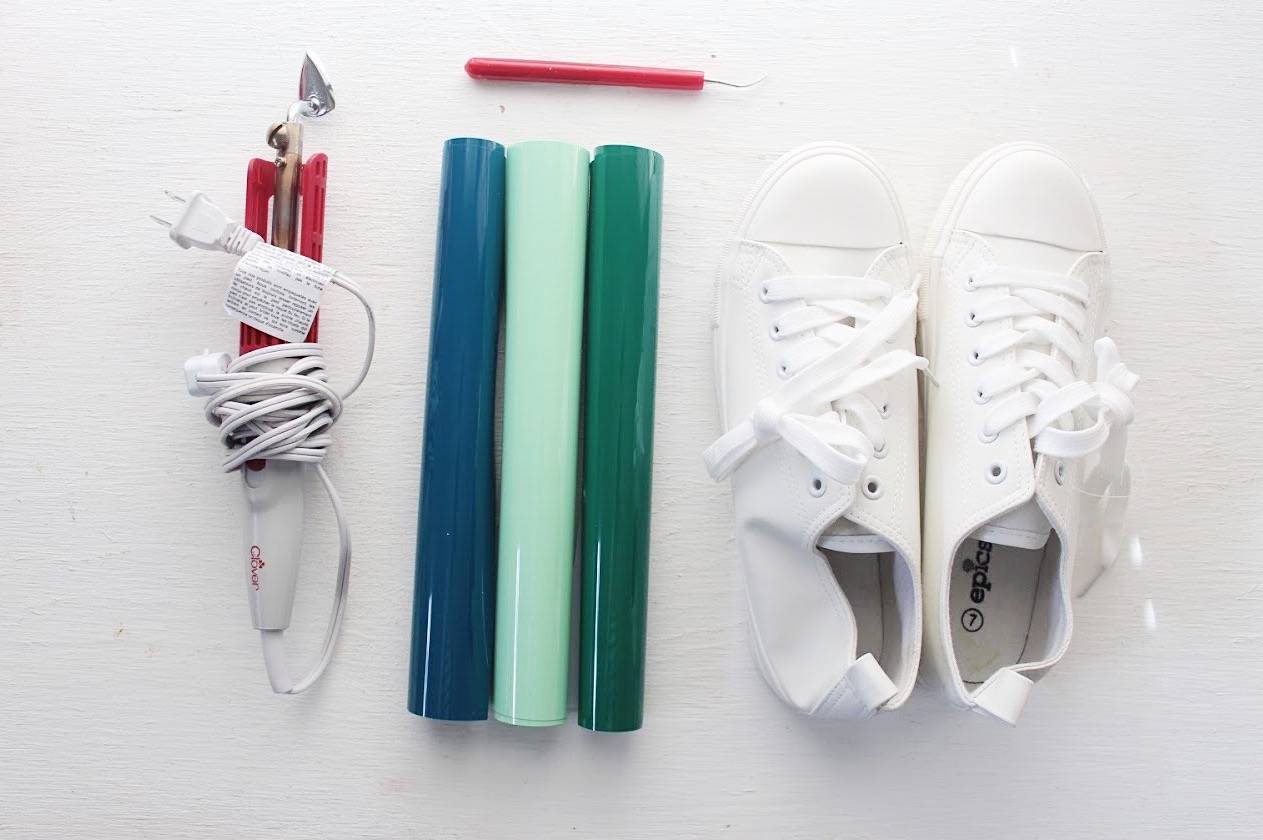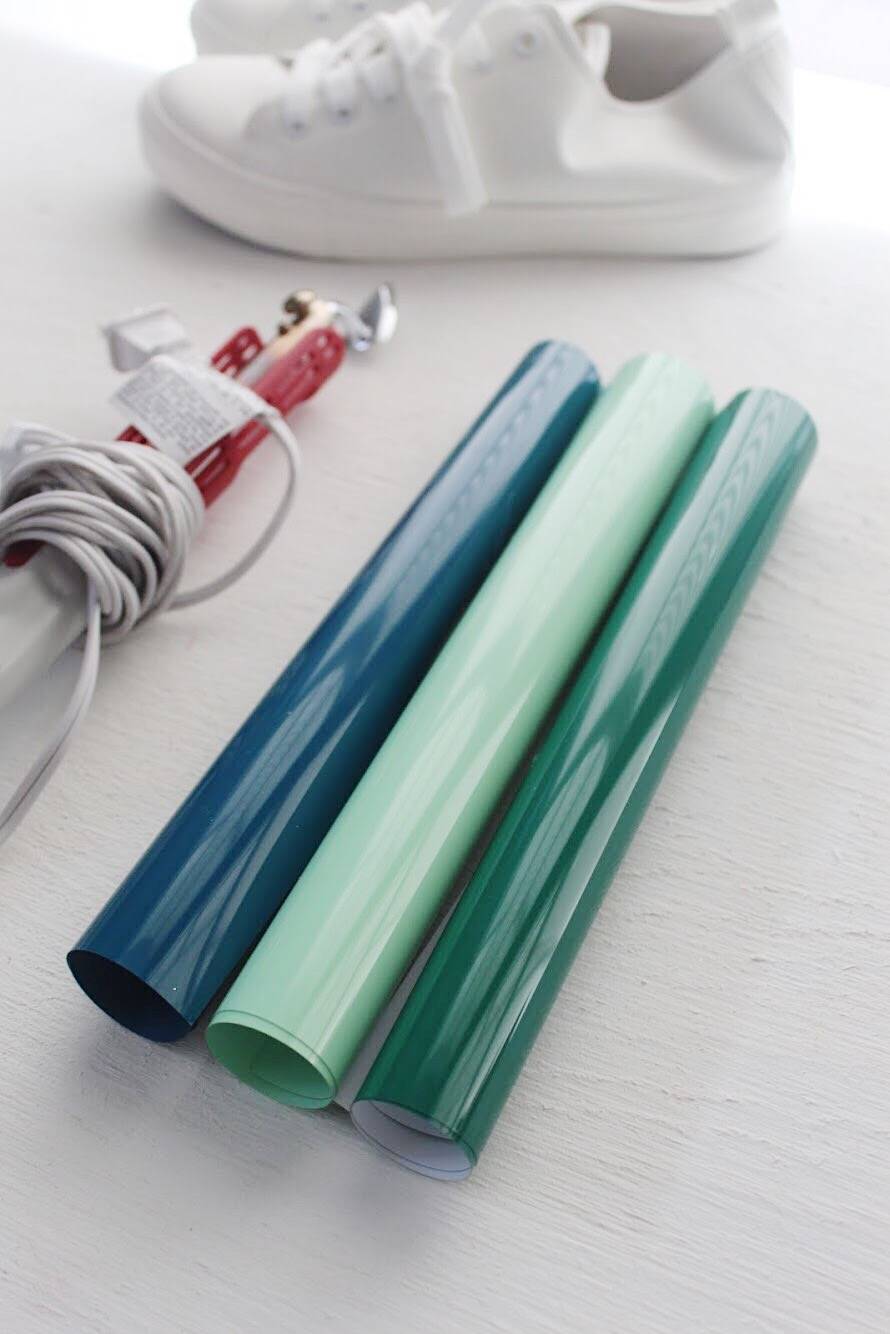 Step One: Arrange your shamrock design in Silhouette Studio. (If you are looking for some fun design inspiration, be sure to check out Craftables free SVG library!) I chose a couple of different shamrock designs, scaled them down to just under an inch wide/tall and lined them up before cutting so that I would have a variety of shapes and colors to put on the shoes. Once you have arranged your shamrocks, load your Heat Transfer Vinyl into your machine, backing side up. Select "Heat Transfer Vinyl, Smooth" as your material, then click "Send to Silhouette" to cut your vinyl. Repeat this step with each color of Heat Transfer Vinyl that you are using.
Step Three: Remove the excess Heat Transfer Vinyl around your design, using a weeding tool to remove the smaller pieces of vinyl inside the shamrocks.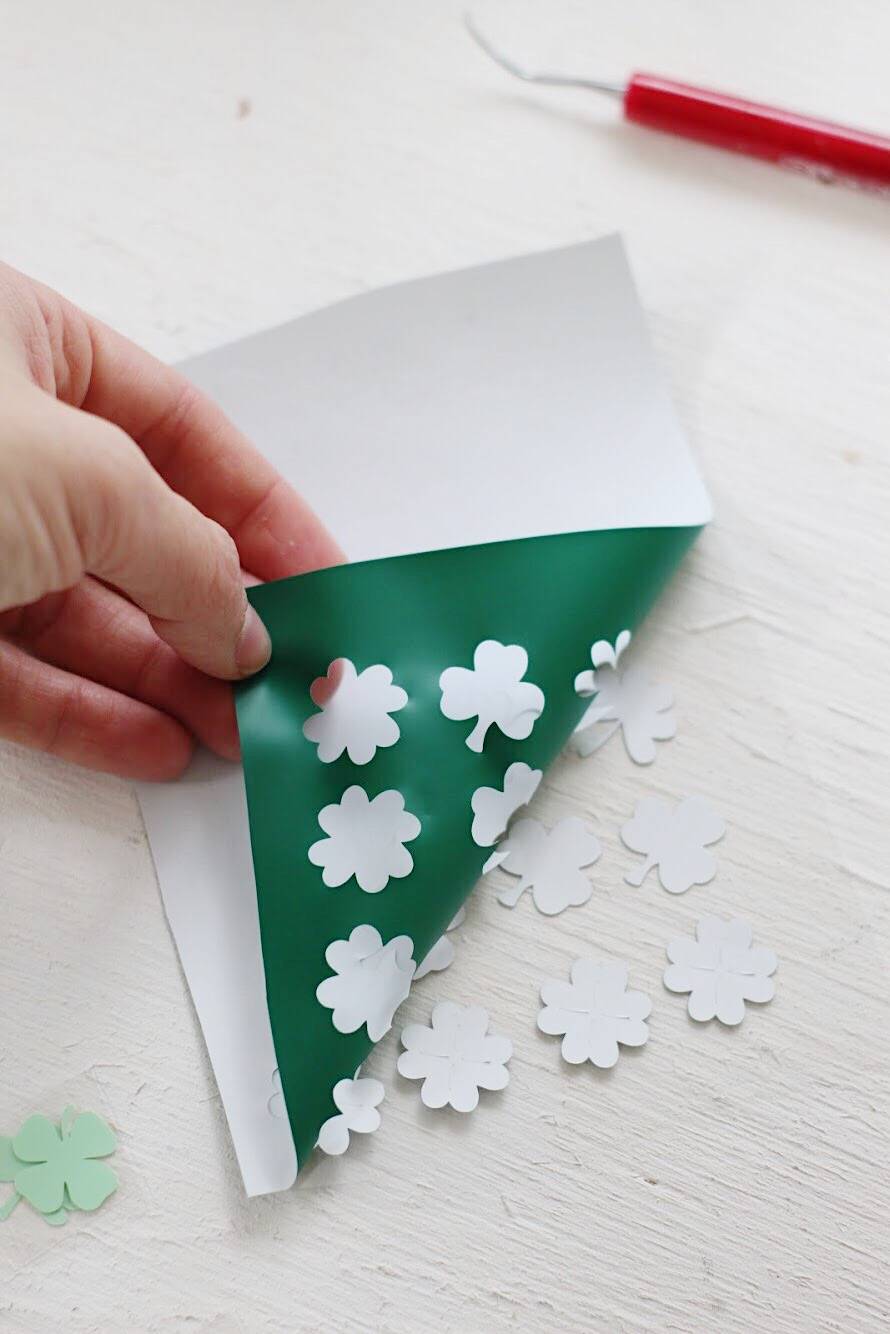 Step Four: Prepare your design for ironing by cutting them into individual shamrocks. Cut around the design, leaving a little bit of backing around the edge of each shamrock.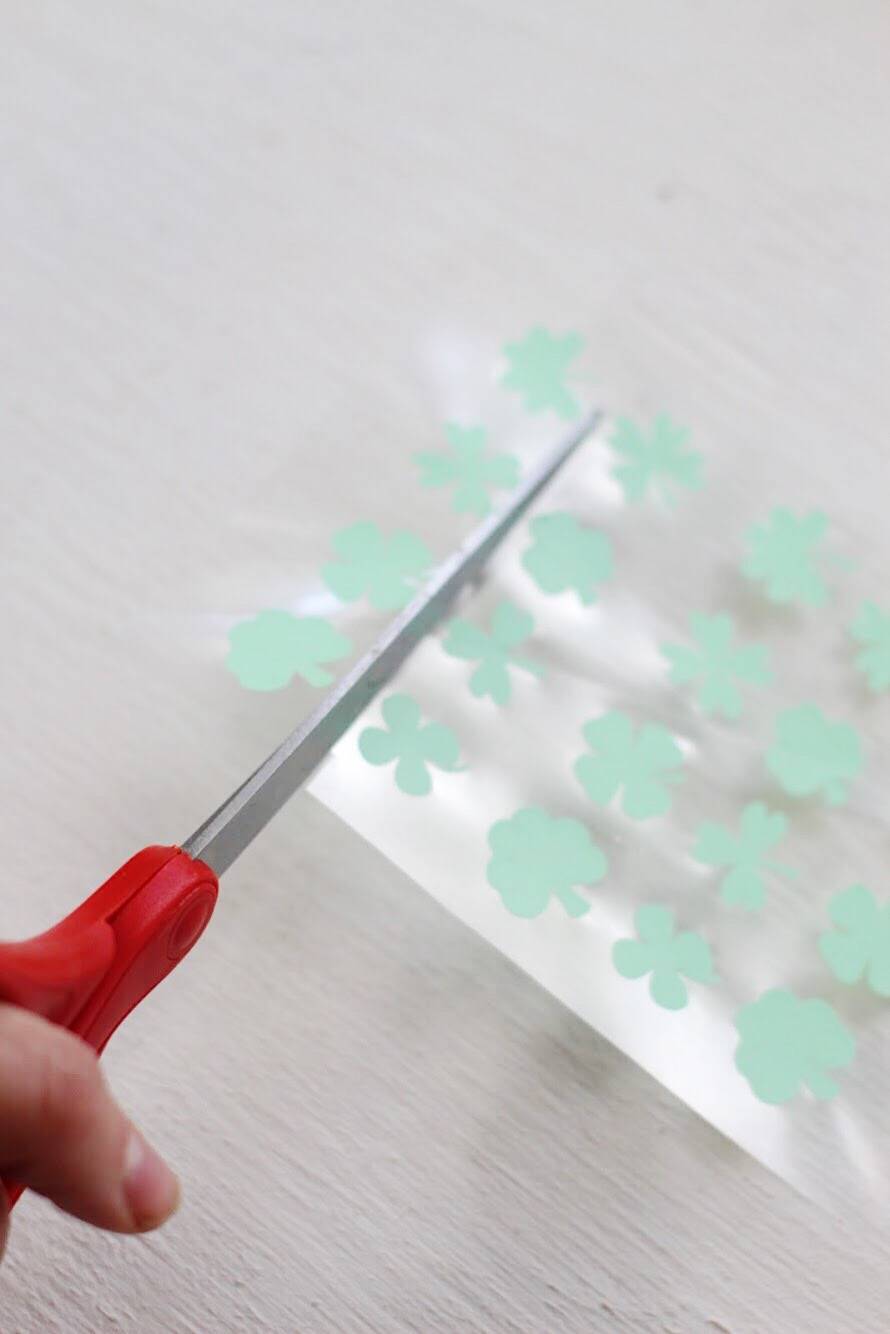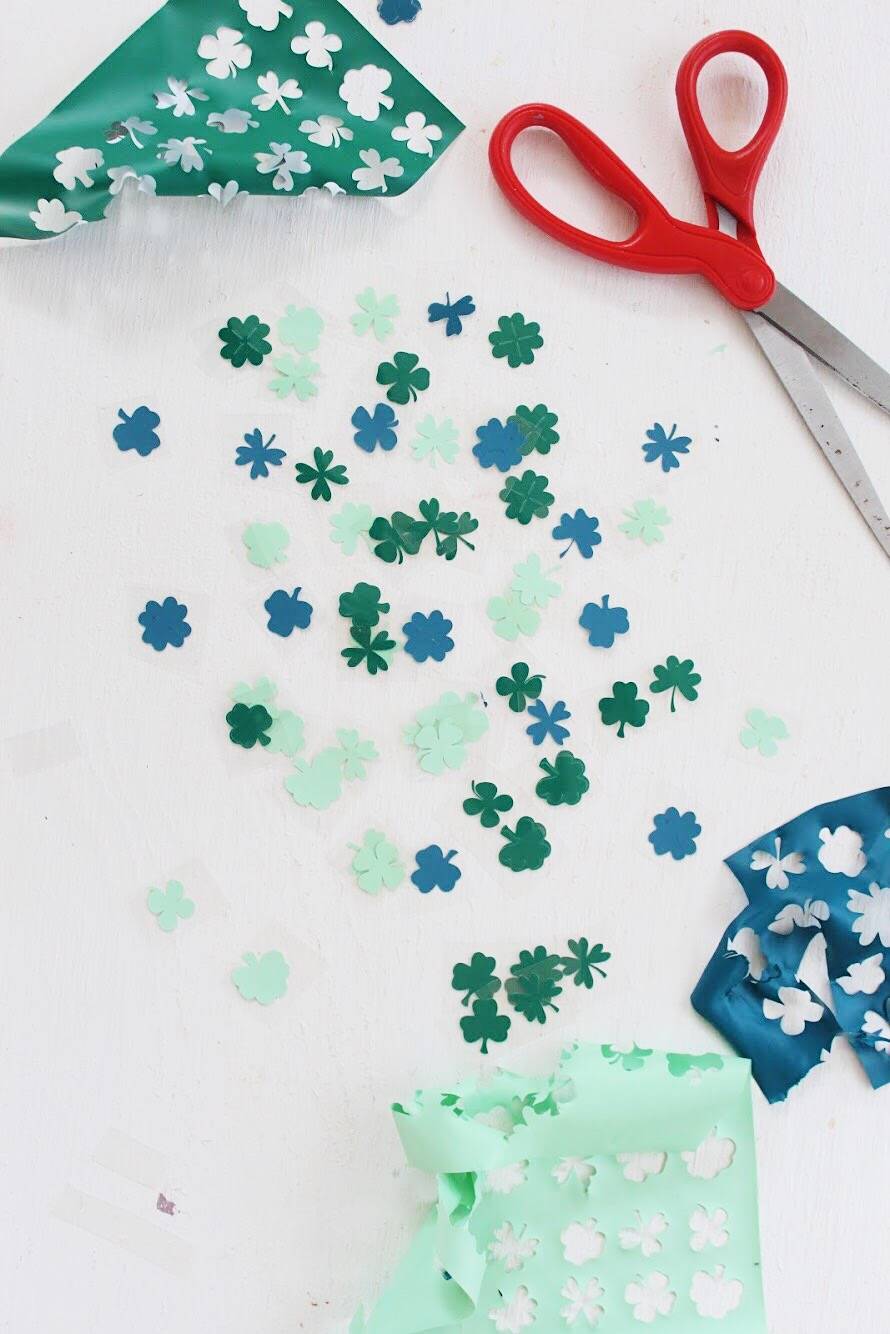 Step Five: Place your first shamrock on the shoe, sticky-side down, so it sticks to the shoe. Cover with teflon sheet. (Tip: Since the backing of the Heat Transfer Vinyl is sticky, you could place all of your shamrocks on the shoe at once, cover, and iron them at once, if you'd like. However, I liked doing them one at a time because it gave me more control while ironing and allowed me to move them around and change the design as I went along.)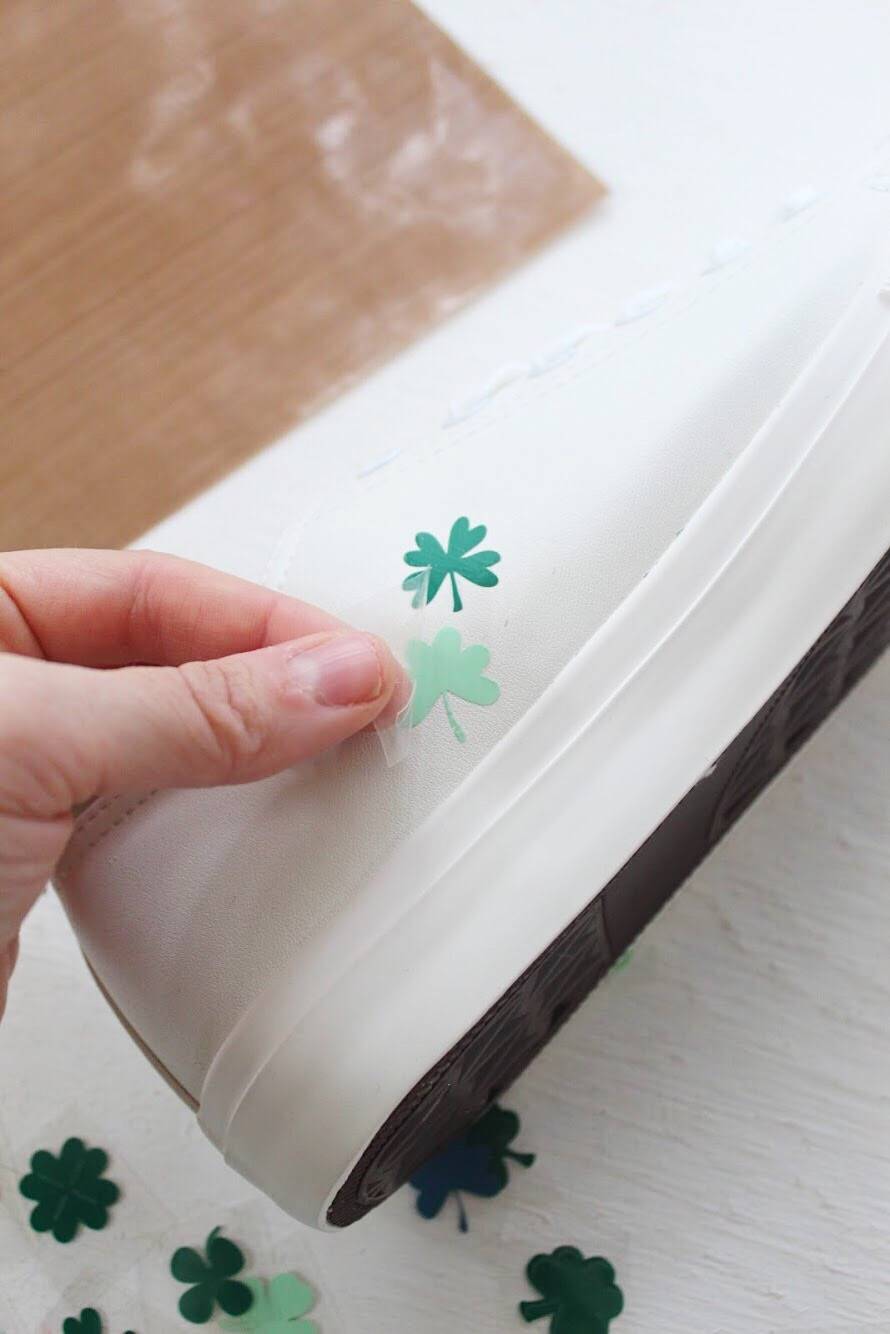 Step Six: Place your teflon sheet, parchment paper or thin cloth, over your first shamrock and press down with your iron. A mini iron is a little better than a standard iron for this project because you are working with a small, oddly-shaped surface area. My mini iron has a low, medium, and high setting and I set it at high for this project. However, because the shamrocks are so small, they only needed about 5-10 seconds of press time before they were done. Depending on the settings on your iron, I would recommend working in 5 second increments at first to determine how long your shamrocks will need to be fully adhered. For more tips on using a mini iron, check out my DIY Valentine's Day Project: How Apply Foil Heat Transfer Vinyl on a Patent Leather Clutch post.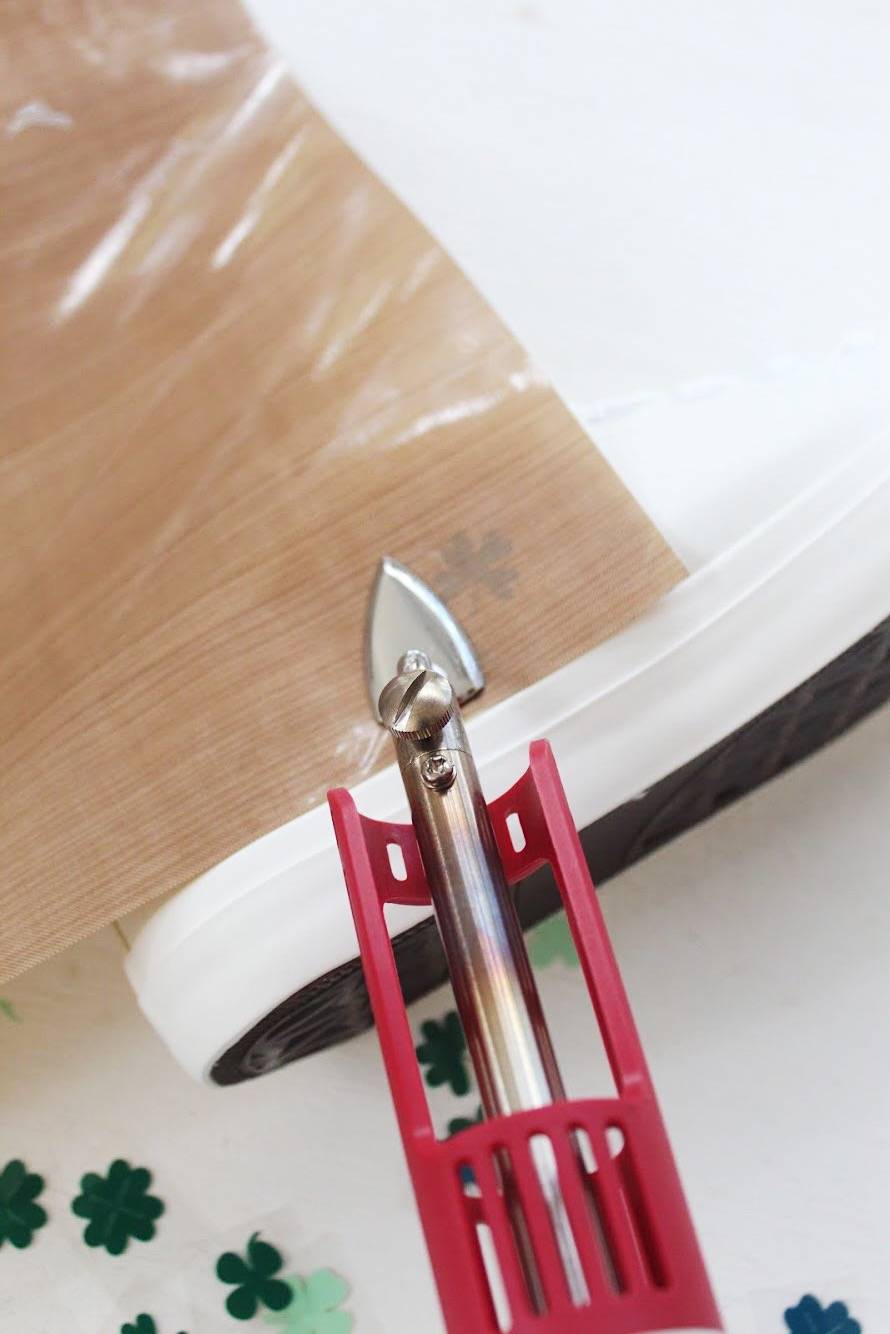 Step Seven: Wait at least 10 seconds for the shamrocks to cool before removing the carrier sheet.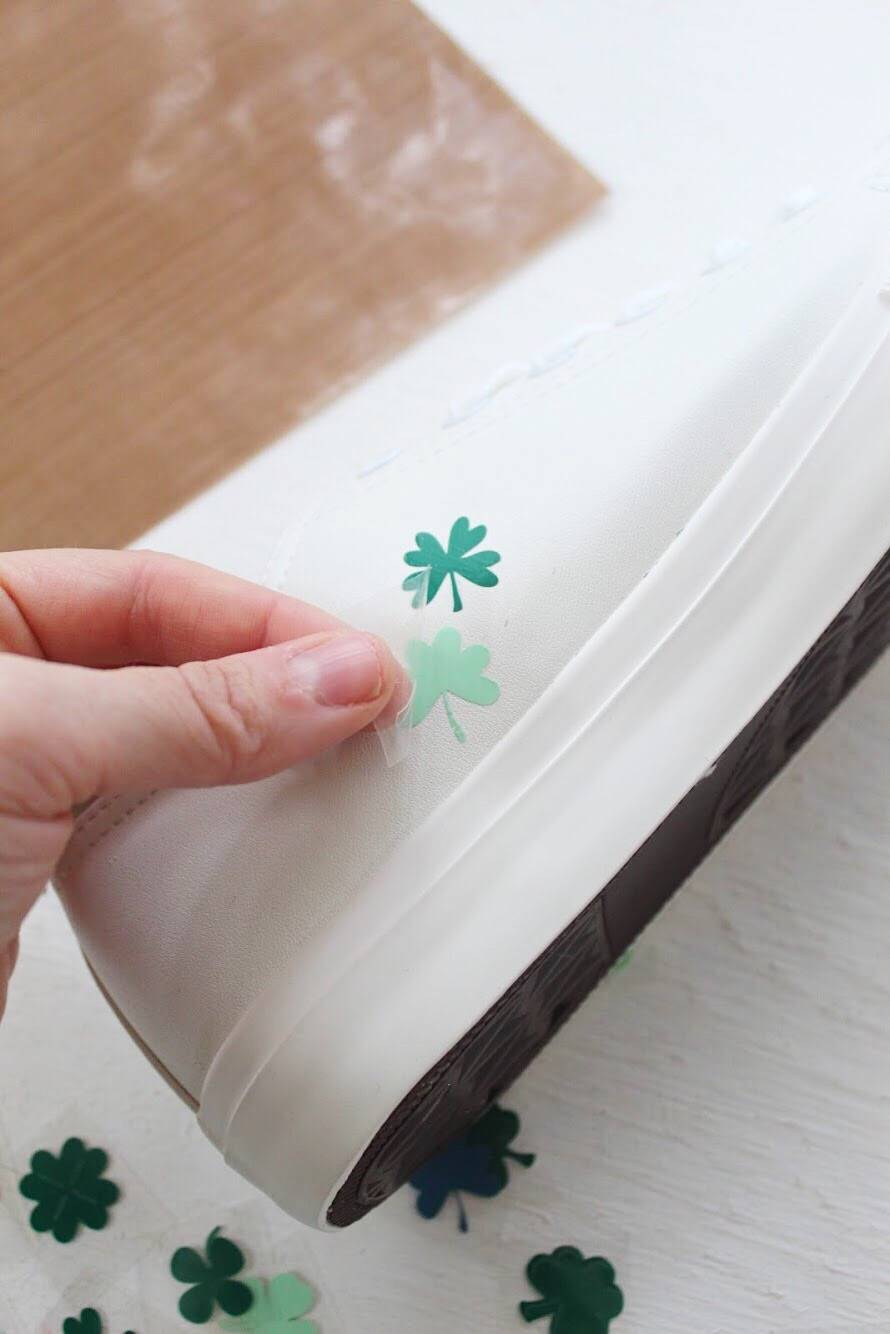 Step Eight: Repeat step 6 with the other shamrocks until the shoes are covered with shamrocks.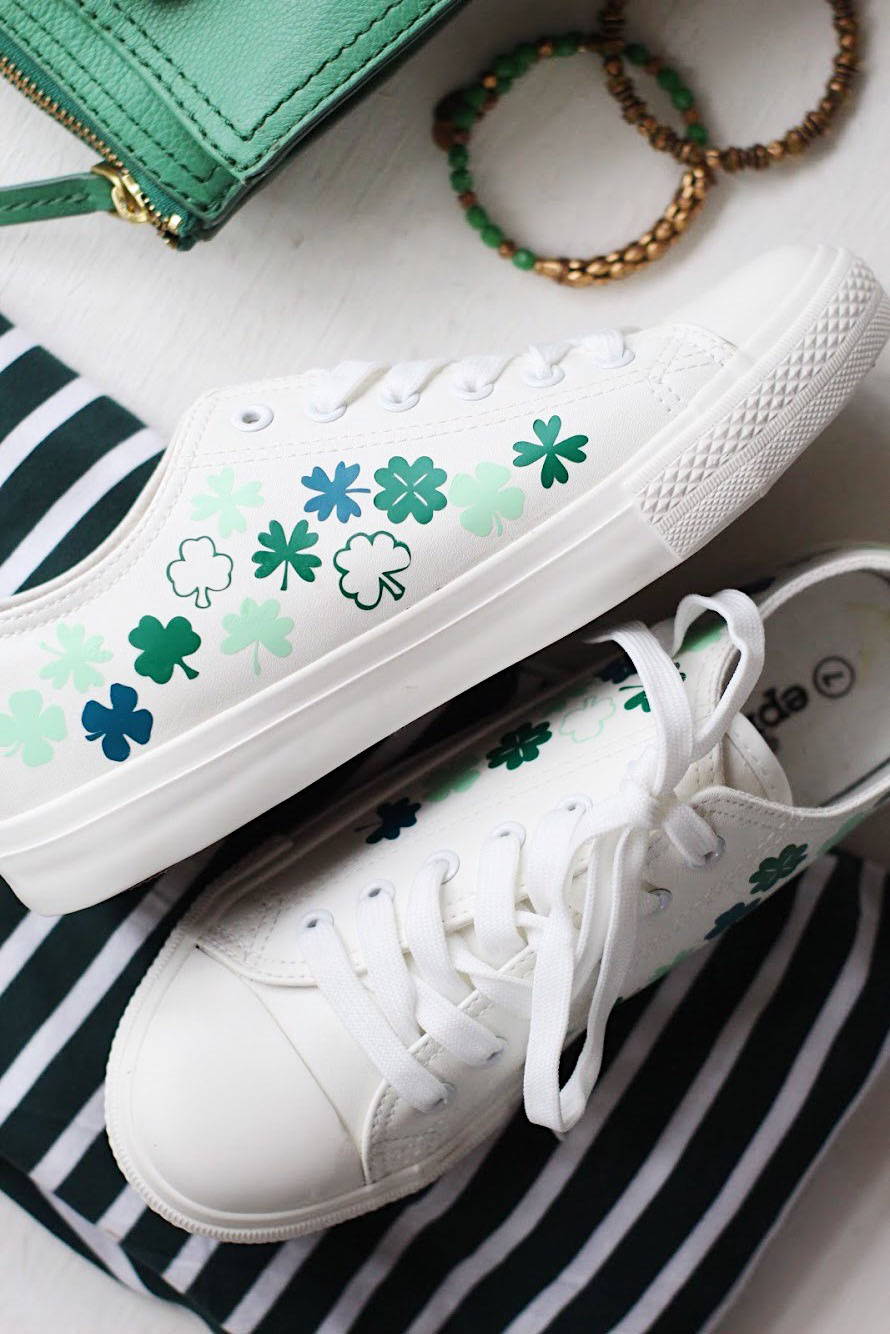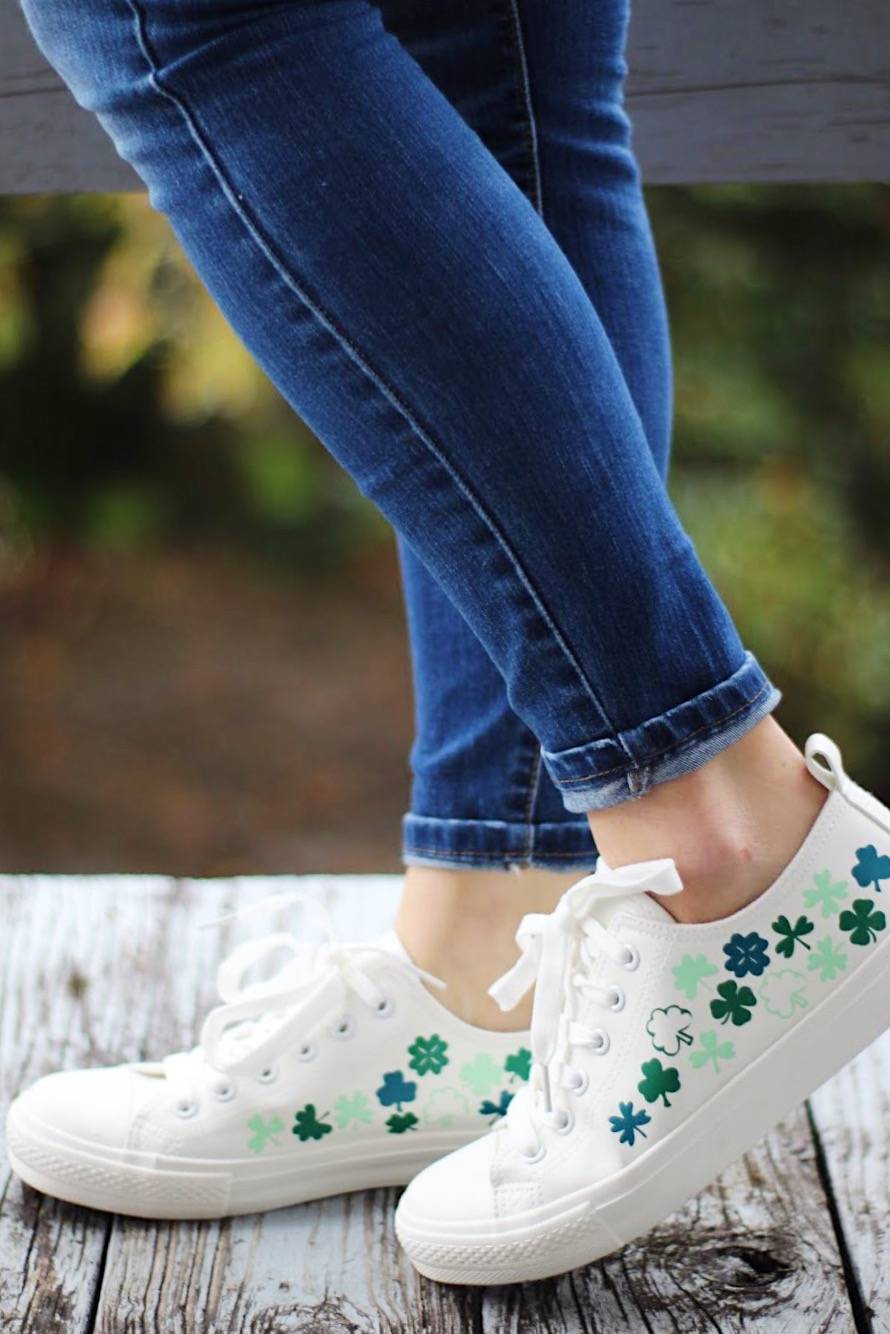 I love thinking about all the variations of these shoes that you could make for other holidays as well and with the huge variety of Craftables Heat Transfer Vinyl colors the possibilities are endless!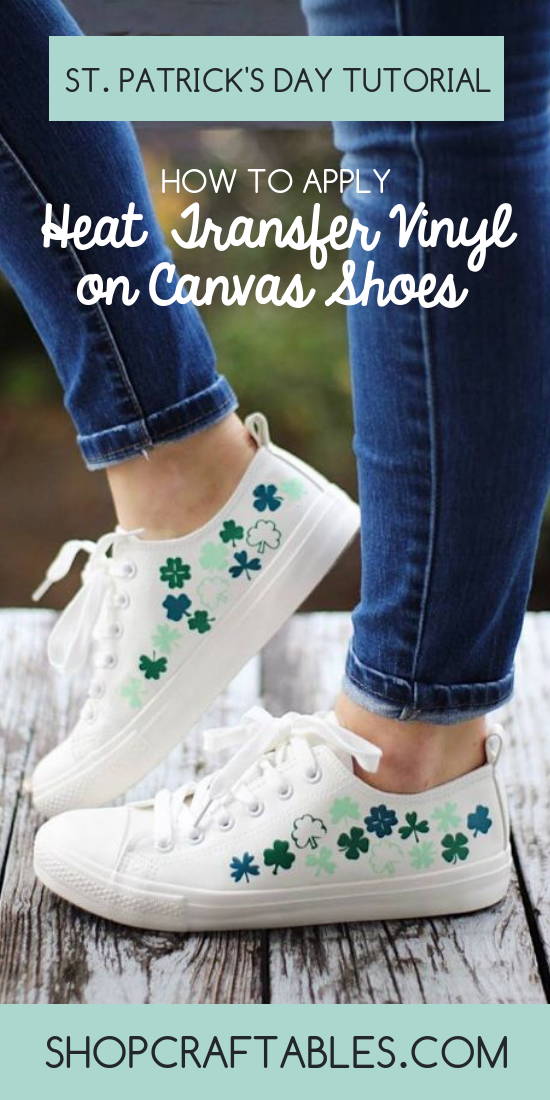 About the Author
The Pretty Life Girls
The Pretty Life Girls is a blog about babies and sugar and paint and twirly dresses, written by two sisters who love all things pretty. Liz is a momma of two who lives in New Orleans. She has a Master's Degree in Technical Communication and has embraced the fact that she is a diet coke addict and a bookworm. Sam lives in Utah and is a momma of two with a Master's Degree in Instructional Technology and has a weakness for thrift stores, succulents, and colorful tights.