DIY Wellness Gift Idea: How to Apply Adhesive Vinyl on a Metal Tea Canister

The chilly winter temps can leave all of us feeling a little under the weather. In today's step by step tutorial I'm showing you how easy it is to apply Adhesive Vinyl on a metal tea canister to create a get-well gift for someone who needs a winter pick me up! Crack open your Cricut machine and let's get crafty.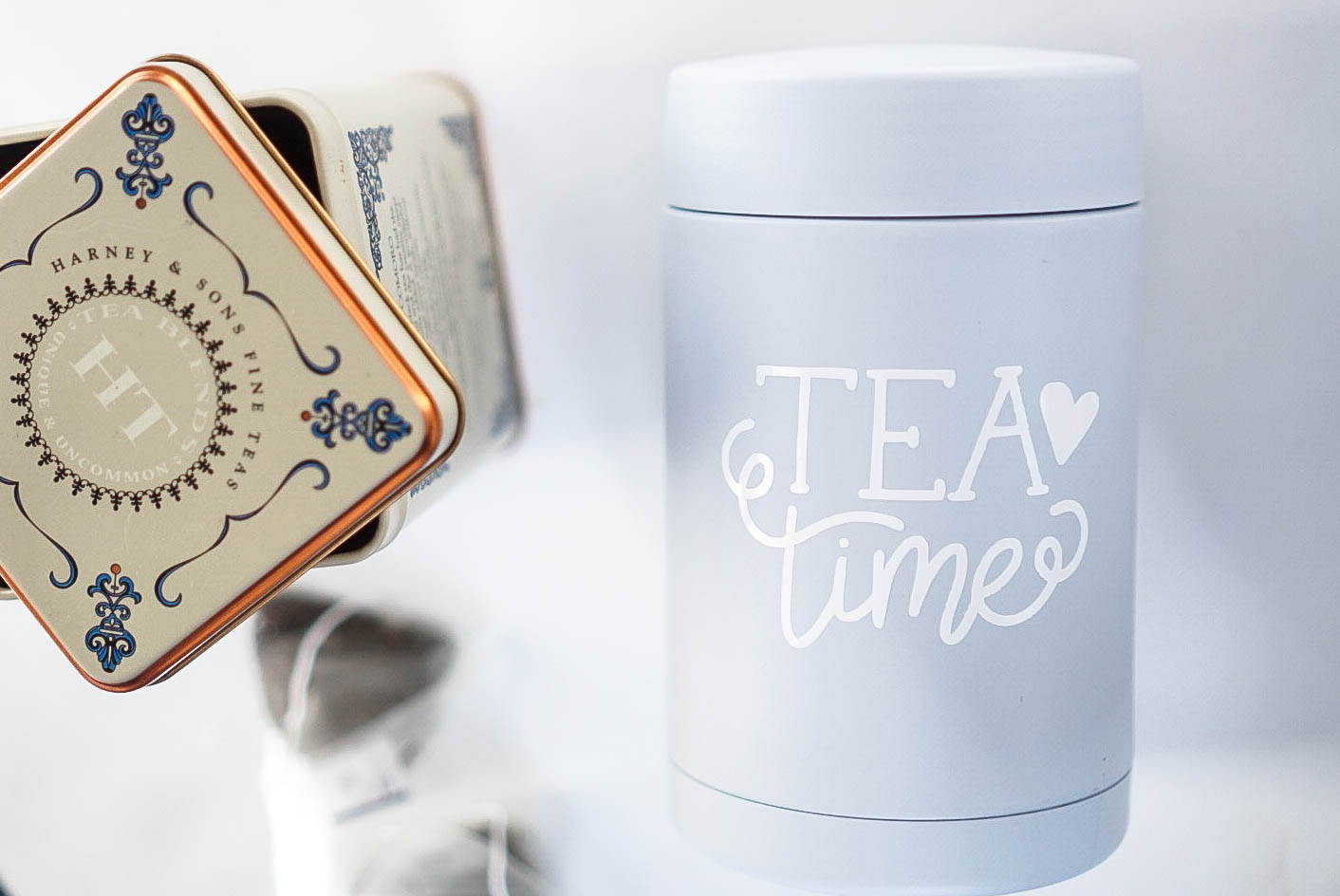 Difficulty Level: Beginner
Estimated Time: 10 Minutes
Supplies Needed:
Step One: Upload and Set-Up Design
Upload your design of choice into the Design Space software and scale it to size. My canister is 3.7 inches wide so I scaled my design to 3 inches wide.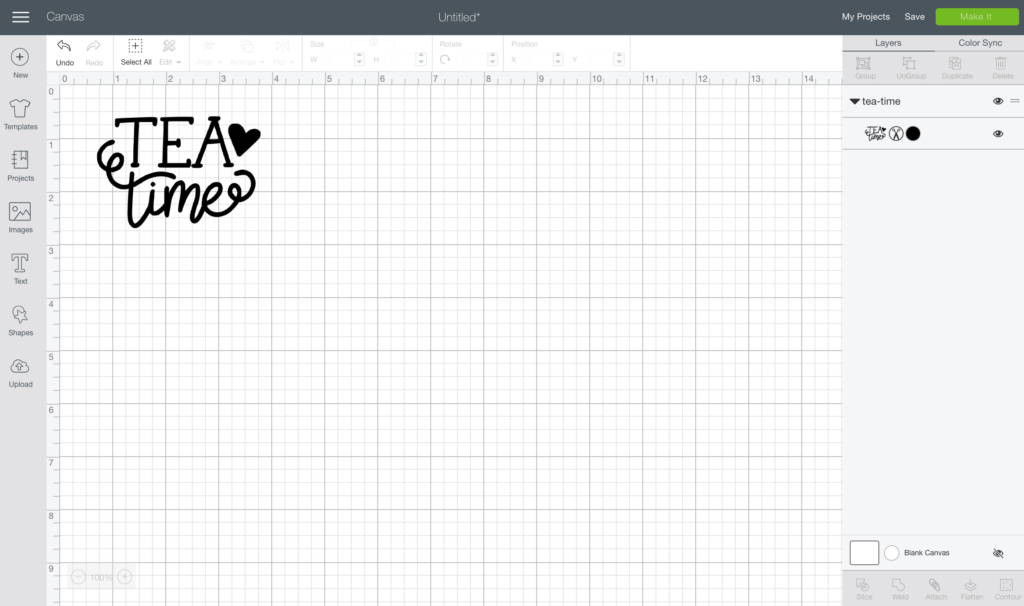 Click the "make it" button and select the material type. Since we're working with Adhesive Vinyl you'll want to select the vinyl option. The Cricut machine will automatically adjust the blade depending on the material you select.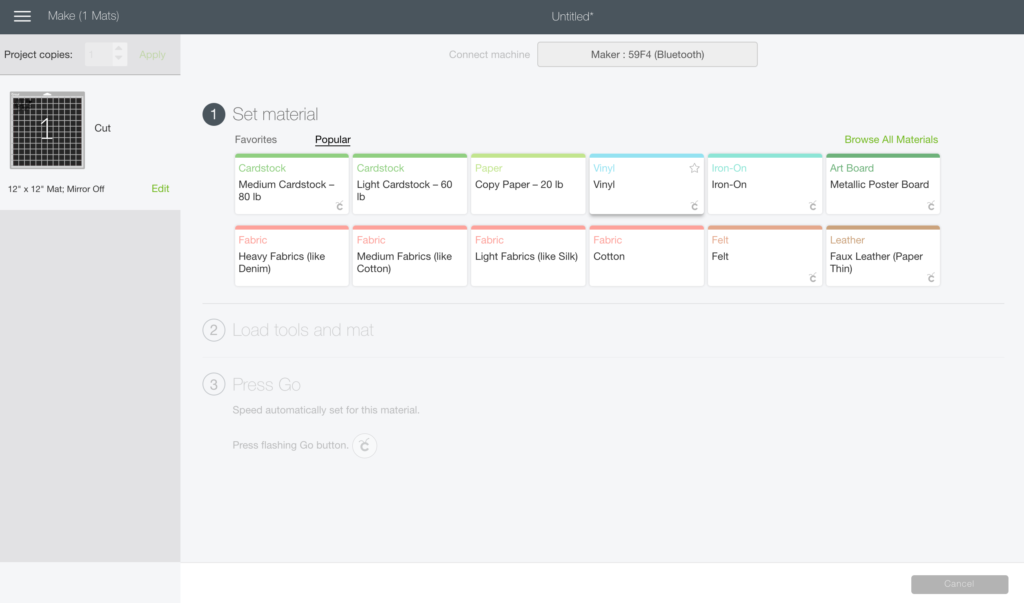 Step Two: Load Cutting Mat
Place the vinyl on the cutting mat and load the mat into the machine by pressing the load/unload button. On the Cricut Maker this button has a double ended arrow on it.
Step Three: Weed Designs
After cutting is complete, cut around the design to remove it from the sheet of vinyl and then peel away the excess Adhesive Vinyl from around the design.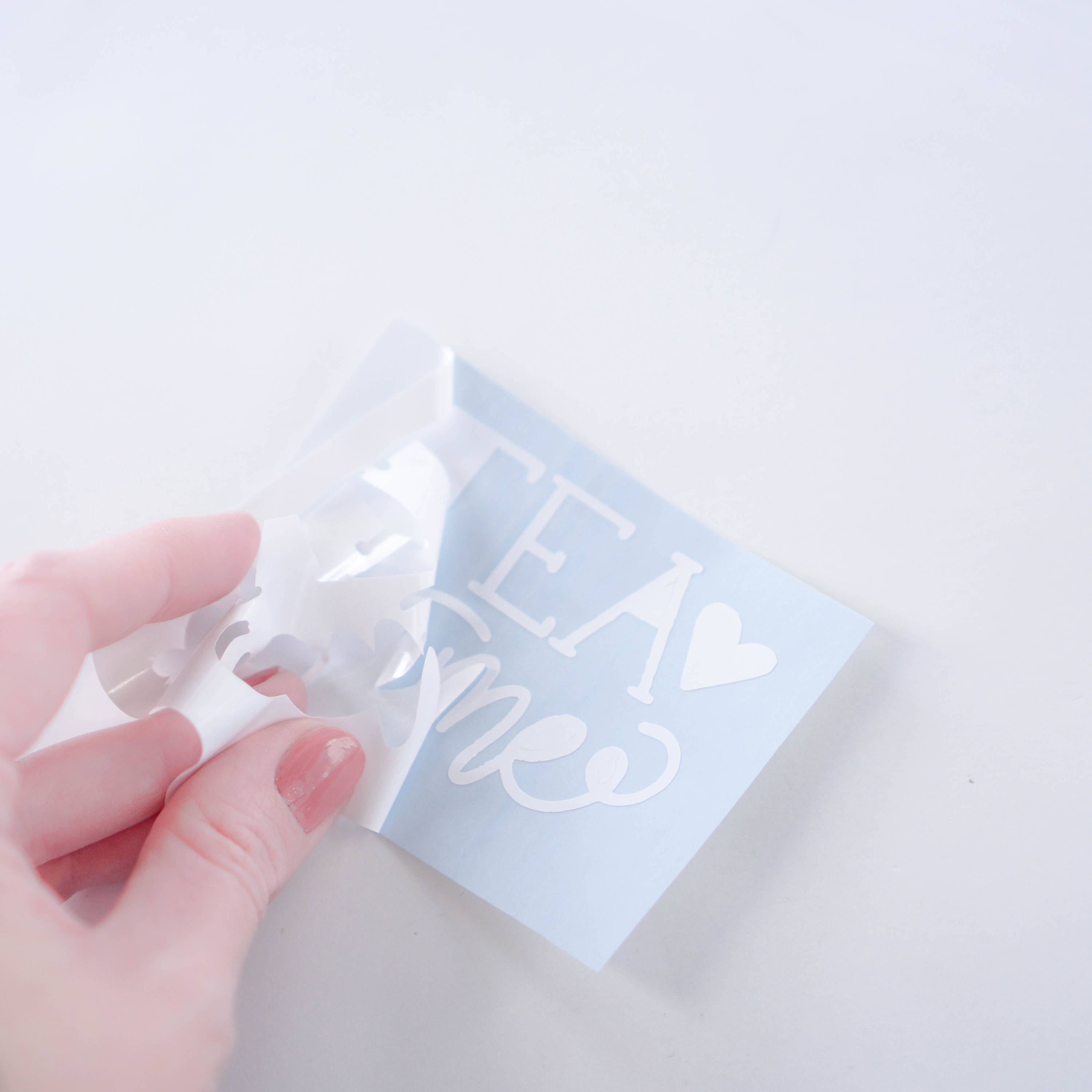 Then, use a weeding tool to remove the smaller pieces of Adhesive Vinyl from inside the letters.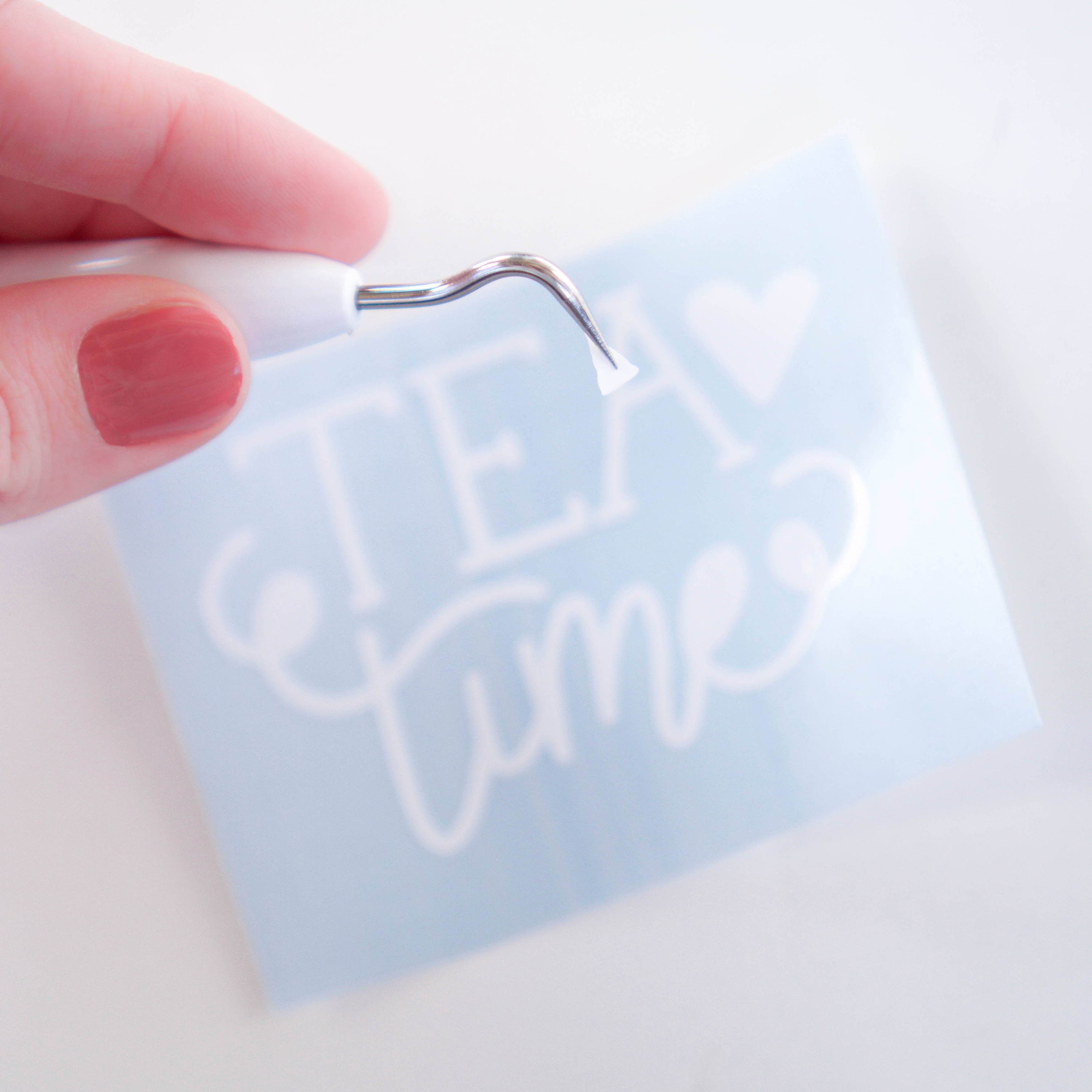 Step Four: Apply Transfer Tape
Cut a piece of Transfer Tape to the same size as your design.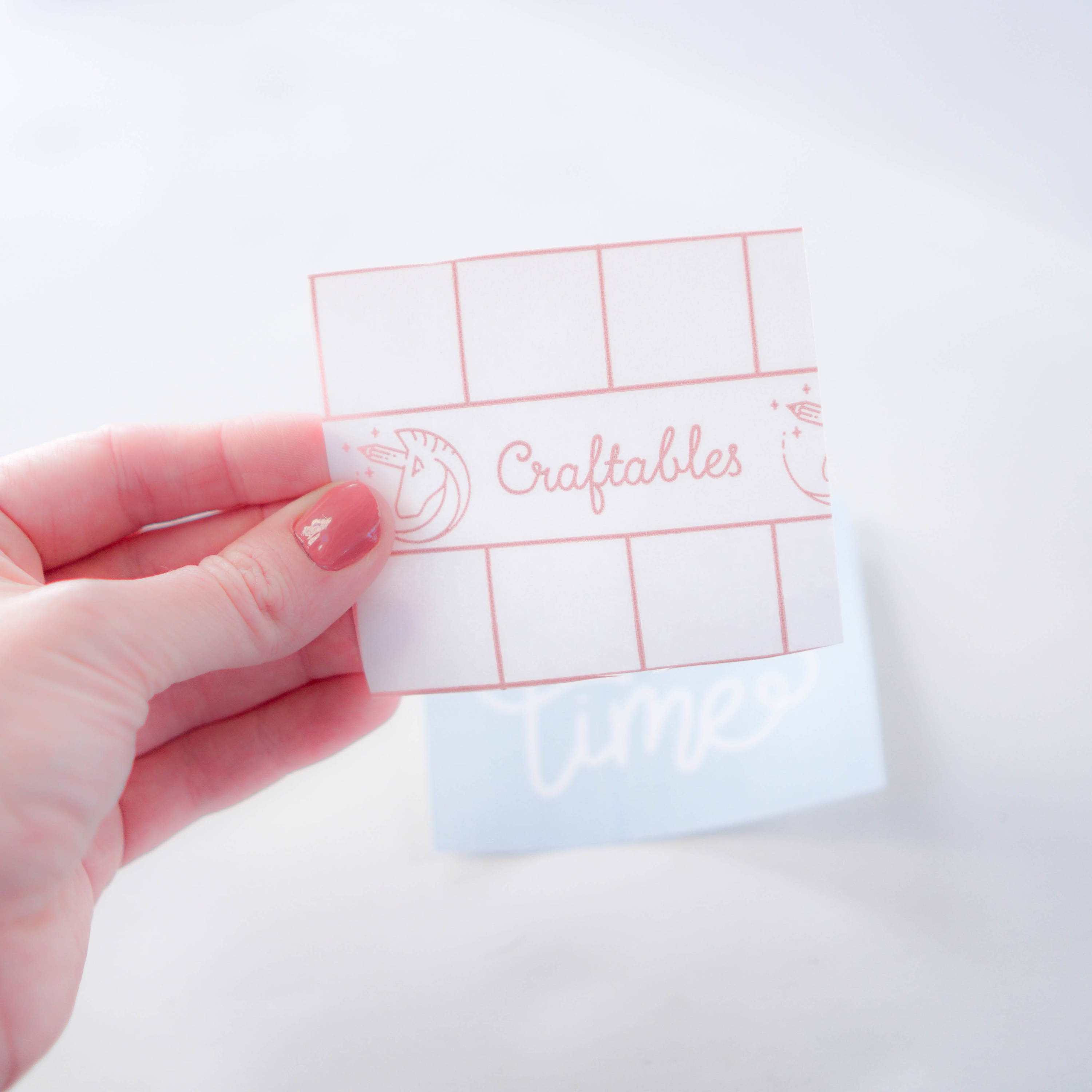 Then, use a scraper tool to burnish the Transfer Tape over the design.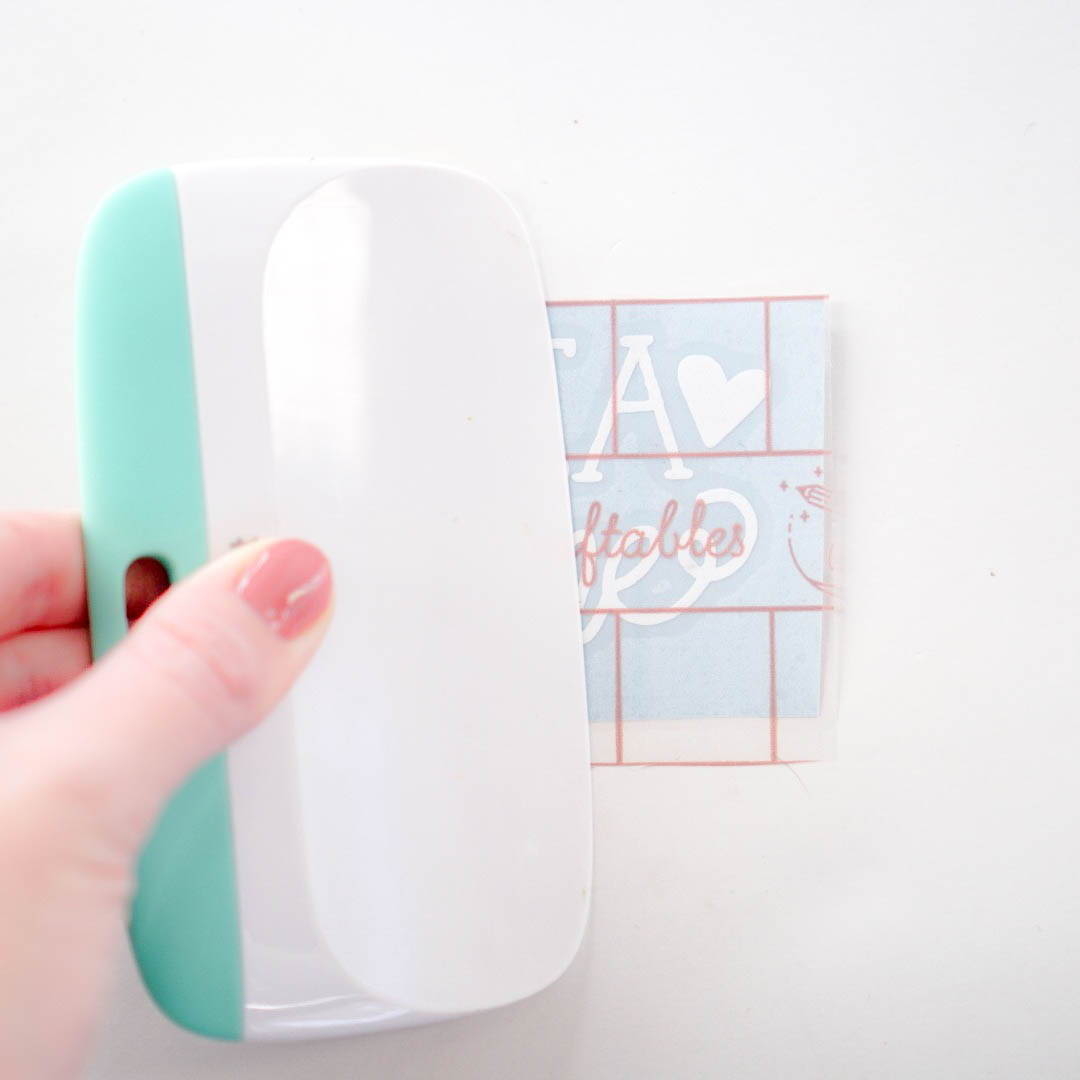 Step Five: Transfer Decal
Center the decal on the tea canister and use the scraper tool or your fingers to press the design onto the surface.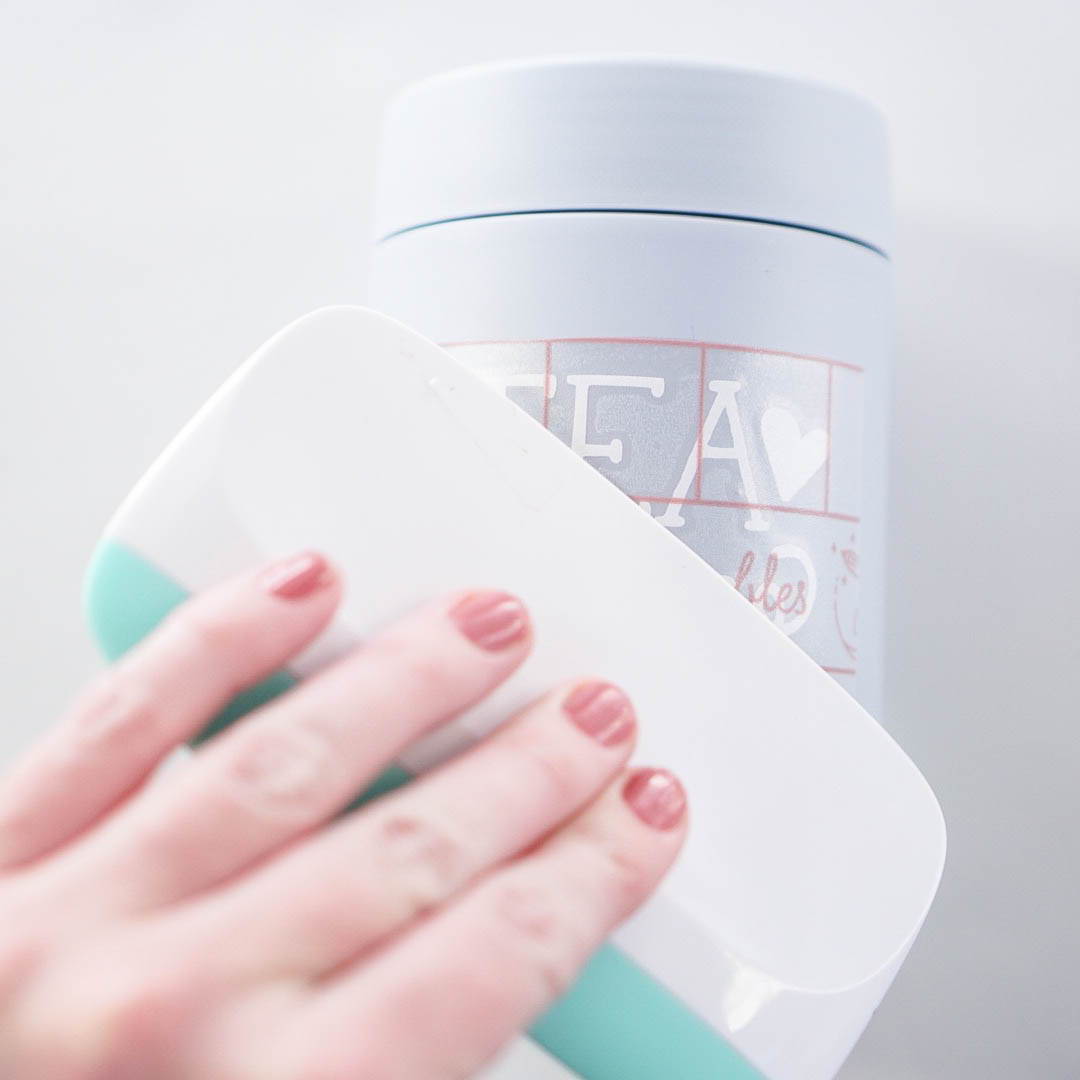 Peel away the Transfer Tape leaving behind the Adhesive Vinyl decal.
*Tip- When peeling Transfer Tape off an Adhesive Vinyl design, it's always best to start from the corner and peel downward at an angle.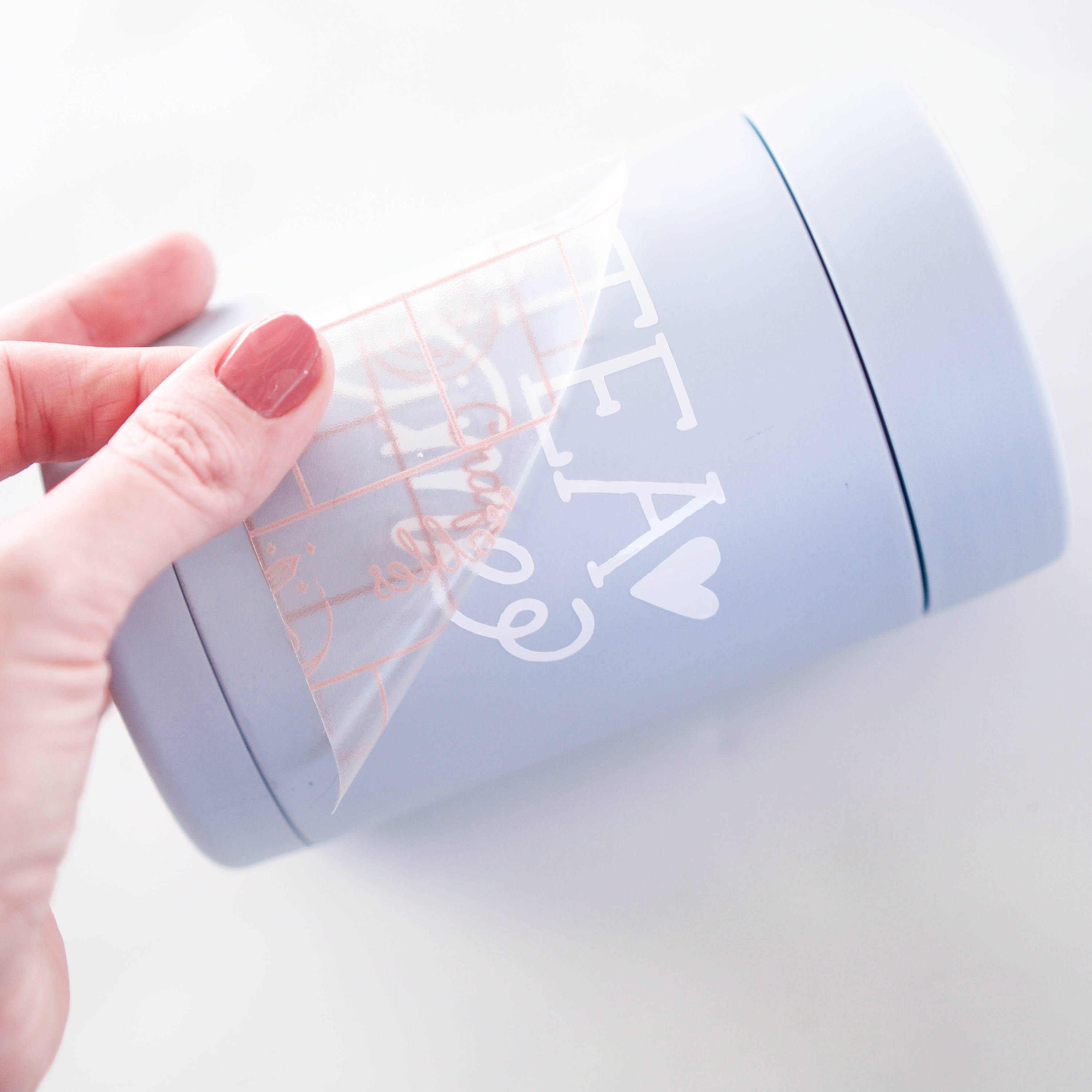 Step Six: Fill with Tea Bags and Gift!
Fill the customized canister with tea bags and add it to a gift basket filled with goodies.
Of course, you should personalize your selections depending on your recipient but for inspiration I'll tell you what I included: lavender bath salts, sugar body scrub, cozy socks, a ceramic travel mug, chocolates and the canister of tea.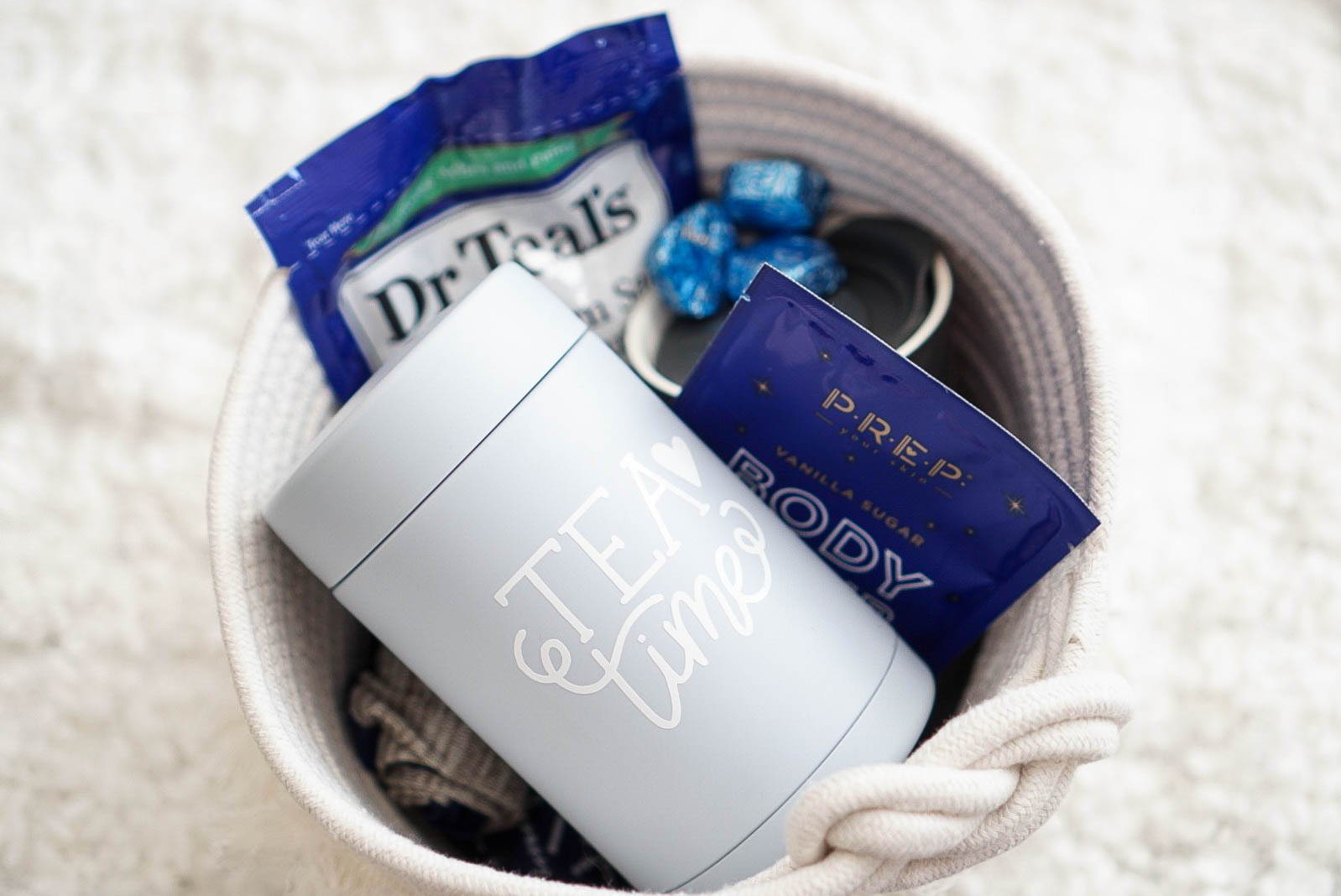 I think just about anyone would instantly feel better after receiving this thoughtful, customized gift. If your giftee isn't a tea drinker you could easily switch up the design to say "coffee time" and swap the tea bags out for coffee pods. Or, you could kick this design up a notch and cover the canister in DIY stickers, like the ones in our DIY Millennial Pink Laptop Stickers Tutorial: How to Use Inkjet Printable Adhesive Vinyl post. Then this canister could be used to store any goodies you can think of, like candy, hair ties, almonds, you name it! For more vinyl gift inspiration check out our Gift Idea: Adhesive Vinyl on a Ceramic Mixing Bowl post!
Craftables Adhesive Vinyl so affordable and easy to work it. It can be applied to a variety of surfaces. The canister I used here is metal, but you could also use glass, plastic or even wood. Think of all the crafting possibilities there are to explore with this versatile product! Check out some other tutorials with Adhesive Vinyl on the Craftables Blog.
About the Author
Kayla
My name is Kayla and I'm a DIY loving mom of 3, living in North Carolina. I absolutely love creating! It doesn't matter if it's refinishing furniture or paper crafting, I love it all. I'm a former blogger for Silhouette America and current blogger for Cricut so I know the ins and outs of both machines and love teaching beginners all of the handy tips and tricks. Come visit my blog at kaylamakes.com or follow me on Instagram @kayla_made.