How to Apply Glitter Heat Transfer Vinyl on Cotton Socks

I absolutely love the cooler, fall weather! Not only does that mean that warm, tasty treats, but all the warm, comfy clothes as well! My feet are always cold...always. While shivering, I thought of a fun project to do with my Silhouette Cameo that I'd like to share with you! Follow this step by step tutorial to learn how to apply glitter heat transfer vinyl on cotton socks.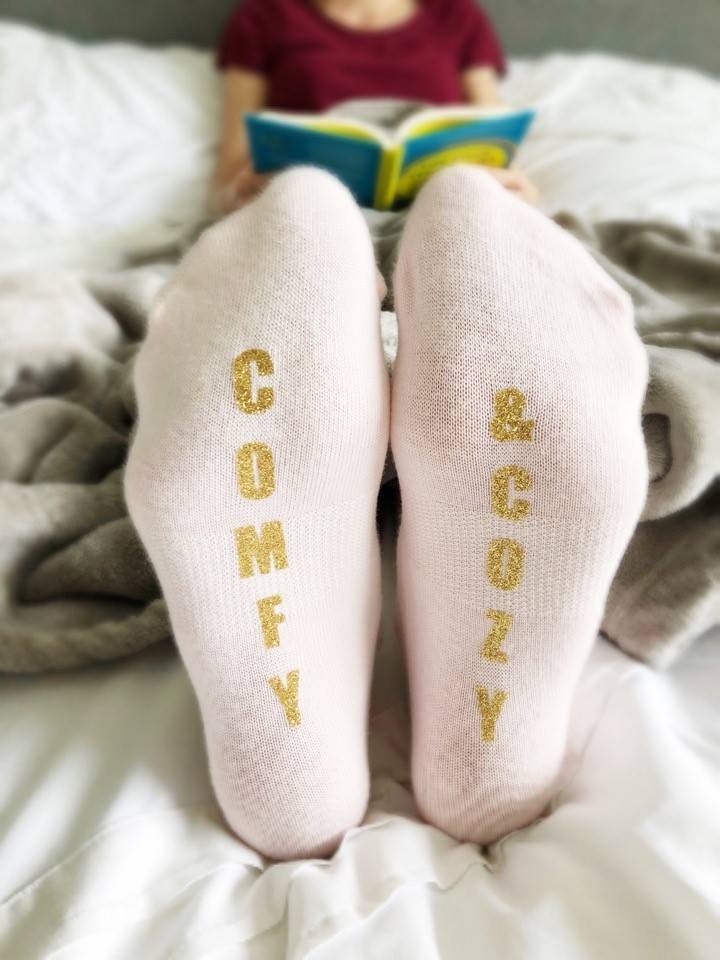 estimate time:

30 minutes
Here's what you need:
STEP ONE: Prepare design in software
Open your software program (I used Silhouette Studio) and either import a design or create your own. I just wanted some fun words on my socks so I typed up "Comfy & Cozy."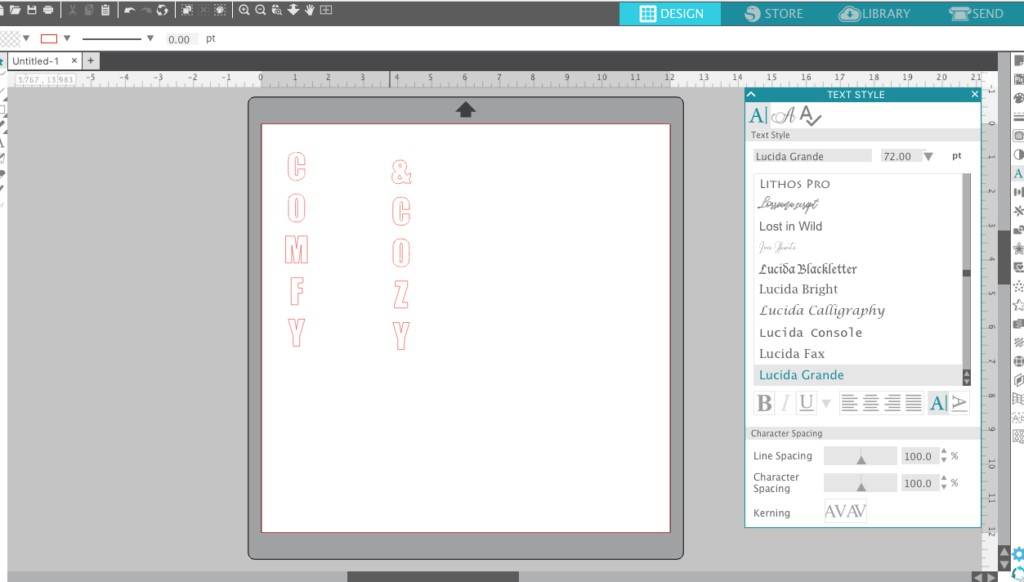 Play around with the font and spacing to make it look however you'd like! Once that's done, we will need to mirror our image since we are cutting it out of heat transfer vinyl. Right click on your design and select flip horizontally.
Great! Now your text or design is ready to be cut out.
STEP TWO: Cut out design on HTV
Once your design has been mirrored and sized, go to your cut settings menu and select your material. I'm using gold glitter heat transfer vinyl, so I selected that material. Be sure to change your blade accordingly.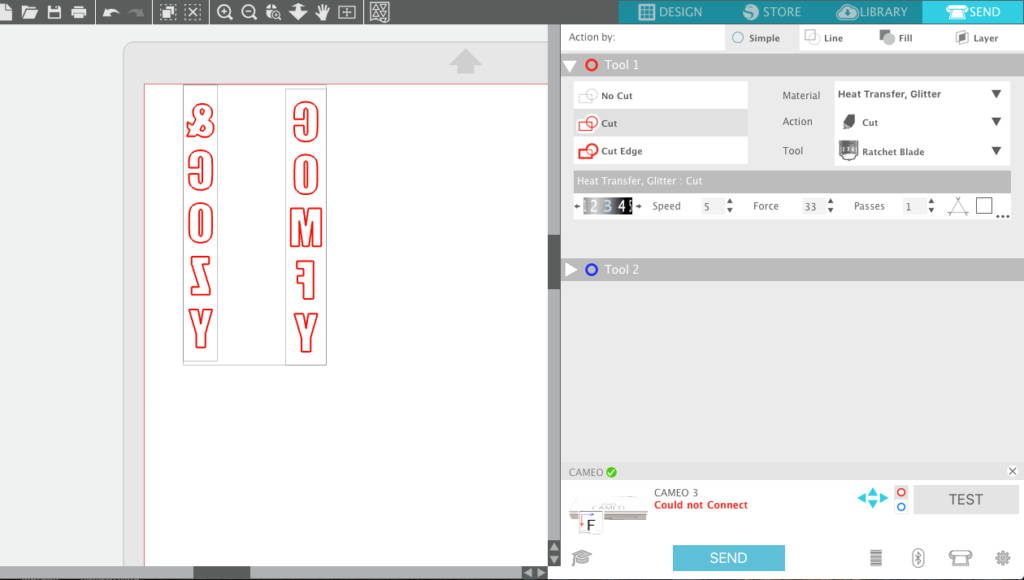 With heat transfer vinyl, one side is shiny (which is the clear carrier sheet) and the other side is matte or dull. We will be cutting on the backside, which is the dull side. So place your HTV shiny side DOWN.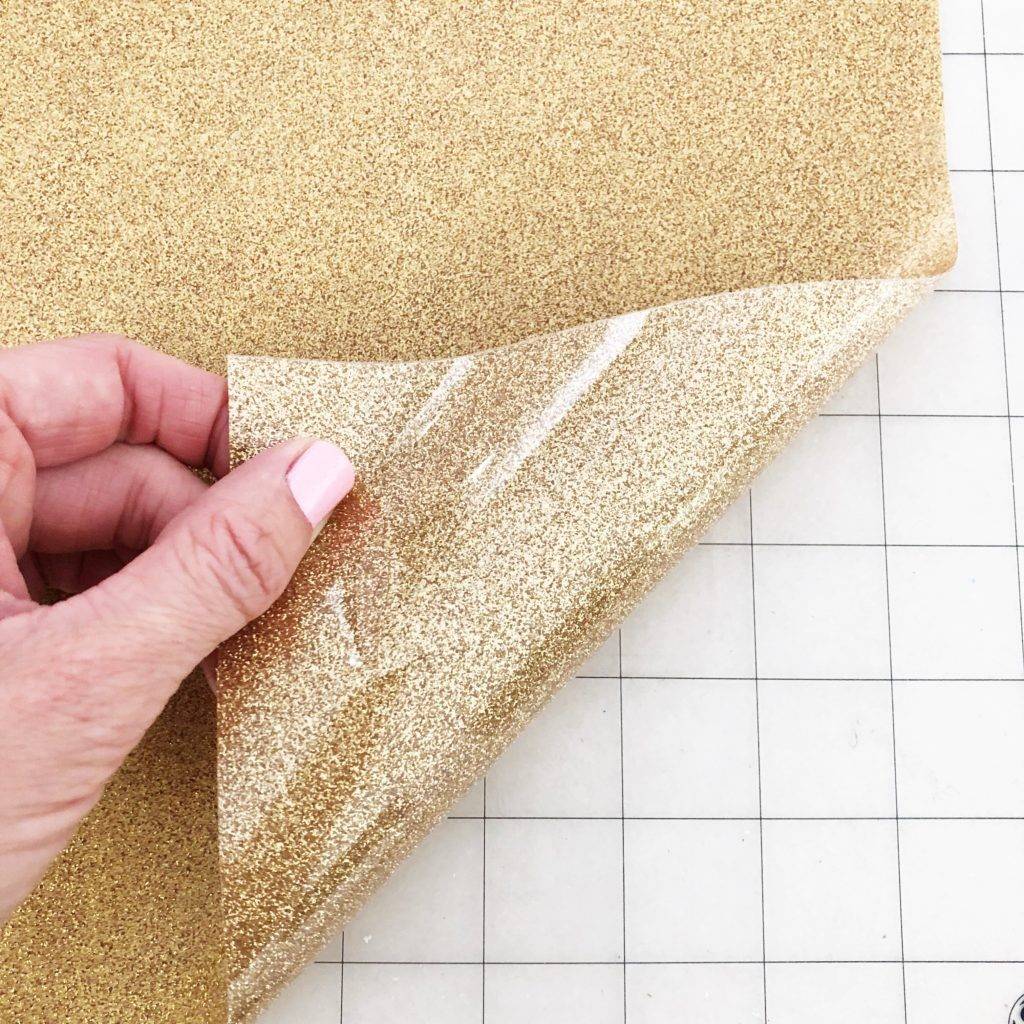 Load your cutting mat into the machine and let it get to work!
STEP THREE: Weed HTV design
Once the vinyl has been cut, peel away any vinyl that is not part of the design. With a good cut, this should go smoothly. I just love the pretty gold glitter!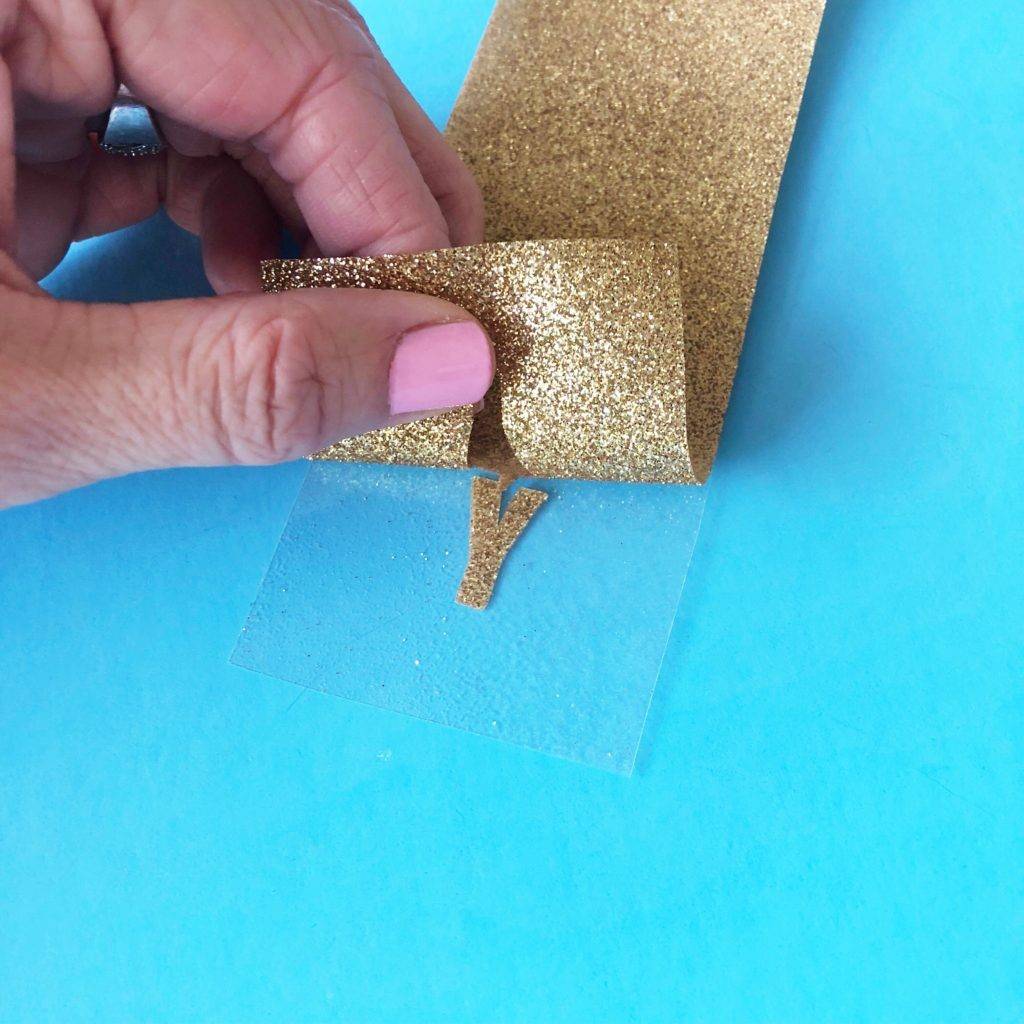 Now take a weeding hook or a pair of crafting tweezers and peel out the little insides of the letters.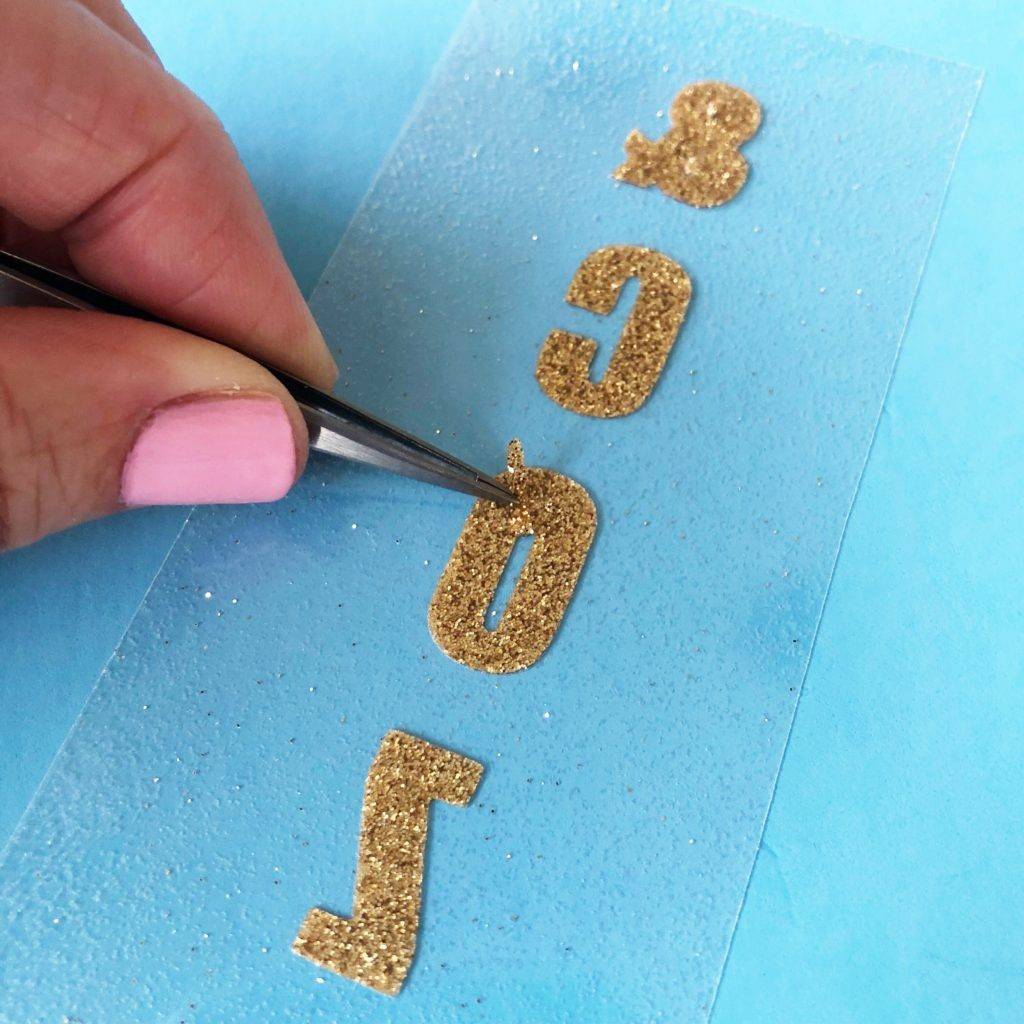 And now our words are weeded and ready to be ironed on to our socks!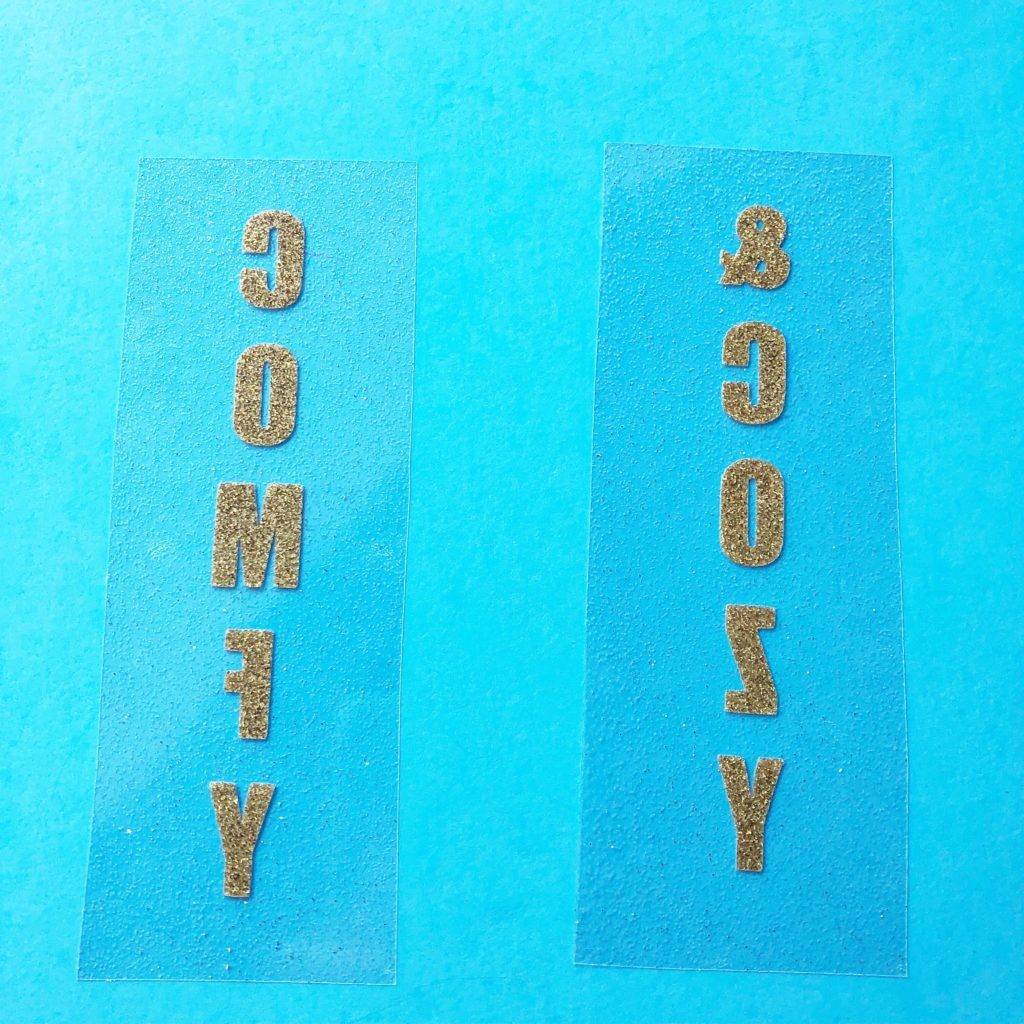 STEP FOUR: Iron HTV onto blank socks
After weeding our words, it's time to find a scrap piece of cardboard or chipboard. Even an empty cereal box will do! Draw a long oval that's a little bigger than the size of your foot.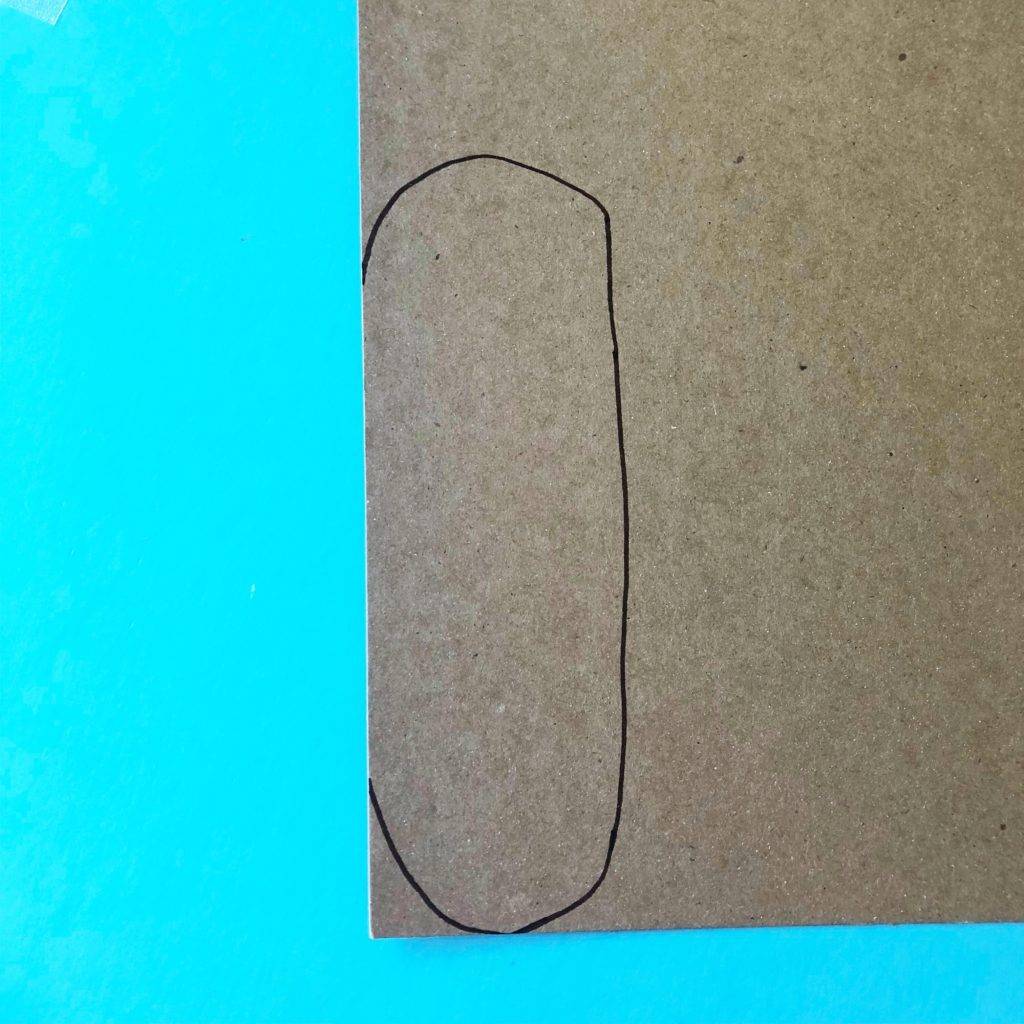 Cut it out and place it directly into your sock, slightly stretching it like your foot does.
Heat up your iron to cotton settings with no steam. Place your decal onto the bottom of the sock. You can still re-position it as much as you need until heat is applied.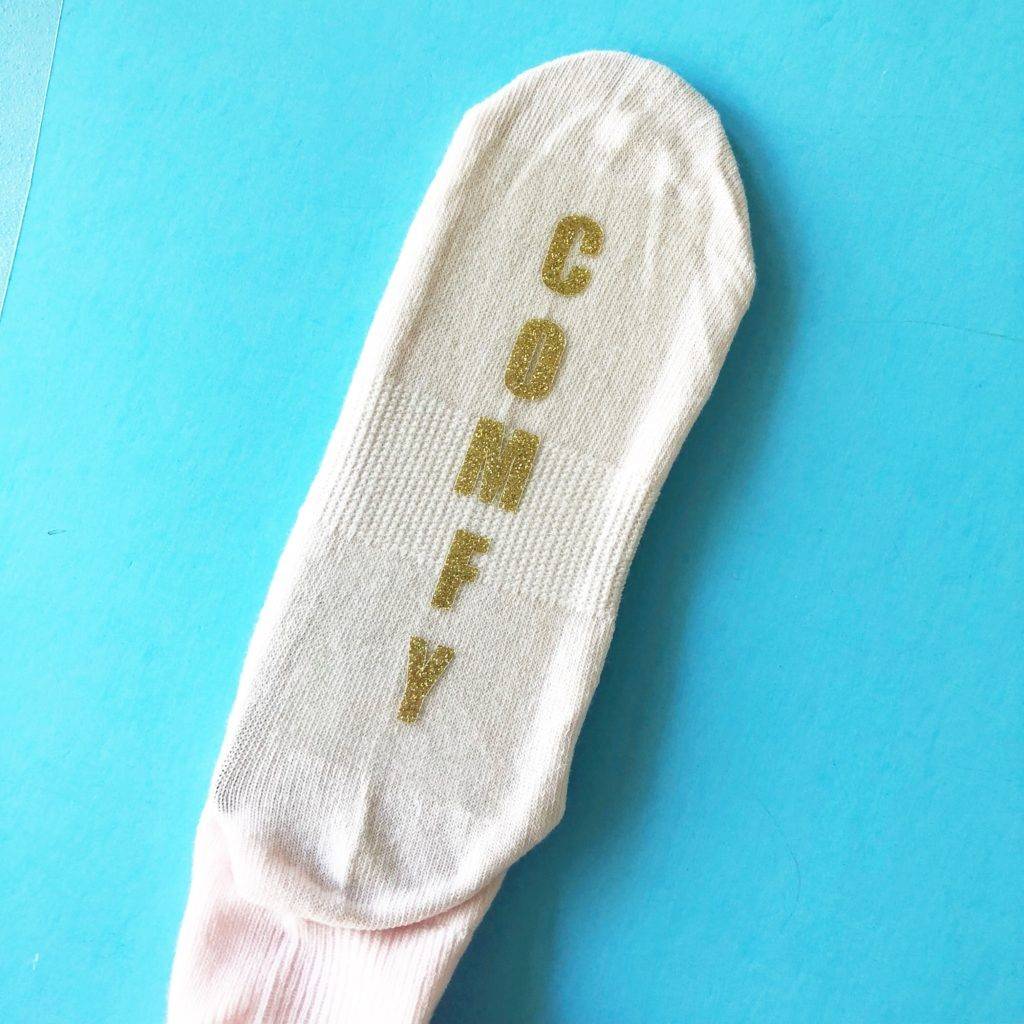 Now place a teflon sheet over it and press it for 20-25 seconds.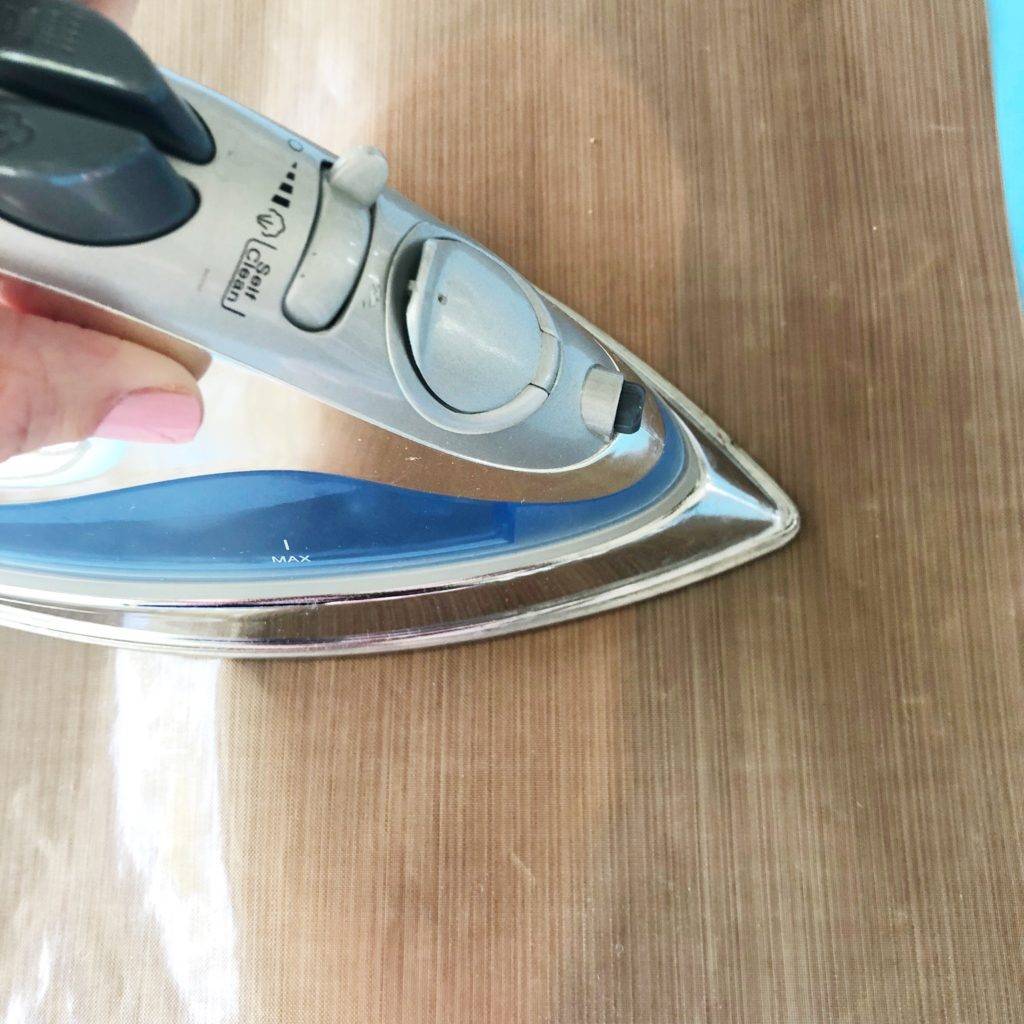 Let the design cool for about one minute then gently peel off the clear carrier sheet. If any part of the vinyl starts to lift up, place the carrier sheet and teflon back down and add some more heat and pressure.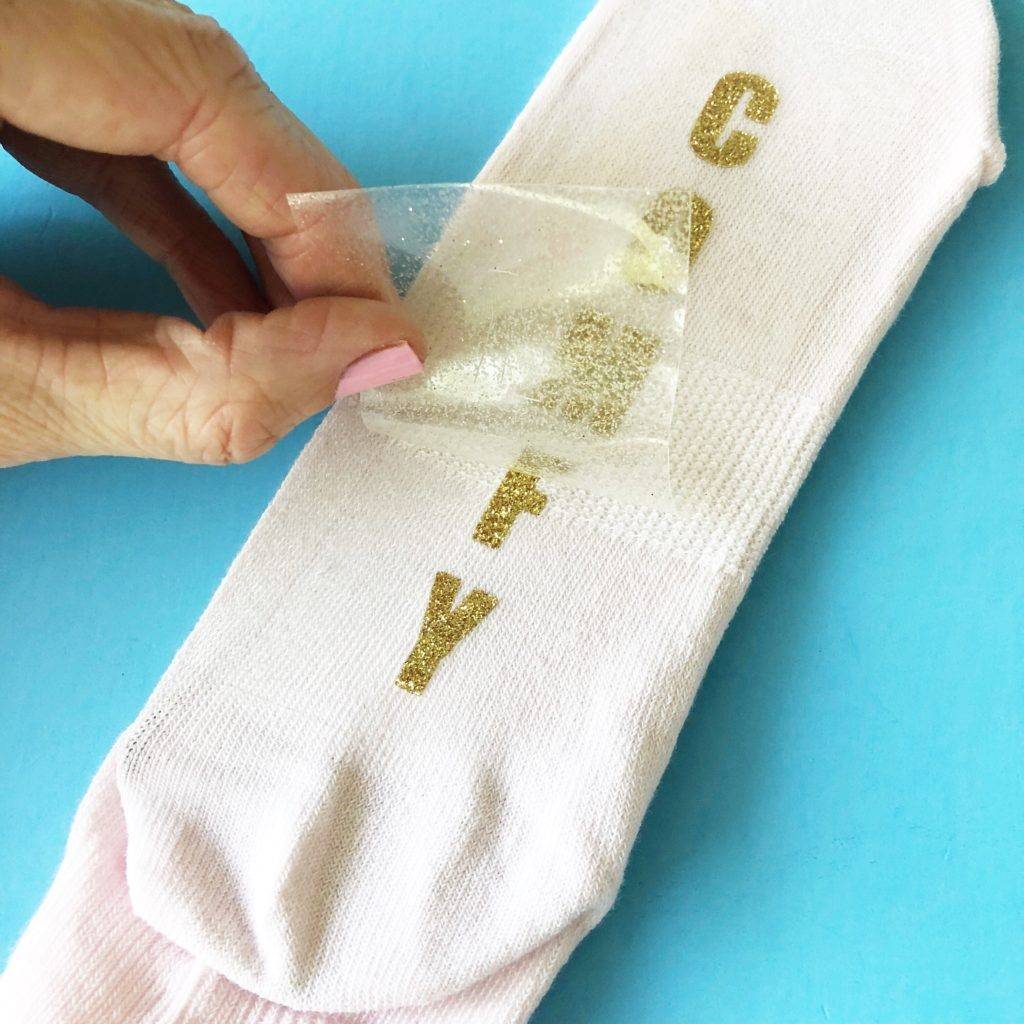 Now you've got a fun pair of customized socks to keep your toes comfy and cozy :) This project is so quick and easy, it would be perfect if you're needing to make a last minute Christmas gift!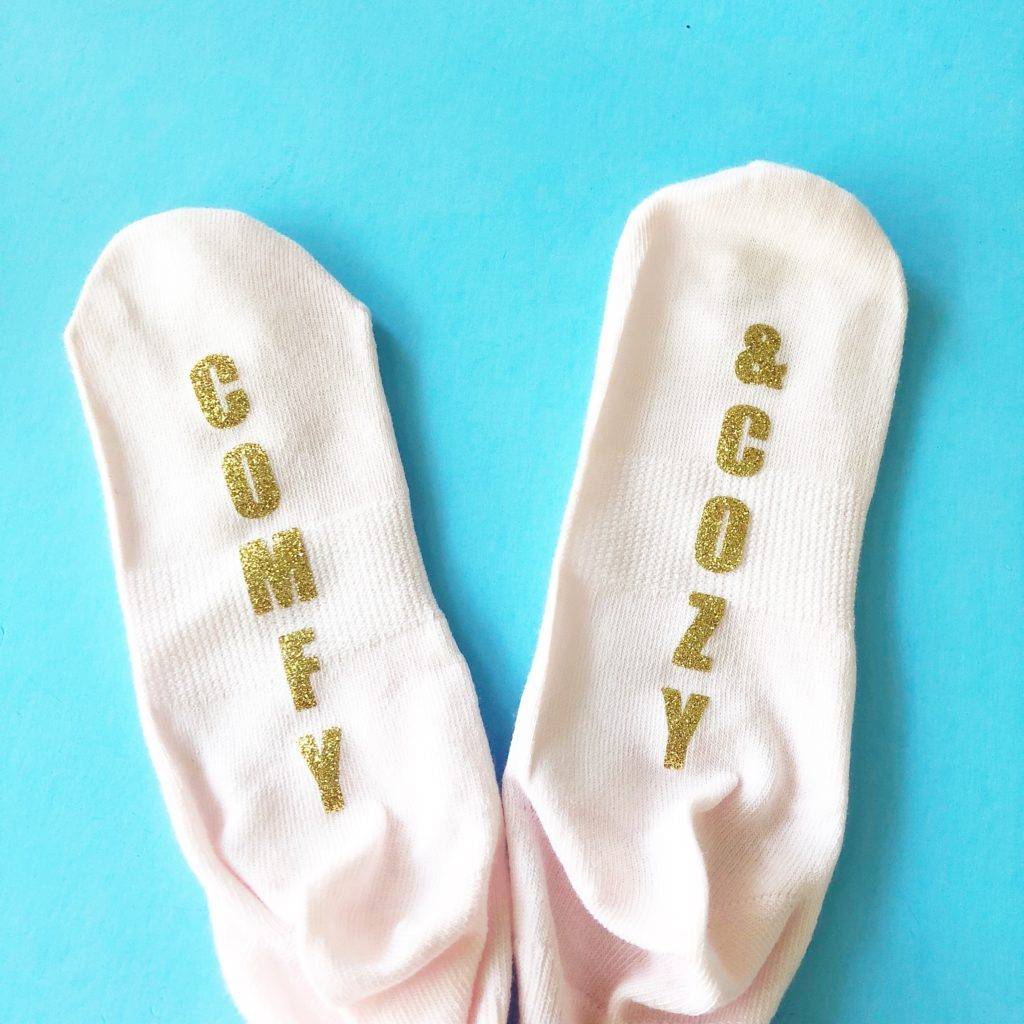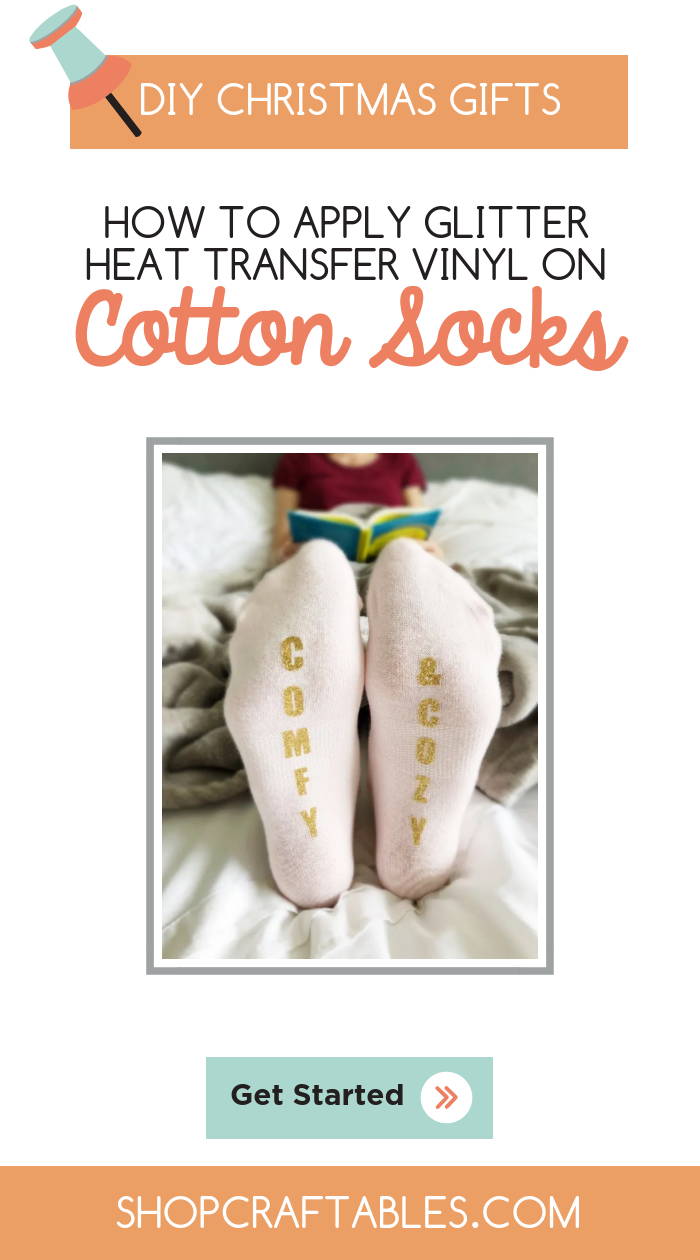 We hope you enjoyed this post! Here are Craftables, we take a lot of pride in our Heat Transfer Vinyl line. We've been working on finding the highest quality products for years. We started out with 32 colors of smooth HTV, and today we have over over 80 different colors of types of HTV, all highly reveiwed! Smooth, glitter, flock, foil, glow in the dark-we've got it all! If there's a product or color you'd like, but don't see, let us know! We want our line to be the best it can be!
About the Author
Aubrey Claybrook
My name is Aubrey and I currently live in Kaysville, Utah. I'm married to a wonderful husband and we have three silly, energetic kids. I love anything creative, including refinishing furniture, interior design, making fun party favors, holiday decor, and of course all things made with my Silhouette machine. I enjoy using my creativity as part of my every-day life, and I love inspiring others to do the same! Follow me on Instagram: @projectsilhouette